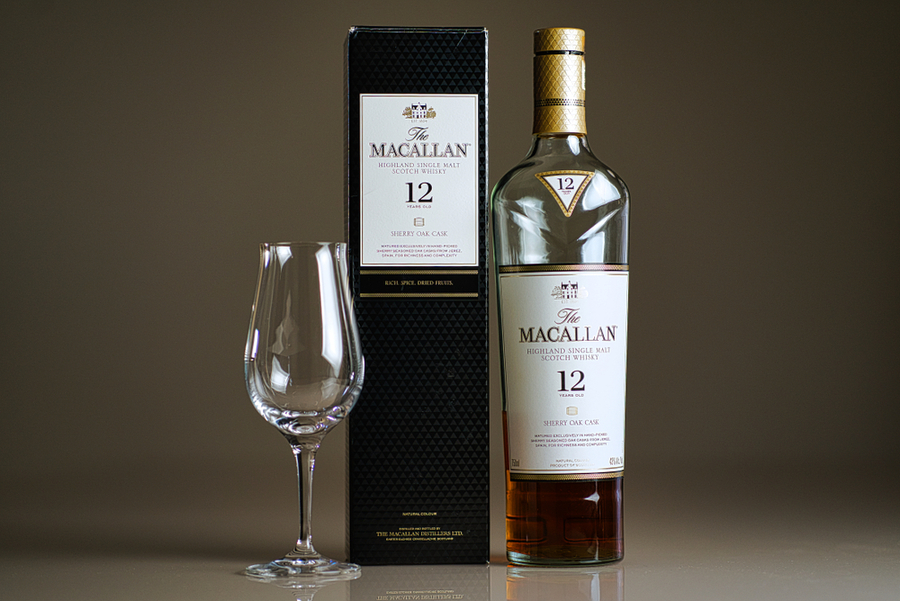 Many regard The Macallan 12 as the best introduction to single malt whiskies. Usually, single malts are associated with peatiness, which deters new whisky drinkers.
Macallan bridges this gap and offers new and seasoned drinkers a complex sipping whisky with a fruity taste and hints of spice, citrus, and vanilla.
So, how would you drink a Macallan 12, you may ask?
Many experts agree that a single malt whisky is best enjoyed straight. We agree with this statement, but why stop there? An ice ball will melt slowly and release a little bit of water into your whisky without diluting it into a watery mess. You can also forego ice and add a few drops of water to open the whisky's aromas and flavors.
We'll briefly look at the background of The Macallan before we dive into the ways you can drink and enjoy the three, The Macallan expressions (Sherry Oak, Double Cask, and Triple Cask). We've also included some interesting tips to elevate your whisky experience the next time you pour a dram.
A Bit of Background Info
The Macallan's story began in 1824 when it became one of Scotland's first legally licensed distilleries and was founded by Alexander Reid. The estate is found above the River Spey. Farmers have been producing whisky from excess barley during the quieter winter months in this area.
But its history stretches back even further.
The site's original name was Maghellan—a combination of magh meaning fertile land, and Ellan is associated with St. Fillan, a monk. St. Fillan had a close association with the church which stood on the grounds of The Macallan estate until 1400. Macallan Distillery is set on 458 acres of fertile land. 
The Macallan draws on contributions from Spain, North America, and Scotland to create their whiskies. Each country's raw materials, artisanship, and traditional methods are respected and a contributing factor to Macallan's single malt whiskies. 
The Macallan 12-year-old whiskey is available in three expressions: double, triple, and sherry oak. Each offers a unique range of flavors which we'll explore below.
We'll also guide how to drink each expression so you can get the best experience when you sip on a Macallan dram. The Macallan does not use caramel coloring in their whiskies —those beautiful colors you see are all natural.
Sherry Oak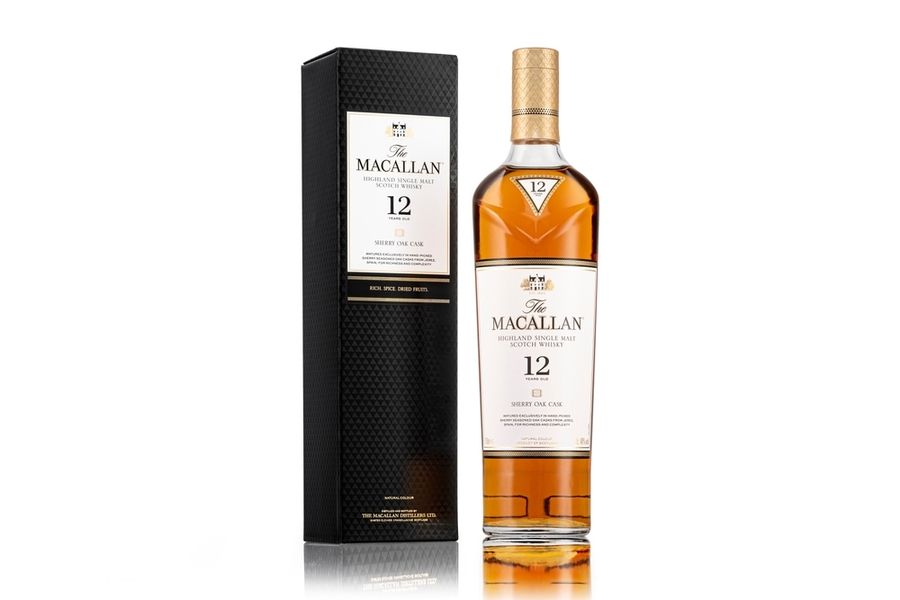 The Macallan Sherry Oak 12 Years Old single malt whisky is matured exclusively in Oloroso Sherry oak barrels from Jerez in Spain. Macallan works closely with Spanish companies to source oak trees in northern Spain to produce their barrels.
The wood is shipped to the south, dried, and made into barrels at the cooperages. After 18 months of seasoning with Oloroso Sherry, the casks journey to Scotland, where it will age the Macallan Sherry Oak single malt whisky.
A Quick Note on Sherry Casks
According to Thijs Klaverstijn's article, Spain passed a new law in 1981 prohibiting sherry producers from exporting sherry n transportation casks. All sherry products had to be bottled in Spain and then shipped. This forced Scottish whisky producers to seek alternative sherry casks to age their whiskies. Highland Park and The Macallan entered into agreements with Spanish sherry producers and coopers to create sherry casks for them from American oak. The casks still age sherry—anything from 18 months to five years before they are shipped to Scotland to continue their journey of aging fine Scotch.
Macallan ages their whiskey in these ex-sherry casks for 12 years, and during this time, it is allowed to develop a rich and complex whisky with notes of dried fruit and spice. A natural golden color rounds the aging process off.
On the nose, you'll pick up raisins, baking spices, currants, and plums. In addition, you can pick up hints of heather and honey as the whisky opens.
The palate offers a unique experience as well. Initially, you'll pick up tastes like warm bread, fruitcake-like taste (even if you don't like fruitcake, this is different and tasty), and spiciness in the form of cloves and a slight hint of black peppercorns.
Next, you can expect buttery softness combined with baked bread aromas on the mid-palate. Finally, as you swallow, the spice-and-fruit combination makes a last appearance. You might also pick up a hint of wet tobacco leaf.
The wet tobacco leaf taste develops into a cigar-like finish with black pepper and clove with baked pear tastes.
Suggestions for Drinking
These suggestions are offered by Macallan's website, and we must agree, after trying their suggestions, it tastes good!
The Macallan Ice Ball is inspired by the Japanese cocktail culture—bartenders carefully hand-carve spheres of ice which melt slowly. A touch of theater in a glass. The ice ball will melt slowly, releasing only a little bit of water at a time so you can sip your whiskey while enjoying all the fruity and spicy flavors it has to offer.
By using a Spanish Copa glass, you'll honor not only Macallan's sherry roots but also the sherry casks which were used to mature the whisky for twelve years. The addition of oloroso sherry and bubbly tonic water brings it all together in a refreshing drink.
You'll need 40 ml (1,3 oz) Macallan Sherry Oak 12 Years old whisky and 20 ml (0,7 oz) oloroso sherry of your choice.
Garnish your cocktail with a lemon wheel.
Double Cask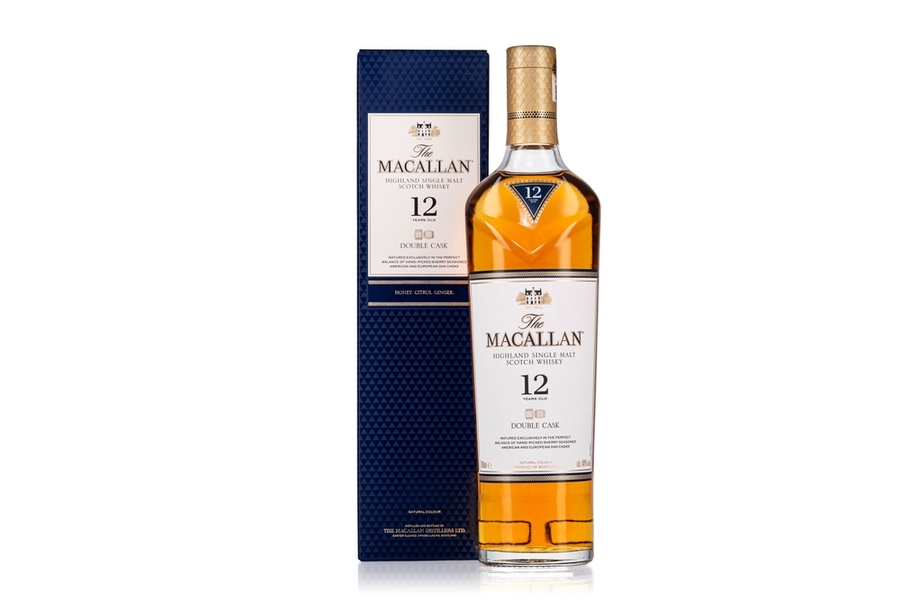 There are still no American bourbon casks involved in the aging process, rather ex-sherry casks made from sherry-seasoned American and Europe oak.
The color is described as harvest sun, and you'll find notes of butterscotch, toffee apple, vanilla custard, candied orange, and freshly felled oak on the nose.
The palate features tastes like honey, wood spices, and citrus, all kept in balance with caramel and raisin tastes. You can also expect hints of anise and marshmallows upon first tipping your dram. The finish has a lingering oak taste that tastes warm and sweet.
This is an excellent whisky for sipping you can share with friends around a bonfire or at the end of a long summer day.
Serving and Drinking Suggestions
Again, an ice ball will deliver just the right amount of water to open all the delicate aromas and flavors without diluting your whisky into a watery mess.
European flair meets American style in this twist on the Old Fashioned cocktail, aptly named the Pasa-Doble.
You'll combine 40 ml of Macallan Double cask with 15 ml of twelve-year-old Amontillado sherry, a pinch of smoked salt, and 5 ml of maple syrup in an old fashioned glass.
Stir all the ingredients together with ice.
Strain it into an old fashioned glass.
Sit back and savor this unique cocktail and resist the temptation to place your nemesis in a wall as Montressor did in The Cask of Amontillado. Wink-wink.
The Mac-Hattan, featured by Helena Nicklin on The Three Drinkers, is a Christmassy twist on the classic Manhattan. You'll need 25 ml Macallan Double Cask whisky, 25 ml orange liqueur, 25 ml red vermouth, and three drops of chocolate bitters. Shake all the ingredients together and serve in an old fashioned glass with or without ice. A dried orange wheel will finish off this wonderfully festive-tasting drink.
Triple Cask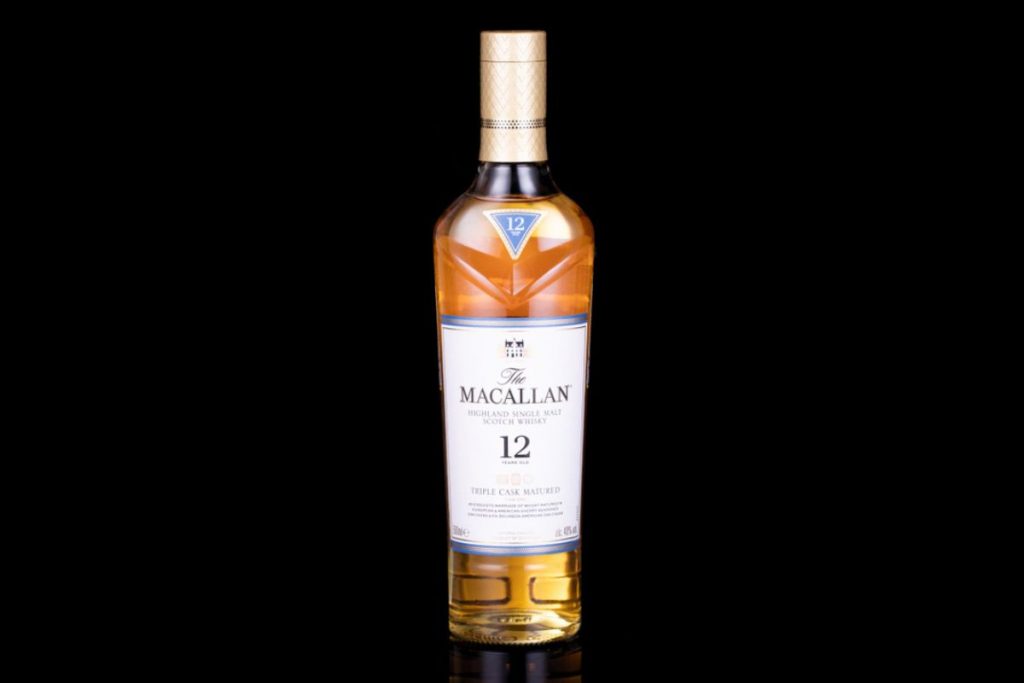 This is the third part of The Macallan's trilogy whiskies. This iteration was previously known as Fine Oak 12 Years Old but was renamed Triple Cask Matured 12 Years Old. The contents have remained the same, the bold new packaging called for a newly designed bottle and a new name. Sometimes change is good.
The whisky is crafted from a series of whiskies that have been aged in American and European sherry-seasoned casks and ex-American bourbon oak casks. This aging and blending technique offers the best of the Continent and America in Scottish whisky.
The ex-bourbon casks deliver hints of vanilla, caramel, and spiciness, while the sherry barrels impart the familiar fruitiness associated with sherry.
Once you sip this whisky, you'll notice hints of ginger, caramel, black pepper, and even cocoa. The smooth finish has an oak, citrus, and honey taste that lingers after the sip.
Drinking Suggestions
You've guessed it, served with an ice ball.
Try a New York Sour with a twist—a drizzle of Spanish Rioja adds even more depth to this classic cocktail. This cocktail is fruity with a hint of dryness for those who don't like overly sweet drinks.
Combine the following ingredients in a shaker: 50 ml (1.7 oz) of Triple Cask whisky, 20 ml (0,8 oz) of freshly squeezed lemon juice, and 15 ml of sugar. Add ice and shake the ingredients together.
Strain the ingredients into an old fashioned glass
Slowly drizzle Rioja, to taste, over the drink
You can garnish the cocktail with a lemon twist.
General Tips for Drinking The Macallan 12
As with all whiskies, there are some ground rules to follow if you want the best drinking experience. Let's look at them below:
First, always serve The Macallan 12 at room temperature.
Some experts recommend warming the drink to unlock even more flavors and aromas. Simply cup your glass in your palm and curl your fingers around the glass—this will allow the glass and whisky to warm up to just above room temperature.
Choose the right glass. The best glass is tulip-shaped to allow the aromas to collect at the neck of the glass. You can also swirl the whisky to release more of its richness.
A few drops of water can help to open the whisky's aromas, but this is up to you. Choose an ice ball or whisky stones to chill your drink if you like chilled whisky.
Conclusion
Just like any other whisky, The Macallan's whiskies can be enjoyed neat, with ice, a few drops of water, or even in a cocktail. If you prefer more smokiness in your whisky, this might not be the one for you because it lacks the characteristic peat smoke taste found in other single malts.
However, don't let this deter you—The Macallan's whiskies are perfect for sipping and sharing with friends.