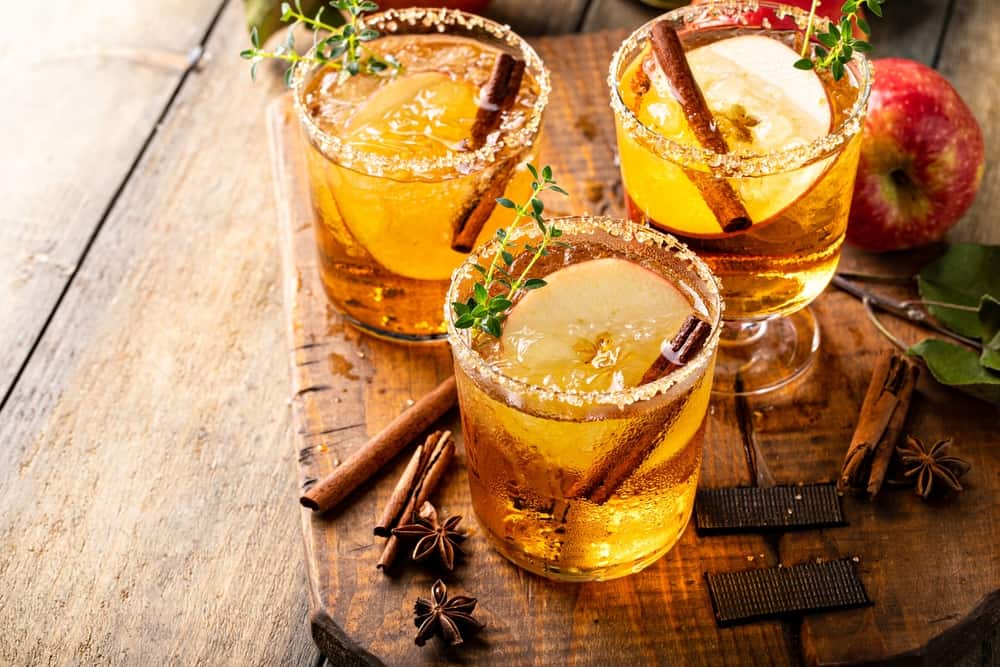 Adding a sugar rim to the glass is an excellent technique to enhance a drink's taste and visual attractiveness. Coating the rim with sugar is a simple process that will wow your visitors, family, and friends. Additionally, adding a sugar rim to your cocktails is a fantastic technique to make any extra drink special.
There are six classic cocktails that require a sugar rim, such as the Crusta, Chicago, Great Pretender, Sidecar, and its two derivatives, the Czech Sidecar and White Lady.
We'll look at some classic cocktails with a sugar rim, and then we'll investigate how to properly rim your glass with sugar.
Cocktails With a Sugar Rim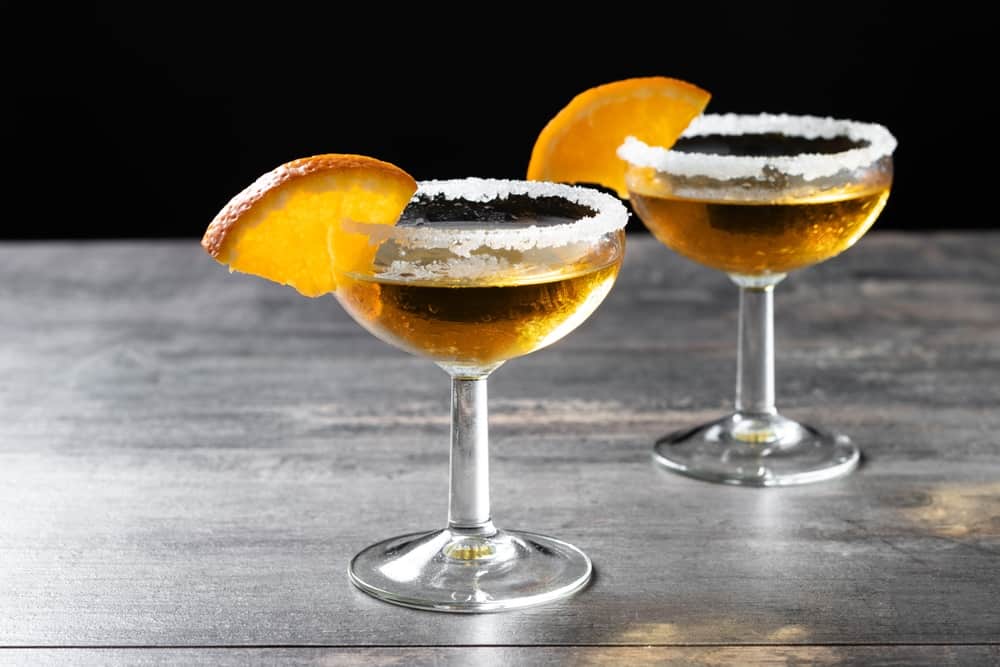 Sugar rim decorations can be as simple or as sophisticated as you wish, ranging from very simple sugar rims to ones with additional spices.
Need some drink suggestions for a summer afternoon party or a late-night get-together?
For your next special event, grab your sugar bowl and try some of the cocktails below. We have linked recipes for you in each description as well.
Crusta
The Crusta cocktail contains cognac, triple sec, lemon juice, and bitters and is the originator of the Sidecar. However, the addition of maraschino syrup distinguishes this cocktail from the Sidecar.
The simple mixture is served with a sugared rim, and brandy, bourbon, or rye whiskey can be replaced with cognac. The beverage is strong and has a strong kick on the way down.
Sidecar
The Sidecar is a derivative of the crusta cocktail. The Sidecar cocktail, one of the six basic cocktails, is a standard drink that is both simple to mix and simple to drink!
While the exact originator and location of origin are debatable, it is fair to assume the drink was developed between 1920 and 1935 in either London or Paris.
The name has an interesting tale: if a bartender misses their mark and mixes too much of the cocktail, the rest is poured in a shot glass and served on the side as a "sidecar".
Traditionally, the cocktail is created with brandy, triple sec, and lemon juice. It is often served in a cocktail glass with a sugar rim. However, you may skip the sugar rim if you like a somewhat less sweet drink.
Czech Sidecar
The Czech Sidecar puts a new spin on the traditional Sidecar; the sugar rim is not optional; it is a must-have! The sugar and spice rim complements the plum-flavored slivovitz brandy used in the beverage.
This sidecar drink is a strong, full-bodied beverage that pairs well with lighter cuisine. A picnic meal with a wedge salad would go nicely with the fruity drink.
White Lady
The White Lady is a member of the sidecar family of cocktails. It was especially popular in the 1920s when it was invented.
It features gin, triple sec, lemon juice, egg whites with a sugar rim, and orange garnish. The secret to mixing up a great-tasting White Lady is to "dry-shake" all ingredients without ice before shaking again with new ice.
This initial shake at a higher temperature aids in emulsifying the egg and produces a cohesive, precisely blended drink.
Chicago
The Chicago cocktail is named after Chicago, Illinois. The Chicago is a traditional sparkling drink from the revered Savoy Cocktail Book.
It is traditionally topped with Champagne. You may use any sparkling white wine you choose, as long as it's not too sugary. The Chicago is frequently served with a sugared rim, as was customary for beverages of the 1920s.
We prefer the drink's dry, alcoholic flavor on its own, so we rim half the glass—sometimes not even at all.
Great Pretender
Finally, a cocktail that features rum!
The Great Pretender cocktail features a combination of pineapple, lime, and cinnamon boosted by banana-tasting esters found in the overproof rum and the addition of vanilla syrup. Both lighter and darker rums give excellent results every time.
If the sugar-and-cinnamon rim appears excessive, remember it helps to keep the overproof rum in check; we wholeheartedly recommend it.
How To Add a Sugar Rim to a Glass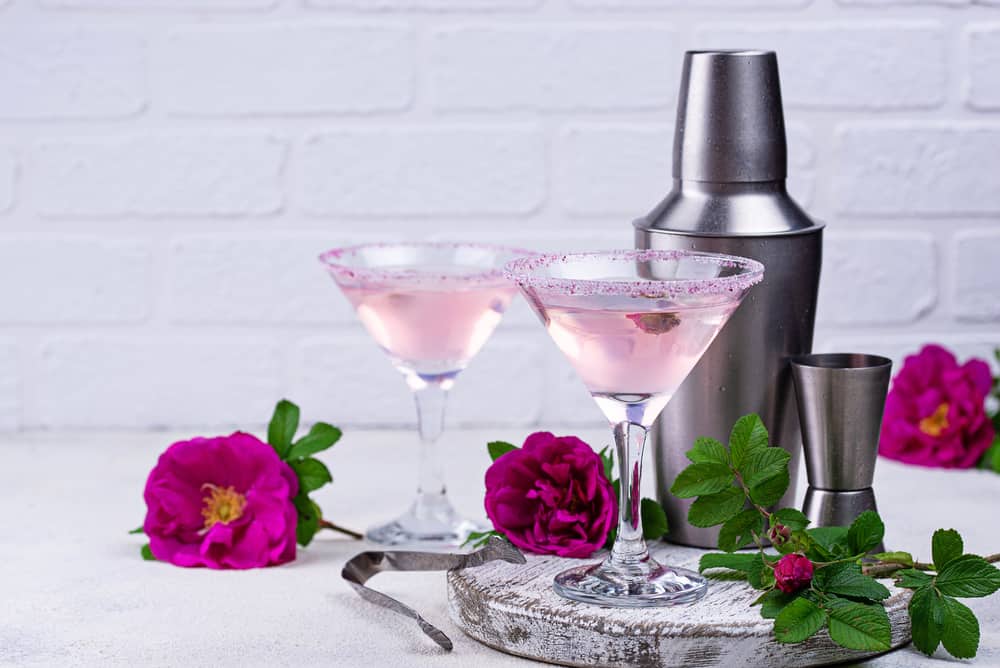 Before you start coating the rims with sugar, you'll need the following tools and ingredients:
A glass
A dish for the sugar
Lemon juice or any other liquid to wet the glass's rim
Sugar
Instructions
First, you'll need a glass—any glass will do, but remember, certain cocktails are best served in their associated glasses.
Next up is the dish that will contain sugar. There are specialty dishes on the market that are made for purpose of coating the rims. Still, any sugar container, such as a saucer, flat dish, or plastic container, will do the trick.
Alright, we're halfway there. Next up, you'll need a liquid to make your glass's rim wet so that the sugar can stick to the rim of the glass. Any liquid will do; citrus juices like lime, lemon, or orange are popular choices.
For something sweeter, you can try various syrups such as agave, simple sugar syrup, chocolate, caramel, or even honey. For a neutral taste, water will be a perfect choice.
Remember to choose a moistener that will complement the ingredients in your cocktail. Sometimes I like to use one of the base spirits as a moistener.
Common household sugar will do the trick. You can use other types of sugar, such as turbinado, brown sugar, cinnamon sugar, or confectioner's sugar. Another option is colored sugar to add a whimsical look to your glass rims.
Conclusion
As you can see, coating the rims of a glass with sugar is easy—ensure that your sugar and added ingredients match the ingredients in your cocktails. Although the sugar rim is optional in most cocktails, remember it is up to your personal preferences whether you like a sugar rim cocktail or not.
Experiment with different moisteners to see what works best for your taste and how to balance your cocktails to get the perfect party drink.