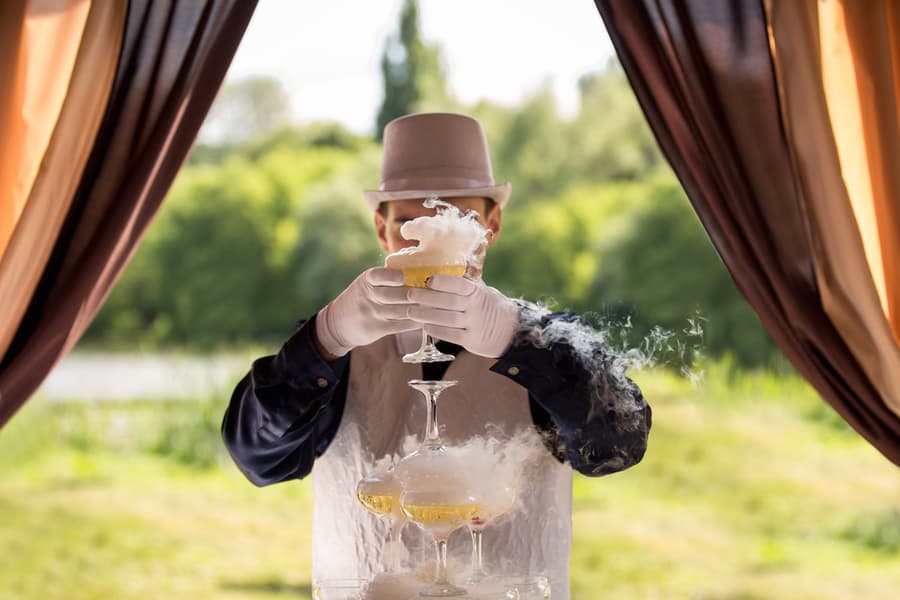 Alcohol has become a significant part of day-to-day life in almost every state in the US. So, when you consider an event, party, or wedding, it isn't complete without alcohol.
Among these, weddings are joyous occasions, so nothing is better than alcoholic drinks to celebrate this occasion.
Beer, Champagne, and wine are the most commonly served drinks at weddings, but with the increase in diversity, they can range from simple beverages to complex mixed drinks. So, getting a bartender to serve drinks to your guests is in your best interests.
But that is not the sole responsibility of the bartender, he also makes sure that your wedding stays trouble-free, so they can be expensive to hire, which brings us to our question.
How much is a bartender for a wedding?
The rate ranges between $25-300 on an hourly basis based on experience, with an average cost of $30-35 hourly, and some complete packages offering $200-250 (4 hours sessions) with hourly pay afterward. But it fluctuates among states and is based on the bartender's experience.
So, if you want to know which factors affect the cost of a bartender and how you can cut back on it, how to hire the perfect bartender for your wedding, and how many bartenders you would need, continue reading.
Factors That Affect the Cost of a Bartender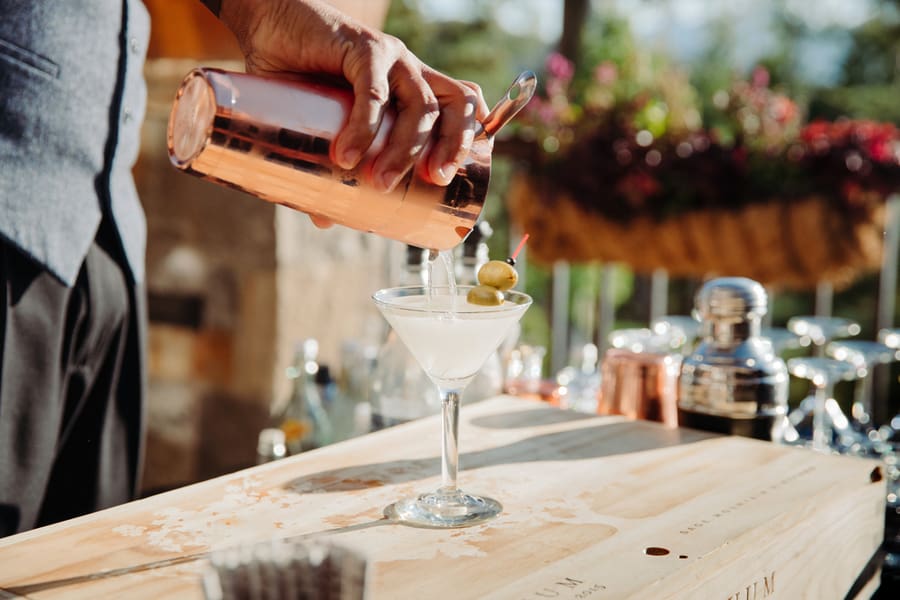 These factors help you negotiate the price, but if you want your bartender to prepare everything, you can expect higher hourly pricing. Also, you may have to pay for the extra cost of equipment, alcohol, and services he may order.
So, if you want to minimize the cost and get the best deal, buckle up and get ready to run, as these factors will let you know what things you need, what setup to prepare, and what to watch out for.
Guests and Hours
For starters, the number of hours worked is the factor that affects the cost of your bartender the most. Generally speaking, they provide a package, but if you exceed that limit (usually 4 hours), the price will be 1.5 times the original cost.
Also, the number of guests influences the number of bartenders you will need. The higher the number, the more bartenders, so the higher the cost.
The Variety of Drinks Served
The greater the variety you serve at your wedding, the higher the cost. So to cut back on the cost, you need to limit the number of glasses a guest can take or the price of bottles under a specific value, e.g., $15-20.
It will also impact how much the bartender will charge because he will have to prepare a variety of drinks and cocktails, more so if he has to order these himself to bring to your wedding ceremony.
Season and Location
We all know everything sees a price spike in the wedding season; the same happens with bartenders. If you want to hire a bartender in these busy times, you can expect to pay about twice as much.
Even some packages increase the collective amount a bartender will receive by $30-50 extra compared to off-seasons.
Also, the location is another factor to keep in mind after going through the state laws. You may notice that in some states, bartenders charge more where the cost of living is high.
But this can be overruled if the bartender has to travel from a different place, but not a long distance, to get to your selected location. So, weigh the price based on these factors.
Duration of Service
The duration of most wedding events falls between 5-6 hours, but not all the time; you will require the bartending service.
For example, if you have set the meal time and refreshments to about three hours, you can cut back on the cost by hiring the bartender for only that duration.
That is why most services offer four-hour bartending services in their packages.
Barbacks and Equipment
Barbacks support your bartender by helping with restocking, cleaning, and even serving. So, you may have to get one to help the bartender provide continuous service. Otherwise, you have to hire more bartenders.
They cost less than a bartender (usually $10-15 less hourly wage than your bartender) but are the backbone for maintaining the flow. So, hire barbacks to reduce the number of bartenders.
Also, glasses, tables, garnishes, alcohol, and such, cause the price spike of your bartender's service. So, he may have to hire other services on your behalf, which will not only cause an extra expense from the bartenders' side, but the service providers he will ask for, and you have to pay.
So, consider all these factors if you plan an open bar wedding.
Tip Jar
The last and most significant factor to consider is the tip jar. Most people don't allow tip jars in their wedding ceremonies, which causes bartenders to ask for more fees.
So, by allowing the tip jar, you can lower the hourly rate a bartender may ask for your wedding event.
How To Hire the Perfect Bartender for Your Wedding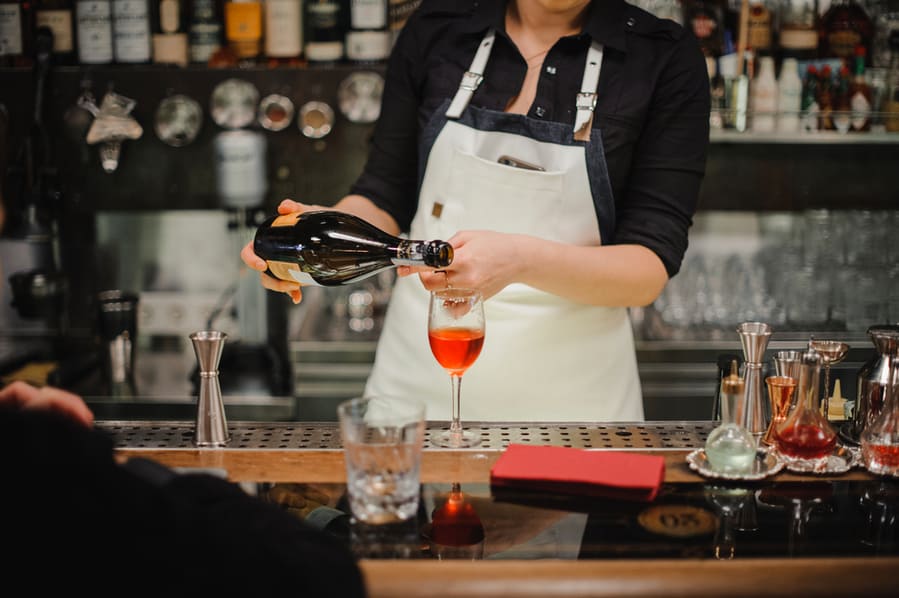 To get the perfect bartender for your wedding, you need to keep a few things in mind, but remember trying to meet all the requirements may cause the hourly wage of your bartender to rise (quality is directly proportional to cost).
So, the following are the requirements:
1. Has a License
The main priority in looking for the right bartender should be the licenses. Remember that state regulations and laws may otherwise restrict you from enjoying a hassle-free wedding.
If you are interested in letting a relative or friend do it, you can refer them to this complete guide on getting a license.
2. Be Knowledgeable About Drinks
The second point comes to your attention if you want to serve a signature drink at your wedding. So, the bartender you have hired must know how to bring your idea to life.
You can check these ideas on signature drinks to prepare your own.
Time Management
The skill with utmost importance is time management. The bartender you have hired will need to deal with an already present crowd instead of a steadily increasing one. So, he must know how to manage time with each guest.
A Keen Perception of the Situation
Another thing to be mindful of is that he can identify the level of intoxication in people to avoid fights at your wedding and keep the mood going.
Number of Bartenders for a Wedding Ceremony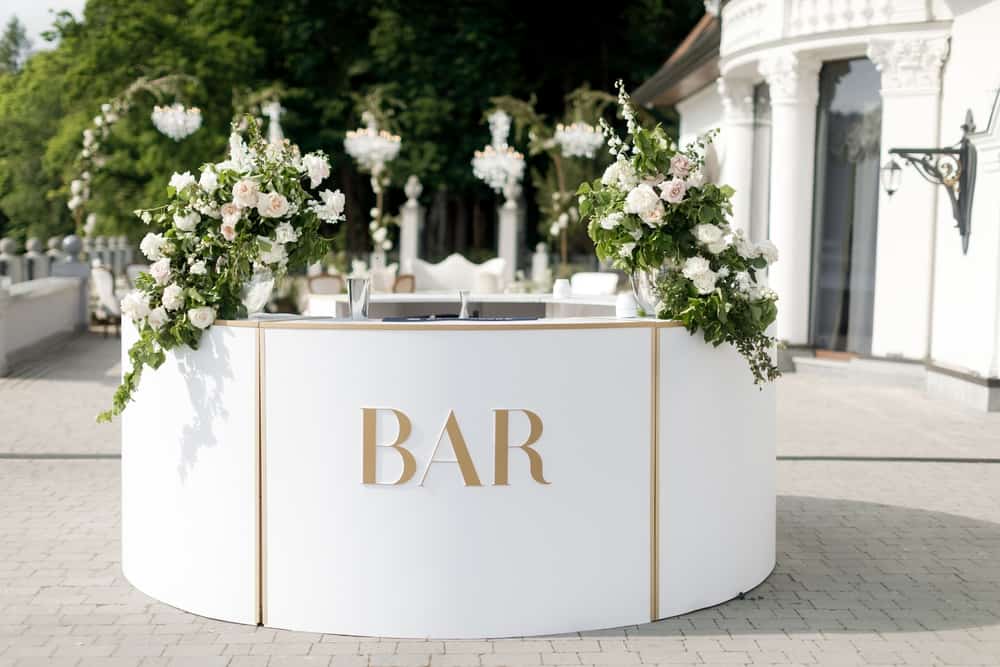 Generally, 1-100 is the rule for weddings meaning a single bartender is expected to serve a hundred people. However, if you want to maintain a smooth flow and reception without crowding, it is best to take 2-3 for a  guest list of a hundred people.
So, for a wedding event with 200 guests, arrange at least four bartenders for a smooth and quality service.
Some people prefer dry weddings, but always remember to inform your guests about it, as dry weddings equal no alcohol. So, people associate these weddings with the term "boring."
Conclusion
To fully enjoy your joyous occasion and start a new chapter in your life, alcohol is a must. So, hiring the best bartender for your wedding should be your top priority.
However, the average cost of your wedding bartender will be around $35, which can fluctuate based on the experience and location. Also, various bartenders from different companies can ask for different prices.
So, by knowing the average hourly rate of bartenders and how much a package can cost, you know how to negotiate the terms.
So, keeping the factors and requirements in mind, you can expect to pay $25-45/hour on average per bartender for your wedding.