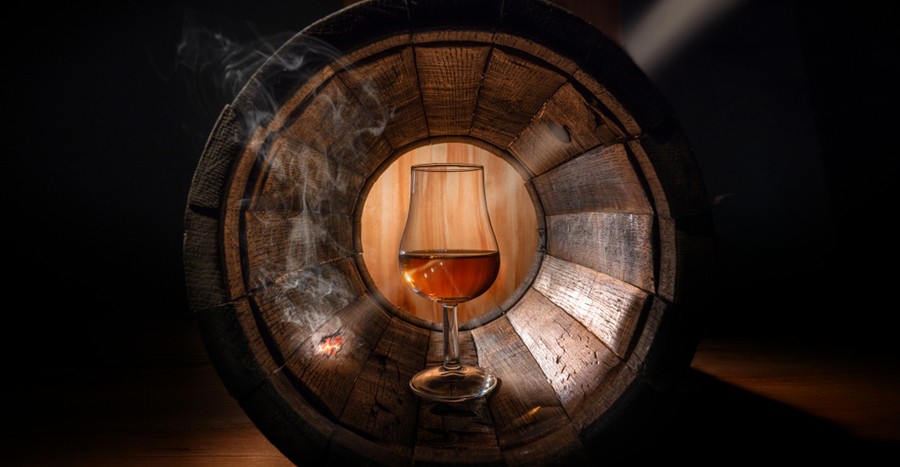 Most people take the distilling and aging processes for granted. But have you ever thought about how much whiskey is in a barrel?
The standard answer is rather simple: an American standard barrel holds between 50 and 53 gallons (190–200 liters) of whiskey. The American standard barrel is most often used when whiskey is matured.
In Scotland, coopers often use bourbon barrels to mature Scotch whiskey. But the answer can also get more complicated and involved when you consider the different barrel sizes that can be used.
Read on, as below we will uncover the different barrel types with their capacities, as well as what they are used for.
Barrel Sizes & Their Capacity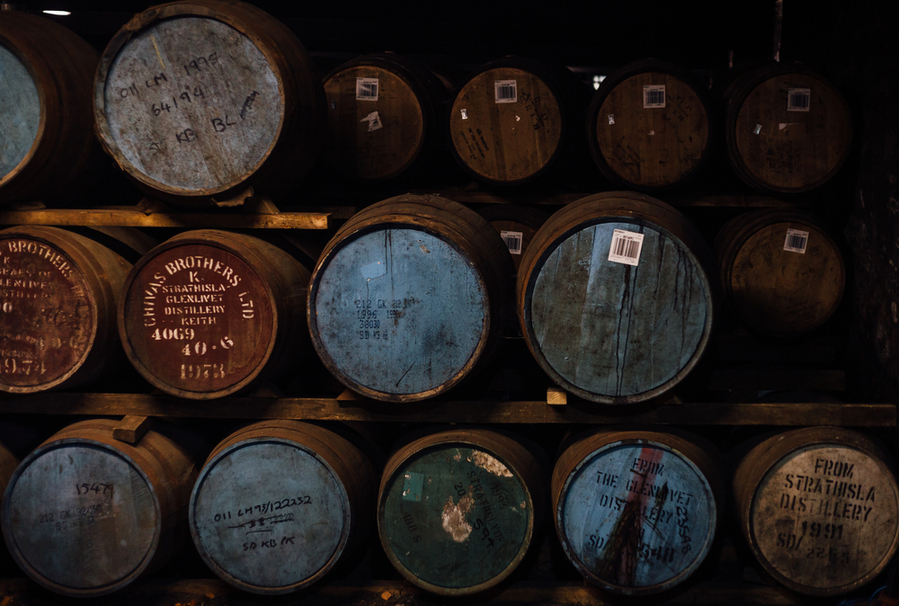 Whiskey is matured and finished in oak casks. Sometimes they are called barrels, hogsheads, or butts, but each has its own capacity and serves a different purpose in the finishing and maturing.
The different sizes are listed in the table below and are adapted from the information found at Whiskey Invest Direct. We show the most common sizes used for whiskey in bold.
| Whisky Barrel | Approximate Capacity (Liters) | LPA (Liters of Pure Alcohol approximate) | Wood Used |
| --- | --- | --- | --- |
| Quarter Cask | 45–50 | 29–35 | Oak – American, French, or Spanish |
| Barrel (ASB) | 190–200 | 120–140 | Oak – American, French, or Spanish |
| Hogshead | 225–250 | 142–175 | Oak – American, French, or Spanish |
| Barrique | 250–300 | 159–210 | Oak – American, French, or Spanish |
| Puncheon | 450–500 | 286–350 | Oak – American, French, or Spanish |
| Butt | 475–500 | 302–350 | Oak – American, French, or Spanish |
| Port Pipe | 550–650 | 350–455 | Oak – American, French, or Spanish |
| Madeira Drum | 600–650 | 381–455 | Oak – American, French, or Spanish |
Usually, the barrels are from the USA and Spain. In the USA, bourbon may only be aged in a cask once. In Spain, they age sherry in oak barrels.
This ensures that barrels can be reused in Scotland to mature and finish whiskey because they may reuse barrels multiple times for this purpose.

1. American Standard Barrel
The 'standard' barrel, also called the American Standard Barrel or ASB holds 53 gallons (190–200 liters).
Before WWII, the standard barrel size was 48 gallons, but the war efforts required using resources sparingly. Distillery owners thus opted for the slightly adapted size (from 48 to 53 gallons) using a small amount of extra timber but gained 5 gallons.
After the war, distilleries kept on using these barrels because they did not have to change their racks, and they could age more liquor. These barrels also maintained their structural integrity, did not leak, and were relatively easy to maneuver in the factory and distillery.
Many distillers consider this size to be the best for interaction (maturation) between the whiskey and wood.
2. Hogshead
The hogshead barrel is the second-most common type of barrel used in Scotch whisky maturation. They hold 68 gallons or 250 liters.
The name comes from an English term from the 15th century, hogges hede, which refers to a standard of 63 gallons. The slightly larger size of the hogshead allows whiskey to mature for a slightly longer time.
They mature most whiskeys in bourbon casks—either an ASB or a hogshead.
3. Butt
The butt cask holds approximately between 475 and 500 liters (125–132 US gallons). They mostly used these tall and narrow casks in the Spanish sherry industry.
Butts are commonly made from Spanish oak; American oak can also be used. Distillers use them for maturing whiskey.
4. Gorda
A Gorda is an enormous barrel holding 700 liters (185 US gallons) of liquid. They are commonly made from American oak and are sometimes used to mature whiskey.
Mostly, a Gorda is used to blend or marry different whiskeys for a blended product or vatted whiskeys.
5. Finishing Barrels
Scotch has to age for a minimum of three years in either a dunnage or pallet warehouse before bottling and selling to the public.
Sometimes, distillers take an extra step and 'finish' their whiskey in a second cask to add other flavors and subtle notes to the finished product. Different barrels will give the whiskey a unique taste.
Some of the common casks or barrels are:
Barrique: (cognac: 300 liters/79 gallons, wine: 225 liters/59 gallons), made from French oak. Delivers a wine finish.
Port Pipes: hold between 550 and  650 liters or 145–172 gallons; it is also fatter and rounder than a butt with thick staves. It will impart some sweetness and complex flavors. (Port barriques from Portugal can also be used).
Puncheons: hold 450 liters or 120 gallons. These are used to age ports in Portugal.
Drums or Madeira Drums: can hold between 600 and 650 liters (158–172 gallons). They are short fat barrels commonly used for Madeira wine and built from French oak with wide staves.
Learn More About Barrels
If you are interested in the chemistry inside the whiskey barrel, look at this article which is filled to the brim with information. Or, kick back with a whiskey and spend some time with Fifteen Minutes in the Forest to learn more about bourbon barrel production.
For those interested in how handmade wine barrels are made in France, take a look at this video.
Conclusion
The three most common barrels or casks used in the whiskey industry are the American standard barrel (190–200 liters), the hogshead (225–250 liters), and the butt (475–500 liters). They mostly used these barrels for maturing whiskey.
Repurposing and using other types of barrels which held another type of liquor for finishing whiskey is also common when finishing a Scotch.