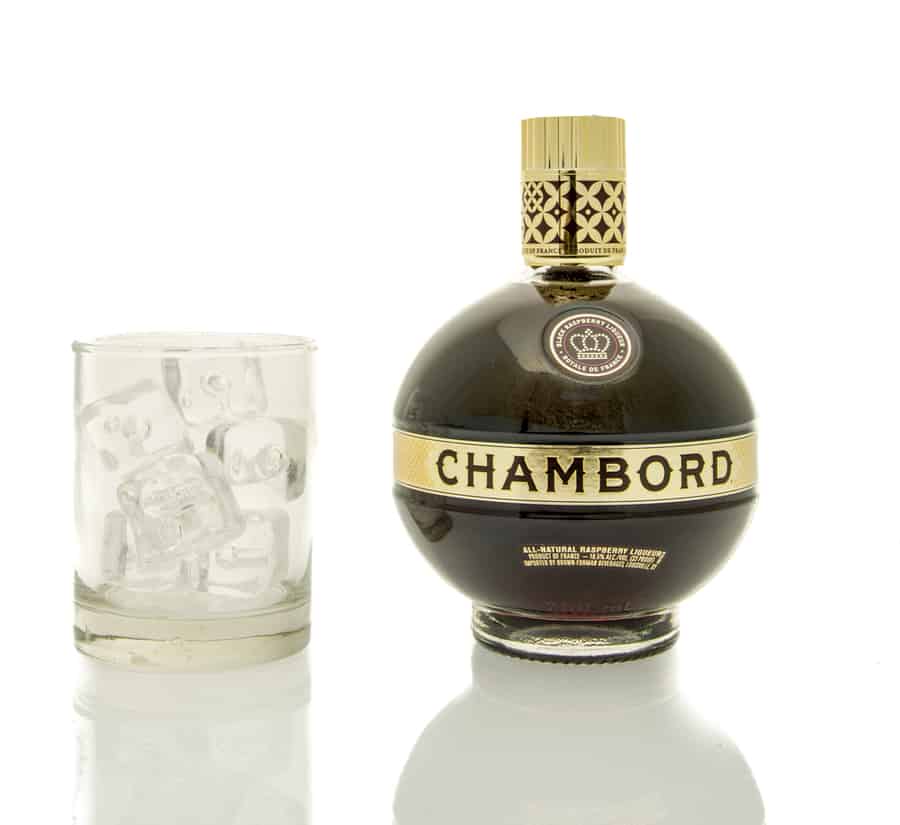 It's dark purple, delicious, and comes in a gorgeous purple and gold bottle that appears as if it came straight from an 18th-century drawing room.
Part of this liqueur's charm is that it sounds elegant, yet it isn't too expensive. It has a lovely black raspberry flavor that elevates any cocktail.
Should you invest in a bottle? Yes, we believe so! Now, you might wonder what Chambord liqueur is.
At 16.5% ABV, they consider Chambord a relatively 'light' liqueur. Chambord tastes sweet, rich, and fruity with a distinct raspberry taste. Besides XO Cognac, adding subtle oak notes, Madagascan vanilla, and Moroccan citrus add depth and flavor to the final product.
We'll look at the (somewhat) long history of Chambord liqueur before diving into the unique three-step preparation method. We'll also look at the taste you can expect when you open a bottle of Chambord, and we've linked the official Chambord cocktails for you to try at home.
History of Chambord Liqueur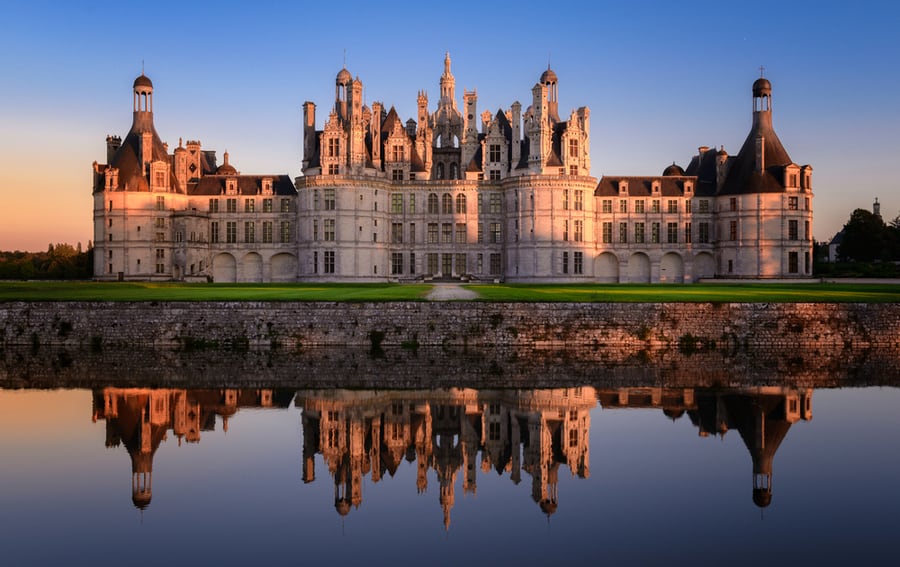 The liqueur is claimed to have been presented to King Louis XIV during a visit to Château de Chambord in the late-1700s. This was a blackberry and raspberry liqueur flavored with exotic spices and sweetened with sugar and honey.
Only the nobles could buy such a costly liqueur at the time—exotic spices were literally worth their weight in gold.
Charles Jacquin a Frenchman who emigrated to Philadelphia and founded his company, Charles Jacquin et Cie., in 1884. He set out to produce old-world cordials in the USA.
Jacquin provided the knowledge and recipes he learned abroad, and business partner Mr. Hochstadter provided the American business acumen. Emmanuel Osterman was given a minor job at the company and an added incentive.
When Mr. Hochstadter passed away, Emmanuel Osterman became the sole owner of Charles Jacquin. By the turn of the century, Jacquin had a sizable reputation across the USA for their fine cordials.
Fast forward to the American prohibition period (1920–1933). Although the company could not produce alcoholic drinks, it made non-alcoholic cordials.
Maurice J. Cooper bought the company and became president in 1933. During Prohibition, he had a contract with the American army to produce non-alcoholic beer.
His beer sold surprisingly well… Following Prohibition, Maurice created new products and reproduced the recipes he got while working at the distillery. Forbidden Fruit, a liqueur, was one product that Maurice packaged in a peculiar, orb-shaped container.
Norton J. Cooper, known as 'Sky,' was the son of Maurice Cooper and inherited his father's business acumen when he came across 'Chambord' liqueur; he bought the recipe and the brand.
He took the orb-shaped bottle of Forbidden Fruit, which his father created, and used it for Chambord liqueur. They launched the product in 1981 under its full name Chambord Liqueur Royale de France.
Sky eventually sold the brand to Brown-Forman for $255 million.
How Is Chambord Liqueur Made?
The liqueur is produced in a three-step process we'll look at in a moment. The Loire Valley is home to La Sistiere Chateau, where Chambord is made.
Chambord's Sistiere manufacturing facility comprises an office and three smaller buildings arranged around a central courtyard, each devoted to a particular part of the three production phases.
Step One: Fruit Infusion and Flavor Extraction
Blackberry, raspberry, and blackcurrant juices are extracted and allowed to infuse with French spirits—that's the short version. The following information was compiled and adapted from Difford's Guide, which offers an insightful look into the production phases.
The fruit infusion is the first and most significant stage in Chambord manufacture. Four tonnes of frozen blackberries and raspberries, as well as 2,000 liters of neutral alcohol derived from sugar beet at 96.3% ABV, are placed into large cylindrical infusion tanks.
To ensure year-round supply, they source the fruit from the northern (France and Serbia) and the southern (Chile) hemispheres. Frozen fruit is used because it is the most excellent way to capture and preserve the fruits' full, luscious flavors.
Freezing helps break down the fruits' cell walls, which aids in the steeping process.
A little heat is supplied when the infusion vessel is filled to assist the fruit in thawing. The infusion remains for about a month, with the vessel stirred every 12 hours to ensure equal infusion.
The 'first juice,' or intensely fruit-flavored alcohol, is poured from the infusion vessel and kept aside in a holding tank.
The second infusion lasts around two weeks. During the 'second infusion,' the fruit-filled infusion vessel is filled again with neutral alcohol of 28% ABV. This creates the 'second juice,' which is also transferred to a holding tank.
The 'third juice' is derived by removing the fruit from the infusion vessel and crushing it to extract the greatest amount of taste possible. The three 'juices' are mixed to create the 'berry infusion.'
Step Two: Blending Chambord Liqueur
This is a crucial step to ensure that all the ingredients are blended harmoniously. Natural essences are extracted from black raspberries, black currant, and other raspberry varietals. No artificial essences are used.
XO Cognac is blended with Madagascan vanilla essence, Moroccan citrus peel, and herbal and honey essences.
The Master Blender balances the blend and ensures its aroma and flavor match Chambord's specifications. When the Master Blender is satisfied with the flavor marriage, they will filter the product.
High-tech equipment, supplied by Padovan of Italy, filters the blend through layers of fine gauze lined with cellulose and diatomaceous earth to remove any impurities that may have slipped in.
Finally, sugar, neutral alcohol, and de-mineralized water are introduced to the filtered extract to create the finished product, which is 16.5% ABV and ready for bottling.                                                 
Step Three: Bottling and Labeling
Although the new bottling process is innovative, it still needs human input from around 15 employees. First, the bottles are 'de-palletized' and rinsed in water with the same alcoholic strength as the liqueur they will contain.
They fill the bottles with Chambord liqueur and capped with little plastic screw tops. Spots of glue are mechanically put on top of each screw cap, and skirted ornamental caps are manually affixed over the top of each plastic cap.
The massive Krones labeling machine then applies all six labels as the bottles spin inside between its six heads. (Because the 700 ml bottle's diameter is so large, two labels are required to wrap around the belly).
The final step is to check each bottle for defects and affix the booklet to each bottle's neck before being hand-packed into shipping boxes.
Tasting Notes and Appearance
The nose has many intense raspberry and black currant aromas, creating a delicious smell. Chambord is smooth and velvety on the palate, with a rich and sweet offering of black raspberries and currants that bursts at every turn.
The finish is a touch dry—a fantastic liqueur to sip on its own or in a cocktail.
The liquid is dark, burgundy red. If you see a slight hint of orange or brown, your bottle of Chambord has been open too long, and the contents have oxidized. You'll have to replace it and use it more frequently or buy a smaller size if you don't use it often enough.
Chambord is available in a range of sizes: 750ml, 375ml, 200ml, and 50ml.
Conclusion
With a history stretching back almost 400 years and fit for nobility, Chambord Liqueur Royale de France is a taste explosion of black raspberry and currant berries in a bottle.
Compared to a traditional crème de cassis, framboise, or mûre, adding vanilla and honey flavors tempers the tart fruit taste. Chambord also has a characteristic chocolate truffle flavor.