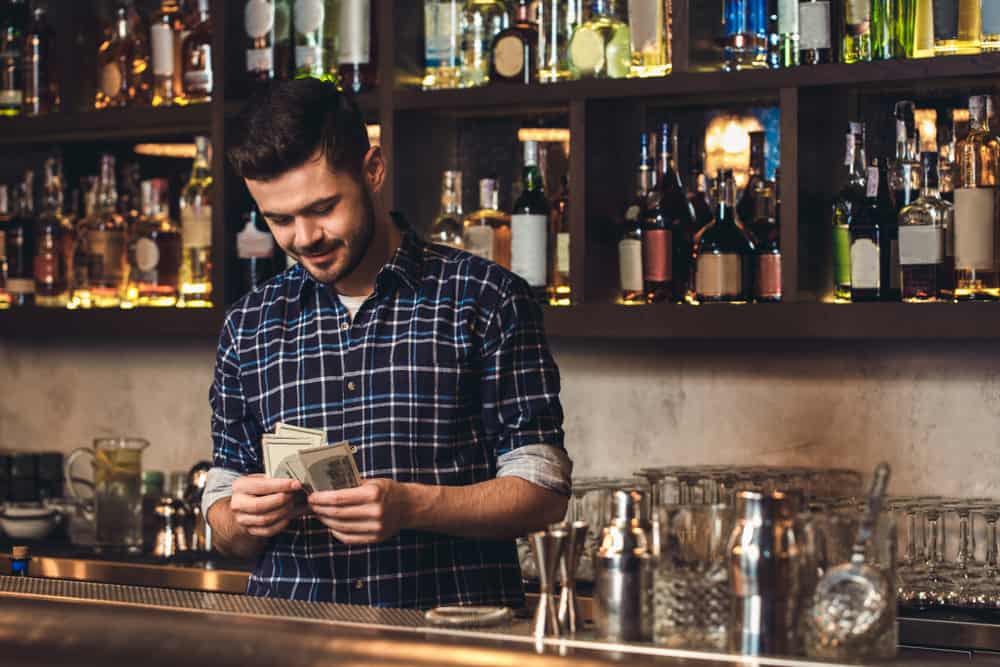 In addition to crafting and making delicious cocktails, bartenders oversee the frontend staff, manage the inventory, and help craft the menu. The hours can be long and late into the night.
Which may have you wondering, how much does a bartender make?
It all depends on the bar they work at—a bartender at a local pub will earn a lot less than one who works at a high-end hotel or resort bar. On average, they'll earn around $26,095 per year, excluding tips, but this figure jumps to $65,095 per year when you factor in the tips.
We will look at what bartenders do for a living, consider the salary with and without tips, and look at freelancer bartenders. We'll also look at the factors that influence bartender salaries and tips.
What Does a Bartender Do?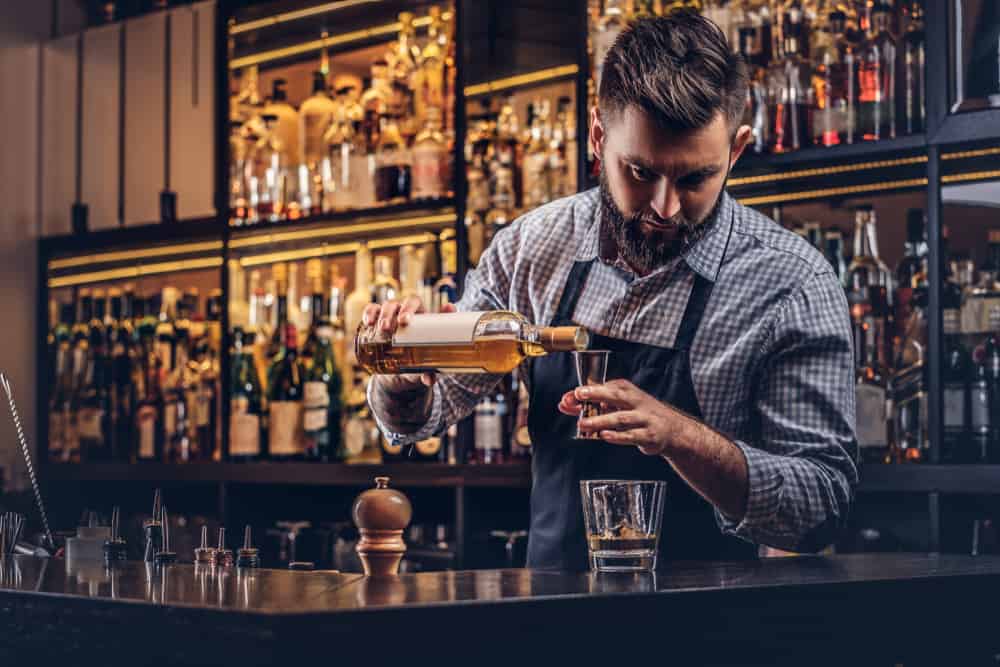 A bartender is more than just being ready with a joke or a light for a patron's cigarette while sitting at the bar as Billy Joel sings. It is more than just pouring a beer or a glass of wine.
Bartenders need to check the stock levels, handle the orders for products running low, receive and replenish stock, balance the inventory and cash register at the end of the shift, and help design and craft menus. They also need to manage the frontend and bar staff—a lot of work, to be honest.
This may lead to thinking, is it worth it all? Read below, and you'll be pleasantly surprised.
What Is the Average Annual Income?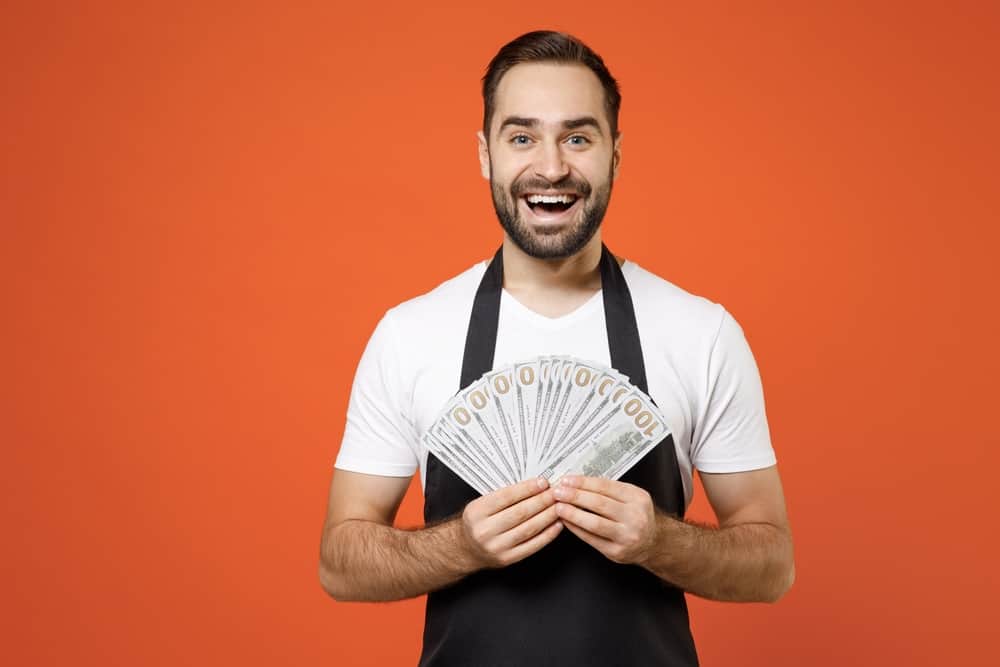 We'll look at bartender salaries without tips to arrive at a basic salary and get a more realistic view, and then include tips to show how lucrative bartending can be as a career.
Salary Without Tips
To arrive at an average, we've looked at a few sites which show the annual income and worked out the average. The sites and the average salaries they posted are:
We used these sites' averages to reach $26,095 per year without tips.
Tips are usually around $150 per day, but this can vary significantly according to the type and size of the bar, location, and state.
Other factors that influence salary are the cost of living, bartending experience, and the bartending tools you require.
Salary Including Tips
There is a strong tipping culture in the USA, and tips range from $1 to $2 on average per drink or 20% of the total tab for the night. To arrive at the salary, including tips, we worked an average 40-hour, five-day work week and assumed $150 in tips per day.
Our sums work as follows:
Two hundred sixty working days (excludes weekends, five days a week) x $150 daily tips = $39,000 per year.
Thus: $26,095 averaged base salary + $39,000 average tips = $65,095 annual salary.
This is hypothetical, but it gives you a good idea that bartenders can make more than double in a month with just tips.
Remember that most bartenders do not "declare" all their tips for tax purposes. This makes it rather challenging to know exactly how much they earn in tips, but it gives us a good idea at least.
When a bartender has special training as a sommelier, cicerone, or other relevant certification or training, their salaries can be far higher than what we have seen up to now.
Freelance Bartenders
According to Glassdoor.com, freelance bartenders, on average, earn between $30,000 and $70,000 per year, with the median average lying at $44,628 per year.
Freelancers determine their hours and charge their rates as they see fit. On average, they will charge between $40 and $80 per hour, but this can be even more if the event host does not allow them to put out a tip jar.
Remember, freelancers usually must supply their transport, tools, and glasses. Hence, they have more overhead costs than a brick-and-mortar bar.
This can mean they earn less than their contemporaries in physical bars, but they have the freedom to work when they want without set shifts.
Factors That Influence Bartender Salaries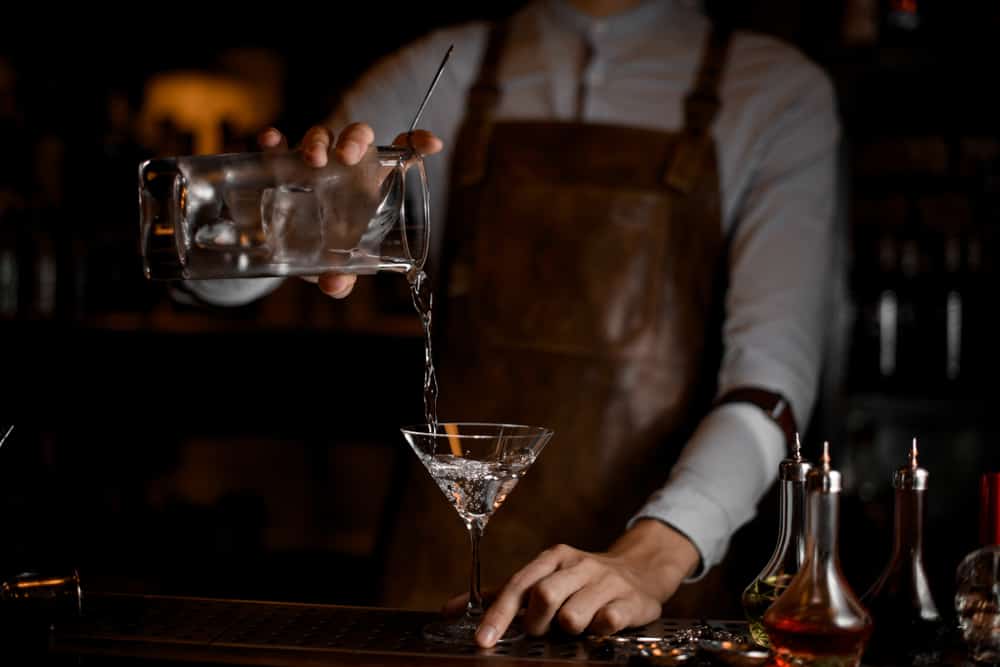 There are a host of factors that will influence a bartender's salary. Some of these include the following:
Experience
Inexperienced or beginner bartenders will earn less than their contemporaries in middle-class bars at restaurants and those who work in high-end clubs, restaurants, hotels, and resorts.
An "experienced" bartender is considered someone with at least five years of experience. Flair bartenders are hired for their flair when they mix or pour drinks and can earn high salaries, depending on where they are employed.
Usually, VIP lounges and high-end nightclubs will employ these types of bartenders, and they can earn handsomely.
On average, they earn around $57,754 per year.
Location
Again, a bartender in a "dive bar" will earn much less than their colleagues working in high-end bars. Sometimes even nothing because no one came in or between $40 on a quiet night and maybe $200 on an excellent night.
In high-end bars, slow nights can bring in around $150 in tips, while busy ones quickly bring in between $400 and $600.
Even in a family restaurant with a dedicated bar, or a sports bar, bartenders earn between $200 and $250 on a busy night.
Shifts
Suppose you work on weekends (Friday, Saturday, Sunday evenings). In that case, you can be assured that you'll earn many more tips than on Mondays through Thursdays.
Evening or night shifts are the best over weekends because that's when all the party animals are in town.
Conclusion
We have looked at numerous factors such as what a bartender does during their shift, salaries with and without tips (on average $26,095 and $65,095, respectively), and the types of bars and factors influencing tips.
Bartending is challenging but rewarding work because they deal with people from all walks of life.
If you have an outgoing personality, love working with people, have the patience to perfect your skills and want to build a desirable skill set you can use while traveling the world, bartending is a great career to consider.