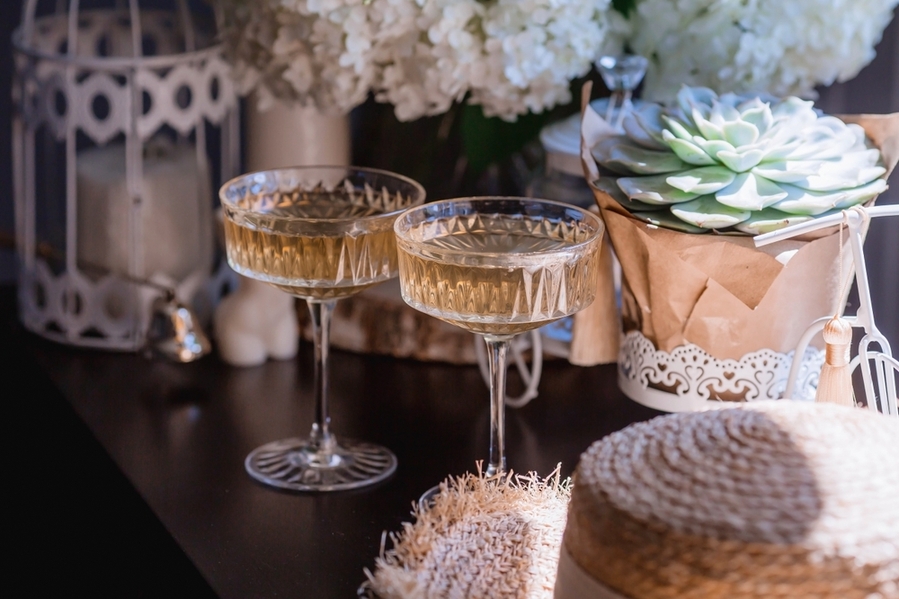 Most of us are used to the traditional bridal or groom shower party ahead of a wedding—you buy the to-be-weds a gift, which will help them set up a house for their life together.
But times are changing; Millenials are getting married later and have a fully stocked household.
Enter the Stock the Bar party!
This is not the typical bridal shower or housewarming party, but it is a party where you help set up the hosts for future entertaining, hence the name: Stock the Bar party. 
A Stock the Bar party helps the hosts to set up a home bar with the essentials they will need to host future events and parties. A Stock the Bar party is a new trend emerging, especially among Millenials who tend to get married later in life, so it can be seen as a type of 'pre-wedding' party.
But, a Stock the Bar party is not limited to soon-to-be-wed couples—it can be held to celebrate milestones such as buying a new house, graduating, or receiving a sought-after promotion at work.
First, we'll define the term so we're all in the same punch bowl. Next, we'll examine the Stock the Bar party from the perspective of both the host and the guests. For hosts, we've got a whole host of tips, do's and don'ts, and general advice to make it an epic event.
We've also included some gift ideas for guests who want to go above and beyond picking a gift from the registry.
What Is a Stock the Bar Party?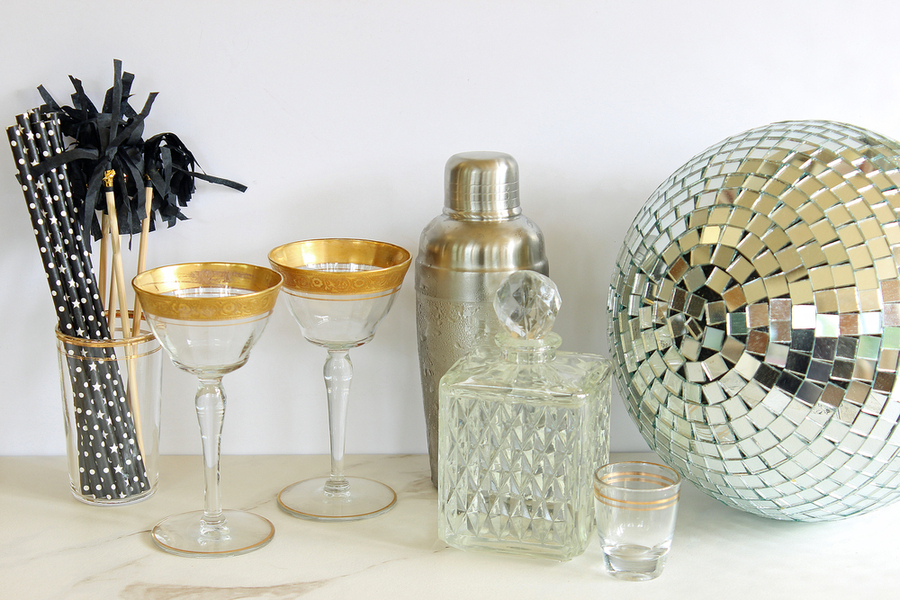 You're probably intrigued by what a Stock the Bar party is. There's a clue in the name already—it's a casual celebration that includes both sides of the wedding party.
It's an informal get-together to stock the soon-to-be-married couple's bar with related barware, glasses, wines, and spirits. This trend is prevalent among Millenials, who coincidentally marry later in life compared to previous generations.
The need for more 'traditional' registry gifts are less, but one should not pass up the opportunity for a great party, right?
A Stock the Bar party is aimed at couples getting married. It can be used for couples celebrating significant milestones like graduating, welcoming a new addition to their family, or a promotion at work, making partners at a firm.
Any reason for a great party will result in guests visiting later on and being served drinks at the host's house from the newly stocked bar.
Usually, guests will bring their favorite alcoholic choice for the party—some will be enjoyed at the party while the rest is given to the host's bar.
A new trend is emerging where guests bring two bottles—one for the host's bar and the other to be enjoyed at the party.
We'll unpack some finer details about hosting a Stock the Bar party to help you host the ultimate event and maybe even set a new trend among your friends and family.
Stock the Bar Party Tips for Hosts
If you're hosting a Stock the Bar party, here are some pointers to help you navigate this exciting new trend—even if you've never hosted one or even attended one.
We'll look at it from the perspective of a pre-wedding party because of the overlapping similarities between wedding parties and a Stock the Bar party.
Inviting Guests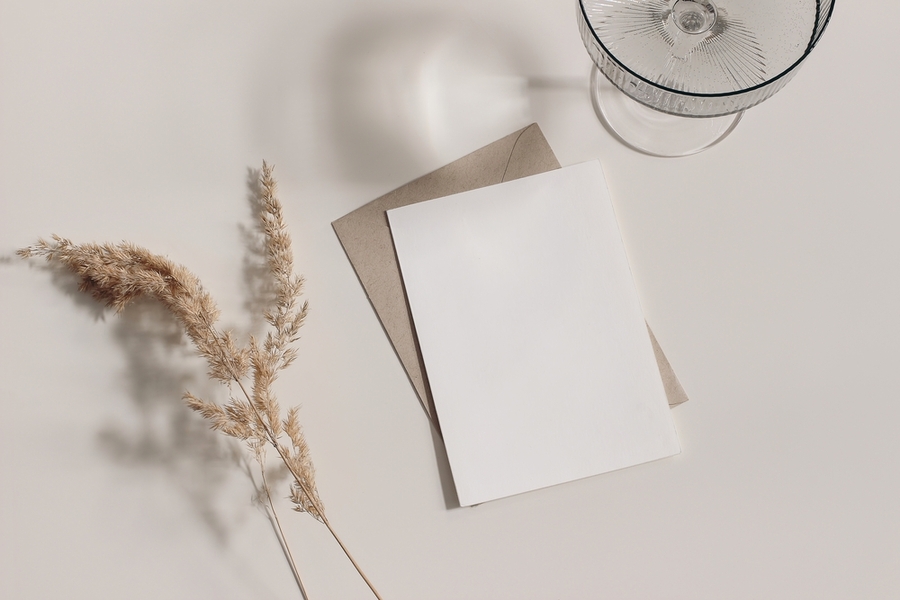 While the event is more casual than a wedding shower, you should still send invitations. Here you can save money and use e-invites instead of printed ones.
If you're the host(s), invitations should clearly state that it is a specific event. Your invitations should clearly say a few things—apart from the obvious ones like saving the date, R.S.V.P. date, confirmation of attendance, etc.
Things you should outright mention include, but are not limited to:
Mention the type: Because this is a particular type of party, your invitations should clearly mention that.
Venue: The venue where the party will be hosted—it is better to host the party at your house if you have the space and capacity because it saves you from getting everything home safely.
Guests' names: Personalize the invitations and address them to your guests by name.
Registry: Clearly state if you've set up a gift registry (if you opt for one like more expensive items such as a bar cart, particular glassware, or barware you'd need).
Remember, if you're hosting this kind of party ahead of your wedding, you should curate your guest list to include only the guests from the wedding.
Inviting wedding guests mixed with non-wedding guests is a recipe for disaster because people are people and will talk about it. After all the celebrations have settled down, you can land yourself in an awkward situation later.
Things To Avoid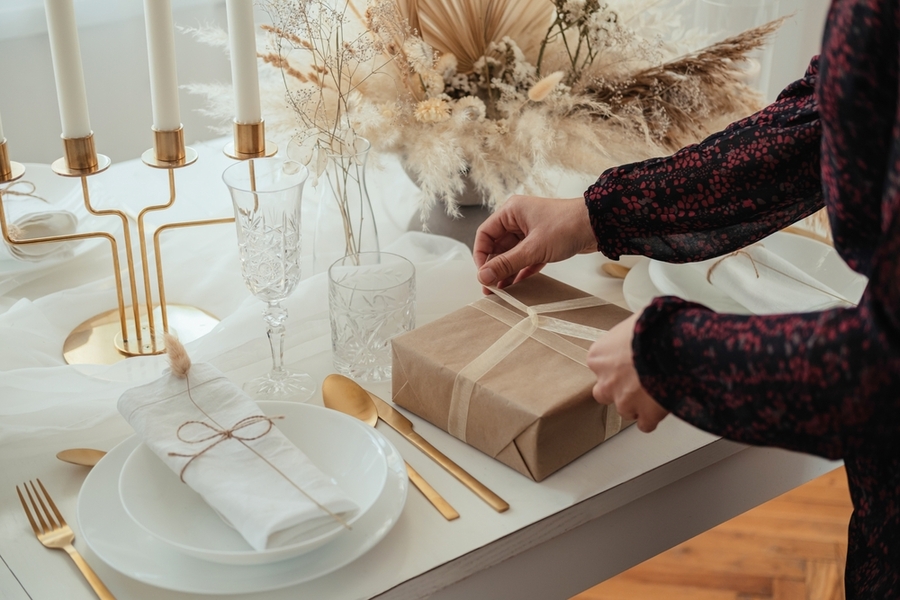 Don't make demands on your guests or be a demanding host—you've invited your guests to share a special milestone in your life.
You're hosting, and the point of a Stock the Bar party is so that you can stock up your bar for future use. A cash bar will reflect terribly on you, and guests will probably only stay a while and then leave feeling betrayed.
Guests are also not bringing alcohol to stock the party's bar for the evening. A huge no-no is to host a potluck type of event, don't ask your guests to supply food, labor, or alcohol—you're a grownup host.
If you cannot afford to host the party, you shouldn't be organizing it in the first place. Instead, wait a bit until your financial situation improves.
Set Up a Registry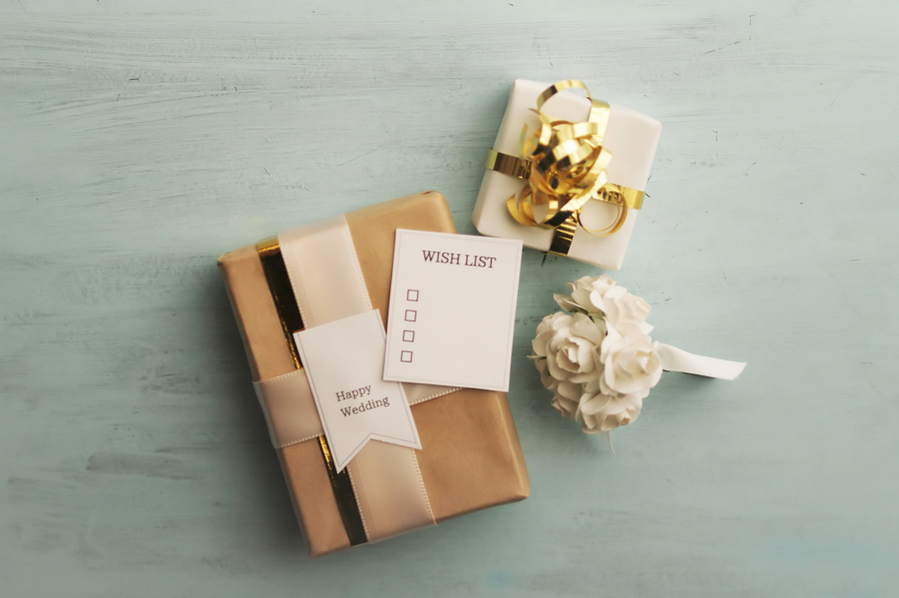 A registry will save you lots of trouble, and you can have fun making it, but remember to keep it reasonable.
Yes, some guests are financially more robust than others, and it is their right to buy the gifts they feel most comfortable buying. Consider having the gifts bought anonymously or having a setting so that other guests do not know who bought which gift.
Now, on to the fun part, setting up your registry!
Nobody knows your tastes in alcoholic beverages better than you, so this is where you can be specific about the drinks you'd like to stock in your bar. A registry will also help to avoid duplicate gifts.
Here are some tips to guide you:
Give options: Clearly state that guests are not obligated to buy every single item on your registry list—give them some options in terms of price if your registry allows this.
Mixing tools: If you love making and drinking cocktails, you'll know that apart from the different spirits, liqueurs, and bitters, you'd also need some mixing tools. So, mixing tools should most definitely be on your registry list.
Books: A cocktail recipe book won't go amiss either, or any other kind of book about drinks you've always wanted to get—now is your chance to get blessed with it.
The usuals: Familiar spirits for mixing cocktails include the usual roundup: gin, whiskey, tequila, and vodka will allow you to make a whole range of cocktails. Don't forget to add sweet and dry vermouth and Campari, to name a few. Opt for your favorite brands.
Glassware: Mixing cocktails is great, but you'd need to serve them in something, right? Various types of glassware should be on your registry list. No, this is not the time to go haywire and request those extra-special crystal glasses made by that (obscure) designer you adore so much… be considerate towards your guests (and their pockets!)
Wine glasses: If you're more the wine-drinking kind, cocktail glasses won't do you too much good. You know your wine glasses, and you know your style. Again, don't opt for the most expensive or obscure glasses you can find because they're 'nice to have,' but you'd be too scared to ever use in case they break…
Wines: Tying in with the point above, offer your guests options for your favorite wines—you can include options for everyday drinking wines, wines you can age for a few years to open later at a necessary dinner party, or options from your favorite estates.
Apart from the tips above, have you thought about how you will store your newly-stocked bar?
If you're stuck for space, a bar cart might do the trick, so put it on the registry. Ice buckets, tongs, bowls for condiments, and garnishes are also essential, so don't forget about them!
You shouldn't forget about some more expensive items either—a mini wine fridge, especially if you love drinking wine, and some cocktails like frozen margaritas require a blender.
What Will You Be Serving?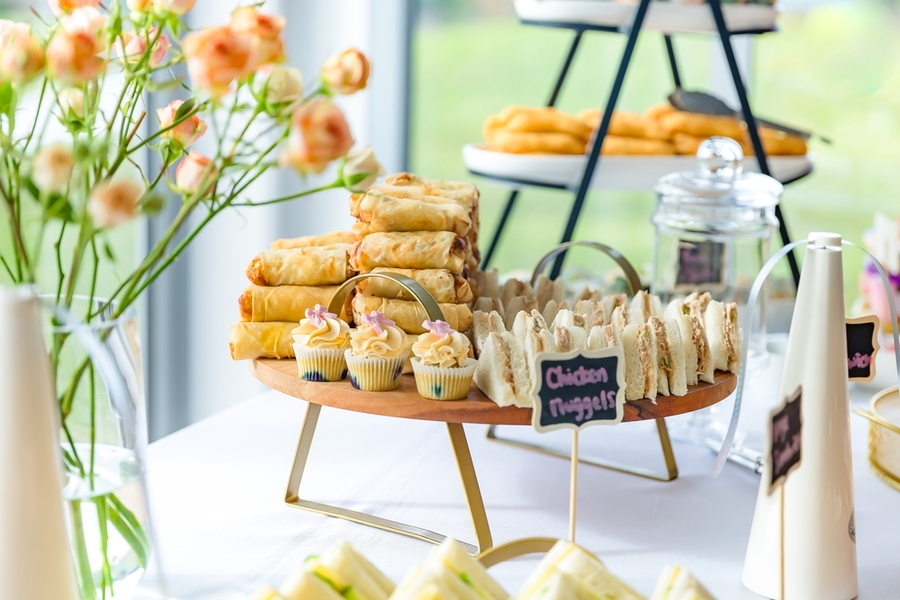 Hosting a party without nibbles is a party guests wouldn't like to attend.
Keep it simple and order:
A few platters of appetizers
Canapes
Finger foods from a reputable catering company
A few charcuterie boards
Chocolate fondue or other small sweet bites
There's no need to hire servers with gloves and silver platters, but if you have the space and funds, do it. You'll definitely be the host with the most! 
Alternatively, you can serve appetizers buffet-style to allow guests to nibble when they feel like it; just ask some of your close friends or family members to keep an eye on the supply levels.
You can ask guests to list their allergies and dietary requirements on the R.S.V.P. response to your invitation to ensure you don't exclude any of your guests.
To enjoy your evening without spending the whole event behind the bar, hire a freelance bartender or a beverage company to take that stress off yourself.
Designing your own signature cocktail for the event will make it memorable—remember to have a non-alcoholic option or two for guests who are driving home afterward or prefer not to drink.
Some wine and beer options should also be available. Most importantly, don't forget the mixers!
Music and Decor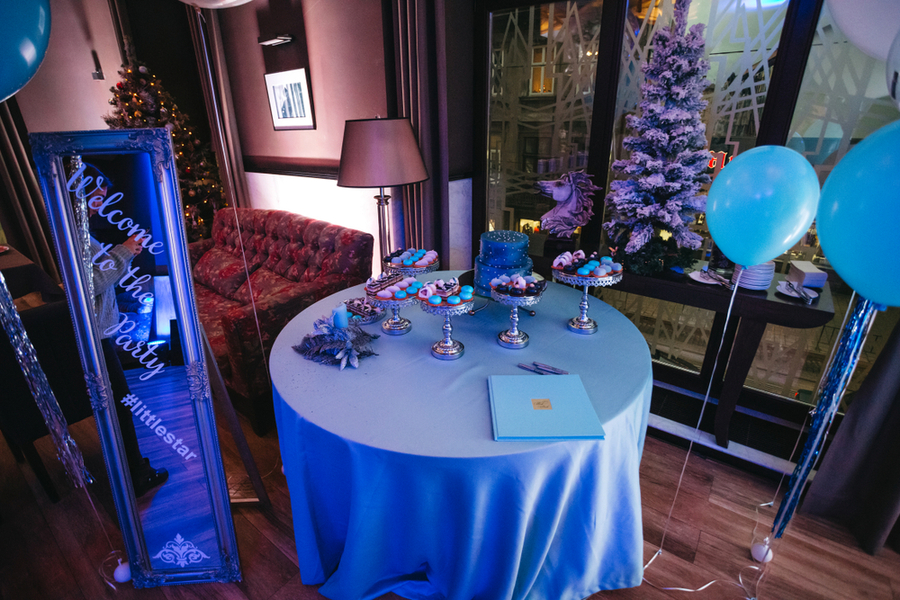 A party without music can be boring. Hiring a professional DJ will go down much better than you fiddling with the music and not tending to your guests.
You can build a playlist around a theme and share this with your DJ.
Avoid songs with lyrics because this may interfere with conversations. Instead, some light jazz or classical music will do the trick, or hire live musicians if you have the space and funds.
Apart from a clean house, you won't need much decor.
You can pull the theme of your party into the heart of the celebration by collecting some beautiful and unique liquor bottles and using them as vases or to hold candles.
Be careful with candle placement to prevent guests from burning or knocking the candles over and starting an accidental fire.
If you hire a professional company to take care of the appetizers, you could also enlist their help with the crockery. Chat with your company beforehand to see their options for plates and glasses.
It will also save you the trouble of cleaning up the following day because they take everything with them when your party is done.
Stock the Bar Party Tips for Guests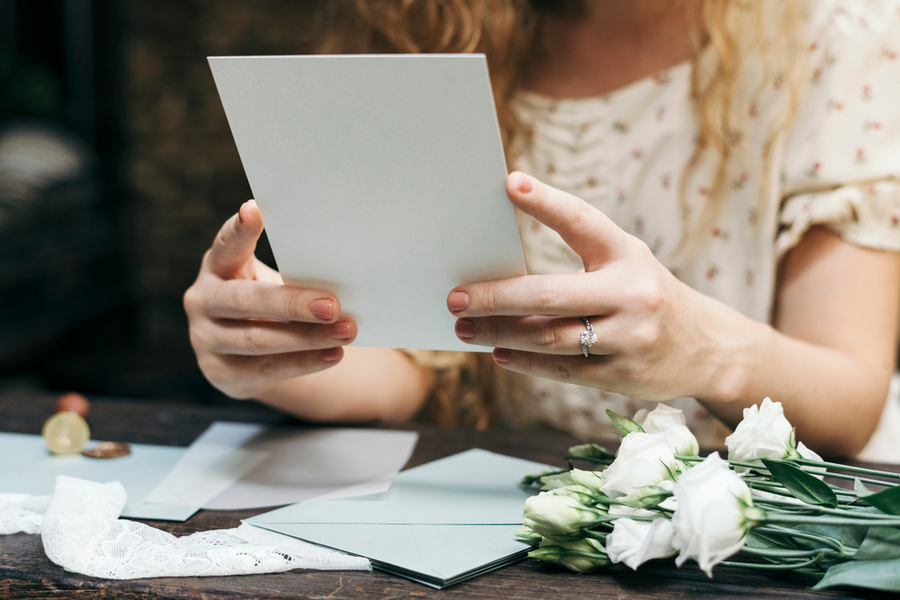 As much fun as it is to attend a Stock the Bar party, you should also be mindful of your hosts.
Below are some tips and pointers to help you have an unforgettable time:
R.S.V.P. as soon as possible: This will help the host determine the number of guests and how many appetizers, drinks, and crockery they should order.
Check the registry: Make an effort to look at the registry and buy your hosts the present you feel most comfortable with or can afford. Don't deviate from the registry and follow your ideas because you think you know the hosts—they've taken the time to set up the registry, and a lot of effort and thinking went into setting it up.
Behave yourself: Yes, you're invited to the party to have a good time and celebrate with your hosts, but it doesn't mean you can leave your manners at home. Know your drinking limit and stick with it.
Thank the host(s): Apart from behaving yourself, enjoy the party and thank your host before heading home.
Offer help: Offer to help the host with serving drinks or keeping an eye on the appetizers buffet if they serve it buffet-style. If your host has hired professional help, don't harass the staff, and be nice to them.
Be humble: Don't brag about the gift you bought. It tells of bad manners, and it is tasteless.
Dress code: If your hosts specify a dress code or costume, do your best to dress up for the occasion, turn up, and enjoy the evening.
Be considerate: Never criticize your host or offer unsolicited advice. It. Is. Their. Party!
Call them the next day: Phone your host within a day or two to thank them personally for the invitation and for hosting the party. Avoid sending a text or email—be old school and call them or send a personalized thank you card. Manners maketh the man, and it will ensure that you receive an invitation to dinner or cocktail hour in the future.
Reciprocate: Make sure to reciprocate your host's goodwill with an invitation of your own to a dinner or cocktail party.
Keep it simple yet elegant if you want to buy an additional personal(ized) gift for the host. Here are some unique gift and drinkware ideas to help you find inspiration.
Your host will appreciate your presence because you share a special milestone with them.
If you feel the need, you can make a financial donation in a sealed envelope containing a check or some cash—address the envelope to your host and hand it over upon arrival, or leave it in a safe place for them to find after you've left. 
Conclusion
As you can see, times have indeed changed. A Stock the Bar party is a rising trend, especially among Millenials who are getting married much later in life, and as such, they have their households already set up.
But, a Stock the Bar Party is not reserved for soon-to-be-wed couples either. It is for couples who have bought a new house and are celebrating a significant milestone in life.
A Stock the Bar party allows guests to help their host(s) set up their home bar for future entertaining. This excellent trend should definitely take hold of our society for the greater good.
Maybe we can extend this trend and host other kinds of Stock the Whatever parties where we help hosts achieve a goal—the options are limitless!
But, for now, you know what is expected of you as a guest when you receive an invitation, and as a host, we hope the tips and tricks will help you host the best-ever Stock the Bar party!