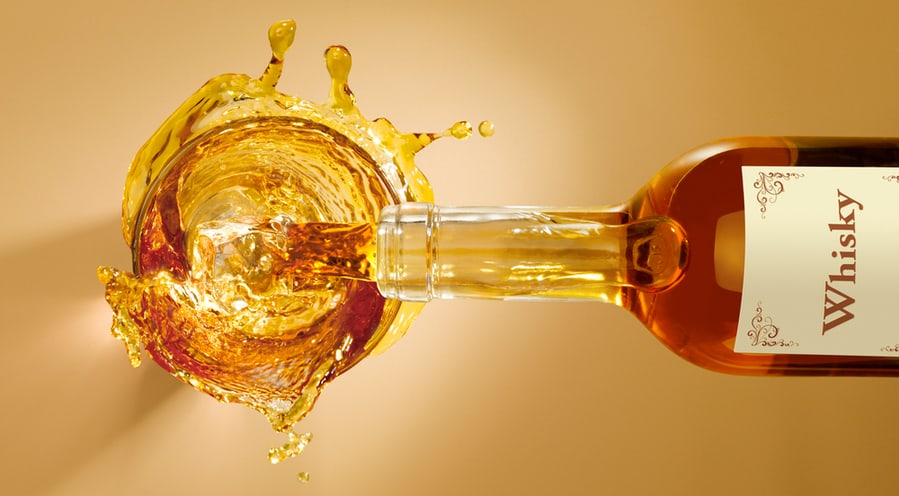 No matter the type of occasion, alcohol somehow becomes a part of the equation. Various types of alcoholic beverages cater to different taste buds, but the feeling each drink imparts is specific to each blend.
Here, whiskey falls into one of the alcoholic beverages that are healthiest to drink. Also, whiskey can help you relax, and tackle the stress and tension from the whole day's strenuous work, making you feel warm.
But it doesn't end there; various varieties of whiskey provide distinctive flavors catering to a diverse range of people.
So, such a versatile drink makes for a perfect present or gift on various celebratory occasions, but hold your horses before thinking of shipping a bottle of whiskey to someone in a different state or overseas.
Why, you might ask? The reason is you need to know numerous rules and regulations first.
So how to ship a bottle of whiskey?
To ship a bottle of alcohol, you have UPS and FedEx, but USPS (United States Postal Service) won't help in this case. However, there are various rules and regulations with UPS and FedEx. Another option at your disposal is to try other alcohol shipping services, but they are expensive and don't have a wide range.
Here, you will know the requirements to send whiskey or other alcoholic beverages to your friends, relatives, or family members in another state or overseas. Also, a workaround you can employ to send your whiskey gift.
Step 1. Packing of Your Whiskey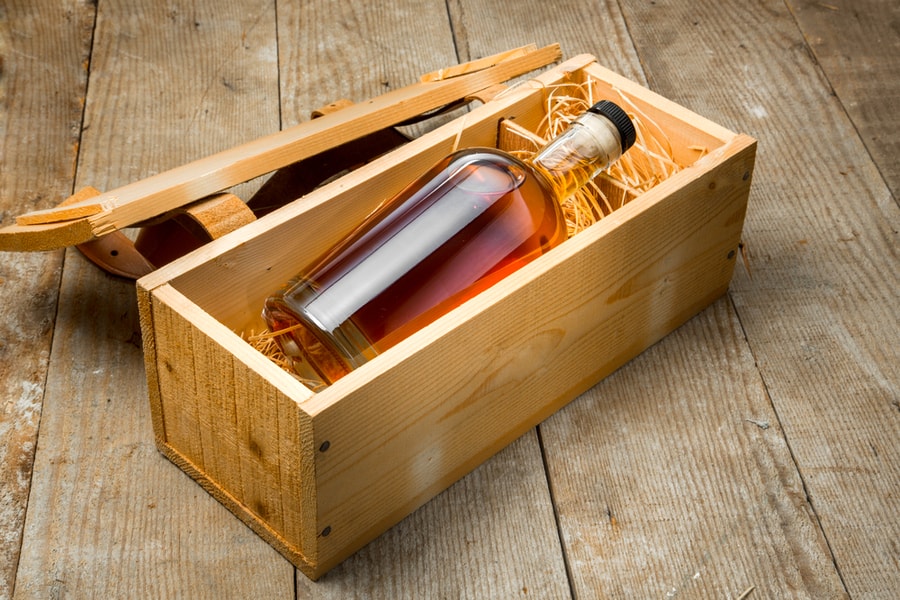 When shipping the bottles, you can never be too sure. Despite the free packaging provided by different services, it can lead to spilling, breakage, or leaking on occasion.
It brings us to the two different packaging methods based on whether it is within the state or shipping overseas.
Packaging for Within State Shipping of Whiskey Bottles
Following is the right way to pack your whiskey bottle to ensure it reaches in one piece.
For starters, you need to see whether the bottle is sealed packed. If it is, all good to go; otherwise, you should fasten it.
Ensure you wrap each bottle with bubble wrap individually.
Get heavy-duty packaging, preferably suited for shipping bottles, which will help you pack more bottles in one box by lining them up.
Get the right void filler.
When taping the box, ensure you tape the top and bottom of the box sturdily (twice/thrice).
Label the box fragile where it can be seen easily.
Packaging for Oversea Shipping of Whiskey Bottles
This option is more relevant for businesses than individuals because they send products in bulk. It is recommended to ship using pallets.
Follow the process mentioned above for each box.
Line the spaces between each box with corrugated cardboard strips (triangular preferred) to prevent bumping and breakage.
Check the total weight allowance and stack the boxes in a symmetrical order.
Wrap the packaging with a plastic sheet, and fasten it to the pallet with straps, and that's all.
Shipping by air isn't a recommended option because first, you will face a tough time shipping it, and if you get around it, the bottles have a higher chance of breaking and spilling.
Step 2. Shipping Your Whiskey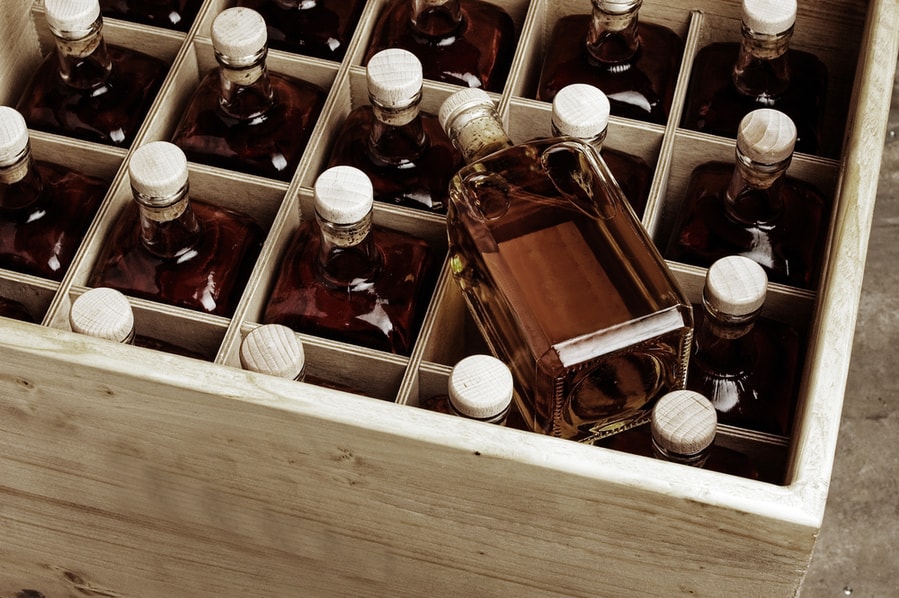 After you have done the packaging and stuff, time for you to take the package and send it pretty simple, right? Wrong!
Here comes the problem of not being able to send it via different shipping services available to you, e.g., USPS, UPS, FedEx, and so on.
For starters, there are numerous requirements for what type of alcohol is permissible for shipping in different states of the US and is mentioned in the statutes.
Using USPS
If you are thinking of shipping your whiskey through USPS, you should look for other options. USPS prohibits shipments of any type or category of alcoholic beverage.
You can go through this article to find more details on why USPS can't ship your whiskey or alcoholic beverage and how you can help change it.
Using UPS
The next option you have can ship your whiskey for you, which is good news for people who frequent UPS.
But sorry to burst your bubble; while you can send alcoholic beverages with UPS, there are specific requirements you need to fulfill for them to ship your whiskey or other alcoholic drink.
One of them results in you not being able to send it as an individual and needing to have the business or retail shop ship it for you via UPS. You can check the complete guideline and other requirements on their official site.
Using FedEx
A great alternative to UPS is FedEx. Though you still won't be able to ship your whiskey by yourself.
Check out the official website for alcohol shipping requirements and regulations.
The primary difference between using FedEx and UPS lies in whether you want to send it abroad or between states. FedEx comes out on top for overseas shipments, but UPS takes the crown within the US.
Using Other Shipping Services
The best bet is to use a licensed distributor to send it for you; that way, you won't have to trouble yourself by visiting each shipping service.
However, you will have to buy the whiskey bottle and ask the distributor regarding the extra shipping details and the cost you will incur if you want to ship it to someone.
For example, you can check this site for shipping to five states in the US.
Workaround to Shipping Your Whiskey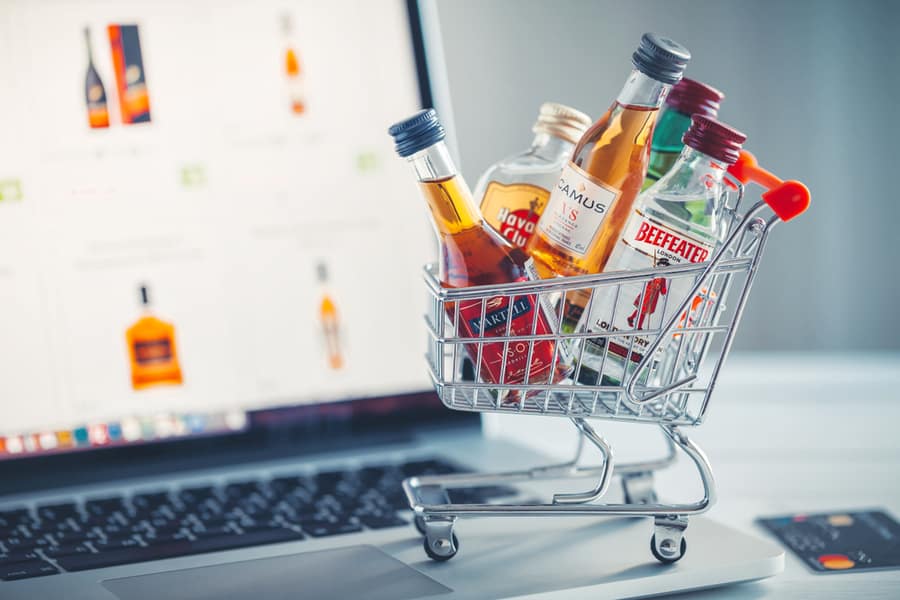 Some people don't follow the rules and regulations and ship their alcoholic beverages by packing them with other stuff or disguising it as medicinal or another type of drink, which can lead to serious consequences.
However, the best workaround to legally send it is to order it online.
How does it differ from using other shipping services? The workaround is using the address of the person you are giving it to instead of your own.
That way, you can gift it to someone while relaxing on your couch. Easy, right?
Takeaway
Lastly, now you know what you can do to ship a bottle of whiskey to someone for their wedding or other occasions.
Also, to ship a bottle of whiskey or more, you have to go through a licensed distributor to ship your bottle because UPS and FedEx can't have you send it as an individual.
However, USPS doesn't allow shipping alcohol, but there are other online options you can try.