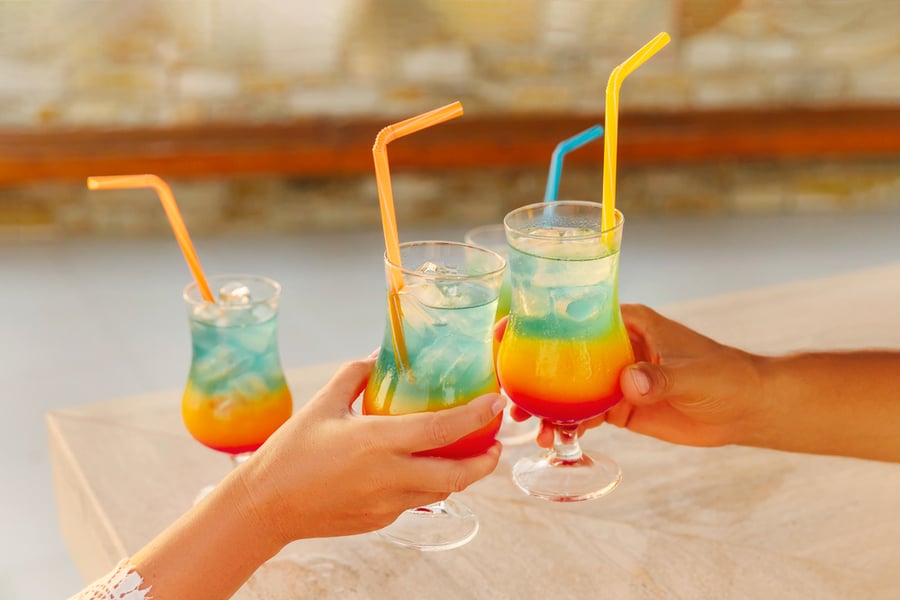 Summer is the season for drinks and cocktails, and children find layered drinks oh-so-attractive, similar to how we are awed at the sight of layered alcoholic beverages.
Layered drinks have exotic looks thanks to their colorful appearance and sometimes contain as many colors as a rainbow. What you need to keep in mind to make these is the sugar content of the layers. Yup that is all.
Also, before starting, decide how many layers you want. You can go as little as two and go as far as a rainbow of colors. Now, how to make a layered drink without alcohol?
To make a layered drink, the sugar content of a layer is the decisive factor. The layer with the highest sugar content stays at the bottom, and the layer with the lowest sugar content is at the top. Also, use plenty of ice to ensure your layering stays fixed for a long time.
Here, we will discuss various exotic layered non-alcoholic beverages and give you a general method to make any layered drink without alcohol.
How To Make Layered Drinks Without Alcohol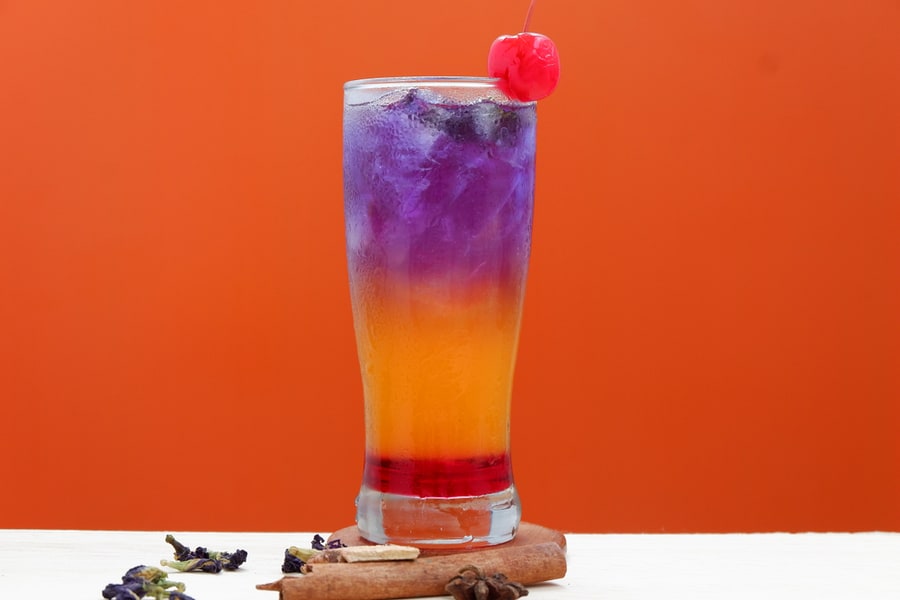 Layered drinks are relatively simple to whip up if you pay close attention to the sugar content of each layer.
Why does a layer with higher sugar content sink to the bottom, you ask? It is dependent on the density of the fluid.
Here is how to go about making any layered non-alcoholic drink,
Step 1: Start by taking a glass or mason jar, whatever you prefer to drink it in. However, glass is recommended because of the ease of sliding the layers on its sides.
Step 2: If you have the mixture ready, i.e., layers, slowly start by pouring the layer with the highest sugar content at the bottom by letting it slide down from the side of the glass.
Step 3 (With ice): Add plenty of ice after letting the layer settle down at the bottom of the glass or jar. Pour the next layer directly on the ice slowly and let it gather over the previous one.
Step 3 (Without ice): Take a spoon and let it hang just above the settled layer, with its bottom side facing you. Pour the next layer with the second highest sugar content on the backside of the spoon and let it drizzle down on the layer before it.
Remember to keep note of the density of layers and sugar content while pouring if you want to avoid mixing, and make sure they are far apart, not by just a difference of 1 or 2 (oz/in3).
Step 3.5: An extra step if your layers end up mixing despite the difference in density, then you have to follow this tedious step. It requires pouring one layer and letting it freeze to develop a layer of ice, then repeating the process after pouring each layer over that ice crust.
Step 4: Lastly, if you have three or more layers, this step is the repetition of step 3, but after the previous layers are settled down. Continue repeating till you finish the layering, and voila! You have your layered drink without alcohol ready.
Step 5: This step involves garnishing the drink and is optional. Use frozen treats, mint leaves, lime, or lemon slices to adorn it.
How To Prepare Layer Syrups at Home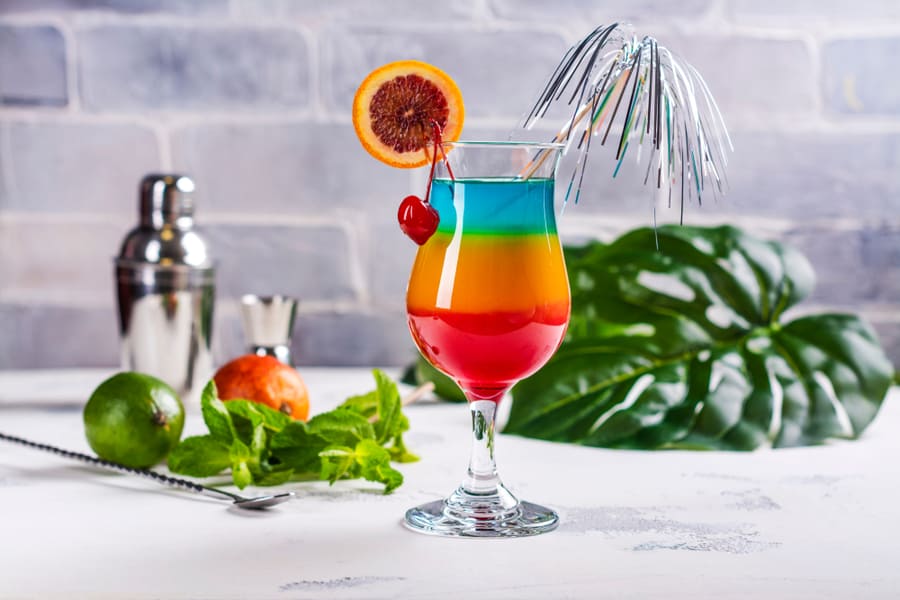 These syrups are relatively simple to make at home. You need three simple ingredients and one optional ingredient to prepare them.
Ingredients
One cup of water
One, half, and a quarter cup of sugar for the first, second, and third layers, respectively.
Last but not least, colorings for each (preferred sugar-free food colorings).
Zero-sugar carbonated beverage or additional treats to taste (optional)
Instructions
Start by adding sugar to water and heat it until the sugar completely dissolves in it. Let the mixture cool down for a few minutes while stirring and adding food coloring. Pour the product into a bottle to freeze it, and it is ready to use.
Simple, right? And it is free of extra additives.
Repeat the process for all three layers, or you can have more if you so desire, and add a zero-sugar carbonated beverage on top to add fizziness to your drink. There you have it, your homemade and easy recipe for a layered drink without alcohol.
Non-Alcoholic Layered Cocktail Ideas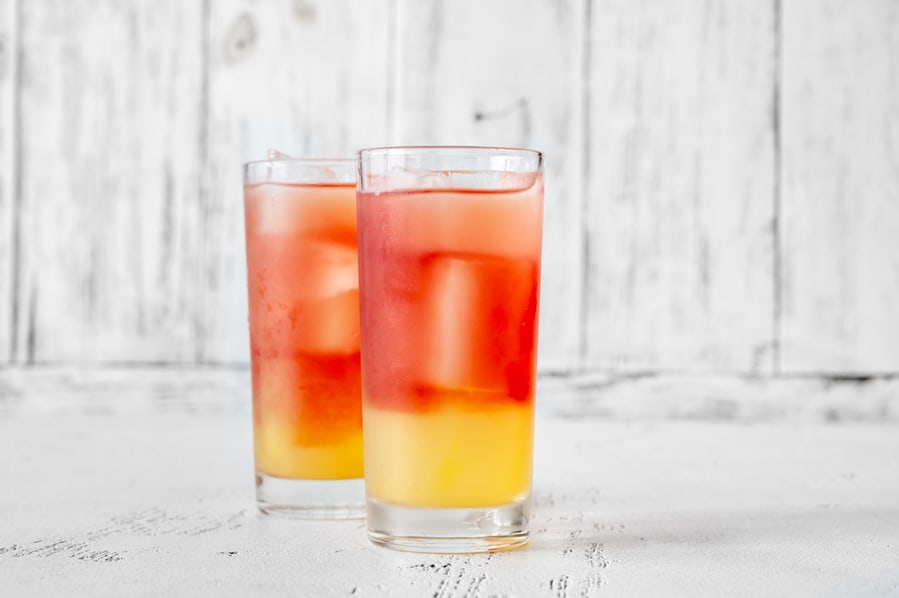 There are various famous non-alcoholic layered beverages, but the most popular among those are as follows:
Patriotic Mocktail
This layered beverage contains three colors, white, blue, and red; hence the name patriotic mocktail.
Ingredients
Blue Gatorade (⅓ cup)
Red Colored Syrup (Cranberry Juice, Strawberry Juice, etc.) (⅓ cup)
Sprite or White Cherry Juice (⅓ cup)
Ice
Instructions
Remember, you can layer it in whatever style you want based on the sugar content of the syrups or drinks you obtained. For this one, fill the glass with ice cubes. Tilt the glass slightly and pour the red syrup at the bottom.
Let the first layer settle and add other layers, white one after red on ice cubes or a spoon, and finally, the blue layer and garnish it with mint leaves or frozen fruits (optional).
Rainbow Layered Cocktail
The most popular layered drink with children because of the unusual and captivating shades akin to a rainbow. You need to know about primary color mixing to get the desired effect.
Ingredients
Blue Syrup (½ cup)
Red Syrup (⅓ cup)
Green Syrup (⅓ cup)
Carbonated beverage (zero-sugar) (½ cup)
Ice (Optional)
Instructions
You can not whip it up like other layered drinks, and the order of syrups is crucial in achieving the rainbow effect. Start by pouring the blue syrup (highest sugar content) at the bottom of the glass, followed by green and then the red syrup (lowest sugar content).
What is the catch? Make sure that the density of layers is closer to each other (unlike other layered beverages) to allow slight mixing of layers. It will create your rainbow effect, and you can top it all with soda for a fizzy drink.
Also, it is better to chill it in the freezer than to add ice.
You can also add the jelly powder to each layer and place an ice cream stick in it. That way, you can have a rainbow-colored popsicle, but remember to avoid carbonated beverages in this case. Enjoy it on a hot summer day!
Summary
After reading through this article, making a non-alcoholic layered drink is a piece of cake for you now. These sweet drinks are perfect for any summer party to liven up the mood and can be served with salty side dishes to compliment their flavor.
Also, always keep the layer with the most sugar at the bottom and the least at the top. Go with descending order from the base for the mid-layers, and there you have it, your easy-to-make at-home layered drink.