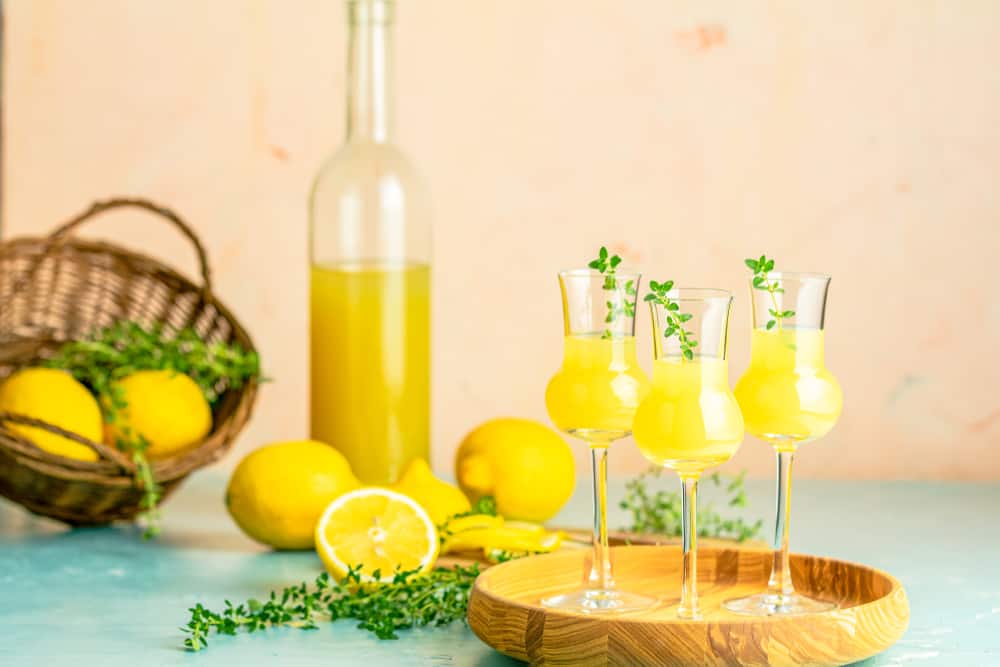 Limoncello, an Italian beverage, is an adult version of lemonade, but the best way to relish it is to know how to drink it. Limoncellos made by different brands can range from sweet to citric in flavor with a hint of bitterness, which means you can choose from different options to find the one that suits your taste.
It is usually known as a post-meal drink due to the reinvigorating taste of lemons and is often incorporated into many Italian desserts.
So, how can you drink this liquor at its best?
Real Italians enjoy limoncello by pouring it straight into a shot glass and savoring it ice-cold by sipping it, to fully enjoy the flavor of the drink. Also, Limoncello loses its cold temperature quickly, so serving it in small shot glasses is the way to go.
Although it's usually served as a shot, there are other ways to drink limoncello, such as adding it to cocktails or making different blends.
Here, we will discuss several different limoncello cocktails (sweet and sour) that you can try, each with a little twist.
How To Drink Limoncello
While it is good to enjoy this drink chilled and in small servings, you can also explore other ways to drink limoncello.
Crema Di Limoncello aka Creamy Limoncello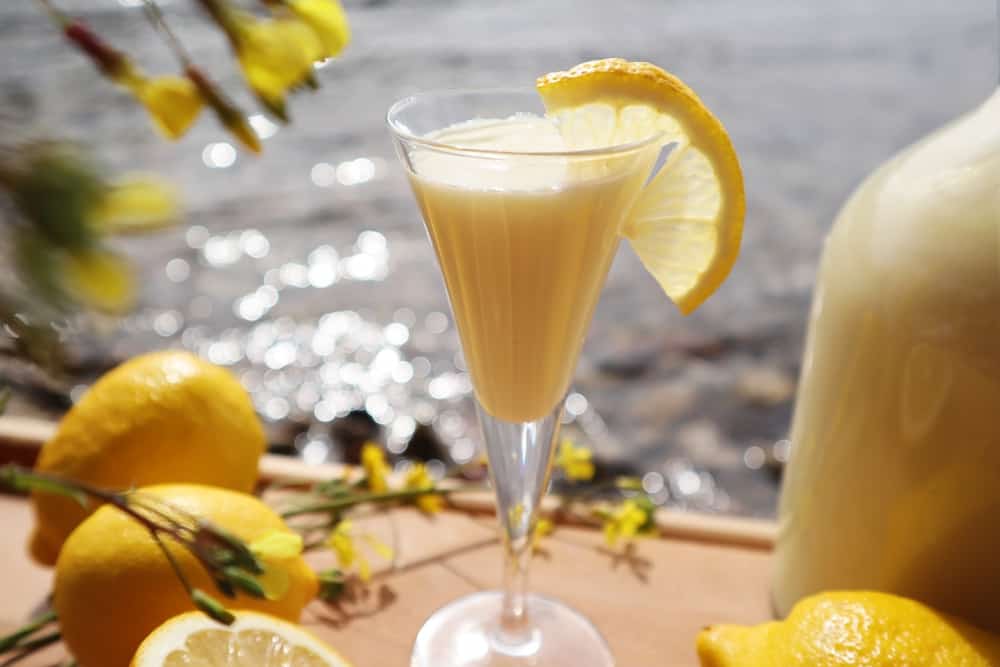 It takes roughly six days (sitting period included) to make this drink, and it is a great beverage to enjoy due to the addition of milk providing a creamy texture.
Crema Di Limoncello is relatively simple to make at home.
Ingredients:
Peel of 10 lemons
1 bottle of strong alcohol (preferably vodka)
8 cups of whole milk
5 cups of sugar
For enhancing flavor, you can add vanilla beans (vanilla essence can be used as an alternative but beans give a more natural flavor).
How to make it:
Mix the lemon peels with alcohol (vodka) in a jar (air-tight recommended), and store it in a refrigerator while mixing the contents once or twice a day.
After continuing this practice for 5-6 days, boil the milk with sugar separately till sugar dissolves, and let the mixture cool.
Use a sieve to avoid putting lemon peels into the milky mixture and transfer the whole content to a bottle and chill it in the freezer.
Enjoy post-meal for the best taste.
Raspberry Limoncello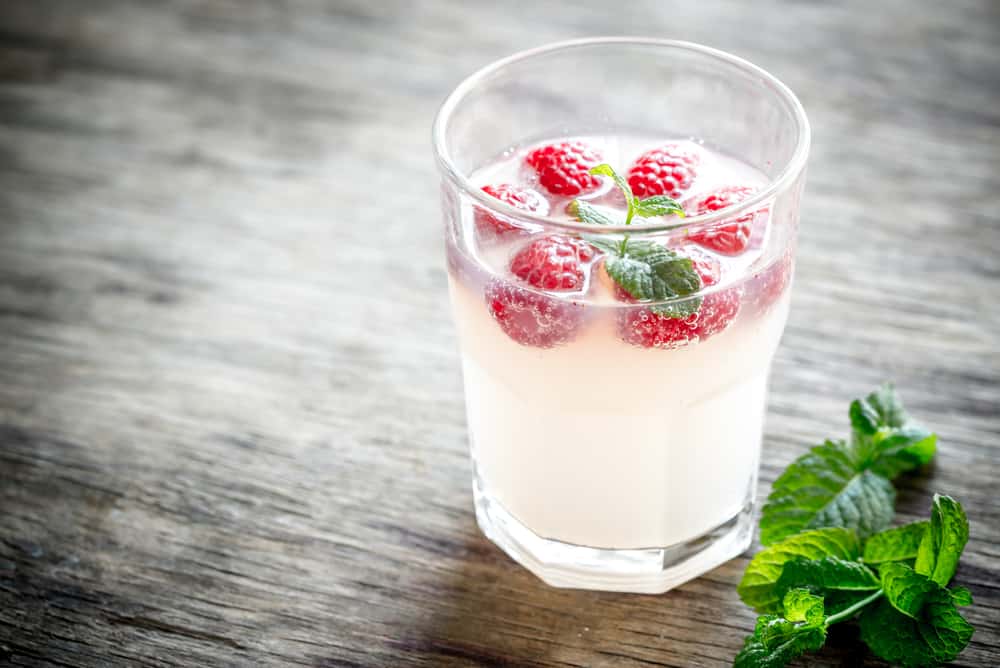 This cocktail offers a fruity taste, and preparation takes around a few minutes.
Ingredients:
1 lemon
1 oz. alcohol (vodka)
6 oz. raspberries
1 oz. limoncello
Ice
Soda for a carbonated twist
How to make it:
Crush raspberries to squeeze out their juice, take a mixer/cocktail shaker, and transfer all the ingredients with ice to it, except soda.
Strain the mixture using a sieve and transfer it to a glass.
Add soda to the mix and adorn it with lemon slices and raspberries. Enjoy!
Limoncello Sunrise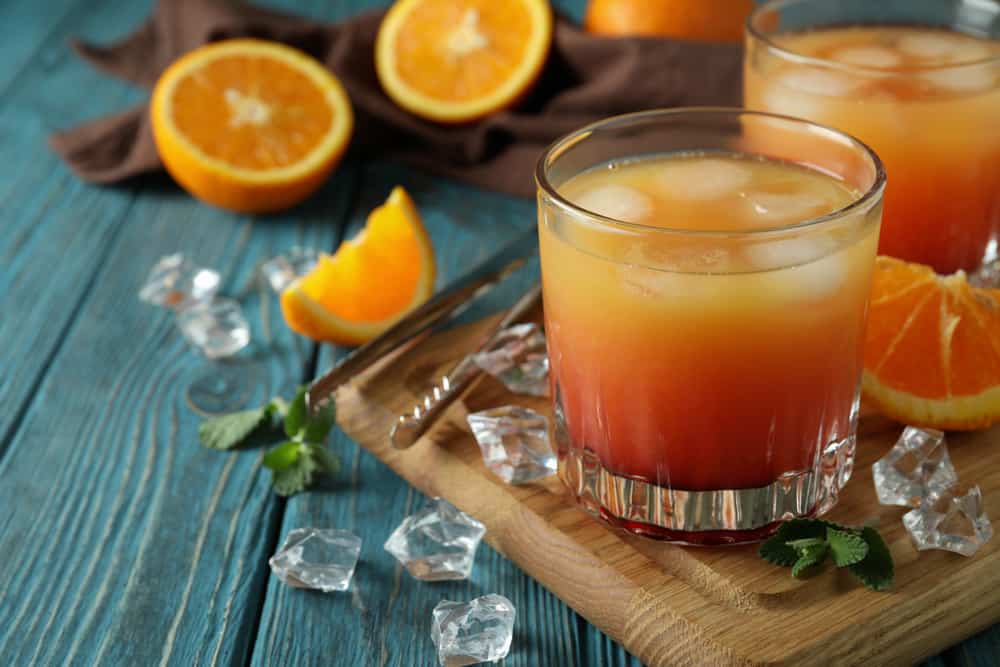 It is one of the easiest recipes among limoncello cocktails. It takes roughly two minutes to make if you have the ingredients ready.
Ingredients:
Dash of grenadine
3 oz. orange juice
2 oz. limoncello
Yes, these are all the ingredients you need.
How to make it:
To whip up this drink, take limoncello, mix it with orange juice, and top it up with grenadine, which will produce the sunrise-colored effect of this drink.
You can also use orange slices or cherry for adorning it.
Experiment by adding different fruit juices to the drink. This way, you can achieve a taste unique to you.
The Paradiso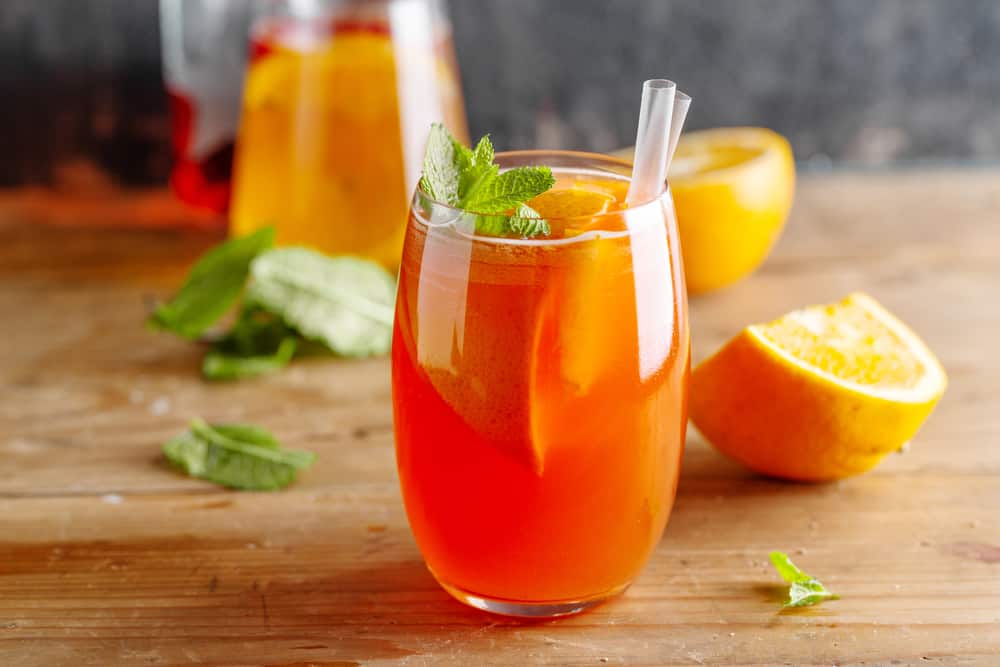 Like Sunrise, you can get the Paradiso ready within minutes, though you need more ingredients.
Ingredients:
1 1/2 oz. orange vodka
1/2 oz. limoncello
1/2 oz. orange juice
1 oz. Campari or Aperol
Orange slices or cranberries for garnishing
How to make it:
Take a cocktail shaker and transfer all ingredients to the shaker with ice, except for garnishing ingredients.
Shake it rigorously and transfer it to your preferred glass (after straining).
Embellish it with orange slices/peels or cranberries on a stick or floating in the drink.
Limoncello and Bourbon Blend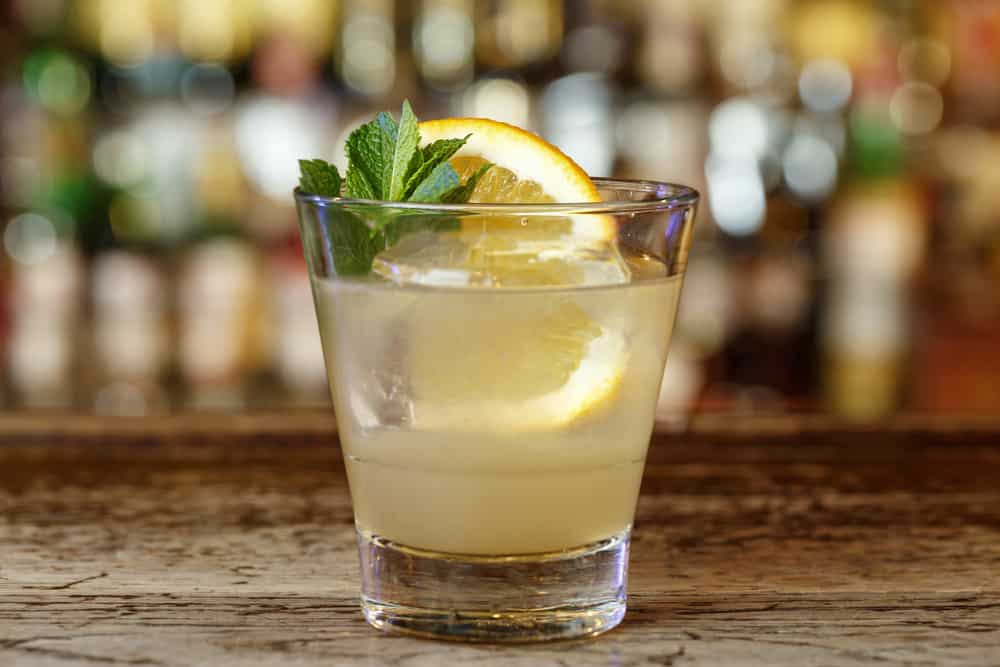 It is often called Fool's Gold, A Match Made in Heaven, and so on. It has many variants but the base ingredients stay the same (bourbon, limoncello, and lemon juice).
Ingredients:
1.5 oz. limoncello
1 oz. bourbon
juice of half a lemon
1.5 oz. simple syrup
lemon slices
basil leaves
How to make it:
By now, you'll know cocktail shakers and ice are the starting point of these beverages. So, start by putting all the ingredients in it and shake it intensely (except lemon slices and basil leaves).
Strain the end product, and transfer it to a glass filled with ice.
Garnish it with basil leaves and lemon slices, and enjoy!
Other Simple Limoncello Cocktails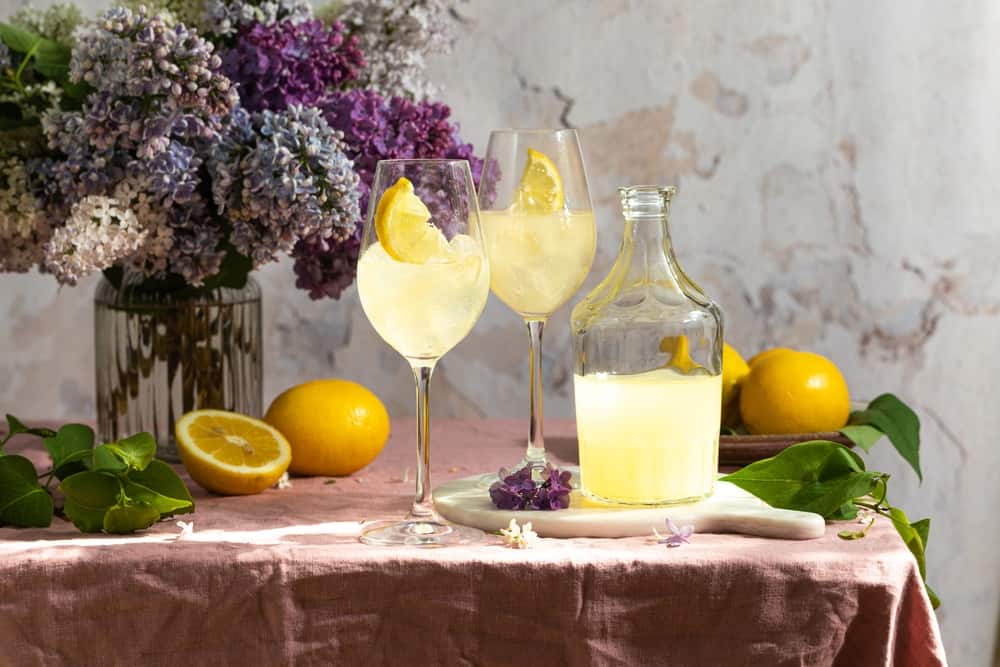 Limoncello Martini: Often known as Lemon drop Martini, it is also one of the simplest cocktails you can make with limoncello. Learn how to make the best Limoncello Martini.
Limoncello Collins: A twist for gin lovers, this drink highlights the lemon flavor of limoncello. Learn how to make the perfect Limoncello Collins.
Limoncello Champagne: This cocktail provides a fizzy and classy finish to the drink and is relatively simple to make. You only need champagne, limoncello, and lemon juice to whip it up.
Limoncello Mojito: This blend combines rum with the freshness of mint leaves to make a refreshing drink. Check this step-by-step guide on how to prepare Limoncello Mojito.
Devil's Punch: Last but not least, the best limoncello cocktail for tequila lovers, it provides you with a festive feeling. All you need is tequila (2 oz.), orange juice (1ml), limoncello (1 oz.), and orange liqueur (1 oz.). Mix the ingredients in a shaker, and voilà!
Conclusion
Remember, limoncello may seem like a light drink, but it has a high alcohol content, and the addition of other alcoholic beverages makes it a pretty strong drink.
So, the best way to drink it (chilled, in small servings, and by sipping it) is the right way to savor its taste without getting overwhelmed by the alcohol content.
Frequently Asked Questions
Is limoncello good for digestion after a hearty meal?
Yes, limoncello helps in the digestion of food, especially after a hearty meal. Lemon in itself has the character to enhance gastric acid production, which is why limoncello as a plain drink is often categorized as a digestif.
Which glass is best for serving limoncello?
It is recommended to use a crystal clear glass for this drink because of the mesmerizing color. You can use a cordial or shot glass, but keep in mind that limoncello needs to be sipped, not shot.