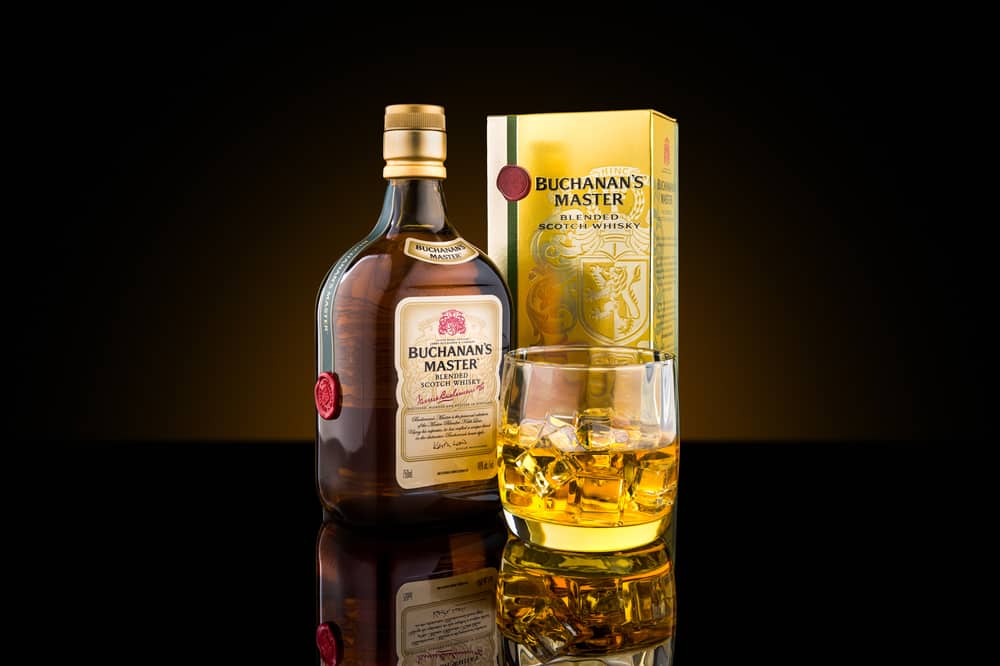 Buchanan's is a blended Scotch and a rare gem among whiskies. It is an old-school whisky that our grandfathers would drink. Buchanan's is a balanced and rounded whisky with some sweetness and maltiness, which makes it a superb all-rounder whiskey.
But how do you drink Buchanan's?
Buchanan's is one of those rare whiskies you can drink neat, on the rocks, in a whisky and soda, or even mix into a cocktail. We would prefer not to mix their top whisky, Red Seal, in a cocktail because of its beautiful flavor profile and unique aromas (and it is also quite expensive).
We'll look at where it all started for James Buchanan. He saw an opportunity and created a wonderful spirit the English population, British House of Commons, and English royalty enjoyed.
We'll unpack the four variations and how to drink each of them and offer some advice on whisky glasses when you'd like to drink your dram neat.
Where Did It Start?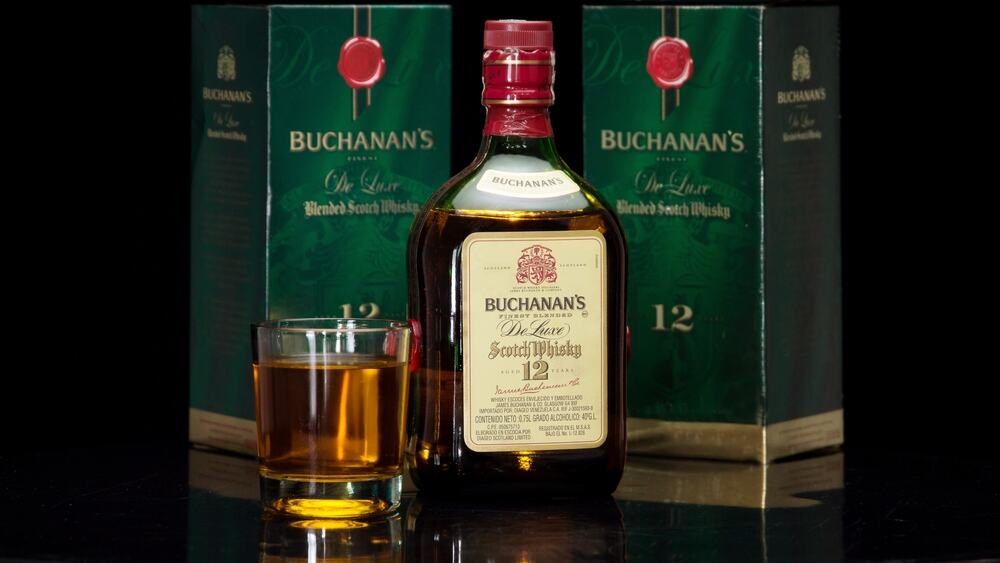 James Buchanan was born in Canada to Scottish immigrants. Still, his family later moved back to the United Kingdom, where he was reared in Larne, County Antrim, Northern Ireland.
He joined a shipping company in Glasgow when he was fourteen or fifteen and was later promoted to clerk. In 1868, he joined his brother in the grain business until he relocated to London in 1879 to work as an agent for a whiskey firm.
James noticed a market void for bottled Scotch whisky and began producing his brand, Buchanan Blend, in 1884.
In 1898, he was awarded a Royal Warrant to provide Buchanan's Whisky to the Royal Household of Queen Victoria and the Prince of Wales.
James spent most of his wealth on philanthropic projects and donated generously to hospitals and other charitable causes. An all-around good chap, we'd say.
Buchanan Variants and How To Drink Each One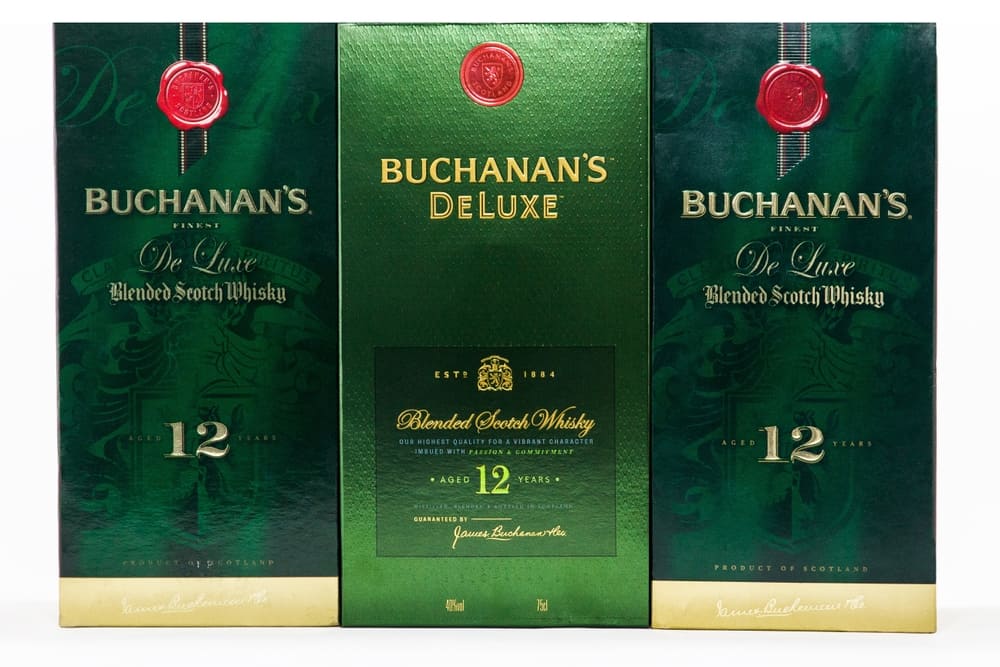 Buchanan's lists four variants on its website: Deluxe, Master, Special Reserve, and Red Seal. We will look at each of them and how to drink them.
Buchanan's is a smooth, blended whisky that offers lightness and refined flavors.
Due to its relatively low-to-mid-level price tag, it is sometimes overlooked by more famous brands. But then again, a decent whisky at a lower price may let you feel like an insider who's discovered a secret club, and that's something we will drink to!
Buchanan's has been popular in Latin and Central America for many years. The secret?
He was involved in thoroughbred horse racing and traded in thoroughbreds raised in Central and South America. Like an intelligent businessman, he used his contacts to promote his whiskies across the waters.
Deluxe 12 Year Old
For over 100 years, the Deluxe 12-year-old whisky has been one of their most awarded whiskies.
It has a soft and fruity flavor with hints of orange and chocolate and works well as a sipping whisky on the rocks or in numerous cocktails.
You can also drink it as a stengah—a popular drink among British subjects in the British Empire in Asia—equal amounts of Scotch and soda water are served over ice. You can also find a host of cocktails made with the Deluxe 12-Year-old whisky.
Many take ingredient inspiration from South and Central America and the islands off their respective coasts.
Master
The Master 12-year-old is a blended malt whisky that contains at least one variant from every whisky region in Scotland.
The whisky is aged for 12 years. It is a creation by Keith Law, Buchanan's master blender.
This whisky is acceptable for either sipping neat or drinking in a cocktail—substitute the 12-Year Deluxe with Master to add more depth and flavor to your cocktails.
Special Reserve
The 18-Year Special Reserve is a blended whiskey made from grain and single malt whiskies, aged for at least 18 years in ex-sherry barrels.
The whisky has flavors of citrus, nuts, oak, and honey. The whiskey is best enjoyed neat or on the rocks due to its unique flavor.
Three cocktails that complement and enhance the Special Reserve's unique profile are:
Blender's Choice: is described as a cocktail that honors the flavors of Buchanan's Special Reserve. It contains absinthe, maraschino cherry juice, sweet vermouth, aromatic bitters, and the star ingredient, the Special Reserve whisky.
Classic Negroni: but made extra special with the addition of Special Reserve whisky.
Swinging Sword: this is an excellent choice for brunches containing fresh orange and lemon juice, some Grenadine, and Buchanan's 18-Year-Old Special Reserve whisky. When I mixed one of these for brunch, all I could think was, "Move over, Mimosa; I have a new favorite brunch cocktail!"
Red Seal
This exclusive whisky is aged for at least 21 years in out-of-series barrels reserved for Buchanan's Red Seal Whisky. Some of the rarest Dalwhinnie Whisky casks are used in this blend along with other specially-selected casks.
Dalwhinnie Distillery is owned by Buchanan's parent company, Diageo as well. It is said that this blend's recipe is a recreation of a version created in 1901 to celebrate King Edward VII's coronation.
History aside, this whisky has a light to medium body and features the signature orange and chocolate notes associated with Buchanan's house style.
Citrus such as orange, mandarin, tangerine, and lime can be detected along with apple, caramel, and a lingering hint of a subtle spice taste. This is one we would suggest you sip neat or on the rocks.
If you are willing to take a walk on the wild yet expensive side, you could mix it into a cocktail—especially the three we listed for the Special Reserve.
Drinking Glasses for Neat Whisky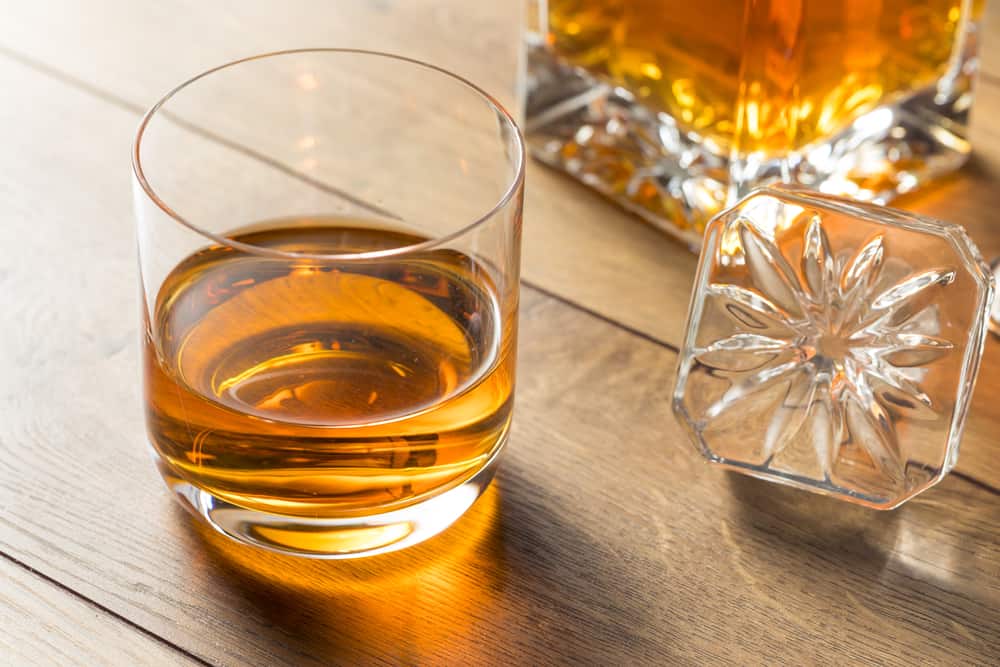 The variants can be appreciated as a neat drink because of their flavorful and aromatic profiles. Because these whiskies have unique flavors and aromatic profiles, the correct type of glass is essential.
Here we would suggest a "back to the basics" approach.
A glass designed to maximize what you are tasting and smelling when you nose the whiskey is your best Choice.
There are three suggestions we can recommend:
A snifter glass: will draw out the flavor and reward you with a bouquet of aromas.
Glencairn: whisky glasses are specifically designed for drinking and appreciating neat whisky.
The NEAT glass: is scientifically designed to bring out the best in your whisky and eliminate nose burns due to the high levels of ethanol.
Conclusion
Buchanan's is a blended Scotch that has captured the world with its unique and accessible flavor profile and relatively entry-level price tag—although the Deluxe and Master variants are on the cheaper side, they are certainly not bottom-shelf quality.
The Deluxe, Master, and Special Reserve variants are ideal for sipping neat or mixing into cocktails.
We suggest not mixing the Red Seal in a cocktail because it uses exceptionally high-quality whiskies and is best enjoyed neat or on the rocks.