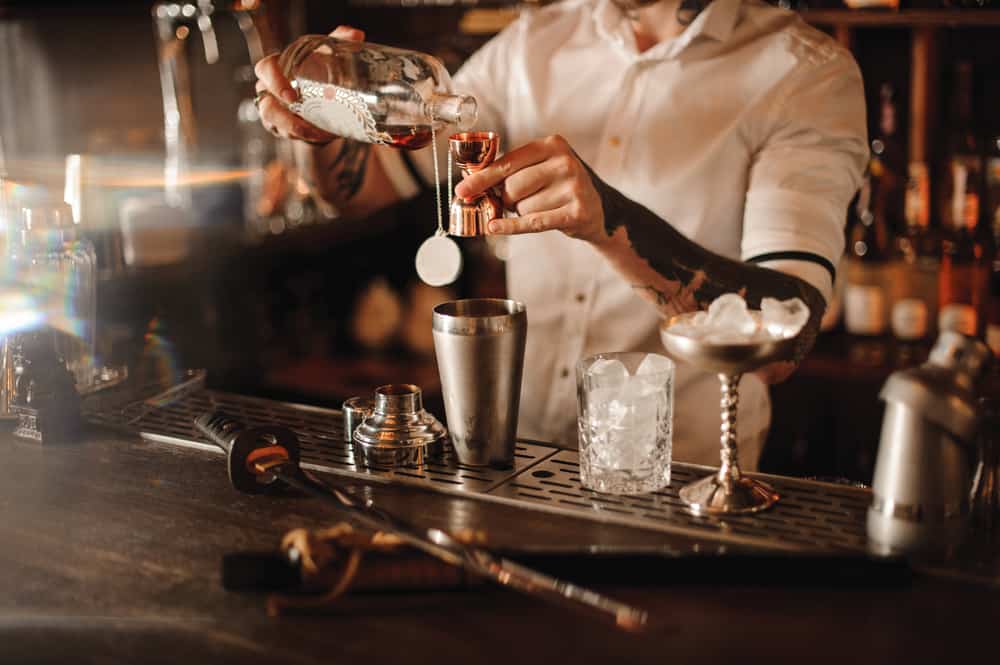 Bartending can be one of the best jobs in the world if you love socializing, traveling, and offering a high level of customer satisfaction. You will also meet interesting people and learn an exciting craft.
How does one get a bartending job?
Some states require certification that you may serve alcohol and do so with the responsibility required. Attending a bartending course teaches the basics in a calm environment. Another option is to jump right in and work your way to the top as a bartender.
Gaining experience is one way to get a job. If you have experience, you can get a bartending job by applying to bars.
In this article, we will discuss how to get a job as a bartender, the skills needed to be a bartender, and how to transition into a bartending career.
The Basics: Certification and Gaining Experience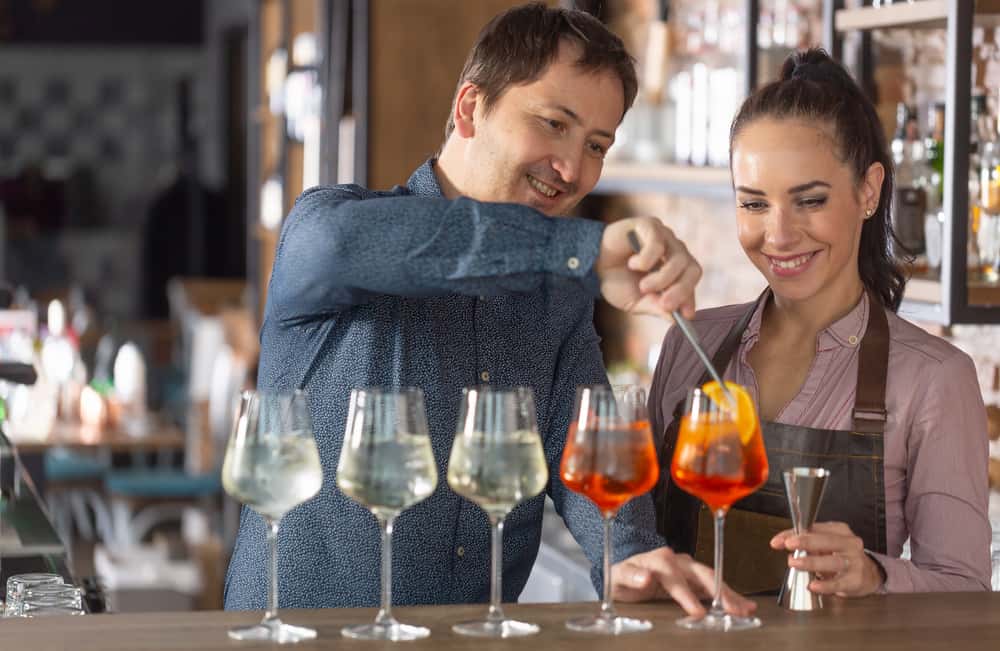 The first step is to gain practical experience in bartending, and some states require that you also show proof of certification that you may serve alcohol.
Certification and Training
While there is no recognized bartender license in the US (because it does not exist), requirements will vary between states, counties, and cities.
It boils down to having the minimum required training to comply with and being aware of serving alcohol. This includes not serving alcohol to minors and intoxicated persons.
Not all states require you to have a bartending license. But make sure to check the requirements in your state and city. Be prepared to have the license–without it, you might not be able to practice your craft.
It is an important step to ensure when a job opportunity arises, you are ready to grab it. Although, remember that having a license isn't a guarantee of landing a job.
Attend Bartending School
Most managers won't hire a freshly graduated bartending school graduate–they seek people with experience. But, having the certification can help kick-start your career as a bartender because you show you are serious about this career path and have a basic understanding of mixology.
Most probably, you will still start as a server or barback. This is a chance to learn the practical side of bartending.
Remember that bartending schools and courses can be expensive, and not all schools offer a guaranteed position upon completion.
Now when that's out of the way, some benefits of attending a bartending school include:
Practical advice for newbies
First-hand experience in a non-pressured environment
Learn how to mix cocktails and serve drinks correctly
It helps to build up a network with other like-minded individuals
You can build your confidence.
Unfortunately, there are some drawbacks to attending bartending school rather than working in a bar first. These include:
Potential employers might think you are someone who isn't willing to start at the bottom
You need to practice your craft continuously after graduating
It does not offer practical experience in an actual bar during busy periods or rush hour
The cost of attending school can be a problem.
Ultimately, the choice is yours whether you want to attend a bartending school first or jump in as a server or barback to gain experience.
Gaining Experience
If you don't have any bartender experience, you need to work and gain experience.
Most experienced bartenders would advise you to start as a barback or bartender's assistant. This position doesn't require any experience–only a willingness to work hard and learn through observation.
Typical duties of a barback include cleaning, restocking, and, unfortunately, a lot of heavy lifting and hard physical labor. It's not the most glamorous job but an essential step to becoming a bartender.
You will learn a lot about how things work as a barback. Things to keep an eye on:
Learn the spirits in the bar as you unpack and stock them.
Keep an ear out for bar terminology such as neat or straight up.
Get to know the most popular drinks.
Keenly observe the bartenders and learn from them when preparing cocktails.
See how they interact with customers.
This is also an opportunity to learn about garnishes and bartending tools.
Get a Bartending Mentor
Having a mentor is a big step forward in your career as a bartender. Be respectful to your bartender and do not bombard them with questions during busy times.
You might find a bartender who will take you under their wing and mentor you, but remember, respect is more than interpersonal skills–it involves your other colleagues and your working environment.
If you slack on the job or don't do your work according to the establishment's prescribed rules, you might not get further. Always give your best, and they will notice you and perhaps even promote you.
Be willing to learn and accept criticism from your mentor. Being humble can open doors as a bartender.
A simple strategy is to ask a bartender who stands out to you with their skills if you could learn from them. Perhaps even offer to pay for their time–a once-off mixing session might refine your skills. This will extend your network and maybe even get a foot in the door at one of your favorite bars.
We have covered four basic experience-building strategies, namely: being certified and allowed to serve alcohol responsibly, the pros and cons of attending bartending school, gaining experience, and having a mentor.
Next, we will break down some strategies for landing a job as a bartender.
Landing a Bartending Job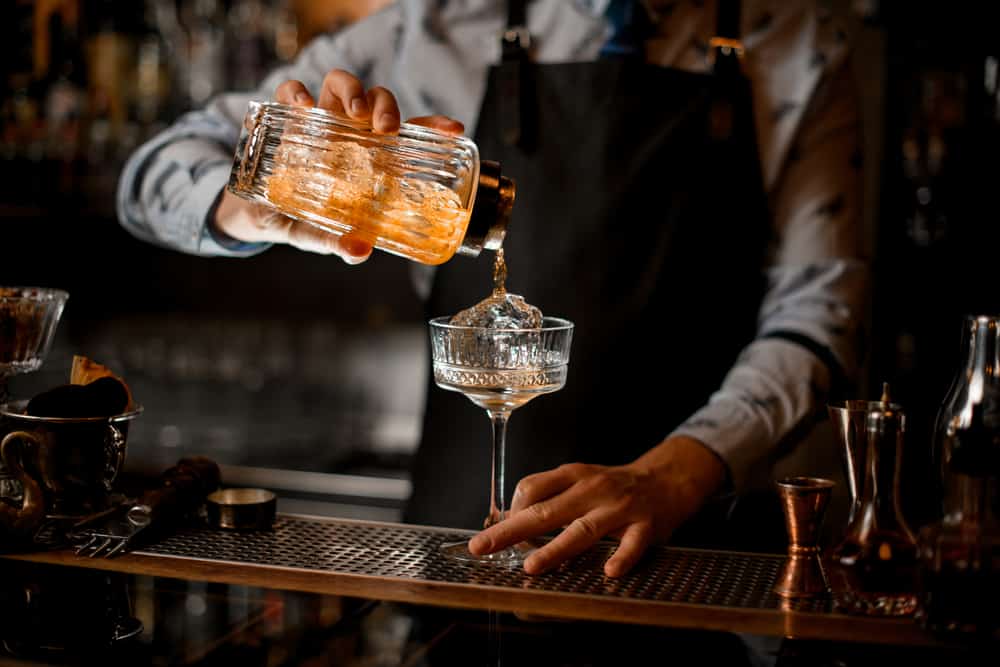 With the experience, spread your wings and become a bartender. Below, we'll look at common strategies for landing your first bartending job.
Prepare Your Resume
Let's assume you've worked as a barback and have gained experience. You have to apply for a bartender's job.
Keep it simple, ideally to one page, a maximum of two. Managers scan resumes quickly, and they will bin it if it is hard to understand or follow with fancy design elements.
Here are some tips on writing the perfect resume.
Job Hunting Dos and Don'ts
Be proactive in your job search by compiling a list of potential bars you'd like to work at. Don't be picky about your first professional hospitality bartending job–you will not walk into the Ritz bar off the street–nor will a bar manager hire you without relevant experience. Be willing to start at the bottom as a barback (we covered this already).
Being a bartender is more than pouring drinks. You also need to know where everything is in the bar, how to mix drinks and pour drinks properly, how to deal with customers, operate the POS system, and open, prepare, and close the bar. There is a lot to learn.
Don't be a superstar and jump in on the busiest night–ease into it and learn and practice–an entry-level job is perfect for honing your skills.
Offer to work a shift for free to:
monitor the bar and see if you want to work there,
show the manager your interpersonal skills and knowledge.
This strategy is not always possible, but make sure you are prepared if your offer is accepted.
Prepare for the Interview
This might seem obvious, but an unprepared candidate is unimpressive and won't make it past the initial interviews. Intentional preparation might be the key element to landing a job or not.
Do your research and show an interest in the bar or establishment–this will count in your favor. State your intentions honestly.
When applying, for example, at a cocktail bar, state that you want to learn as much as possible. You admire their creative cocktail menu and the professional manner in which they present their drinks and treat customers.
Focus on your strengths, show a willingness to learn, and improve where necessary.
Transpose Your Skills to Bartending
After gaining valuable experience as a barback, it is time to transpose those skills into actual bartending.
Ask questions–about everything. Your keenness to learn will not go unnoticed.
You might ask the manager or bartender if you may shadow and gain practical experience in bartending. If the bartender sees you are serious about progressing in your career, they may ask you to cover the bar when they slip out for a break or go to the restroom. Use these opportunities to prove your worth.
Start at the bottom. Nobody walks in and becomes a bartender. Never have and never will. Use this time to learn as much as possible and become indispensable.
Be friendly yet professional–with both your colleagues and customers. Bartending is more than just serving drinks, it is about delivering a service.
After a successful interview, you might be called in for a trial shift. This is your time to shine!
Ask the manager questions and clear up anything you don't understand. Communication is crucial between yourself and colleagues. If you can ace the trial shift, chances are good for getting a permanent position as a bartender, depending on how it went. Give it your best and be the best you can be.
Conclusion
We looked at the first steps of becoming a bartender by working from the bottom as a barback or server. You now have a practical understanding of how a bar operates.
This valuable experience lets you transpose those skills into becoming a professional bartender. As a bartender, the world is your oyster.