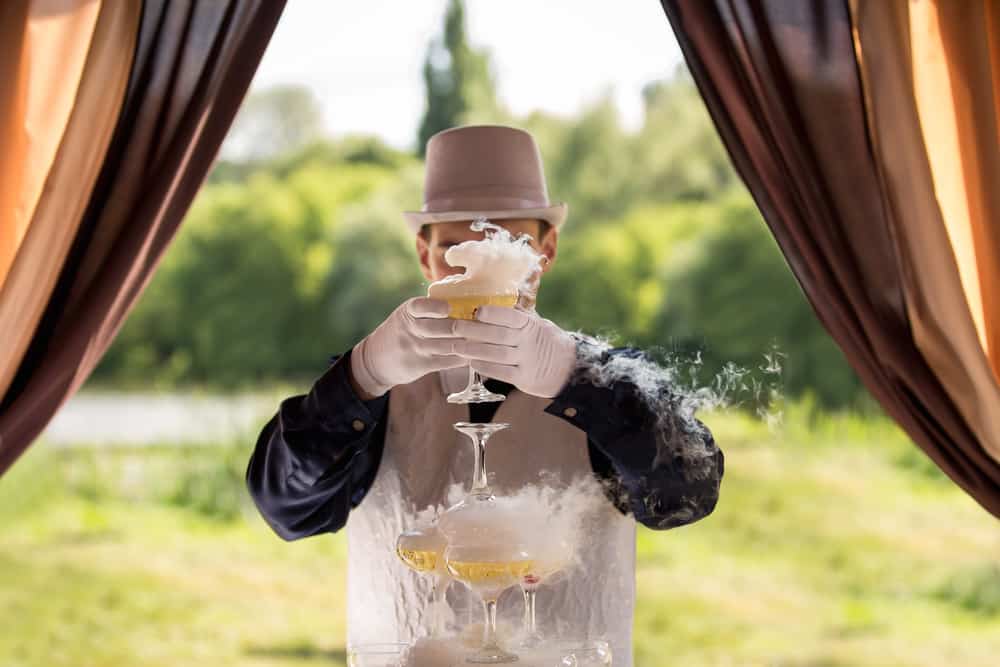 Arranging a perfect wedding is tough; believe it or not, nothing goes as planned. Everything comes with a twist of its own, no matter how well thought out and elaborate our planning may be, which is especially the case for weddings.
These twists may be good or bad, but what matters the most is that you and your guests leave happy at the end of the day, right? Wrong! When you have handled the cost of everything and think you are done, you should consider what to tip your wedding vendors.
It is significant, especially if you hire a bartender for your wedding. Tipping is a sign of gratitude for the service provided to you and how well it was, and while people know what to tip a bartender at bars, what is the case for weddings?
So, it brings us to the question of how much to tip a bartender at a wedding.
Usually, 10-20% cost of the drinks served by the bartending staff (for the whole, to split among themselves) is the right way to tip at the end of the wedding. But it doesn't end there; it depends on the quality and variety of services a bartender provides and whether the service cost includes the tip.
Here, we will go over factors you should consider while tipping a bartender at the wedding and how much tip for each bartender individually.
Factors To Consider Before Tipping the Bartender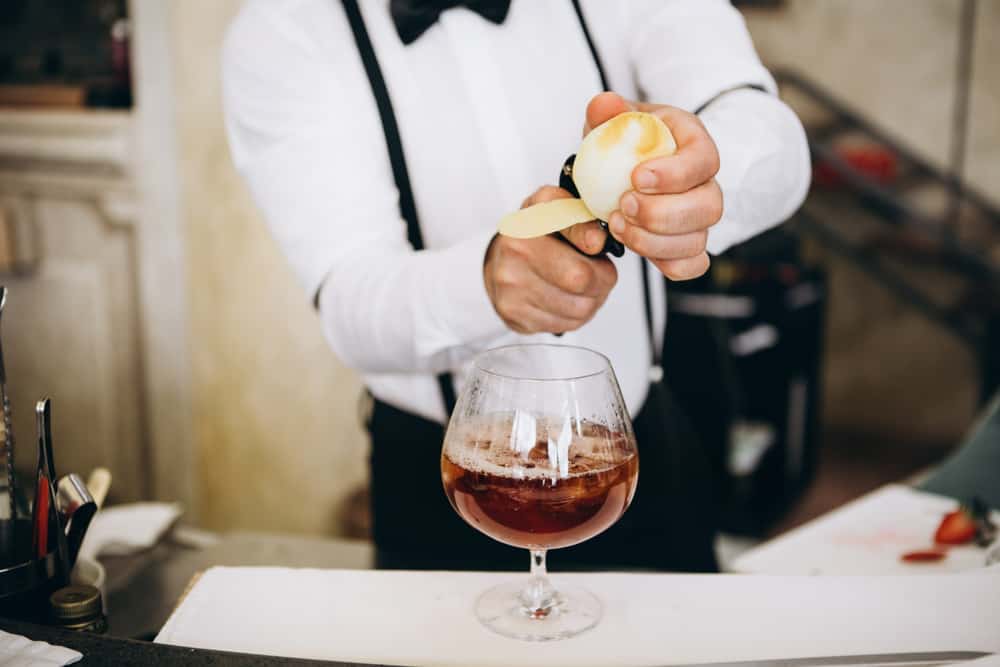 There are numerous factors to consider before tipping your bartender, so you should grab your reading glass, as it requires you to go through a lot of paperwork.
1. Read the Contract
Your first step is to read the contract carefully, especially if you hire a catering service. If you are going through some service company, it is common for the tip to be included in the charge.
To ensure that is the case, read if any words, such as gratuity, handouts, tip, etc., are written in the contract. If yes, then you are all set, no worries about tipping any of your vendors or bartenders separately.
2. Service Charge Isn't Tip
You may notice the term "service charge" in the contract and think that's the tip. But you are way off the mark there, as the service charge doesn't go to employees and is the charge for the services you will avail from the company you employ at your wedding.
So, if you don't see words like "tip/gratuity/bonus/handouts" in the contract, you should tip your bartender and other employees.
3. Should I Tip the Catering Company Instead of the Bartender?
Inform the catering service if you will be paying for the tips with the total service cost; that way, they can distribute it between the employees, and you won't have any responsibility. But you are not inclined to tip the business owners, as you are already paying for the service charges.
However, the recommended option is to ask a trusted family member or friend to hand them out during the wedding ceremony.
4. What if I Hire a Bartender Separately?
This scenario comes into play if you know a skilled bartender or think that the bartenders provided by the catering service aren't enough or don't fill your requirements.
So, if you hire a bartender separately, you should consider the tip based on the drinks' complexity, amount served, duration, and quality of service. It also includes whether you have a bar set up and stocked.
Usually, it will be 15-25% of the cost of drinks your bartender serves, which also holds if you visit a bar and are paid at the end of the wedding ceremony.
5. Prepare the Tips Beforehand
Preparing tips beforehand may seem strenuous, as you are not sure of how well a service the individual employed will provide. But following general guidelines can help you prepare envelopes/cash, and you can always add extra if your bartender or other vendors go above and beyond.
Having envelopes as tips will let you separate cash for each individual and get things done and over with on your big day.
A small suggestion while preparing envelopes of gratuity; add some extra cash for bartenders, as they usually walk an extra mile to ensure everything works fine.
Remember, tipping your bartender is not always necessary, and if you don't have the budget to spare, you can show your gratitude for the service in other ways.
6. Other Factors
Another factor before tipping your bartender is to see what type of bar you have at your wedding, e.g., it is an open or cash bar.
Tipping your bartender is okay if you choose an open bar unless the catering service provides the gratuity to employees. However, in the case of cash bars, people are obliged to pay for what they drink, which includes tips. So, you are in no way accountable for tipping.
Also, if you allow a tip jar, you can cut back on the tip you should provide to your bartender. You can tip a modest sum if you notice guests giving tips; contrarily, you can also choose not to.
Tipping Bartenders Individually at a Wedding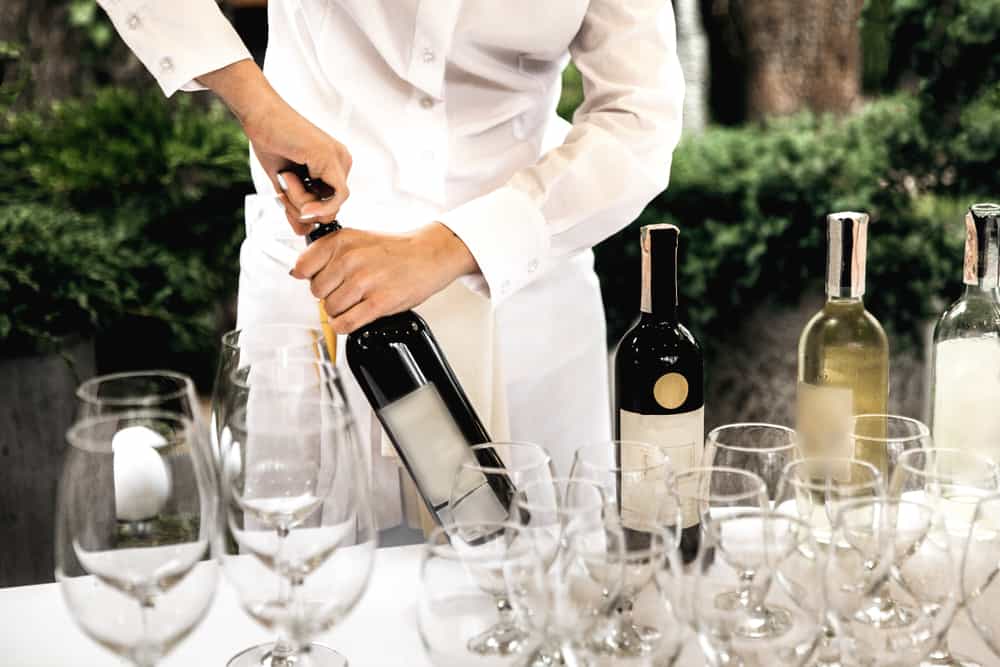 In most cases, you won't have to face the trouble of handing out tips individually to each person.
In the case of bartenders, you will provide a collective sum (usually 10-20%) of the drinks they served to the most senior/head bartender, and he will divide it between his co-workers.
However, if you tackle the situation where individually handing out tips is the only option, giving $100 for a wedding celebration of four hours to a single bartender handling a crowd of 40-50 guests is enough.
Conclusion
To wrap up, whatever the tip you finalize on, now you know how much to tip your bartender at a wedding and what situation calls for no tips.
So, you can tip your bartender anywhere from ten percent to twenty-five percent of the cost of the drinks served at the wedding (collectively) or $100-150 individually to each bartender with a guest list of 50 people.