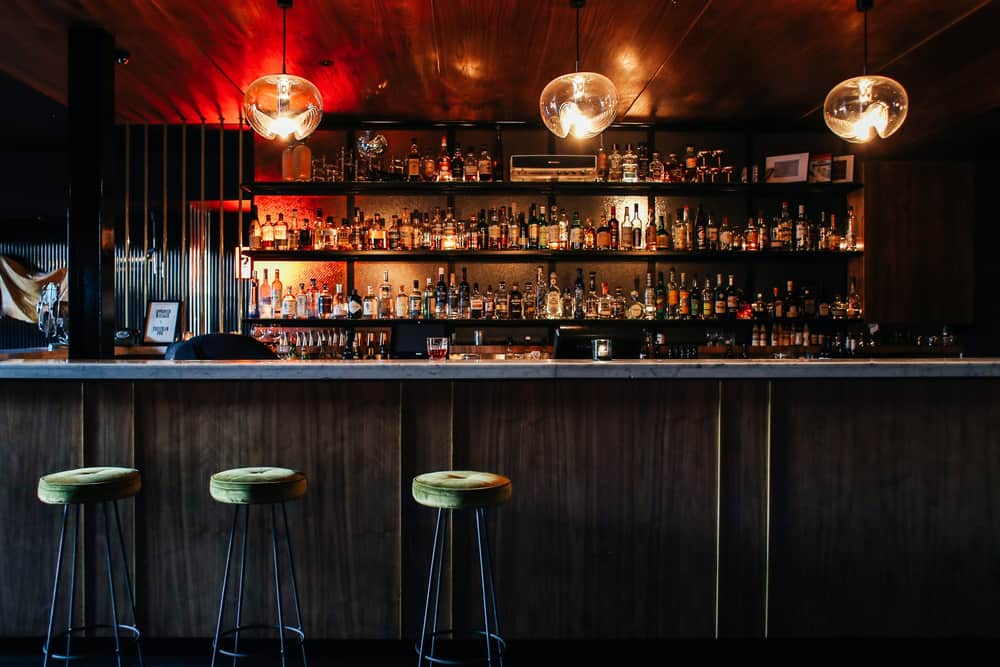 The cost of opening a bar varies depending on the area, size, restaurant licenses, estimated stock, food selections, storage space, and a host of other factors.
New bar owners should know the expenses, and by defining at least those prices, as well as typical costs and a breakdown of costs by state, aspiring bar owners can use their budgeting tools to determine whether a new bar is really in the cards, or which decisions they must make to move forward.
So, how much does it cost to build a bar?
Upfront expenses when starting a bar include, but are not limited to, licenses, insurance, renting or purchasing a property, interior, appliances, and a supply of drinks and glassware. When we total everything, you look at an average total cost between $110,000 on the lower side and $850,000 on the high end. The average cost from the ground up is around $480,000.
We'll look at the basic expenses associated with opening a bar so you can get a feel for what kind of startup costs you're looking at.
How Much Does It Cost To Build a Bar
There are many other costs associated with opening a bar. To help you plan your finances, let's look at all the significant expenses you can't avoid when building a bar.
Licenses, Permits, and Insurance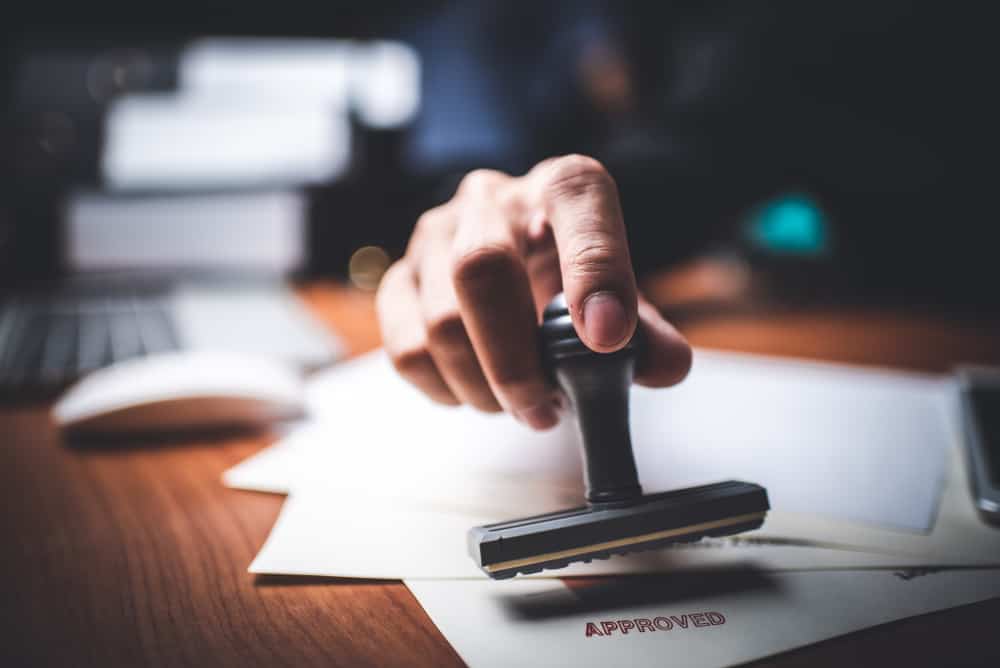 Assuming the property itself is paid for, new bar owners will require the following at a minimum:
Business license allows you to operate a bar. Expect to pay between $4,500 and $12,000, depending on your state.
Insurance is important because of the nature of the business. This can be between $2,000 and $6,000 per month in premiums.
A beer and wine license is required to avoid trouble with the authorities.
But you might want to serve more than just beer and wine. In that case you should know that having entertainment or serving food entails other licenses. 
Renting or Buying a Property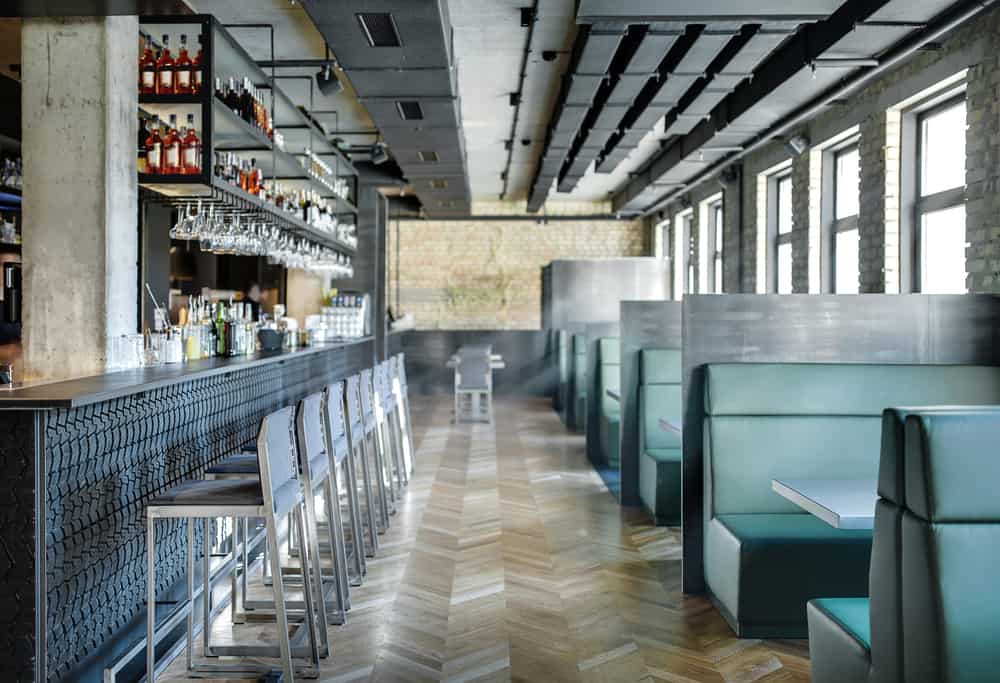 With the licenses in hand, you will need somewhere to pour your first celebratory drink. Among the first expenditures to consider is the cost of the space.
This price varies depending on various criteria, including where you intend to do business, the size of the location, and the bar you intend to open. Once you've determined that, decide whether you are buying a property and developing it yourself or renting.
Renting may be the simplest choice to realize your ambition of owning a bar. You could factor many of your building costs into your rent, making this the most cost-effective way. But, you will have to answer to your landlord and you will be liable for any damages.
If you have the capital, outright purchasing may be the best alternative. You have to make a monthly mortgage, which is more cumbersome. But, it provides you with greater flexibility and independence if you wish to change your business later.
Or, perhaps you might want to take over an existing bar and modify it as you please. The present owner can help you understand the expenditures and expenses they've had to bear, and you'll already have an established customer base and a business strategy in place. If you do not decide to perform a total revamp, of course. 
Rent or mortgage payments will vary based on your area. Do comparison shopping and budget to stay afloat without an income for around six months. It may take some time to establish your bar and show a profit, but you will need to keep the doors open and pay your staff.
Furniture and Decor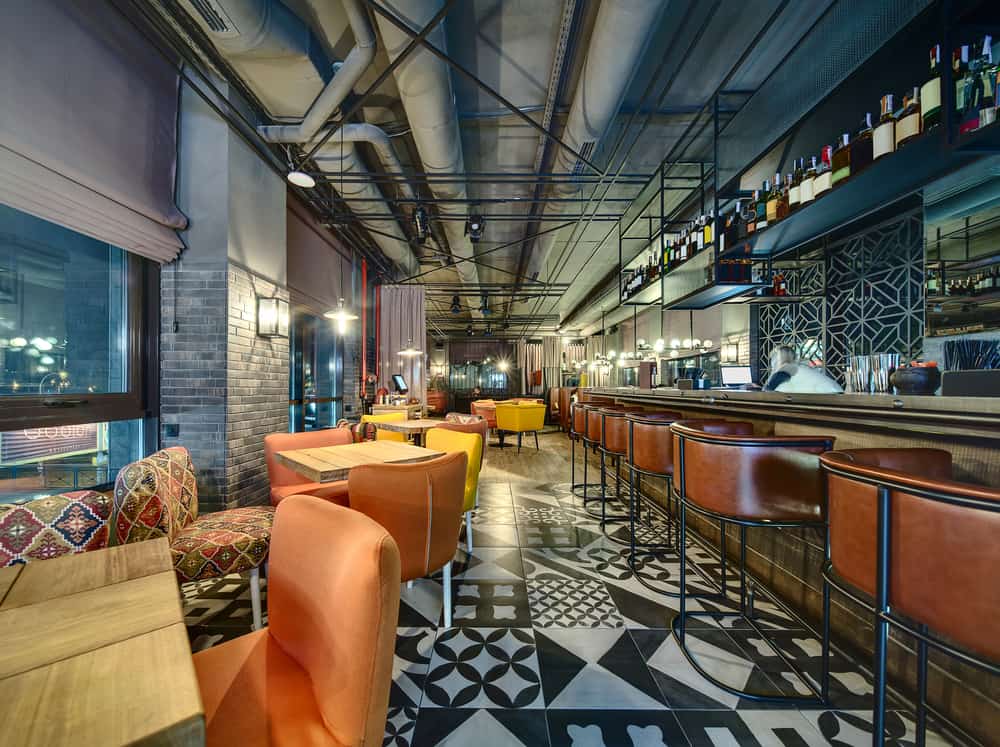 This may seem like a simple decision, but you will need a space to serve drinks, and patrons need to relax and enjoy your bar. You also want to exude a certain vibe or style in your new bar.
Essentially, a slab of wood with drinks can be labeled a "bar," we all know that successful bars and taverns are all about the atmosphere. Whatever location you build, whether it's a sports bar with 40 TVs or a gastropub with fantastic appetizers and artisan brews, it needs to represent your preferences and those of the community.
A comprehensive remodel costs around $65,000 on average, including interior design and decoration, fixtures, furnishings, stereo equipment, and lighting.
Appliances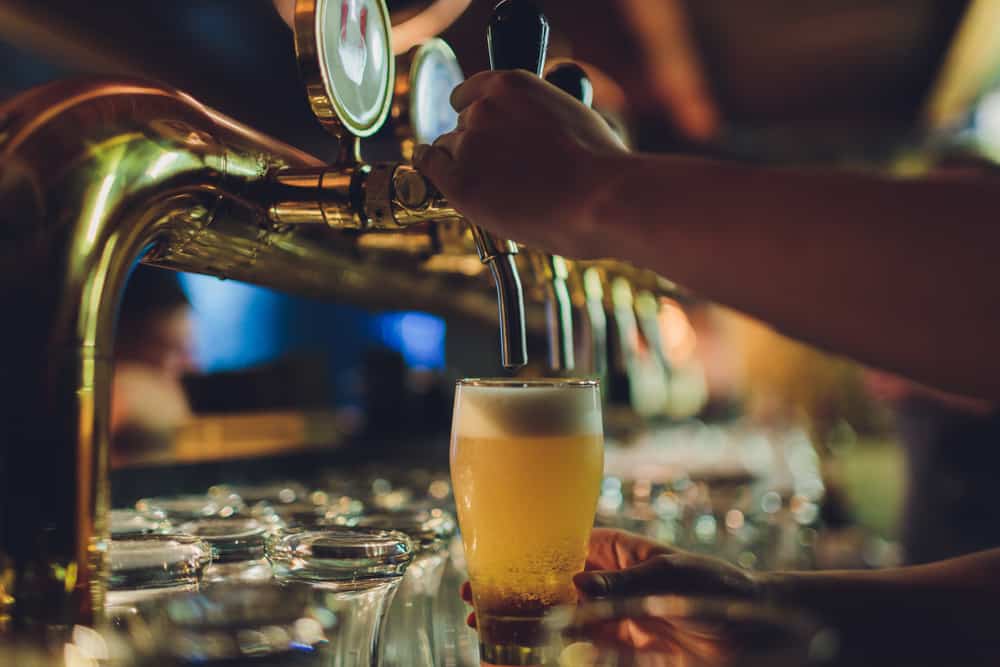 You have the paperwork. You now have a venue, but you still need the appliances for your bar–another aspect that depends on your scenario.
You will need far less equipment when serving beverages only than a bar serving both food and beverages. Taps, refrigerators, and glasses are required for the bare minimum bar. Depending on your bar's size, you might spend up to $8,000 on such things. 
The type of menu you present will influence how much cooking equipment is required. If you're going to serve meals, you'll need, at the very least, basic equipment and appliances to get started.
If you're on a limited budget, you can get away with the basics for under $5,000, but outfitting a specialized kitchen could cost anywhere between $20,000 and $40,000.
The estimated price of kitchen and bar equipment is $115,655, with prices ranging from $30,000 to $150,000 for a high-end establishment.
Inventory of Drinks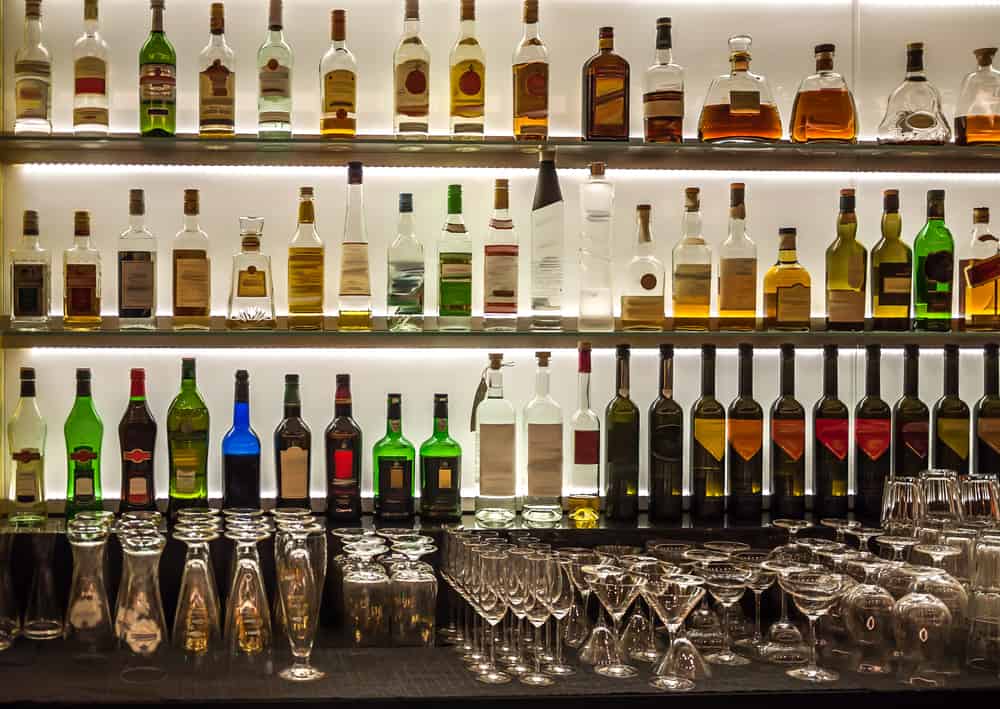 When you operate a bar, you'll undoubtedly be selling alcohol. Also, even if it's only appetizers (chips, popcorn, and pretzels) at the bar, provide a food choice. This might cost you up to $10,000. Smaller enterprises may spend a bit less money. And, if you own a huge nightclub, you can expect this expense to rise.
Ensure you're well-stocked because customers want to experience your bar and hospitality–it isn't fun when you run out of a particular drink.
You're likely to spend between $6,000 and $13,000 on food and alcohol to stack your inventory at first.
You know your consumer base best, but a fair starting alcohol stock breakdown would have the bulk consist of beer and liquor: 45% and 40%, respectively. Wine would make up around 5% and mixers 10%. You need to adjust these percentages according to your bar's unique needs.
Staff Salaries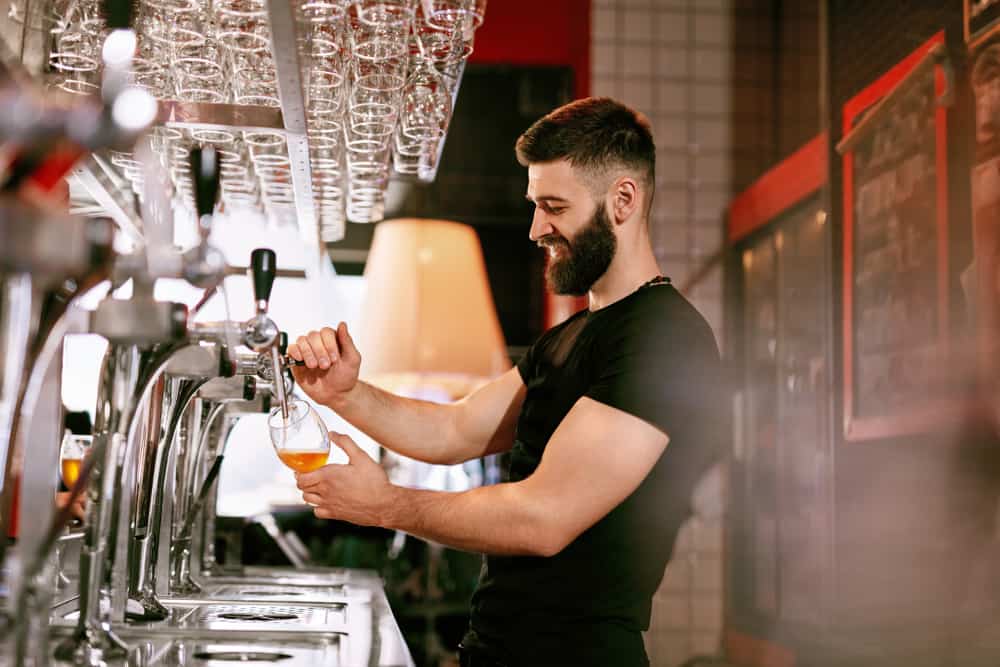 Staff salaries will vary according to the size of your business, and every bar will require staff–managers, bartenders, and assistants are required to function properly.
If you are serving meals, you'll need kitchen and service staff. Paying your staff competitive wages depends on their relevant experience (be sure to ascertain the minimum wage in your state).
Even if you aren't profitable, employees still need to receive their pay. Ensure that you have the necessary finances on hand.
Point of Sale System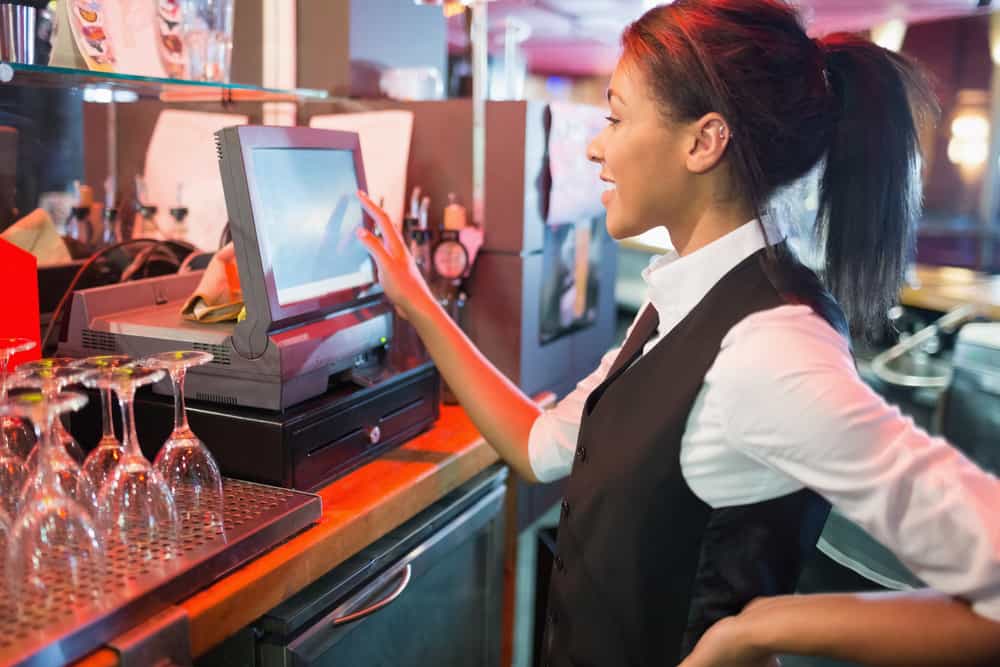 Imagine the frustration when you try to make a payment at the store, and they cannot accept your card or cash, or you cannot split the bill at a restaurant. Quite frustrating, yes?
Now, you will need a point of sale system (POS) that can accommodate the major forms of payment and accommodate patrons when they request split bills.
An entry-level cloud-based POS system costs around $1,200, and more powerful ones can set you back up to $20,000.
Be prepared to install the best possible system you can afford with an option for upgrading later.
Miscellaneous Costs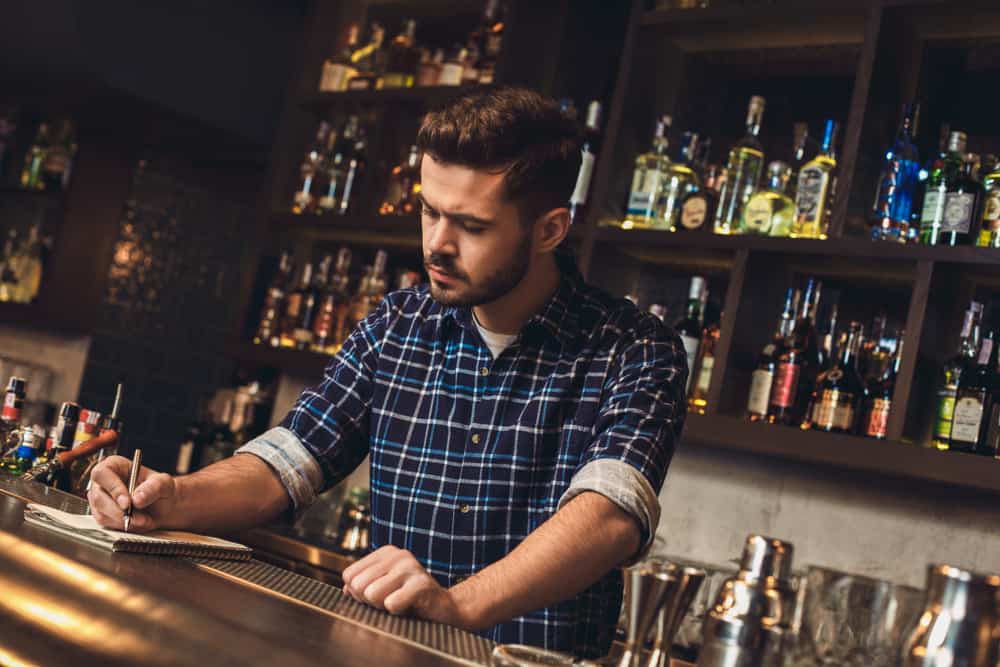 Any business should have a reserve fund to cover breakages, normal wear and tear, and replacing. It is also a good idea to have funds available for the quieter off season. Experts recommend $100,000 for healthy coverage, but many bars run on much less.
You'll want to be prepared in case of an emergency.
The optimum is $50,000 in your emergency fund, according to experts. It may seem like a lot of money, but you should set aside some for unforeseen tragedies. You never know what you'll come across as you move on.
Miscellaneous charges might include legal advice or consulting fees, a terrific advertising opportunity that you must take advantage of. It is advised that at least three thousand dollars be set aside for miscellaneous expenses.
Conclusion
Operating a bar or nightclub can be a fulfilling experience, but you need to do your homework and planning.
When we total everything, you look at an average total cost between $110,000 on the lower side and $850,000 on the high end. The average cost from the ground up is around $480,000. With some planning and doing your research, you could start from as little as $25,000. 
It can be quite expensive to start a business like this. You must decide where you will launch your business, what type of bar you will run, and the costs, including wages, insurance, and supplies.
Be sure to check out the resources we have linked throughout. However, if you play your cards correctly, you may make a nice profit at the end of each month and do something you may have dreamed about for a long time.