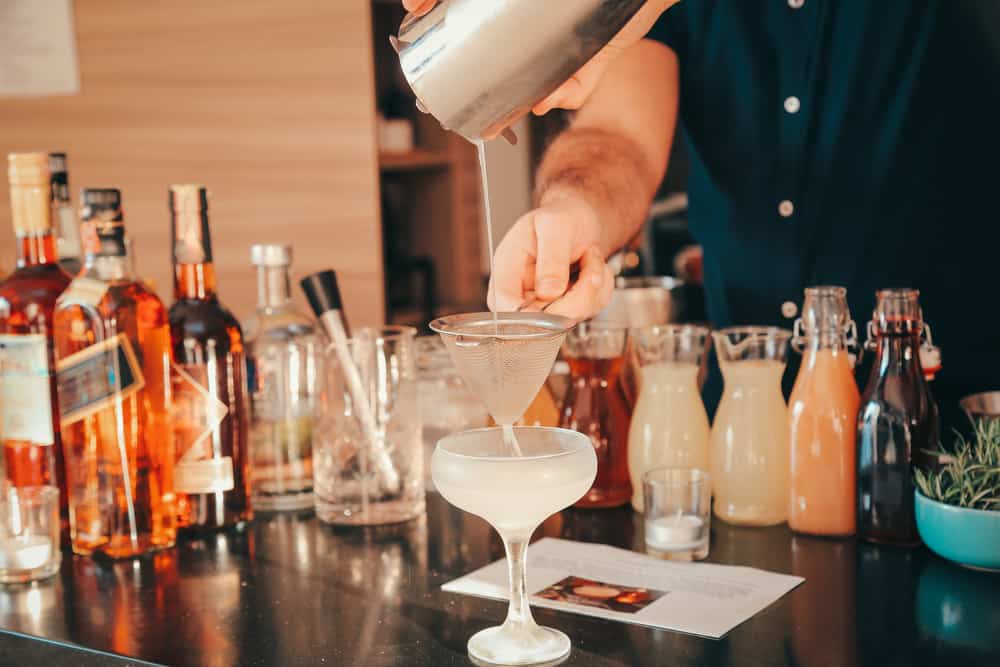 An organized bar is the biggest gift you can give yourself and guests who mix and pour their own drinks. It comes down to muscle memory–keeping everything in its place, you will find your way easily around your bar.
A bar, big or small, is something every grownup house ought to have, but how do you organize a home bar?
Maximize your available space by accessorizing. Having a speed rail or bottle shelf allows you to organize your bar according to spirit types and avoid confusion. Containers for your accessories, tools, and straws will also aid in helping you stay organized. Condiment trays are a must-have to keep everything together and neat. Glassware should have its own dedicated space and so do the mixers.
We'll look at organizing your home bar for the most efficiency and offer some suggestions for setting up your home bar on base spirits, essential tools, and basic glassware.
Maximizing Available Space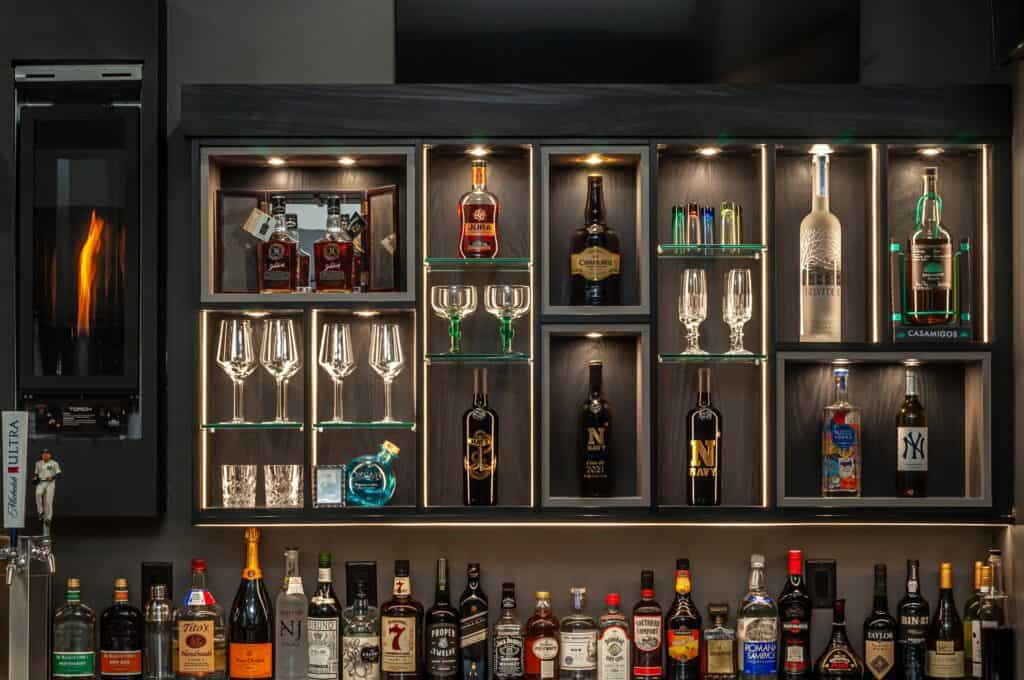 Some houses are lucky to have a bar, and others aren't. Maximizing available space can be fun, but guard against turning your house or apartment into a speakeasy.
Creative uses of space can include a drink trolley, turning a sideboard or armoire, a credenza, or even a used piano into a bar. The only limit is your imagination.
Drink Cart or Bar Space
We'll focus on the drink cart as a bar because most people's living space does not have the space for a nice customized built-in wet bar. Having a bar cart is one of the chicest options for the home bar.
You can use a cabinet if you don't have enough space for a cart. It also helps to keep things organized–you can assign certain areas for specific items. We'll look at the essential elements to include on your cart soon.
A mass of bottles looks disorganized and can pose a hazard if they fall and break. Keep your bottles organized with a bottle shelf or a speed rail. This will also allow you to group the same spirits together–always a good idea when mixing cocktails.
Aleksey Reznikov, head bartender and partner at the Garret bars in Manhattan, NY, shares the following valuable advice: keep liqueurs in the back/last row, spirits in the front, and the bitters and tools right at the extreme front of your cart.
Consider a container or two for all your tools, straws, and mixing sticks if your space is limited.
Additionally, glasses should not be kept on the cart, but for a sole whiskey or large cart, you could keep them on the cart. Scroll down for the discussion about glassware and keeping it organized.
Keep mixers, beer, and wine in the refrigerator unless you have a built-in bar with a fridge. Try to decrease clutter to achieve a functional bar with a classy look.
Essential Liquor, Liqueurs, and Mixers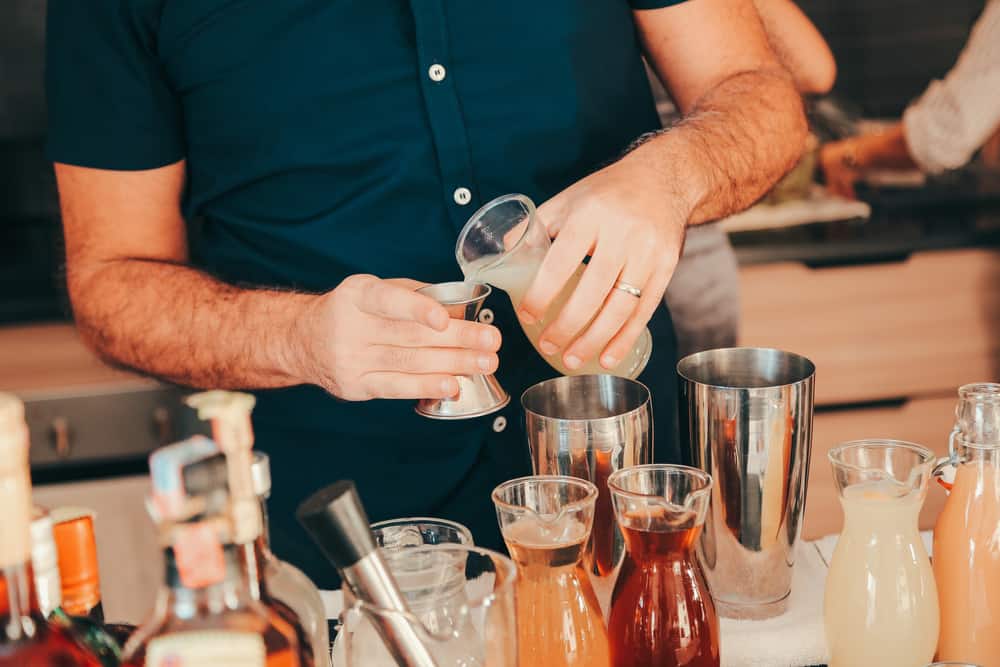 A bar without basic liquors would be boring. Let's take a look at the essentials:
Spirits
Determine what drinks you'll be serving, as this will guide your selection of spirits. The basics (with some recipes linked) are:
With these elemental spirits, you can already mix up quite a few cocktails and drinks. Later on, if you have the space and budget, consider expanding your repertoire to vermouth, cognac, and quality brandy.
The key is not to spend your paycheck on one trip to the liquor store. Build your selection of spirits up as your budget allows, and you gain experience in mixing.
Keep in mind some distilled spirits may deteriorate when stored too long.
Liqueurs
Liqueurs are technically liquor because manufacturers distill them from spirits. The difference enters when the base spirit (refer to the liquors above) is sweetened or enhanced with various flavors, oils, infusions, or extracts.
The alcohol content of liqueurs is usually lower than their spirit counterparts, but it is not a hard and fast rule. They range from 15% ABV (30 proof) to 55% ABV (110 proof). Liqueurs add a special touch to a mixed cocktail.
Mixers
Keep mixers away from your drink cart or bar, instead keep them in the fridge. Nobody likes a warm drink unless it is supposed to be warm, hotshots, I'm referring to you.
Take a few out before your guests arrive and keep them close to the bar if you are going to indulge in libations shortly after arrival. Canned versions of club soda, tonic, and ginger beer are staples for any home bar and won't expire too quickly either.
You can never have enough ice; stock up on ice or prepare enough beforehand.
Juices are always best if squeezed fresh and kept chilled in the fridge. The two essential juices are grapefruit and orange but don't forget fresh limes.
Also, you will need a space for your garnishes, such as olives, lime slices, or strawberries. A condiment tray is a must-have. Opt for something like the Kovot tray with a built-in ice tray to keep everything nicely chilled or a roll-top garnish bowl for a classy option.
The Tools of the Trade
A tradesperson without his tools cannot practice his trade, and this extends to a cocktail mixologist. Learning how to use your tools properly is essential to prevent making a mess and injuring yourself or others.
Mixology Tools
You should invest in a few essential tools, which are:
Keep your tools in one place and organized. Also, learn how to troubleshoot and use your mixers properly–this will save you a lot of embarrassment in front of your spouse and friends.
Glassware
The perfect glass is needed for a freshly mixed cocktail. Each style of cocktail should have its own glass typically associated with it. Don't stress if you don't have the "correct" glass for a martini – a vintage champagne coupe will also do the trick. Or, if you are in a pinch, use a wine glass. Be creative!
Each home bar should have a few glasses, but keep them organized. A simple cabinet with pullout drawers would be fine for organizing and storing your glasses. If you have the space, hang your glasses in a dedicated space by your bar.
Try to keep them in neat rows and organized by type. Line the drawers with drawer liners to keep everything tucked in place when you open and close the drawers.
Lastly, polish your glasses before serving drinks. It is not essential but puts you in a good light as a host who cares about their guests.
A black linen towel won't leave behind lint when polishing glassware.
Conclusion
Any space can be converted into a bar with some creativity and planning. Accessories are wonderful things to help you organize your home bar and allow everything to have its own dedicated space.
As you get to know your own home bar you'll grow accustomed to having things in a certain way because of muscle memory. An organized home bar also looks both classy and inviting.