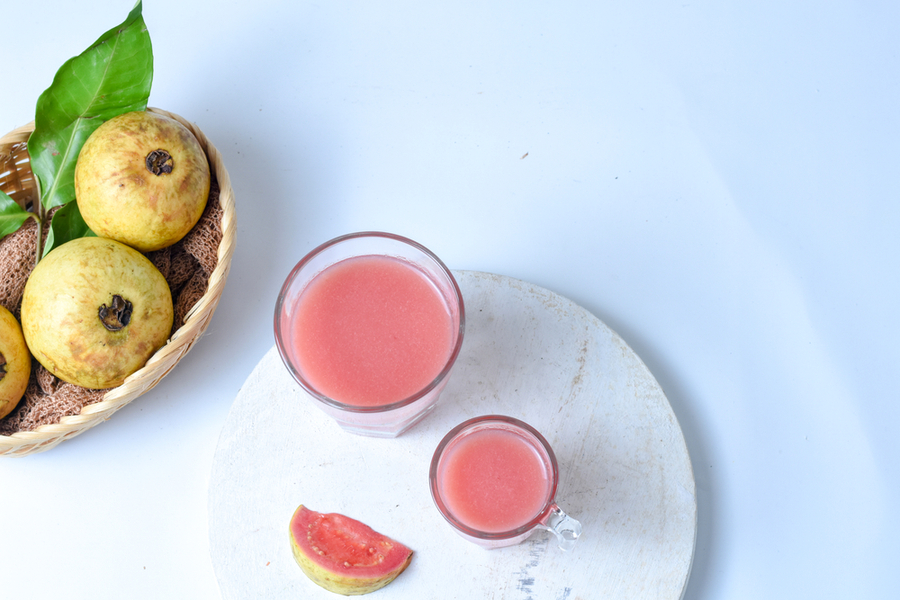 Summer is the time for fun, partying, beach trips, and outings. But what makes this time the most interesting are the refreshing drinks that follow it. Whether iced teas, juices, cocktails, mocktails, liquors, or more, the icy cold feeling with mouthwatering taste brings about completeness.
Speaking of icy drinks and beverages, Starbucks comes to mind for its stimulating drinks. Among these, guava passion fruit drink or iced pink drink gives you the filling necessary to keep you from going hungry while not being heavy on the stomach, with several flavor profiles.
However, have you ever wondered what the ingredients for this drink are? If you have, let us unravel the mystery behind the making of a guava passion fruit drink.
To make a guava passion fruit drink, you can guess half the ingredients from the name, i.e., guava and passion fruit. The rest are coconut milk, ice cubes, and pineapple ginger syrup. But that's not all; if you want a drink on the sweeter end, you can add honey and cherry juice for extra color.
The article will discuss the step-by-step making of guava passion fruit drink and how to make pineapple ginger syrup to have a healthy caffeine and additive-free drink.
How To Make Guava Passion Fruit Drink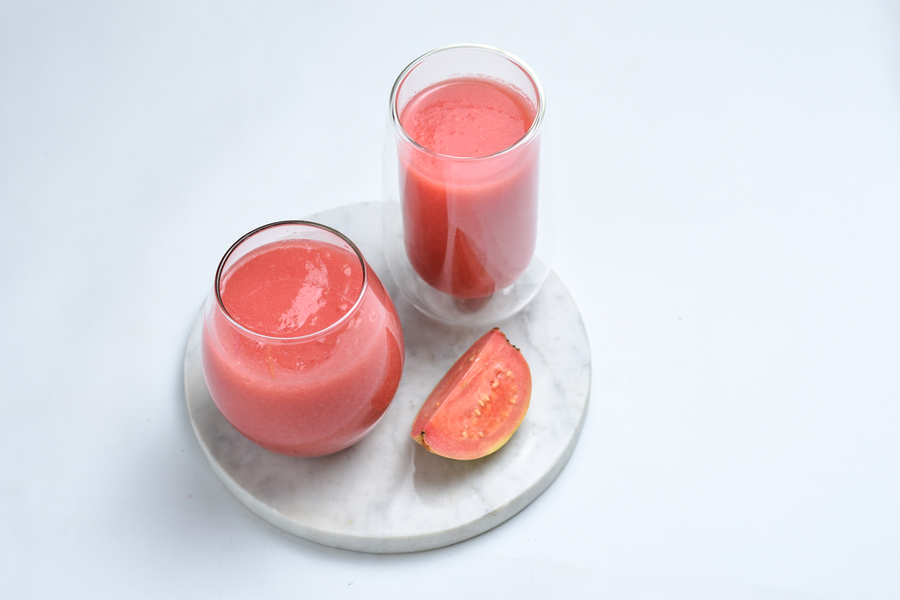 Among other drink makers, Starbucks reigns as the trendsetter, and it's no wonder, with every season, a new addition to their already versatile menu can be seen. But what stays the same is the popular drinks that keep you coming for more.
Guava passion fruit drink ranks among the top in these famous drinks, but if you have to make the trip to Starbucks for this drink every time, you have to consider the cost that will pile up.
That's not all; instead of taking the long route, it's easier to prepare it yourself, and to top it off, it doesn't take long if you have the ingredients ready.
So, what do you need?
Ingredients
A total of five ingredients are necessary for making this drink. These are as follows:
Guava/guava juice (2-3 ounces)
Passion fruit/passion fruit juice (1-2 ounces)
Pineapple ginger syrup (or pineapple juice and ginger powder) (1 ounce)
Coconut milk (2-3 ounces)
Ice cubes
You can use fresh ingredients or use store-bought options for juices. However, to make this drink a little more healthy, it is better to use fresh fruits and squeeze out the juice yourself.
You can also add honey to your drink, which is music to ears for sweet tooths, i.e., for extra sweetness.
But another thing to be mindful of is, if you use honey, be aware of what you use, i.e., fruit juice or nectar, to make this drink. Also, you can add cherry/pomegranate juice for extra color and flavor.
Although all the ingredients are readily available in most stores and supermarkets in your locality, the same can't be said about pineapple ginger syrup.
Pineapple Ginger Syrup
You don't need to look far and wide to make this syrup. A total of three ingredients are involved in the making of this syrup, i.e., pineapple, ginger, and sugar. Also, take a saucepan to prepare this syrup.
Start by chopping a pineapple into smaller chunks and ginger into thin slices (3 pieces of 2-3 inches). Add one cup of sugar to these and transfer the ingredients to the saucepan. Let it cook until the sugar dissolves, and a paste starts to form, and you are done.
For ease, you can use pineapple juice and ginger powder to make this syrup. Contrarily, if you don't like ginger, you can skip it and use pineapple juice without making syrup.
Starbucks' iced pink drink contains no passion fruit, but the flavor profiles mimic the taste. For easy replication, passion fruit is used in the recipe.
Tools
After every ingredient is prepped up and ready, you need two things to make your guava passion fruit drink, which are:
Cocktail shaker or a mason jar with a lid
Tall glass
Instructions
For a cup of guava passion fruit drink, start as follows:
Take a cocktail shaker or a mason jar with a lid (best to use screw-on lid mason jars) and transfer all the juices (3 oz. guava juice, 2 oz. coconut milk, 1.5 oz. passion fruit juice, and 1 oz. pineapple-ginger syrup) to it.
The next step involves shaking the mixture, but before that, fill it with ice to make the drink chilled (shake for 10-15 seconds for best effects).
Strain the mixture, i.e., if you are using freshly squeezed juice, into a glass with ice.
Garnish it with leftover guava, pineapple, passion fruit, or mint leaves, and enjoy!
Storing
What makes the homemade version better than a roundtrip to your Starbucks is the option of saving it for another time or another day, which makes these efforts more worthwhile.
The only point of consideration is that the freshness will last for only three-five days, even when stored in an airtight container in the refrigerator. So, it is best to consume it within that time and keep the prepped-up ingredients for a quick whip-up of this drink.
Also, while coconut milk is a non-dairy option, freezing it leaves a watery taste, which makes your guava passion fruit drink taste bland.
Another thing to note is to stir the drink well before drinking to ensure the ingredients are properly mixed and not settled at the bottom.
Conclusion
With this, you know all the ins and outs of making a guava passion fruit drink or the replica of a Starbucks iced pink drink.
But it doesn't limit you from experimenting with this drink. You can use cherry juice or honey for a brighter color and a sweeter taste, or you can go a bit wild and add alcohol to your guava passion fruit drink to make a guava passion fruit cocktail.
Also, if pineapple ginger syrup is too much trouble, you can use simple syrup with a slightly different taste profile. However, to reiterate, you need guava juice, passion fruit juice, pineapple ginger syrup or pineapple juice and ginger powder, and coconut milk, with plenty of ice, to make this drink.