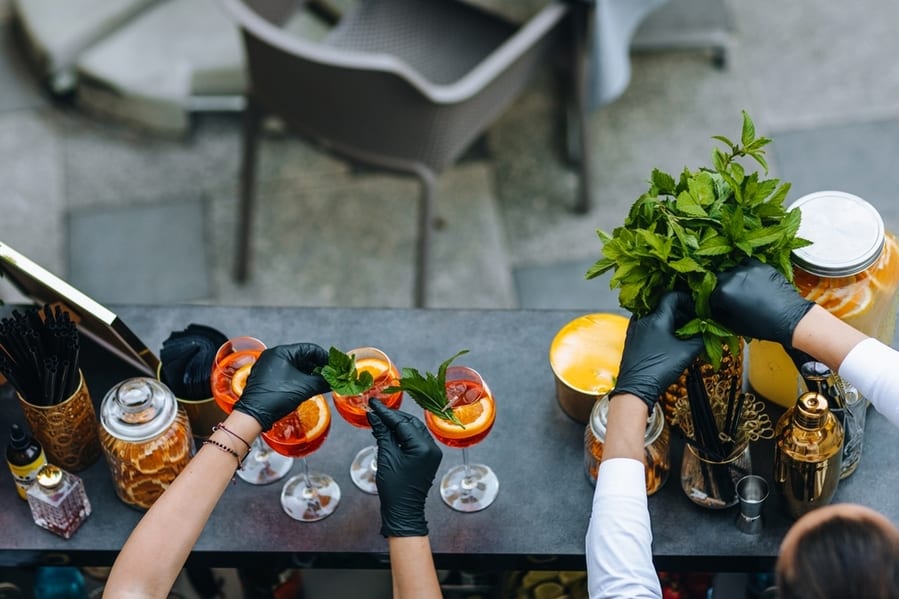 Hosting a party already comes with its headaches and planning. And, when the big night rolls by, the last thing you want to do is stand behind the bar and serve drinks.
Or maybe you are in charge of organizing an event for the company, and you don't want to fail your boss…So, you thought you should hire a bartender.
How much does it cost to hire a bartender?
It depends on whether you hire a freelance bartender or through a company, but the average cost is $40-$90 per hour or $150-$400 per four-hour set. The cost is only for the bartender. This cost will change significantly when drinks, glassware, and additional staff are required. The range is between $375 and $1,900, with the average falling around $1,100 for full-service.
We'll look at the costs of hiring a freelance bartender vs. a company bartender and the pros and cons of both options. We'll also touch on other costs, such as what your bartender supplies or do not supply, which you will need to buy out of pocket.
Hiring a Bartender for a Party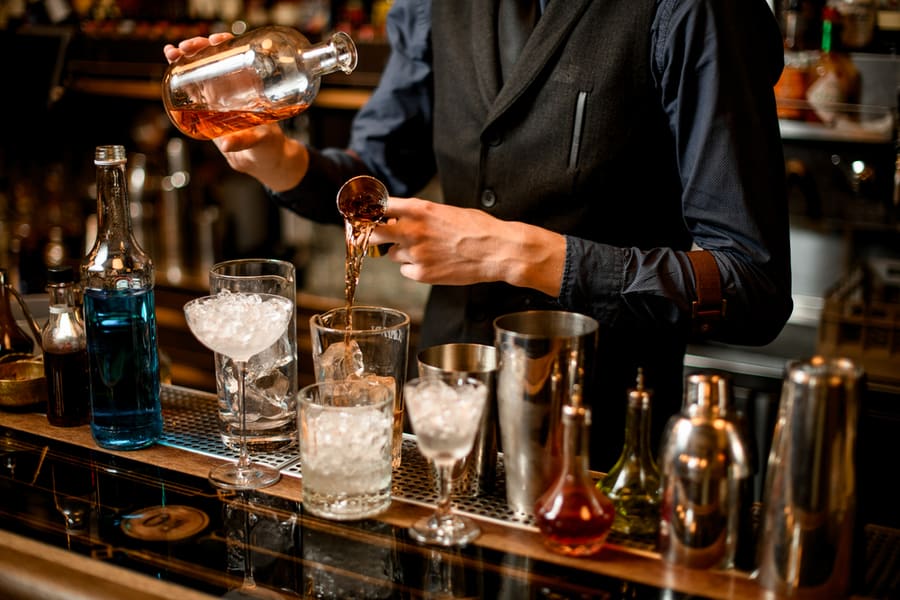 Bartenders can help organize and package everything. Also, hiring a bartender can enhance your event's atmosphere. They cater to all events, from intimate cocktail parties to casual backyard get-togethers to significant corporate events.
The Costs – Freelance & Company Bartenders
There are two options here: hiring a freelance bartender or hiring one through a bartending company. We will look at both options soon.
Freelance bartenders set their rates and work for themselves. Their hourly rate depends on their skill set, headcount, and where the event is hosted.
Depending on your requirements, you can negotiate a rate that suits you best. When hiring a freelancer, you can set up a meeting with them bore the event to gauge how they will interact with guests and how you will get along.
When you hire a bartender through a company, they usually need a deposit and set up a contract with you. In most cases, you will only meet your bartender on the day of the event. A company bartender is licensed, insured, fully trained, and has bartending experience.
Some sample costs:
Freelance bartender: between $30 and $90 per hour. For an average of four hours, a set price would be between $120 and $360.
Company bartender: the range can be between $50 to $100 per hour, or set pricing between $200 and $400 per four-hour set.
The barback is something you might not have thought about. They keep the bar stocked with alcohol, mixers, ice, garnishes, and glassware while your bartender focuses on serving your guests.
A barback can cost between $20 and $60 per hour, so factor this into your budget and be sure to discuss this with your bartender or company beforehand.
Keep in mind that bartenders may charge more for additional hours or if they aren't allowed to put out a tip jar. They can add anything from 5 to 20% to their cost to compensate for losing income.
The time of year will also play a role in your costs. Special holidays such as Independence Day or Christmas events can quickly push prices up 30–50% on top of the base cost.
It will cost extra if you require specialist bartenders that can flip bottles and put on a show or tell jokes and really engage your guests.
Flair bartenders also add to the time needed to serve a drink, which might require more than one bartender behind the bar.
What Is Supplied by Your Bartender?
Setting a bar for your event is the next factor. Usually, a freelance bartender will show up an hour to an hour and a half before your event to set up the bar.
Some freelancers bring their own portable bar to emulate a classic bar setup, while others will bring their own table setup. If you have a dedicated space, it is best to clear it out with your bartender beforehand or ask them to make suggestions.
They will always bring their own tools and accessories along. Primarily, they do not supply the alcohol because of liability and insurance issues.
Some might bring a limited range of mixers and syrups as well—ask beforehand if it is included. Your bartender may offer to do the shopping for the hard liquor and bring you the slip for reimbursement.
Companies usually have a variety of bar setups to choose from. Companies also know how many glasses should be supplied and how many mixers and alcohol should be, depending on your party's size and the amount of time they will spend at your event.
It would be best if you cleared these costs with the company before committing and confirming your booking. The benefit of hiring a company bartender is that they come insured and have liability cover.
Conclusion
Freelance bartenders typically charge by the hour and will adjust their rate according to the type of event, where your event is held, and the time of year.
Remember that there will also be a setup and breakdown time before and after the event—factor these into your budget. A freelance bartender may be cheaper if you host a small or intimate event.
It would help if you also kept in mind that you might also need to hire glassware. Speak to your bartender before the event and discuss all the details. Your bartender can provide insight and guidance into what you will require.
Using a company and its bartender(s) for more significant events is the better but more expensive option. They do all the calculations for you, provide you with a quotation based on the number of guests, and provide their bar setup, glassware, and alcohol.
The cost of hiring a bartender ranges between $350 to $1,900, but the national average is around $1,100. Some specialty drinks take longer to serve, so you may need to hire two bartenders. You can save money by serving wine and beer only.