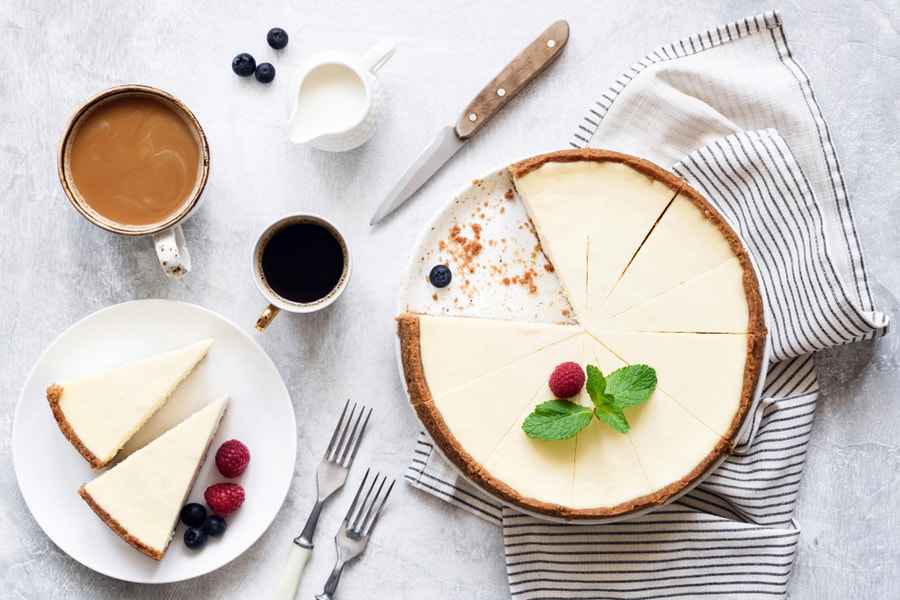 Whether you discovered the Golden Girls recently or have never seen an episode, one thing is sure—they loved cheesecake. They mentioned cheesecake over 100 times during the series; cheesecake was their answer to life's problems.
Cheesecake is a good philosophy, but what are the non-alcoholic options that go with cheesecake?
The obvious choices are coffee and tea (both black and green). You'll need a drink to offset the sweetness in the cheesecake, so kombucha is another excellent option. Seltzer water, club soda with or without a dash of bitters, or tonic water, balance the sweetness with a slight bitterness. Sweet-yet-tart lemonade on a hot summer day and lemon cheesecake make another great option. 
There's more to life than plain tea and coffee, but it's usually a good starting point. Stay with me till the end, and you'll have a handful of options for non-alcoholic drinks to drink with cheesecake.
Types of Cheesecakes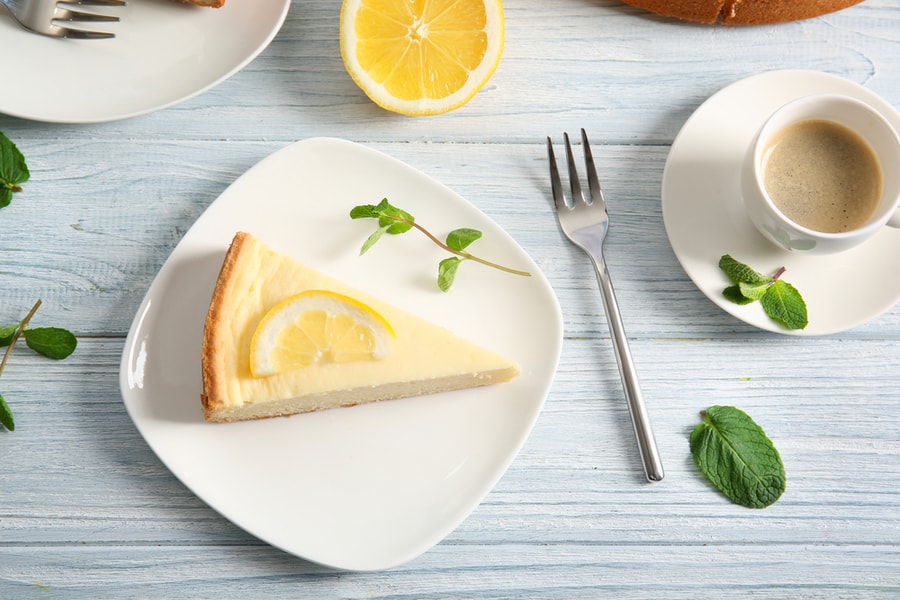 Essentially, a cheesecake is a baked custard that is often served on a cookie or pastry base. There are also unbaked or chilled cheesecake variants. The ingredients also play a role in the final taste of a cheesecake:
New York cheesecake uses curds such as farmer, pot, or cottage cheese and sometimes incorporates sour cream or heavy cream, giving it a slightly less sweet taste
Italian cheesecakes have a more cake-like appearance and use ricotta
The Germans use quark, or cottage cheese, to bake theirs
In France, an unbaked chiffon-like cheesecake is made with Camembert or Neufchâtel cheese.
Non-Alcoholic Drinks That Go With Cheesecake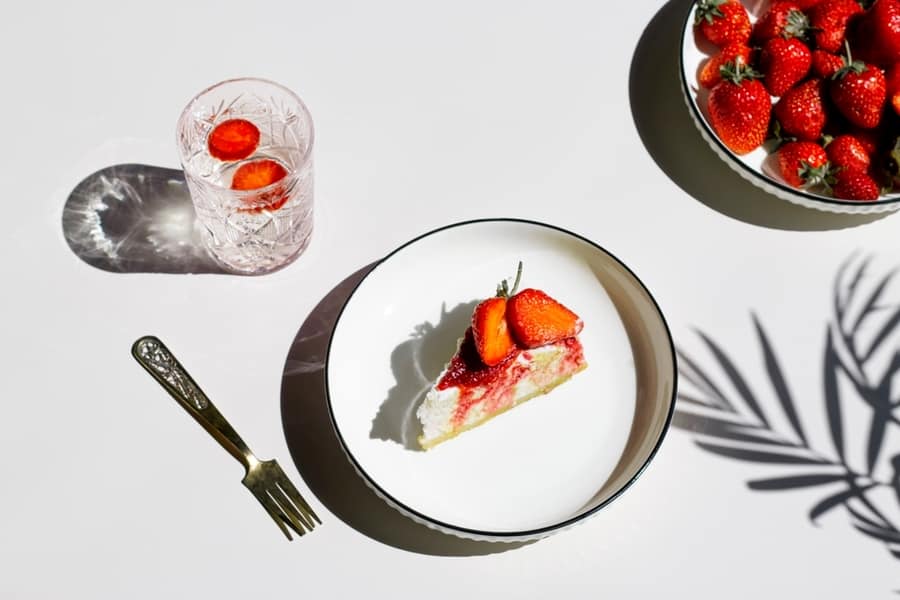 Coffee and tea are usually the top drink choices to pair with cheesecake. And they are delicious options, so break with tradition?
Coffee
The bitterness in coffee forms the perfect backdrop to the sweetness of the cheesecake. My go-to choice would be an Americano or espresso because I prefer black coffee.
Spruce it up with a dash of bitters that would complement your choice of cheesecake.
Black Teas
Tea is an excellent choice for pairing with cheesecake. We've listed some cheesecake variants and their tea counterparts to complement and bring the best of each below:
Lemon cheesecake and Earl Grey tea are one of the most common pairings. Bergamot is used to flavor Earl Grey and plays beautifully with the tartness of a lemon cheesecake. This is also an excellent choice for a New York cheesecake due to the cake's slightly tart yet slightly sweet taste.
Heavier cheesecakes like chocolate cheesecake, combined with Ceylon Black tea or stronger-tasting English Breakfast tea, will bring out the best in the chocolate.
Green Teas
If you prefer a lighter tea, another great option would be Japanese Hojicha Green tea. It has a toasty, nutty flavor with a slight hint of sweetness. It will complement the nuttiness found in chocolate perfectly.
Kombucha
Kombucha is usually fizzy, slightly tart, or just off-sweet, depending on the added flavors. This makes it an excellent choice for sweeter cheesecakes.
Sparkling Water with Bitters
A slightly more 'ordinary' choice is sparkling or seltzer water with a few drops of bitters. This will help to offset the sweet taste of the cheesecake.
Fee Brothers have some excellent botanical choices you can try, and you'll also be able to mix up some cocktails on another occasion.
Or, you can leave the bitters out for a neutral backdrop to allow your cheesecake to shine.
Tonic Water
Tonic water has a slightly bitter taste and would be a great backdrop to sweet cheesecakes—we all know different types of sweet taste, eaten or drunk after the other, creates a bitter taste.
Tonic water will avoid the mingling sweet tastes and bring out the flavor of your cheesecake.
Lemonade
Summers and lemonade are synonymous. The slight tartness of lemonade will perfectly complement sweet cheesecakes.
For a double dose of lemon flavor, lemon or New York cheesecake makes the perfect after-dinner dessert.
A Golden Girls Cheesecake Recipe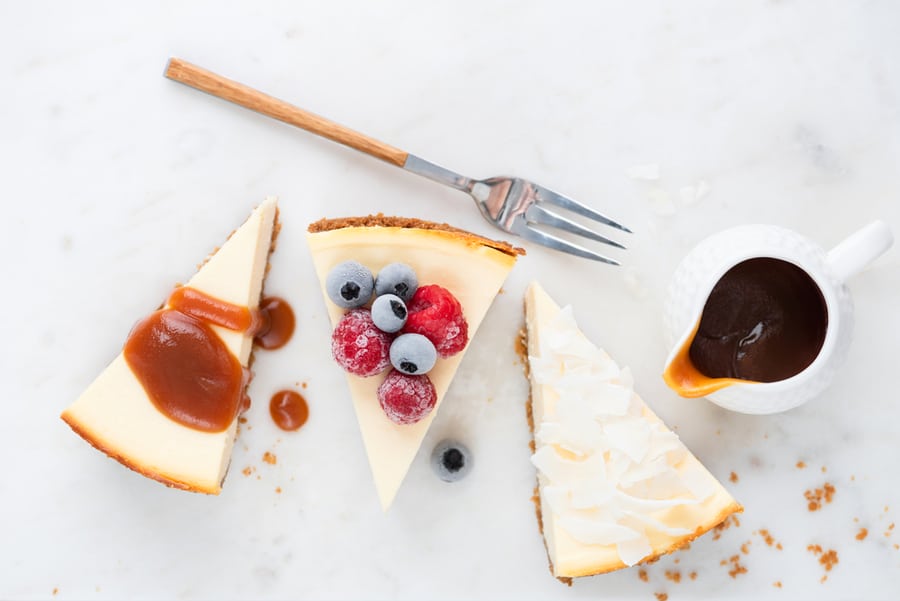 Almost every nation has its version, and Nigella Lawson captures quite a few variants on her website. There's no cheesecake without a homage to the Golden Girls and their love of cheesecake.
The recipe is for a Double Fudge Amaretto Ricotta Cheesecake. It is heaven on a plate!
Conclusion
The obvious choice for enjoying a non-alcoholic drink with cheesecake is either slightly bitter or then neutral in flavor.
Coffee and tea are the obvious go-to options when it comes to cheesecake. Club soda or seltzer water, with or without a dash of bitters, does wonders, and so does slightly fizzy kombucha.
Lemonade, with its tartness, complements a sweet cheesecake beautifully and breaks down the overly sweet taste.
Enjoy whatever you prefer with your cheesecake—life's too short to worry about rules.