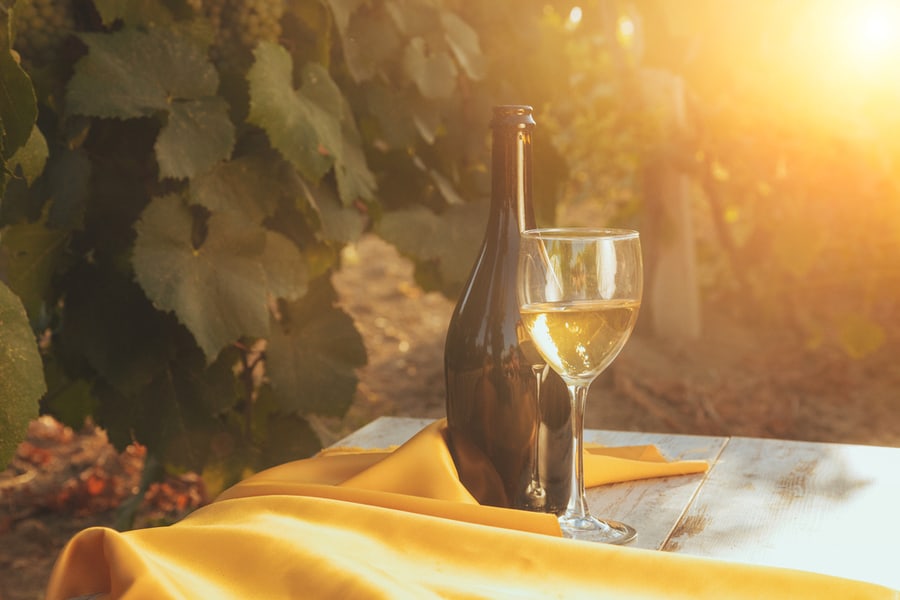 Wine is not the simplest of drinks — there's much to consider. Each type of grape contributes its own characteristics to a bottle of wine, and this, in turn, depends on the soil, climate, fermentation, and aging technique, to name a few.
Sometimes you feel your dish can do with a white wine that's just a bit drier than the one you've taken to the table. We are here to help you find the driest white wine to satisfy your tastebuds and elevate the next meal. 
The driest white wine is Assyrtiko from Santorini and Paros. It has a high alcohol content of 13.5-15% but less than 4 grams of residual sugar per liter. It offers mineral, saline, and lemon flavors with strong acidity. Other dry white wines include Chablis, Vinho Verde, Muscadet, Pinot Grigio, Alvarinho/Albariño, and Soave.
First, we'll look at the criteria we used to select the driest white wines before we delve into the world of the driest white wines. Finally, we'll end with a comparison table to show the different levels of residual sugar in each wine we've discussed to bring it all together and help you find the driest white wine.
What Is the Driest White Wine?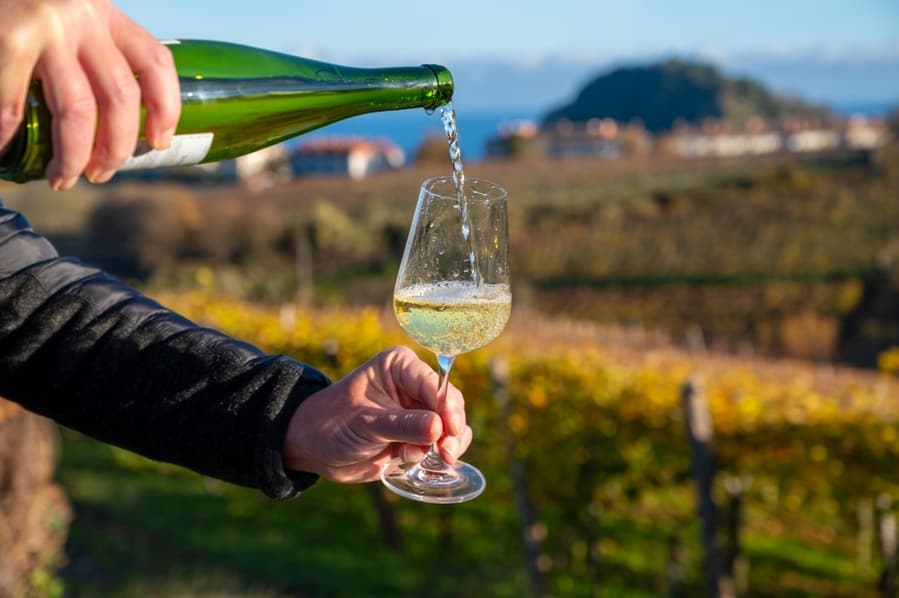 To compile our list of the driest white wines, our selection criteria were as follows:
It has to be a white wine
The residual sugar must range between 0 and 9 grams per liter (bone-dry)
Classified as bone-dry
Numerous factors play a role in a wine's dryness — the residual sugar level, alcohol content, acidity, serving temperature, and tannins (white wines do not have tannins, unlike red wines).
Dry and sweet wines both have their place at the dinner table. The only problem with dry wines is that our mouths and noses trick us into believing they aren't as dry as we think.
For example, fruity flavors and aromas and tastes that mimic licorice, cola, or fruit can sometimes make a bone-dry or dry wine seem deceptively sweeter than it is.  
Bone-Dry White Wines
Bone-dry white wines are fermented to dryness — the yeast can gobble up all the sugar it can. As a result, the wine has very little residual sugar left, resulting in a crisp taste and sometimes a highly acidic finish.
Usually, these wines are also higher on the alcohol scale, but exceptions exist. We'll unpack these statements in the driest bone-dry wines below. 
We've chosen a few of our favorites and some wines that deserve attention and a spot on the dinner table to open up new discussions and discoveries.
1. Assyrtiko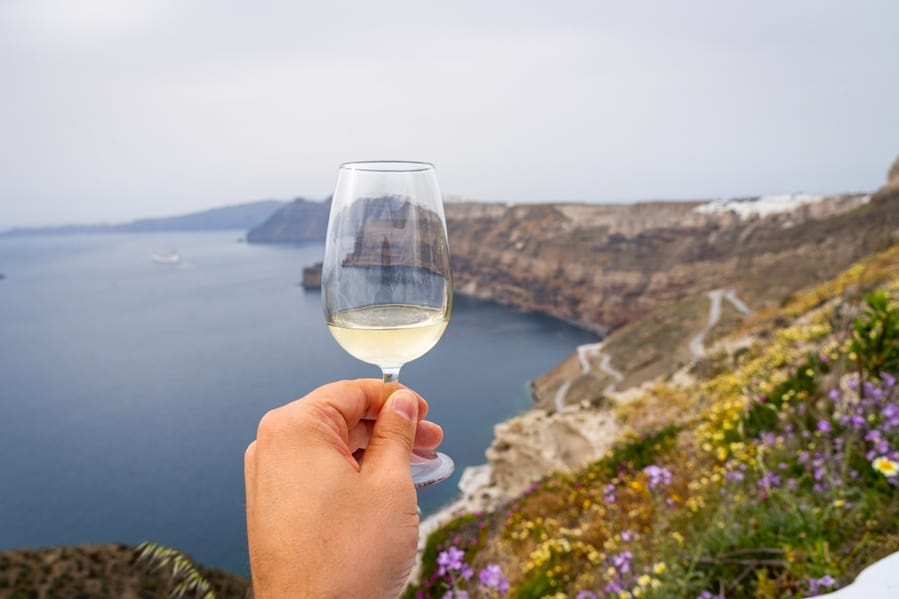 Sun, sea, the Greek Islands, and wine. What could be more perfect? A glass of bone-dry Assyrtiko, of course!
Usually, cool climates prevent grapes from developing too much sugar as they ripen, and the grapes retain their acidity. On the other hand, Assyrtiko grapes are grown on the hot and sunny Santorini island. One would assume the grapes would be sugar-sweet, but Santorini's lack of rainfall plays a role.  
Santorini gets around eleven inches of rain in a year. Hence, the grapes grow small and tart while holding onto every precious drop of moisture that comes their way. Furthermore, the soils are rich with volcanic ash and contribute to the wine's mineral and saline taste.
In addition to the mineral taste and salinity, you can also expect flavors like passionfruit and lemon. Assyrtiko grapes are also used in Vinsanto dessert wine with a residual sugar of over 300 grams per liter. Assyrtiko enjoys EU PDO (Protected Designation of Origin) status.  
At most, you can expect less than 9 grams of residual sugar per liter at an ABV that ranges between 13.5 and 15%. The usual range is between zero and four grams per liter.
2. Chablis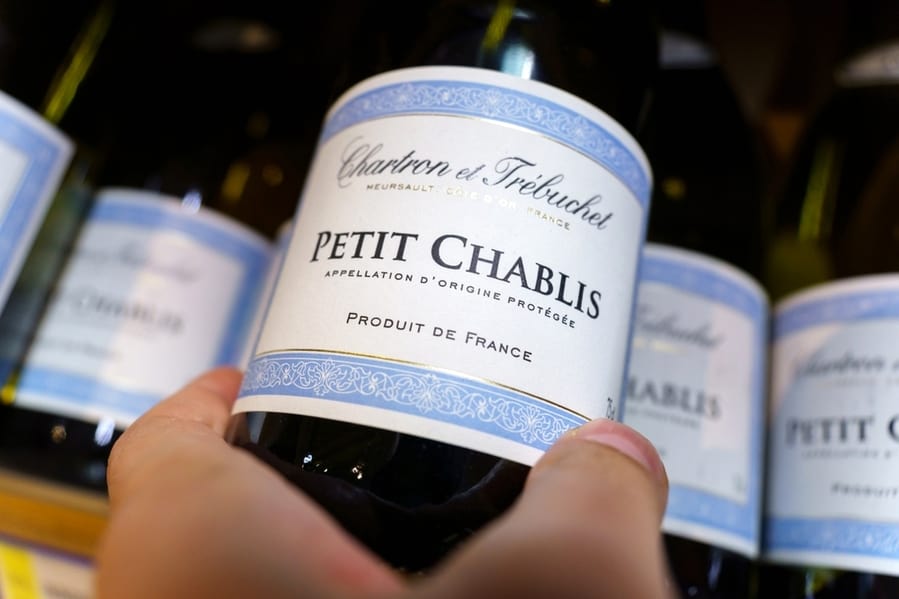 Chablis is produced in Burgundy, France, with tastes like chalk (minerality), lime peel, white flowers, quince, and star fruit. The wine is made exclusively from the Chardonnay grape. 
Less than 0.6 grams of residual sugar per liter, but can range between 1 and 3 g/L
3. Vinho Verde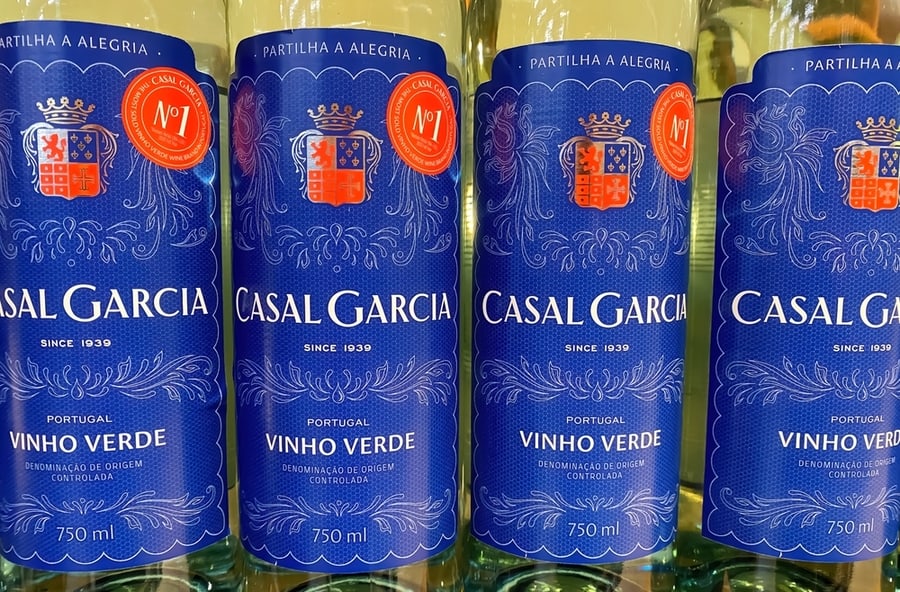 White Vinho Verde is produced exclusively in Portugal's Vinho Verde DOC region. The blend is dominated by six grapes Alvarinho, Arinto (Pedernã), Azal, Avesso, Loureiro, and Trajadura.
The grape varieties are highly acidic, which helps the wine to reach low alcohol levels of around 11% ABV, and many of the types are autochthonous — they only grow in northern Portugal and nowhere else.
As a result, the taste is often described as lemon blossom, white melon, grapefruit, gooseberry, and lemonade. The fresh, fruity taste is due to winemakers avoiding malolactic fermentation, thus preserving the zippy acidity and fruity taste.  
Residual sugar can range between 0.2g/l to 1.5g/L depending on the producer
4. Muscadet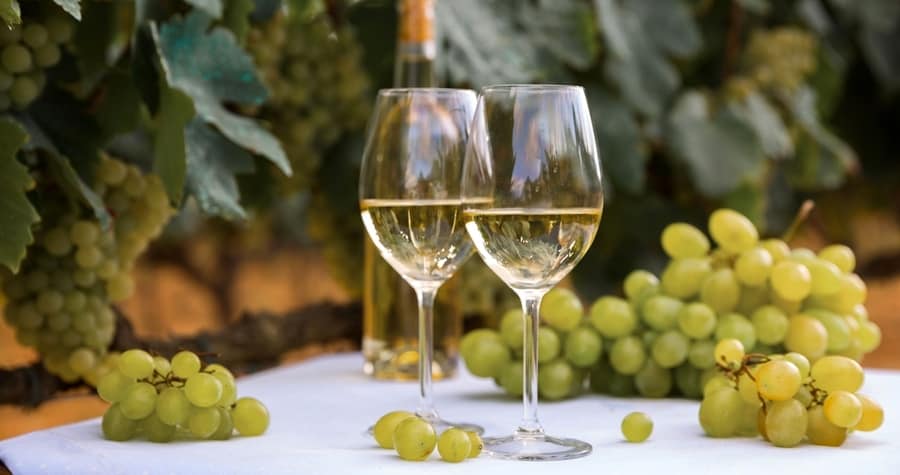 Muscadet is the perfect bone-dry wine for those who do not like fruity-tasting wines. Muscadet is made from the Melon de Bourgogne grapes in the Loire Valley, France.
At the most, you'd recognize subtle unripe pear and apple notes and pithy citrus flavors. The taste is lean with a salt-like quality. When the wine is aged under suspended dead yeast particles, or lees, it is labeled 'sur lie.'
A lees-aged Muscadet (specific to the Nantais vineyards) will have a creamy texture combined with a yeasty flavor reminiscent of a lager. Winemakers age their sur lie wines between two and three years. Despite the low residual sugar content, the ABV of 12% is surprisingly low for such a bone-dry white wine. 
AOP (Appellation d'Origine Protégée) regulations state that Blanc wines may not have a residual sugar level above 5 grams per liter, while Blanc' Sur Lie' must be less than 3 g/L.
5. Italian Pinot Grigio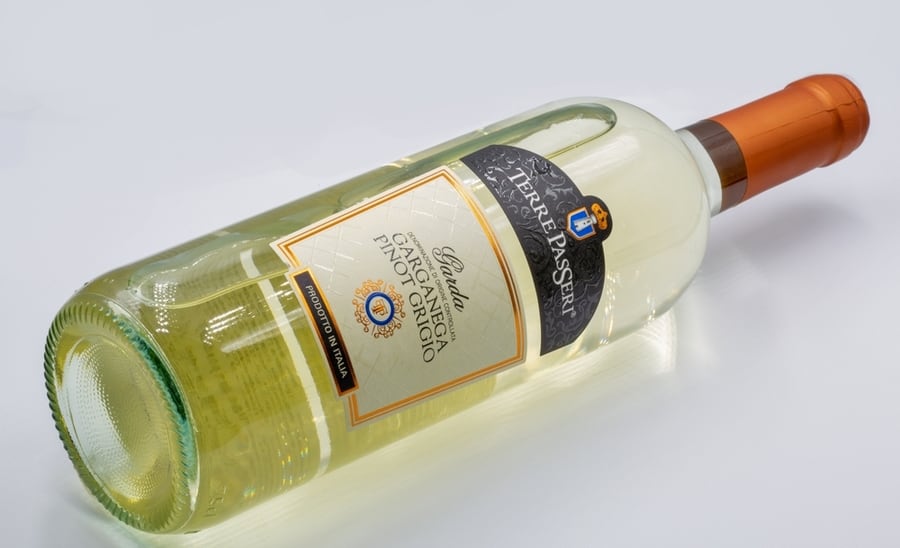 Pinot Grigio is a versatile grape and comes from France, where it is known as Pinot Gris. Pinot Grigio is usually a dry wine with high acidity.
Still, there are two exceptions: cheap supermarket plonk and the rare, slightly sweet Pinot Gris from Alsace in France. Although Pinot Grigio may smell somewhat floral, pear, citrus, and apple are dominating aromas. 
The residual sugar level is usually between 0.6 and 2 grams per liter. Still, it sometimes can hover between 3 and 3.5 g/L, as seen in these wines.
6. Soave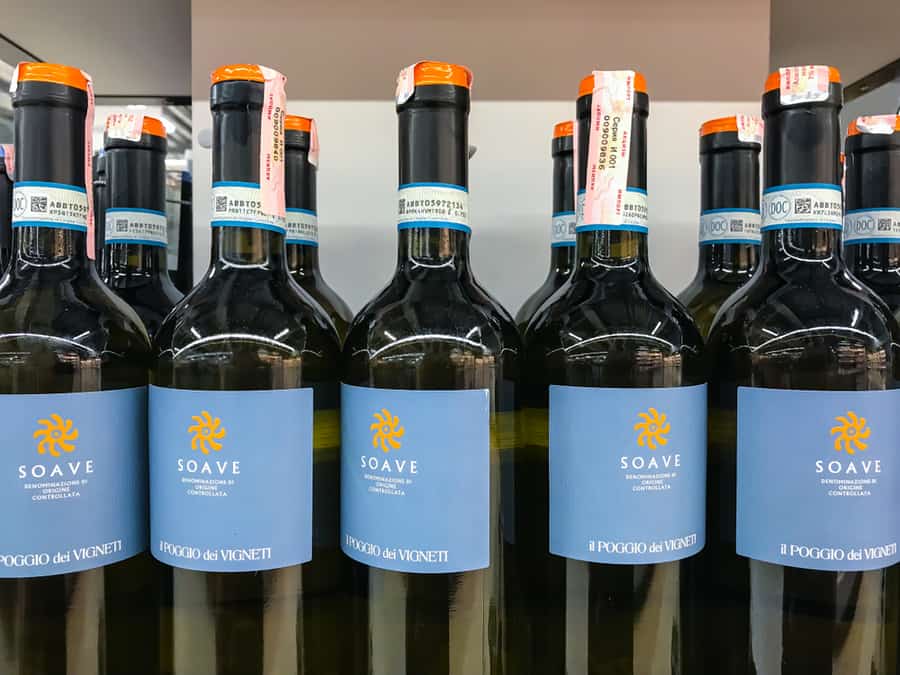 Soave hails from the Veneto region in Italy and is a white wine made predominantly from Garganega grapes. It can improve with age, so collectors should watch for these wines.
Commonly you can expect tastes like a subtle hint of saltiness combined with peach, citrus zest, honeydew, sweet marjoram, and peach. Cheaper wines often have a bitter, green almond finish. 
According to DOCG regulations, the minimum alcohol levels are 12% and 12.5% for Superiore and Riserva, respectively. In addition, residual sugar is capped at a maximum of 6 grams per liter.
7. Alvarinho (Albariño)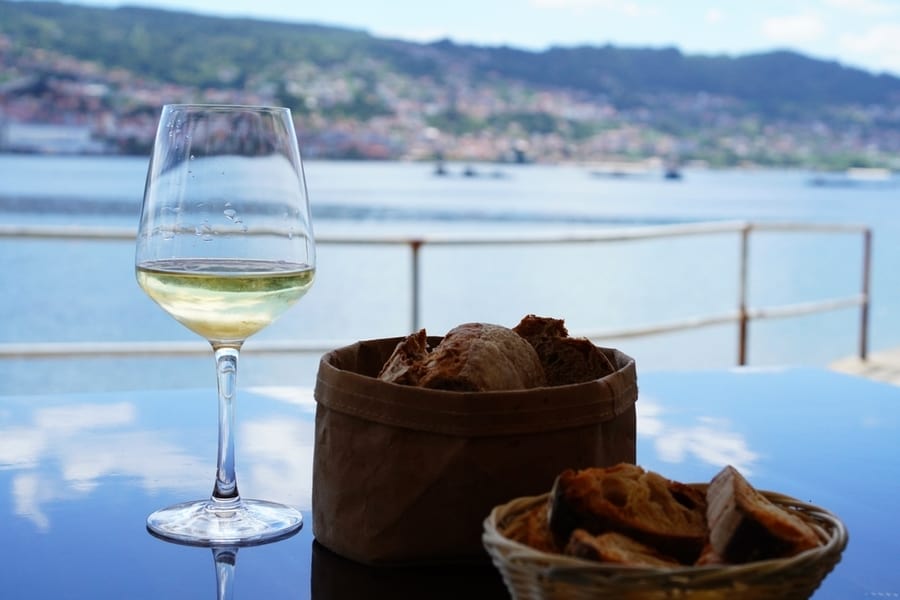 Alvarinho/Albariño hails from the Iberian Peninsula and is primarily grown in the coastal regions of Portugal and Spain. The nose has aromas of lime, grapefruit, and nectarines, and sometimes you might pick up on honeysuckle and beeswax.
If you love acidic wines, this is the one for you! It has a mouth-puckering acidity, and the finish is salty. Sometimes, you can detect bitter notes like citrus pith or green almond on the finish.
Usually, these wines are enjoyed when they're young but have incredible aging abilities due to the high acidity and phenolic structure imparted by the grapes' thick skins. Unlike other grapes grown 'low,' Alvarinho grapes are grown on pergolas or trellises to lift them from the ground and prevent rot and mold. 
Final Roundup
We've listed the wines discussed in this article below, showing each one's name, origin, residual sugar level, and ABV to help you buy the driest white wines to accompany your dishes and tantalize the taste buds with their mouth-smacking dryness.
In addition, each name is linked to a summary of the wine, so you have all the information at a glance. The links also contain more details about other wines in the same dryness category you can discover. 
Conclusion
As you may have noticed, Greek Assyrtiko from Greece's Santorini (and Paros) islands is the driest white wine. With only 0.9% residual sugar per liter, this wine will surely hit all the right notes for being the driest white wine.
Other bone-dry white wines we've included for you to try are Chablis, Vinho Verde, Muscadet, Pinot Grigio, Alvarinho/Albariño, and Soave.
So be bold and try something new and exciting! As a side note, dry white wines are also perfect for cooking, so don't be shy to incorporate them into some of your seafood and poultry dishes.