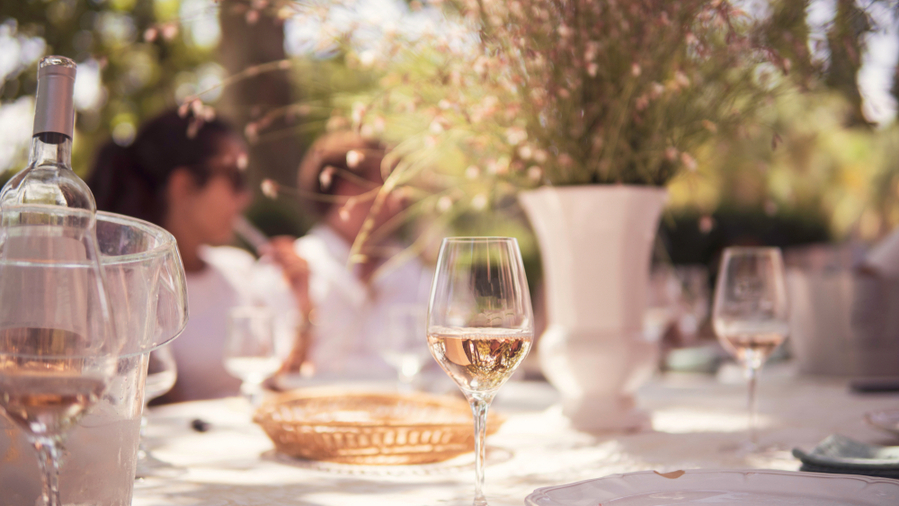 Vinho Verde is not a blend or a unique grape but a winemaking region in the northwest corner of Portugal. These wines are particularly loved for their acidity and low alcoholic content, combined with a bit of spritz; they're the perfect summer choice.
Vinho Verde is bottled young, between three and six months after harvesting, hence the name translating to 'green wine.'
Vinho Verde pairs perfectly with all kinds of foods—even tricky options such as Asian dishes and robust curries. We'd recommend seafood dishes with rich sauces and sushi. It can be served in stemmed glassware for a formal look or stemless glasses during an informal picnic.
We'll look at some general characteristics of Vinho Verde wine before we jump into the different types of wines and offer advice on serving temperatures and food pairings. A short introduction to Vinho Verde will help us understand the sub-regions within the Portuguese Vinho Verde region and how the climate and geography influence the wine.
Vinho Verde General Characteristics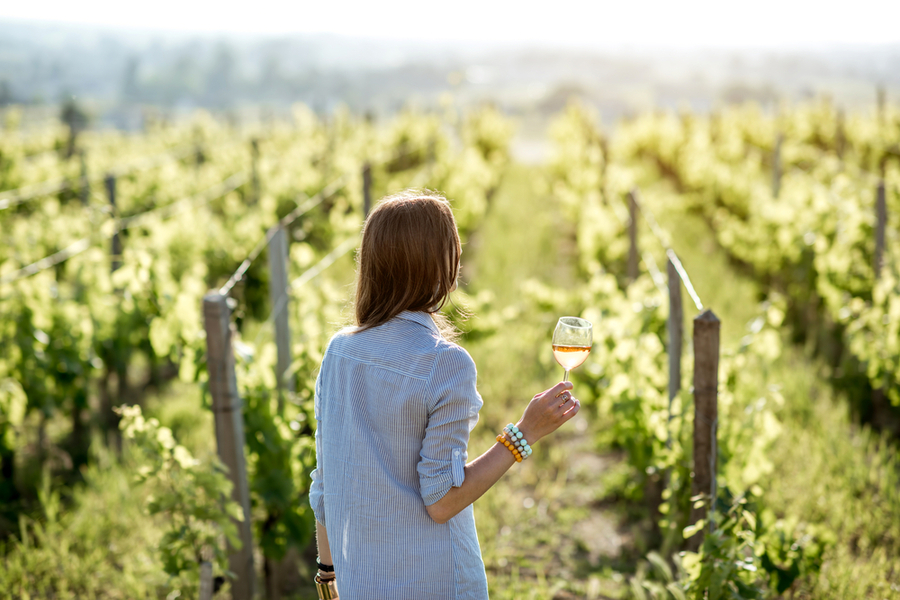 Before we get too carried away, let's look at the general characteristics of Vinho Verde wines. Because the rosé and red varieties are so scarce, we'll primarily focus on the white wines below.
You'll note the following when you crack open a bottle of Vinho Verde:
A dry yet crisp and light wine that leaves you refreshed.
The alcohol range is on the lower side, usually between 9 and 11%, which makes it an excellent all-day drinking wine.
Flavors you might notice range from slightly acidic and minerally, with citrus, green apple, and stone fruits also present.
These wines are cheap, so expect to pay around $5 to $10 per bottle. They rarely reach more than $20 per bottle, and those on the high side of the spectrum are most probably from prestige estates or made from rare, single-varietal grapes.
These wines are sold young without aging, so you can expect a touch of acidity and very light bubbles—the fermentation process continues in the bottle after bottling. Still, it is not enough to be classified as a sparkling wine.
You can serve Vinho Verde wines in a stemmed wine glass for a more classy look, but it works perfectly in stemless glasses. If you're serving wine outside to beat the heat of summer, keep the ice bucket filled with ice and water handy to keep the wine at the perfect drinking temperature.
How To Drink Vinho Verde Wine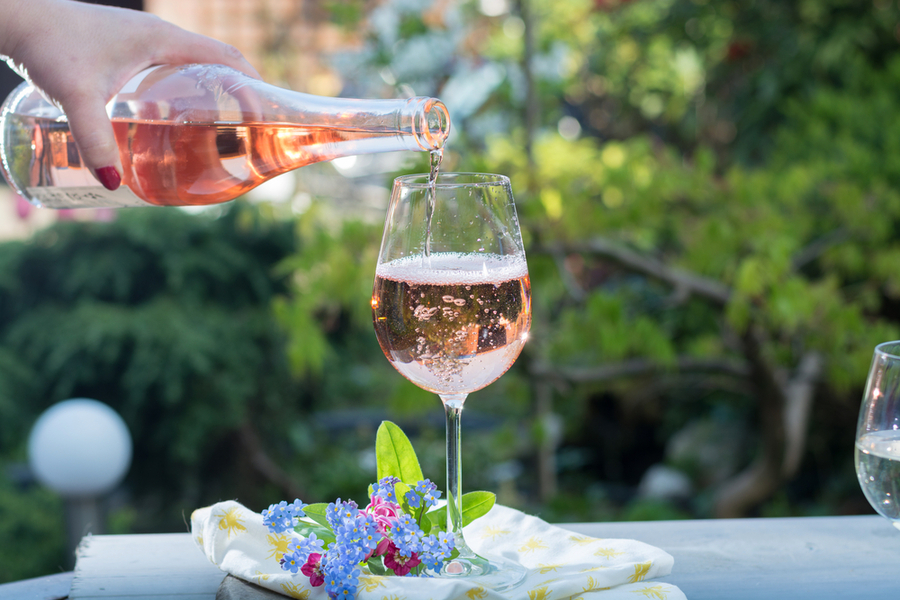 There are three main varieties of wine from Vinho Verde: white, rosé, and red.
There are 45 officially approved DOC-approved wineries in the region. Some official white grape varieties include Alvarinho, Azal, Loureiro, and Trajadura. In contrast, red (and rosé) types include Espadeiro, Padeiro, and Vinhão.
Verde White Wines
You can expect tastes from a bottle of white Vinho Verde, including white melon, grapefruit, lime blossom, lemonade (yay!), and gooseberries. Vinho Verde is mostly white blends and has a characteristic freshness to it.
The serving temperature for white wines is between 8ºC and 12ºC (46ºF–54ºF).
Food suggestions for all white wines include seafood. It is ideal for brunches if you want to break away from prosecco, champagne, or sparkling wines.
If you're stuck for inspiration, look at these recipes and try your hand at some traditional Portuguese fare.
Verde Rosé and Red Wines
Unfortunately, the rosé and red wines are sometimes challenging to get, and when you do, grab them while you have the opportunity!
Suggested serving temperatures are 50ºF to 54ºF (10–12ºC) for rosé wines, and red wines should be served at 54ºF to 49ºF (12–15ºC).
Food pairings such as seafood with rich sauces are a standard complement to Vinho Verde wines, no matter the color of the wine. Pork and potato dishes are also commonly served with Vinho Verde wines, and fare with a coating of breadcrumbs, such as chicken or pork schnitzels, are excellent food choices.
If you're stuck on food choices, think about those foods you almost always battle to pair with wine: curries and many Asian dishes.
Introduction to Vinho Verde Region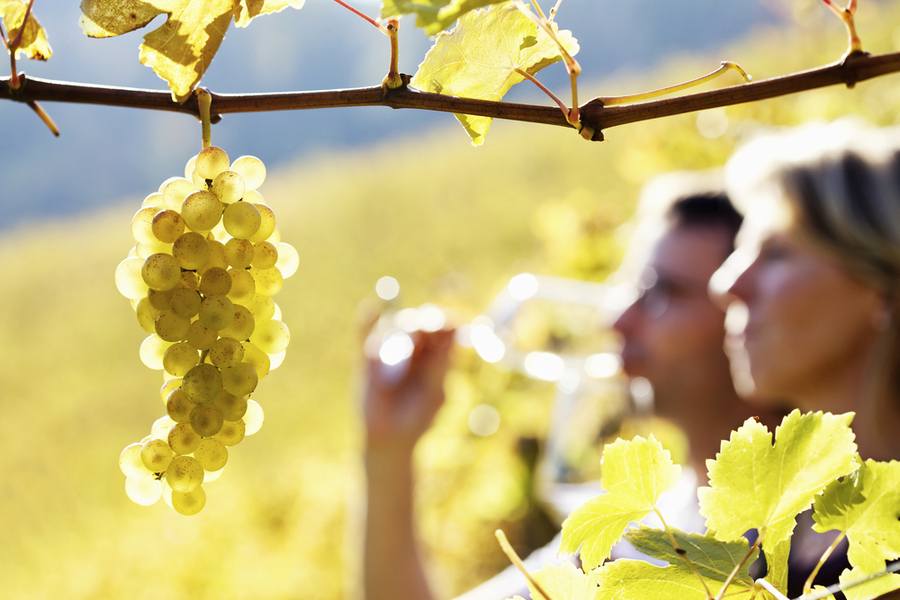 Vinho Verde translates to 'green wine,' but isn't green per se; the green instead refers to the age of the wine—it is a young wine. Vinho Verde is not a grape or wine but a type of wine. It is the region where winemakers grow their vineyards.
Vinho Verde refers to a particular area in Portugal where the lush landscape is green as far as the eye can see. Vinho Verde borders the south of Spain and extends all the way to the Atlantic ocean. This short introduction will help us understand the regions.
Vinho Verde is protected by legislation, and to bear the DOC (Denominação de Origem Controlada) label, it must be produced in the Entre-Douro-E-Minho region, which translates to between the Douro and Minho.
The Douro and Minho are two rivers flowing through the upper-northwest corner of Portugal.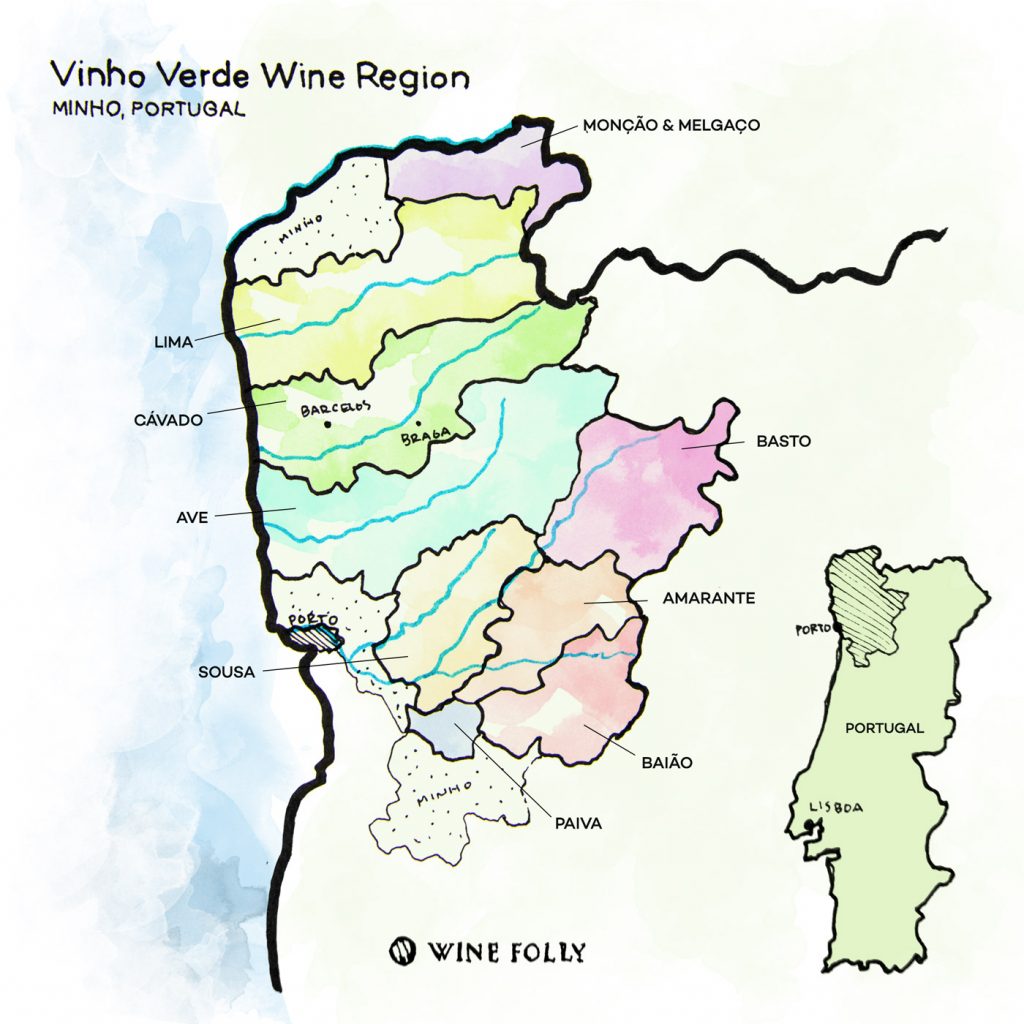 The Vinho Verde wine region falls within the Minho, subdivided into nine sub-regions. Let's look at them from the Minho River down to the Douro River:
Monção e Melgaço sub-regions: this region borders Spain and is slightly inland. Tasting notes for wines usually describe it as minerally because the vineyards are planted in well-draining granitic soils.
Lima, Cávado, and Ave sub-regions: these regions border the Atlantic Ocean and are battered by rainy weather. You'll mostly find easy-drinking white wines here. An interesting growing style is used here—vines are grown on high trellises—some as high as telephone poles! The region's moisture can lead to rot at the base of the plants. Thus winemakers improvised to save their precious vines and grapes.
Basto, Sousa, Amaranto, and Baião sub-regions: while this region is sunnier because they're further away from the coast towards the mountains in the east, the winemakers grow two white grapes, the trade-off is that they are harder to ripen: Azal and Avesso and some rare red wines produced from Espadeiro, Vinhão (Sousão), and Padeiro (the last being exceptionally rare). The Vinhão, also known as Sousão grapes, is unique because it is a teinturier grape—the flesh and skin are dark in color. This is a natural mutation.
Conclusion
Your search is over for the perfect summer wine! Vinho Verde pairs especially with a wide range of dishes. It is a crisp and refreshing summer wine with moderately low alcohol content, making it the perfect all-day drinking wine.
If you want to get daring, try some of these VInho Verde cocktail recipes, or plan a trip and visit some estates and eateries in the Minho region.