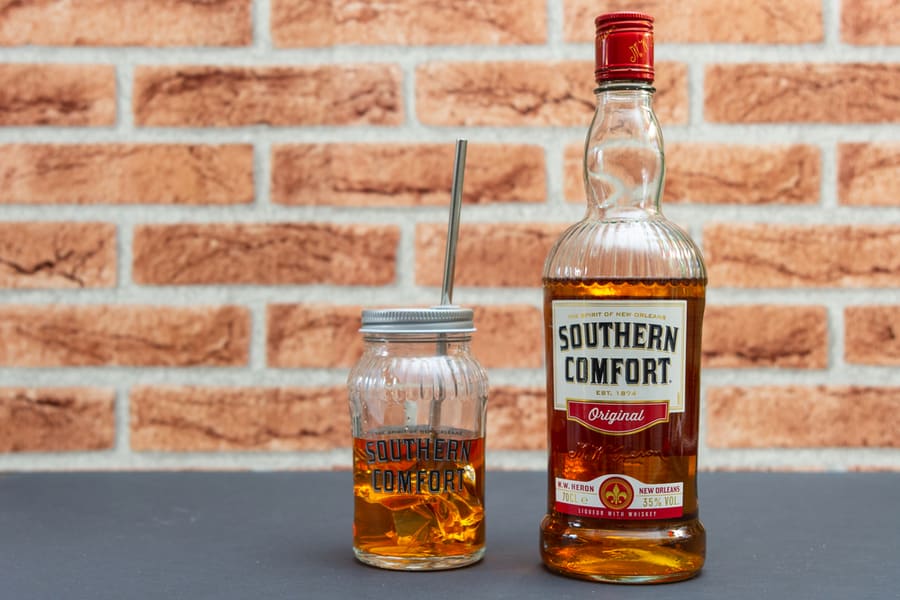 College parties and Janis Joplin holding a bottle of Southern Comfort might be two of the images the name conjures in your memories. The Southern Comfort of today is probably better than the one you had in college—the whiskey-based liqueur was made with a neutral grain spirit.
Everything changed in 2017 when New Orleans' Sazerac Company purchased the brand and returned it to Crescent City.
How do you drink Southern Comfort?
You can follow the usual suspects' route—neat, on ice, or with Coke. Or, you can mix up some fascinating and unique cocktails, such as the Lawnmower, a bright green cocktail, or go for a 1939 classic such as the Scarlett O'Hara cocktail. Maybe you like milkshakes, so why not mix up an adult milkshake with a kick?
We'll investigate what SoCo is and isn't, along with some of the spirit's history, and explore the three Soco variants available today. Finally, we've listed the most unique cocktails for you at home. So, without further ado, let's jump in.
Southern Comfort Variants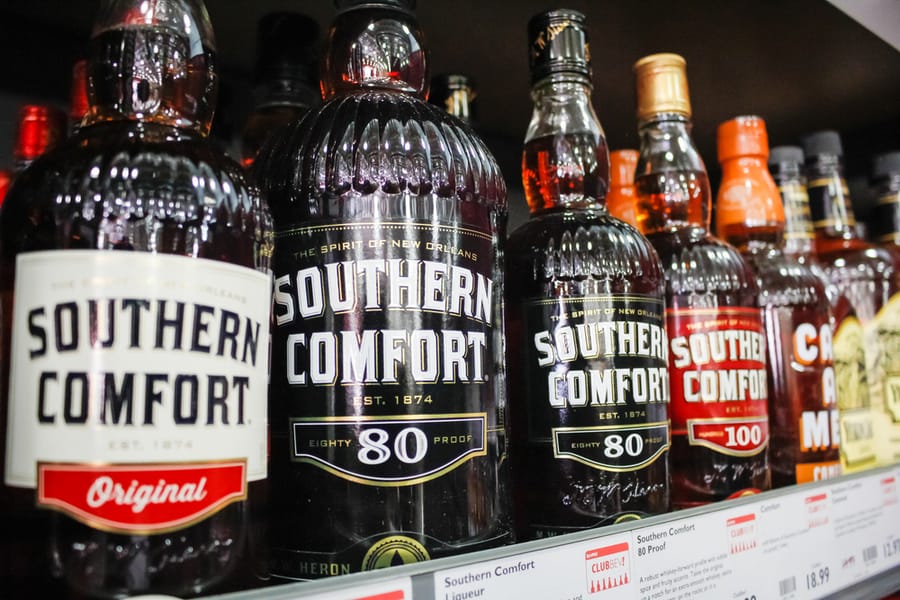 Before we dive into some unique recipes featuring Southern Comfort, let's look at the three variants: Original, Black, and 100 below.
The syrupy sweet Southern Comfort is thankfully gone after Sazerac took control of the brand. They also did away with strange flavors such as Lime, Gingerbread Spice, Black Cherry, and Tobasco. They also discontinued producing flavored vodka with whiskey flavoring.
The bottom line is that whiskey connoisseurs may find it too fruity and syrupy.
Southern Comfort Original
Bottled at 70 proof (35% ABV), this is the 'lightest' of Southern Comfort's offerings. You'll notice vanilla immediately upon tasting the original. The whiskey component tastes youthful, as one would expect from a mass-produced whiskey-based liqueur.
The spiced peach and cherry candy finish are intense, almost like cold medication. The alcohol also appears with a slight burn and numbness at the end.
Southern Comfort Black
This is the family's middle child, but without all the problems, middle children sometimes suffer.
Black is the former Southern Comfort 80; yes, you guessed it… bottled at 80 proof (40% ABV). It has a hint of spice and wood lingering in the aftertaste resembling bourbon.
Southern Comfort 100
The most potent offering at 100-proof (50% ABV). It is certainly not a drink you'd serve your Gran when she's doing her knitting! It is also not the sickly sweet version from the 1990s but still has the inherent Southern Comfort sweetness.
It's also deeper in color and lacks the green overtones that the Black version possesses, but it's still full of peach, simple whiskey, and wood flavors.
Yes, that typical cherry/medicinal flavor for which Southern Comfort is famous appears at the end. Still, it's not quite as harsh as ordinary Southern Comfort Original.
How To Drink Southern Comfort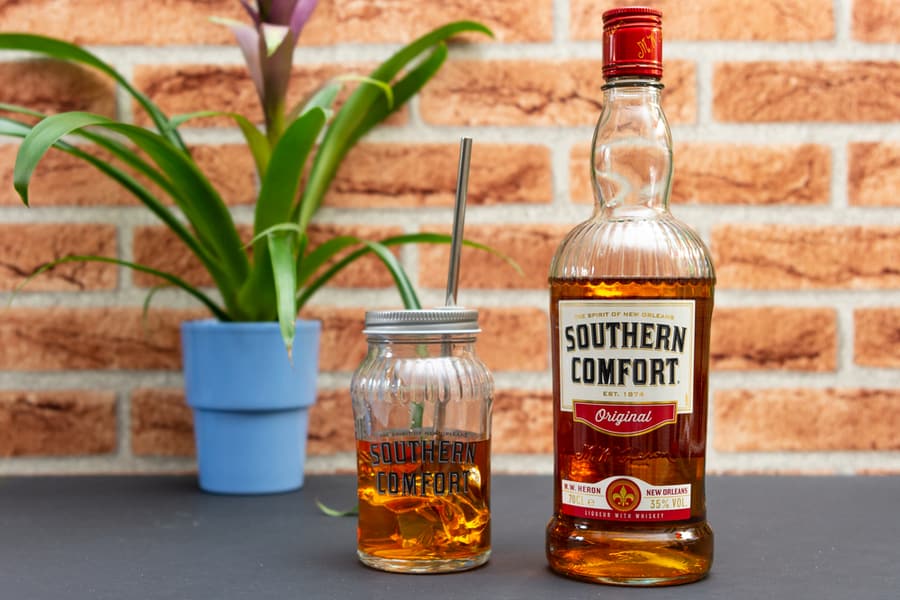 Now that we've cleared up what Southern Comfort is and isn't, let's take a look at how to drink Southern Comfort.
Apart from the usual three suspects—neat, on ice, or with Coke—the options are basically limitless, so let's dive in and see what unique opportunities we can find and share with you.
Scarlett O'Hara
The Scarlett O'Hara cocktail helped put Southern Comfort on the map in terms. Created in 1939 and named after the heroine of the same-year film Gone With The Wind.
Did we mention it is oh-so-easy to make?
Instructions
1½ ounce of Southern Comfort (what else) combined with 1½ ounces of sweetened cranberry juice and ½ ounce of freshly squeezed lime juice are all shaken together with ice, strained, and strained into a coupe or martini glass.
Southern Milkshake
This is a grownup version of a milkshake with a kick and a perfect drink to cool you down after a long, hot day. Or whip up a milkshake after a dinner party.
Instructions
With a cup of milk, two ounces of SoCo 100, some vanilla extract, ice, and two cups of ice cream all blended in a blender; you're on your merry way to an awesome milkshake. 
Frozen Lemonade
Lemonade, hospitality, whiskey, and the American South go hand in hand. So why not get a taste of the South with a Frozen Southern Lemonade?
Making fresh lemonade? Bring out the bottle of SoCo too!
Instructions
Blend 1½ ounces of SoCo Black, 4 ½ ounces of lemonade, and around half a cup of ice until it is all slushy and serve yourself and your guests summer in a glass.
The Lunchbox
Don't let the name mislead you; you can't pack these in your lunchbox for tomorrow's lunch at the office. Nor can you pack it in for the kids.
The Lunchbox combines Soco, beer, amaretto, and orange, which sounds like an odd combination, but it works.
If you thought this one looked familiar, you're right. It's a relative of the Alabama Slammer, which uses sloe gin instead of beer.
Stock Market Crash
Maybe not the best name for a cocktail (like Irish Car Bomb), but this is just what you need when you need a stiff drink that doesn't disguise itself behind the sweetness of Coke.
Instructions
You're going to pour half an ounce each of Jack Daniels, Yukon Jack, and Wild Turkey whiskeys with half an ounce of Southern Comfort and black rum each over ice cubes into an old-fashioned glass and top it off with Coke.
Bold Fashion
A twist on the Old Fashioned, Sazerac Company, the owners of the Southern Comfort brand, offers the recipe on their website. You'll end up with a drink that's uncomplicated yet elegant.
Instructions
Combine two ounces of SoCo 80 with half an ounce of simple syrup and two dashes of Peychaud's bitters, all measured into a glass filled with ice. Stir together and decant into an old fashioned glass. You can garnish your drink with a cherry and an orange slice if you prefer.
Lawnmower
Forget about pink drinks, this one's green! Green means go and have a good time in our books.
Maybe finish the law before you mix a Lawnmower because your lawn will look extra special after you're finished and sipping one of these in the shade.
Instructions
Pour an ounce of Soco, 1½ ounces of Midori (a green Japanese melon liqueur), and two teaspoons of dry vermouth into a shaker with ice and shake well.
You're not going to strain this one, so pour it all in a highball glass and top it up with 7-Up or Sprite, give it a good whirl with your bar spoon, and settle down for a refreshing green drink.
If you still need inspiration or recipes, check out Southern Comfort's recipe collection or learn how to mix that drink you always wanted to but were too afraid to try.
Is Southern Comfort a Whiskey?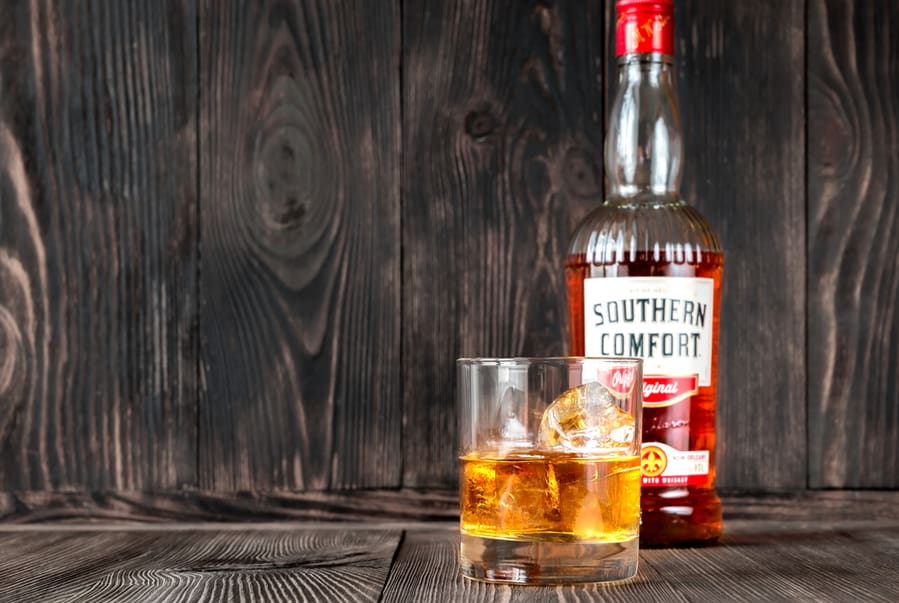 Sorry to disappoint, but Southern Comfort ain't no whiskey. For a long time, it didn't even contain whiskey. Now that we've got that out of the way, let's dig a bit deeper to get behind what Southern Comfort is and isn't.
Southern Comfort, formerly known as Cuffs & Buttons (citrus peel or 'cuffs' and cloves or 'buttons'), is a whiskey-flavored liqueur. It was a nod to another famous liqueur of the time, Hats and Tails.
Martin Wilkes Heron, a New Orleans barkeep, produced the original recipe when he sought to make whiskey palatable. In an episode of season 4 of The Thirsty Traveler, Chris Morris, a spirits historian, describes the original recipe as follows:
Heron would take "An inch [2.5 cm] of vanilla bean, about a quarter of a lemon, half of a cinnamon stick, four cloves, a few cherries, and an orange bit or two. He would let this soak for days. And right when he was ready to finish, he would add his sweetener: he liked to use honey."
All these ingredients were added to strong-tasting bourbon to create his infusion.
Heron's customers loved the recipe. He patented and began selling his formula, which became Southern Comfort, using his patrons' thirst as his motivation. Considering Heron's recipe, Southern comfort is not a whiskey or bourbon according to US legislation. Southern comfort is a liqueur.
While the modern recipe is a closely guarded secret, Southern Comfort was not made from whiskey for a long time but contained some bourbon for taste. This was shortly after the end of Prohibition, and Brown-Forman owned the brand.
Sazerac Company bought the brand in 2016. In 2017 Sazerac announced that they'd return to the original recipe by using whiskey as the base spirit instead of a grain-neutral spirit (basically vodka).
Conclusion
As the brand's slogan goes, Southern Comfort mixes comfortably with anything.
You can substitute the whiskey in many cocktail recipes with Southern Comfort for a unique taste experience that's a tad sweeter and fruity. Enjoy it neat or over ice.
Southern Comfort has realigned with its original recipe and returned whiskey to the product.