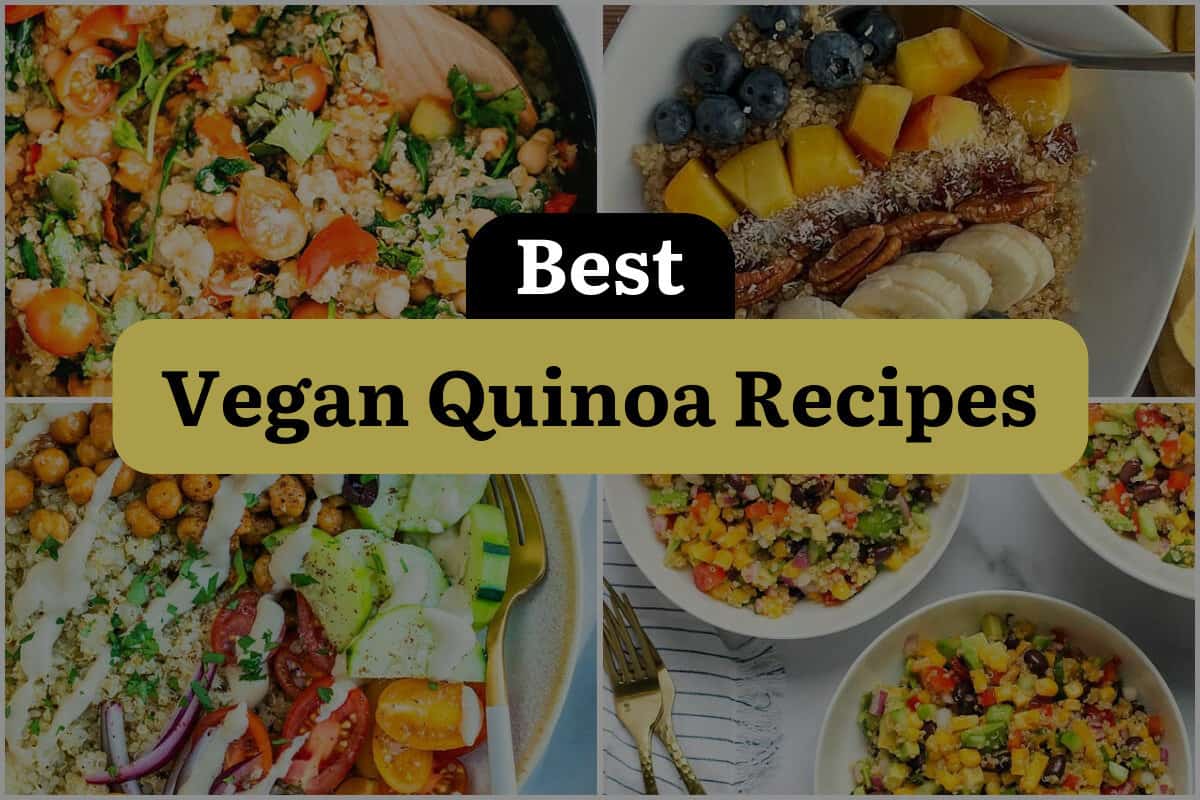 Are you looking for delicious and nutritious vegan recipes that are easy to make? Look no further than quinoa! This tiny grain is packed with protein and is incredibly versatile. Whether you're a seasoned vegan or just looking to incorporate more plant-based meals into your diet, quinoa is a fantastic ingredient to have on hand.
In this blog post, we'll explore some of the best vegan quinoa recipes that will satisfy your taste buds and keep you feeling satisfied. From hearty salads to flavorful stir-fries, these recipes will show you just how delicious and versatile quinoa can be. Let's dive in and discover some mouthwatering plant-based dishes that will leave you wanting more!
1. One Pot Quinoa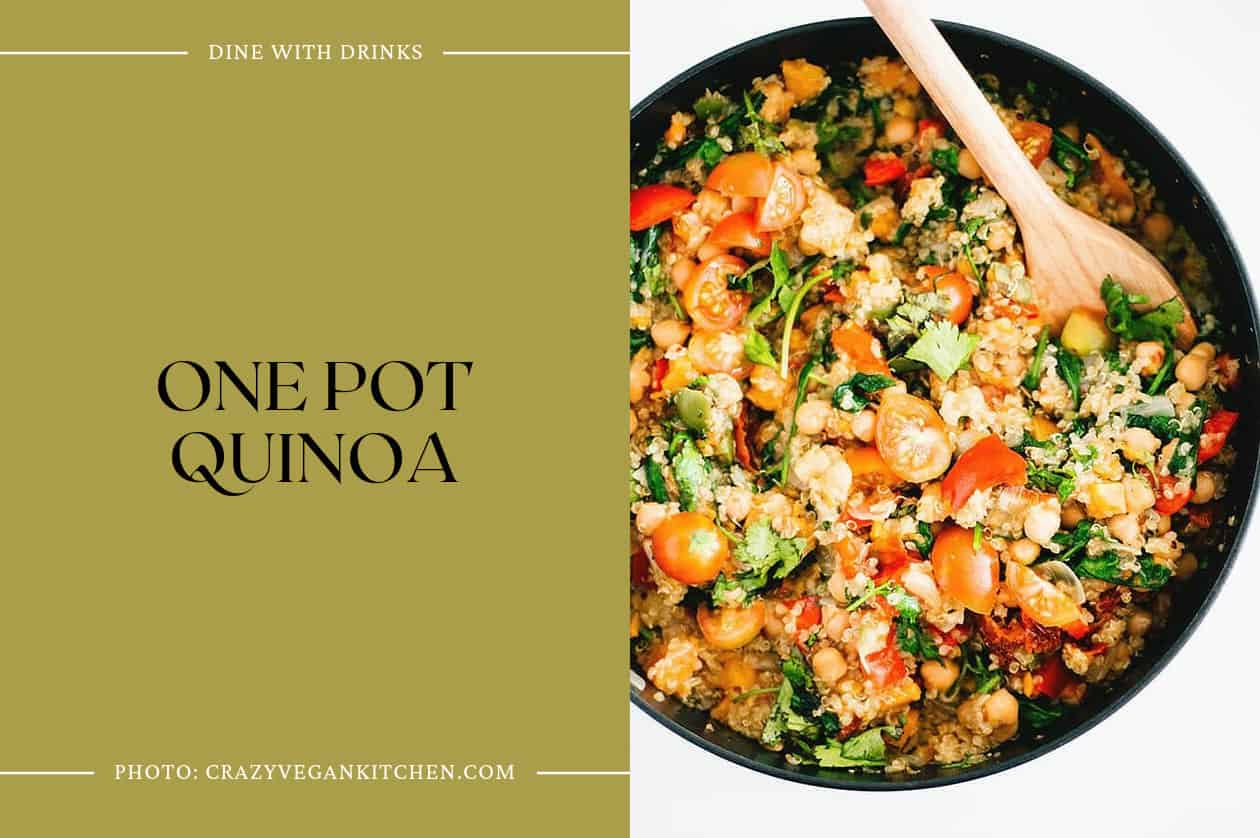 One Pot Quinoa is a quick and easy vegan recipe that is perfect for feeding a crowd. It is a hearty and filling dish that packs a protein punch. The recipe combines white onion, sweet potato, red bell pepper, chickpeas, sun-dried tomatoes, and green olives with white quinoa and vegetable broth.
It is simmered until the liquid is absorbed and then topped with cherry tomatoes, baby spinach, and cilantro. This dish is gluten-free, healthy, and satisfying.
2. Vegan Quinoa Breakfast Bowl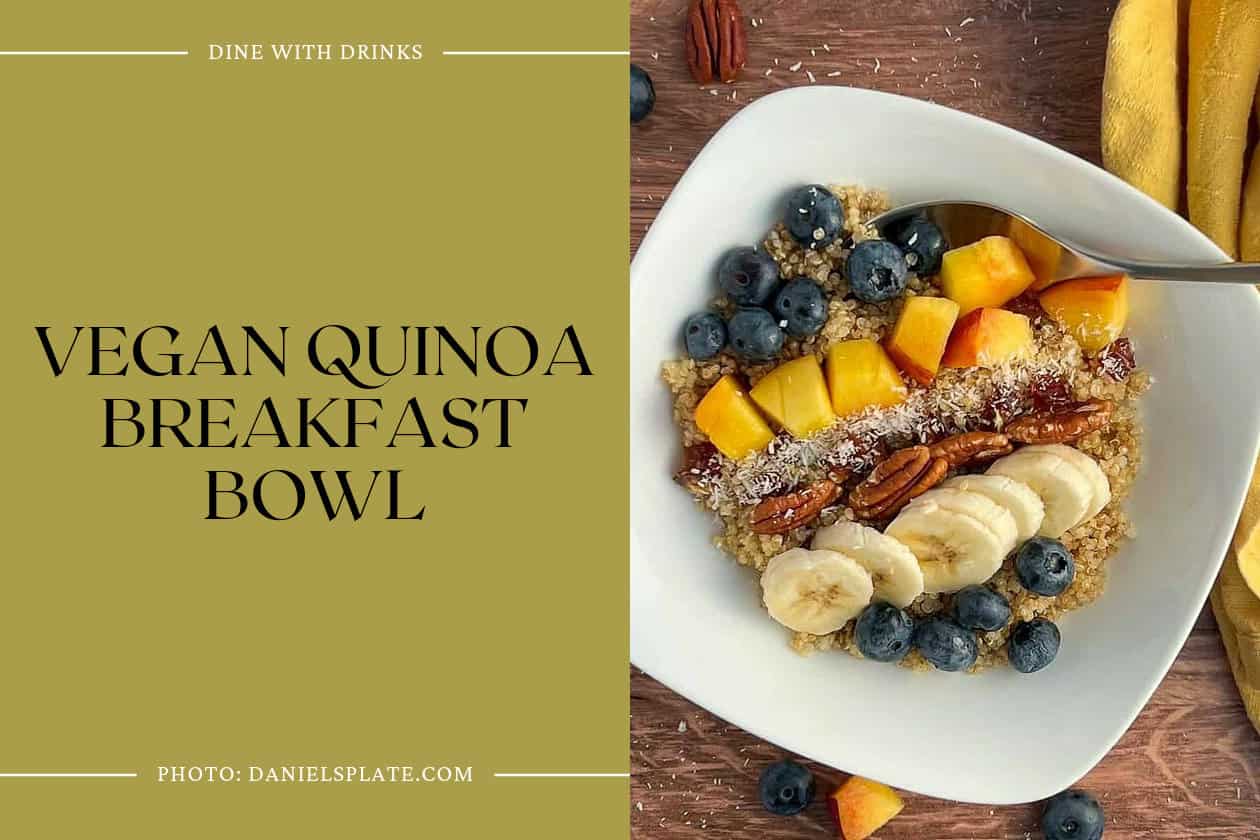 The Vegan Quinoa Breakfast Bowl is a delicious and nutritious way to start the day. Packed with quinoa, blueberries, peaches, banana, dates, pecans, and shredded coconut, this vegan and gluten-free bowl is a powerhouse of ingredients.
It can be enjoyed warm, cold, or at room temperature, making it a versatile and convenient option. With its protein-rich quinoa and flavorful combination of fruits and nuts, this breakfast bowl is a satisfying and healthy choice for vegans and non-vegans alike.
3. Vegan Quinoa Bowl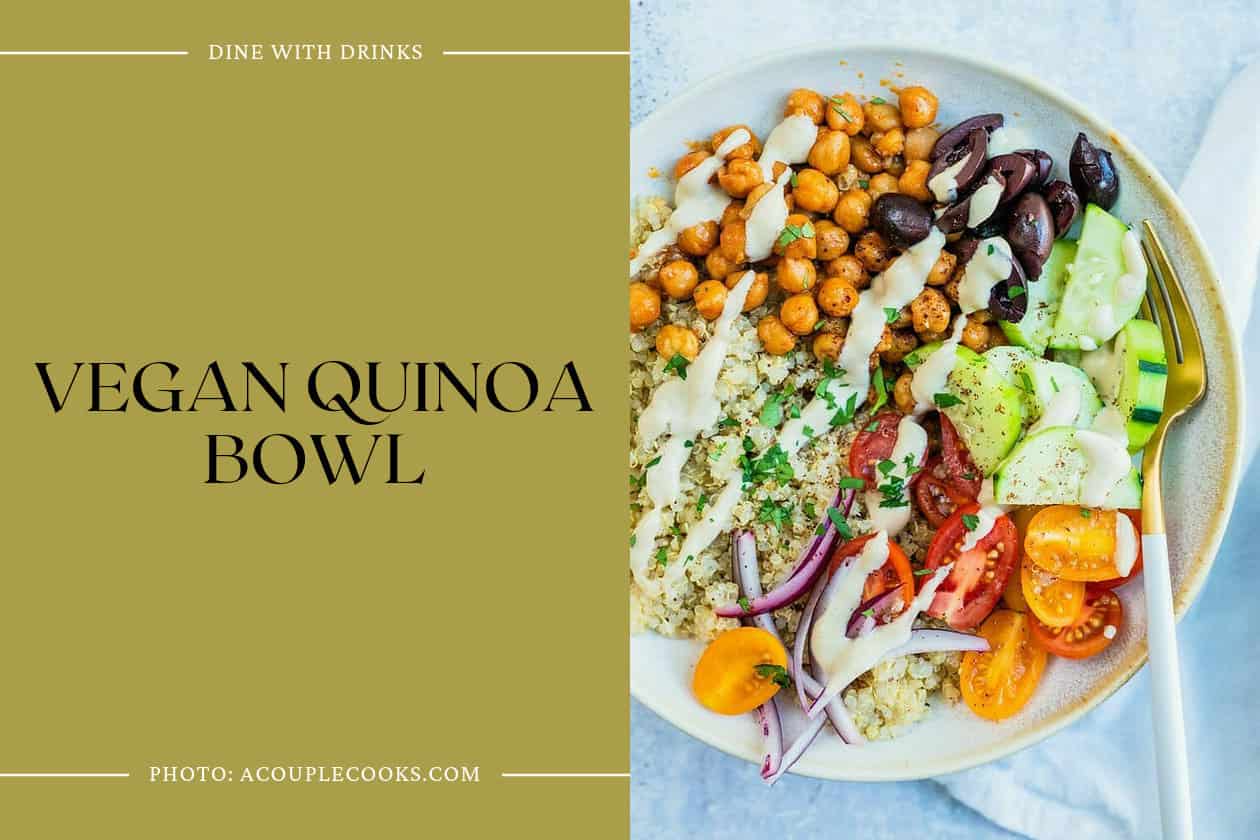 The Vegan Quinoa Bowl is a delicious and satisfying plant-based recipe that features a combination of fresh vegetables, chickpeas, and a tangy lemon tahini sauce. It is a quick and easy meal that can be prepared in just 30 minutes.
This bowl is packed with flavor and provides a good source of protein from the quinoa and chickpeas. Whether you are new to plant-based eating or have been following a vegan diet for years, this recipe is a tasty way to enjoy your veggies.
4. Fiesta Quinoa Salad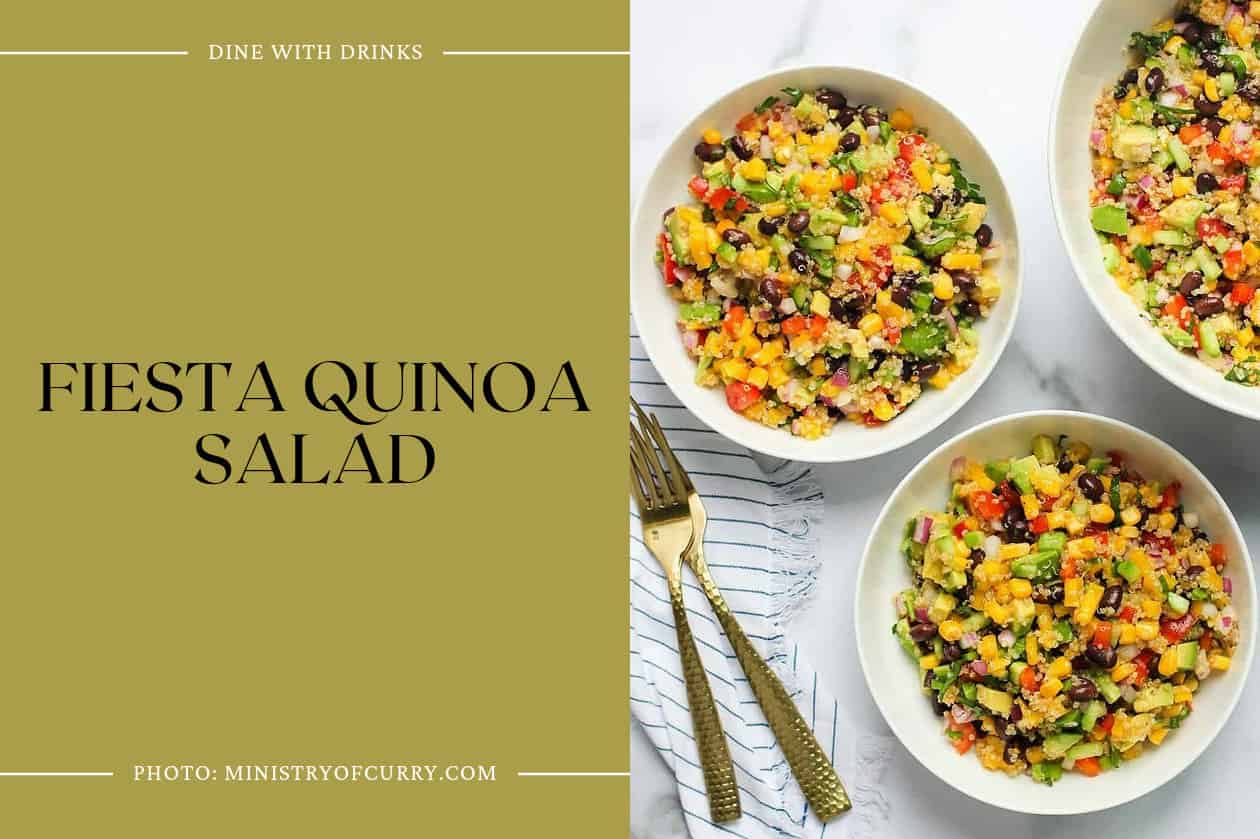 Fiesta Quinoa Salad is a refreshing and delicious vegan dish that is easy to make. It features cooked quinoa, black beans, sweet corn, grape tomatoes, cucumbers, jalapeños, red onion, bell pepper, mango, avocado, and cilantro.
The salad is dressed with a simple olive oil and fresh lime dressing. It can be enjoyed at room temperature or chilled in the refrigerator for 2 to 3 days. This versatile salad is packed with vibrant flavors and makes a great side dish or standalone meal.
5. Quinoa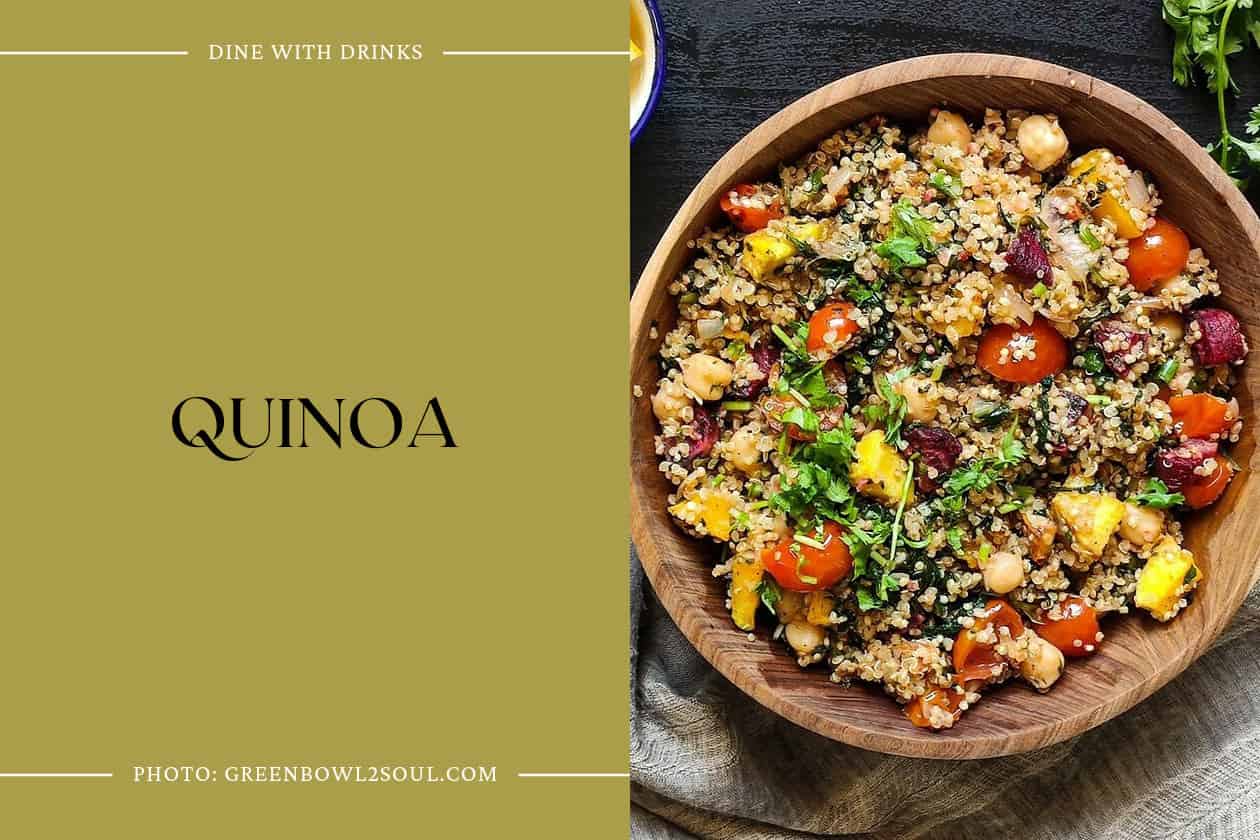 Quinoa is a versatile and popular ingredient in vegan cooking. It is gluten-free, low in carbs, and packed with nutrients. This recipe combines quinoa with cherry tomatoes, chickpeas, spinach, roasted pumpkin, beets, lemon juice, and fresh coriander leaves for a flavorful and healthy dish.
The quinoa absorbs all the flavors, resulting in a light yet filling meal. Perfect for those looking for a rice substitute or wanting to incorporate more plant-based options into their diet.
6. Mexican Quinoa
Mexican Quinoa is a delicious and healthy vegan recipe made with pre-rinsed quinoa, corn, black beans, and diced tomatoes with green chilies. It is a flavorful and satisfying dish that can be enjoyed as a side or a main course.
The recipe is dairy-free and can be customized with toppings like guacamole or vegan cheese. With its simple preparation and nutritious ingredients, Mexican Quinoa is a must-try for vegans and quinoa lovers.
7. One-Pot Italian Quinoa and Lentils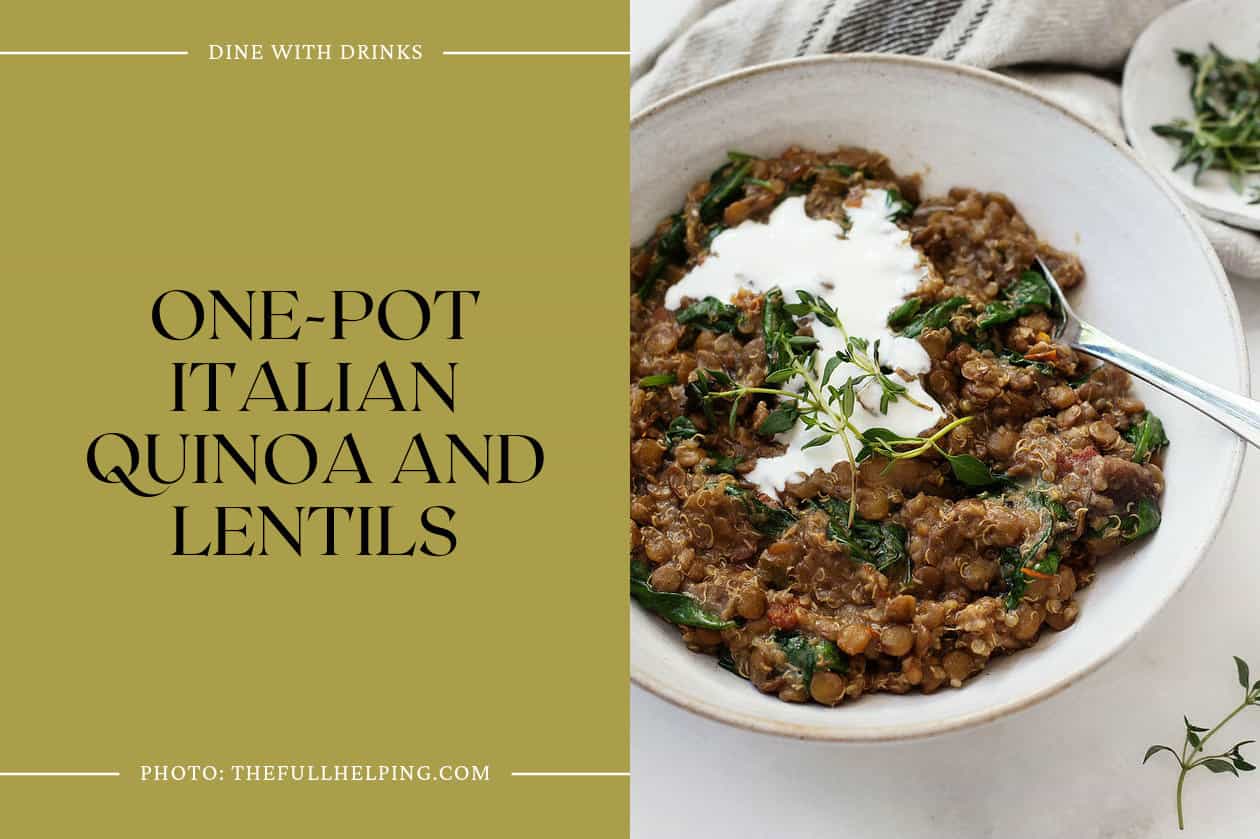 The One-Pot Italian Quinoa and Lentils recipe is a versatile and easy vegan meal. It combines protein-rich quinoa, lentils, greens, and sun-dried tomatoes with Italian-inspired flavors like garlic, lemon, and thyme.
The addition of sautéed mushrooms and spinach adds extra nutrients. Optional toppings include cashew cream or vegan cheese. The leftovers keep well and it's freezer-friendly. Overall, a delicious and nourishing dish for any time of the year.
8. Creamy Quinoa Porridge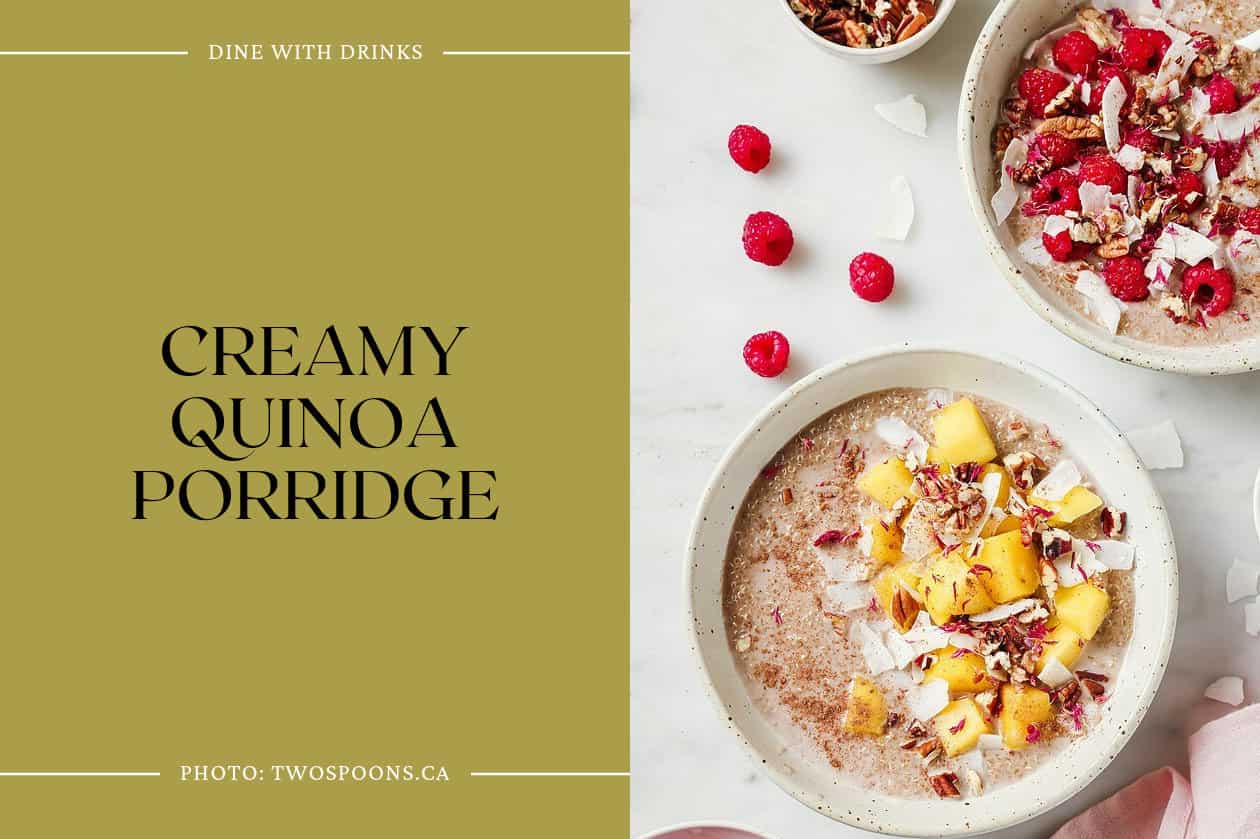 Creamy Quinoa Porridge is a delicious vegan breakfast option that uses quinoa as a substitute for oats. Made with coconut milk, it has a creamy and indulgent texture. Topped with raspberries, mango, pecans, and coconut shavings, it offers a delightful combination of flavors.
This recipe is easy to prepare and can be made in advance for a quick morning meal. Overall, Creamy Quinoa Porridge is a satisfying and nutritious vegan breakfast choice.
9. One Pan Mexican Quinoa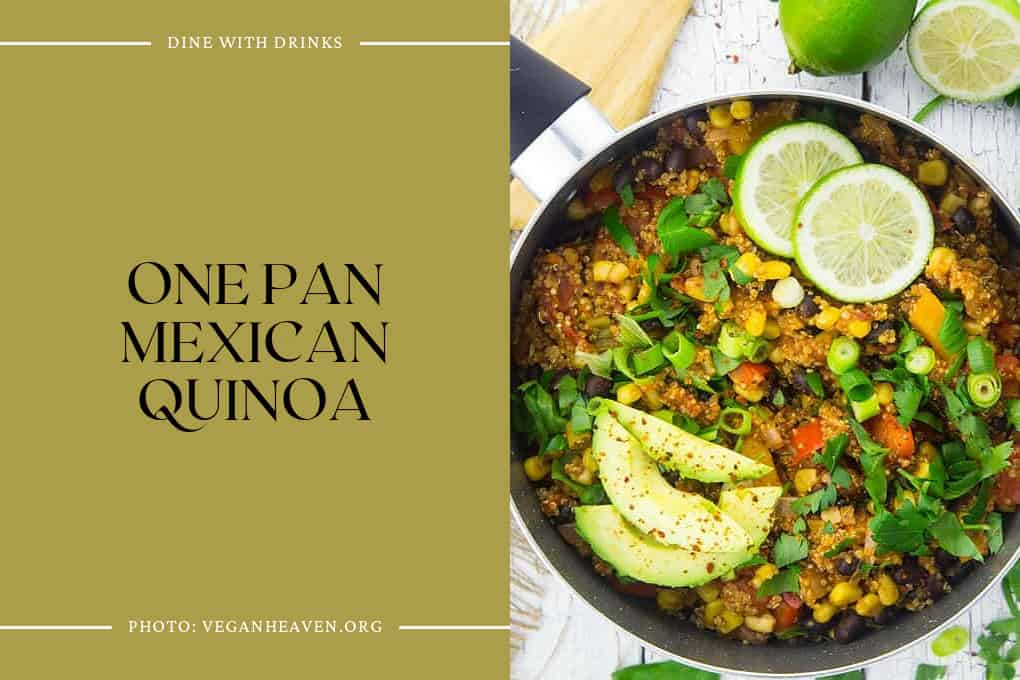 One Pan Mexican Quinoa is a quick and easy vegan recipe that is packed with protein and flavor. It combines quinoa, black beans, corn, bell peppers, and fresh herbs for a comforting and nutritious meal.
The addition of lime juice and avocado adds a refreshing touch. Perfect for busy days and a great option for a quick lunch or picnic.
10. Quinoa with Roasted Vegetables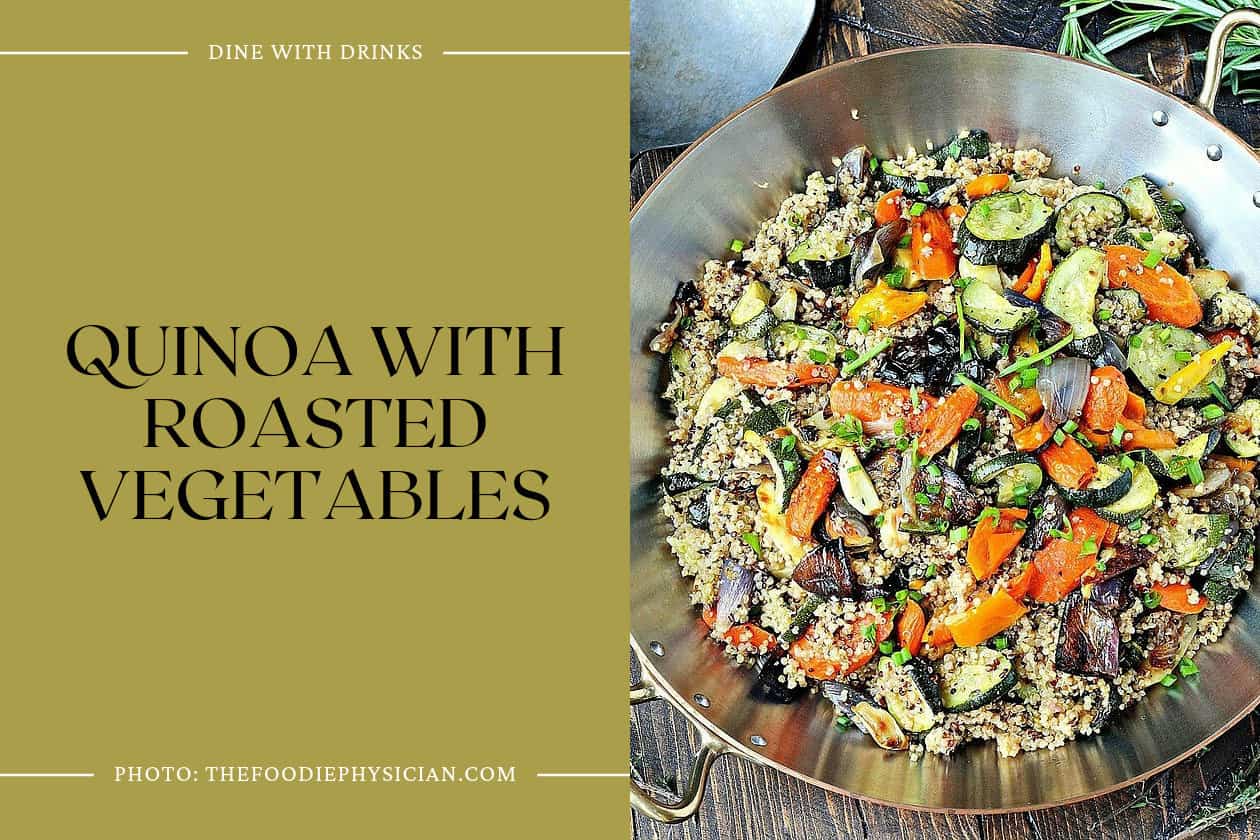 Quinoa with Roasted Vegetables is a colorful and flavorful vegan dish that showcases the nutritional powerhouse of quinoa. The combination of caramelized roasted vegetables and a light balsamic vinaigrette adds a sweet and tangy touch to the dish.
It can be enjoyed as a vegetarian entrée or side dish, and even topped with grilled chicken or fish for added protein. Overall, it's a simple and elegant recipe that is both visually appealing and nutritious.
11. Vegan Quinoa Bowls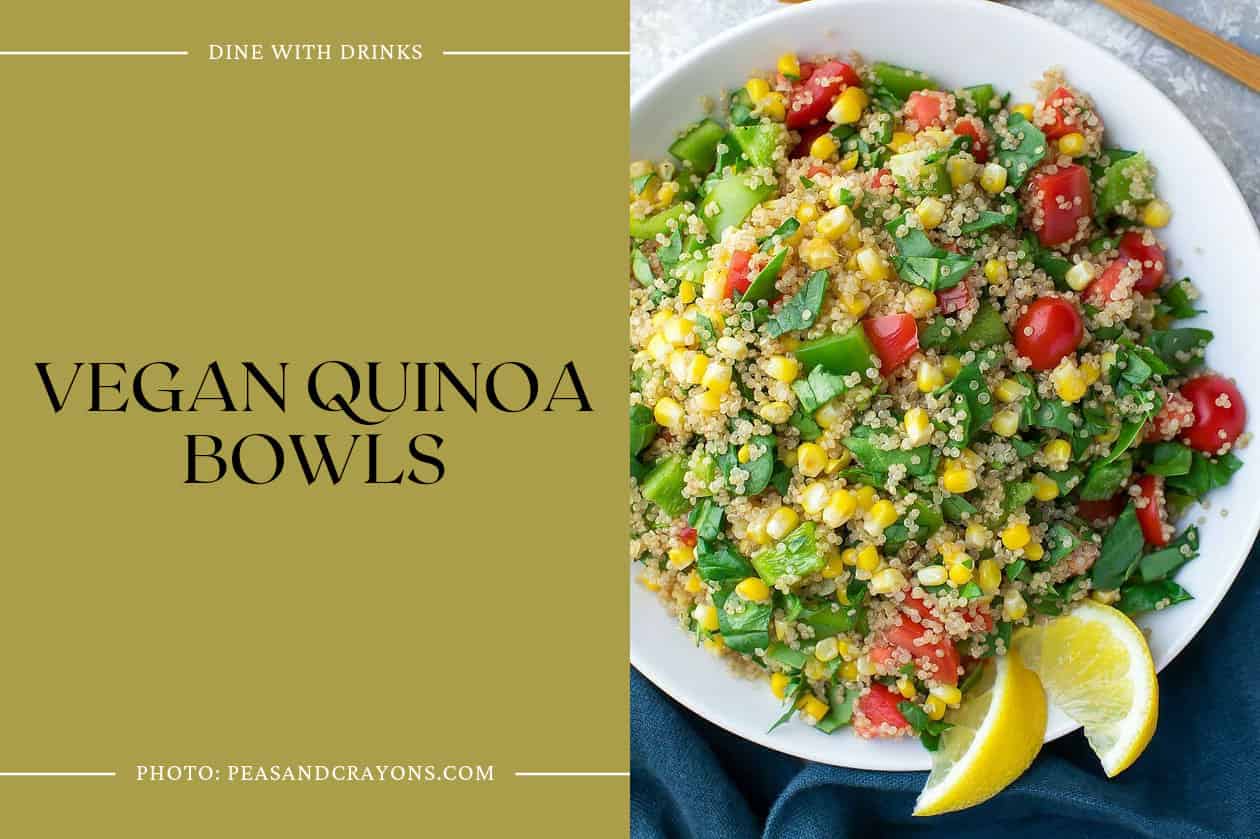 The Vegan Quinoa Bowls recipe is a quick and easy option for a healthy and satisfying meal. Packed with colorful veggies like corn, spinach, peppers, and tomatoes, this dish is bursting with flavor. The quinoa adds a nutty and fluffy texture, making it a delightful combination.
The dressing, made with avocado oil, orange juice, lemon, garlic, and green onion, adds a tangy and refreshing element. This versatile dish can be enjoyed as a side dish, a main vegetarian option, or even as a portable lunch. Perfect for picnics, parties, or any occasion, these Vegan Quinoa Bowls are a must-try for vegans and non-vegans alike.