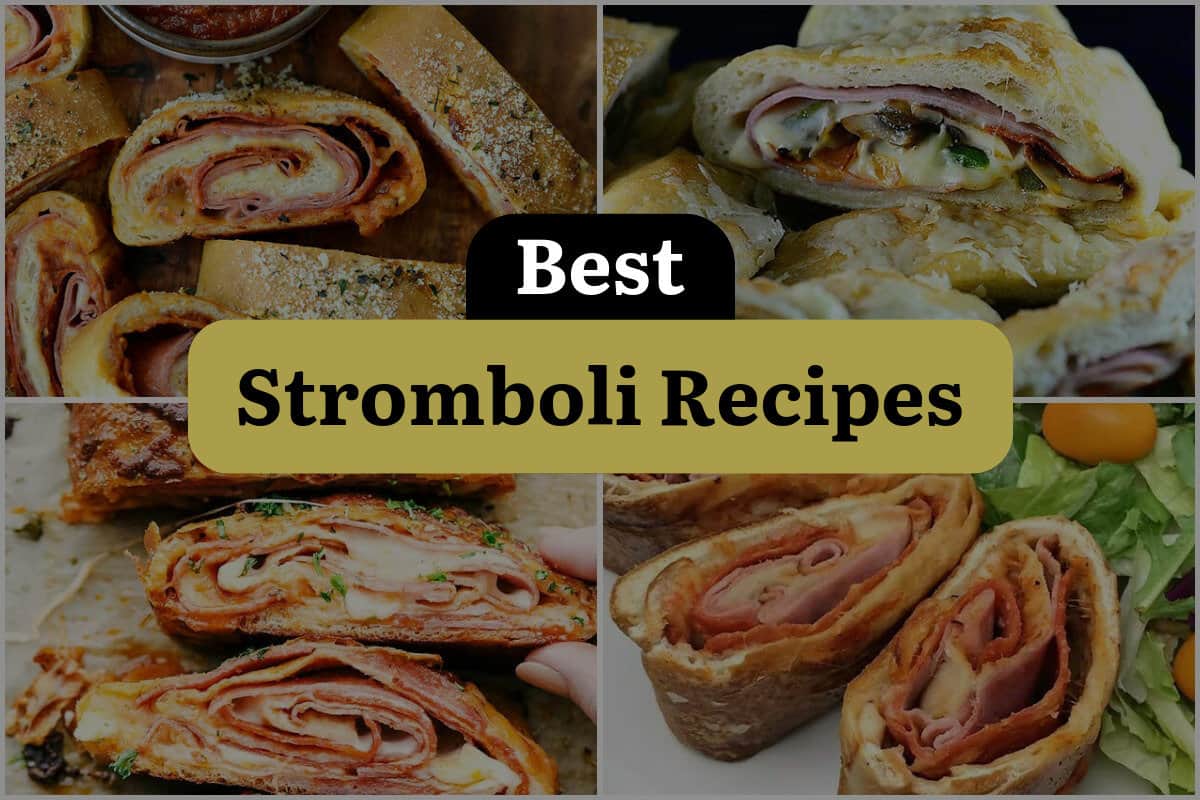 Are you craving a delicious, cheesy, and savory meal? Look no further than stromboli! This Italian-American creation is a mouthwatering combination of dough, cheese, and a variety of fillings. Whether you prefer classic flavors or want to experiment with unique ingredients, stromboli offers endless possibilities.
In this blog post, we will explore the best stromboli recipes, guaranteed to satisfy your taste buds and leave you craving for more. So, grab your apron and get ready to embark on a culinary journey filled with flavors and creativity!
1. Homemade Stromboli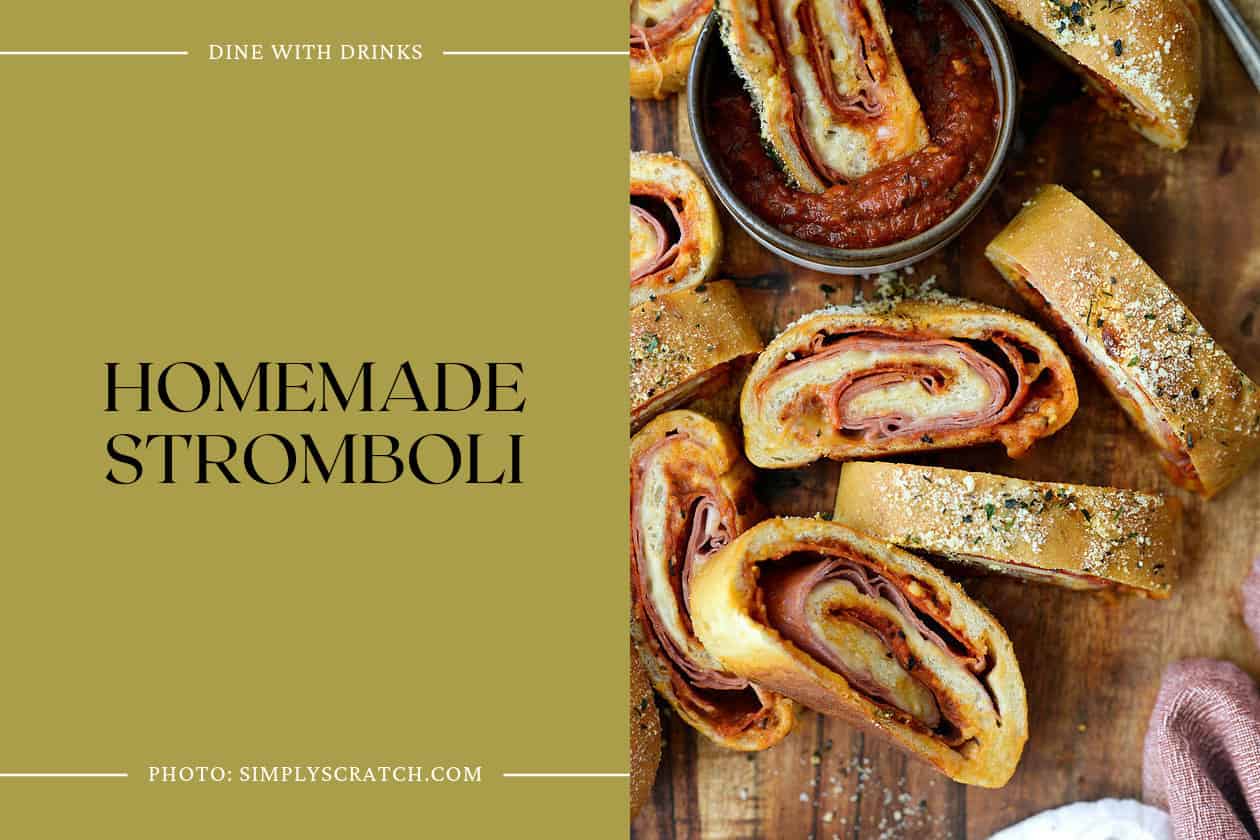 Homemade Stromboli is a delicious and versatile dish that combines the flavors of pizza in a rolled-up loaf. Made with homemade pizza dough, it is filled with layers of sandwich pepperoni, Genoa salami, and deli ham, along with mozzarella cheese.
Baked until golden perfection, it is served with extra pizza sauce for dipping. This crowd-pleasing recipe can be enjoyed for lunch, dinner, or as an appetizer. The cheesy and meaty goodness of Homemade Stromboli makes it a must-try dish.
2. Stromboli
Stromboli is a delicious and versatile dish that is perfect for family meals or game day gatherings. This recipe features a flavorful combination of Italian sausage, onions, peppers, ham, pepperoni, cheeses, and spinach, all rolled up in pizza dough and baked to perfection.
The addition of a garlic butter topping and a sprinkle of Parmesan cheese adds a savory finishing touch. With its hearty and satisfying flavors, Stromboli is always a crowd-pleaser.
3. Quick and Easy Stromboli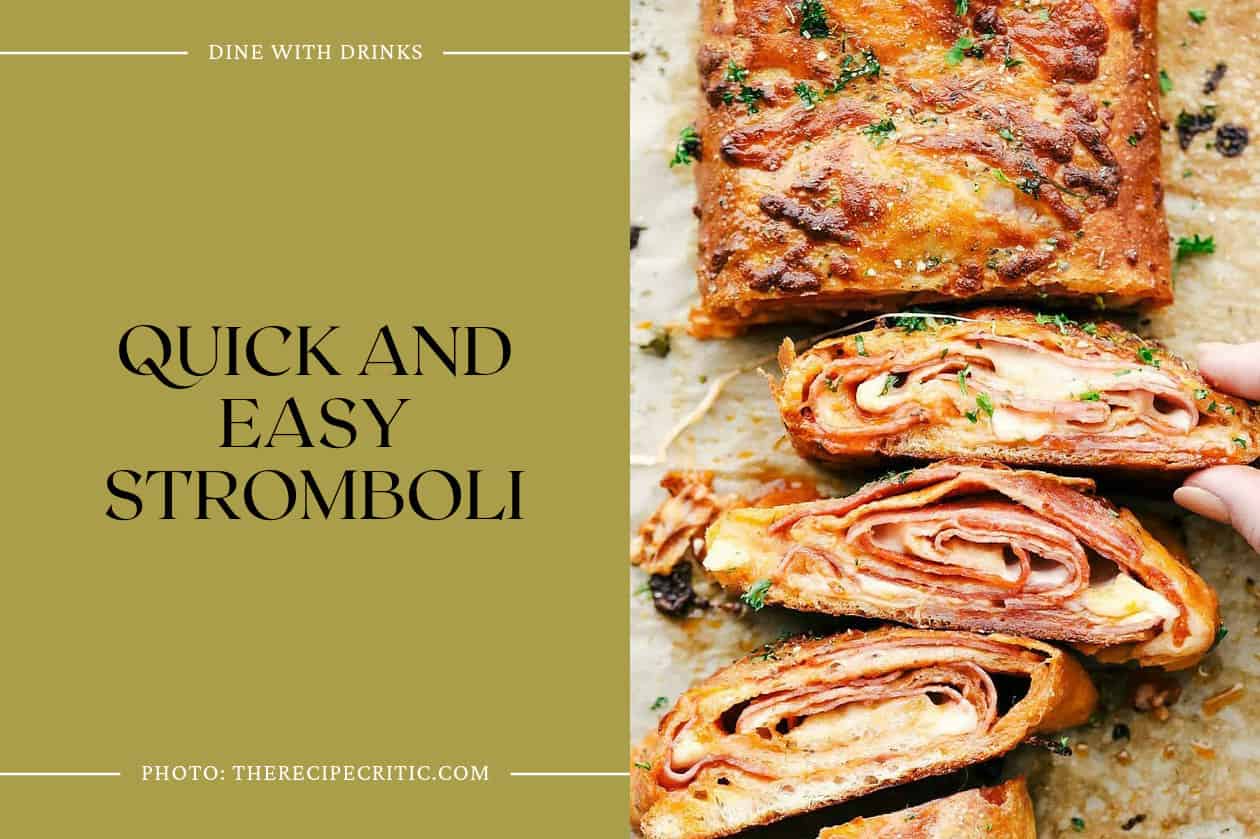 Quick and Easy Stromboli is a delicious and convenient recipe that combines Italian salami, pepperoni, pizza sauce, and cheese. With a prep time of just 10 minutes and a baking time of 15 minutes, this stromboli is perfect for busy weeknights or feeding a crowd.
The use of refrigerated pizza crust saves time, making it a quick and easy option. The combination of flavors from the Italian salami, pepperoni, and cheese is absolutely delicious. This recipe is definitely a must-try for stromboli lovers.
4. Pepperoni Stromboli
The Pepperoni Stromboli is a delicious combination of pepperoni, ham, and cheese wrapped in a thin and crispy crust. With only six ingredients, it is quick and easy to make, perfect for a busy weeknight dinner.
The recipe offers versatility, allowing you to customize the fillings to your preference. Serve it with your favorite dipping sauce for an extra burst of flavor. Overall, the Pepperoni Stromboli is a crowd-pleasing dish that will satisfy your cravings for a tasty and satisfying meal.
5. Three Meat and Cheese Stromboli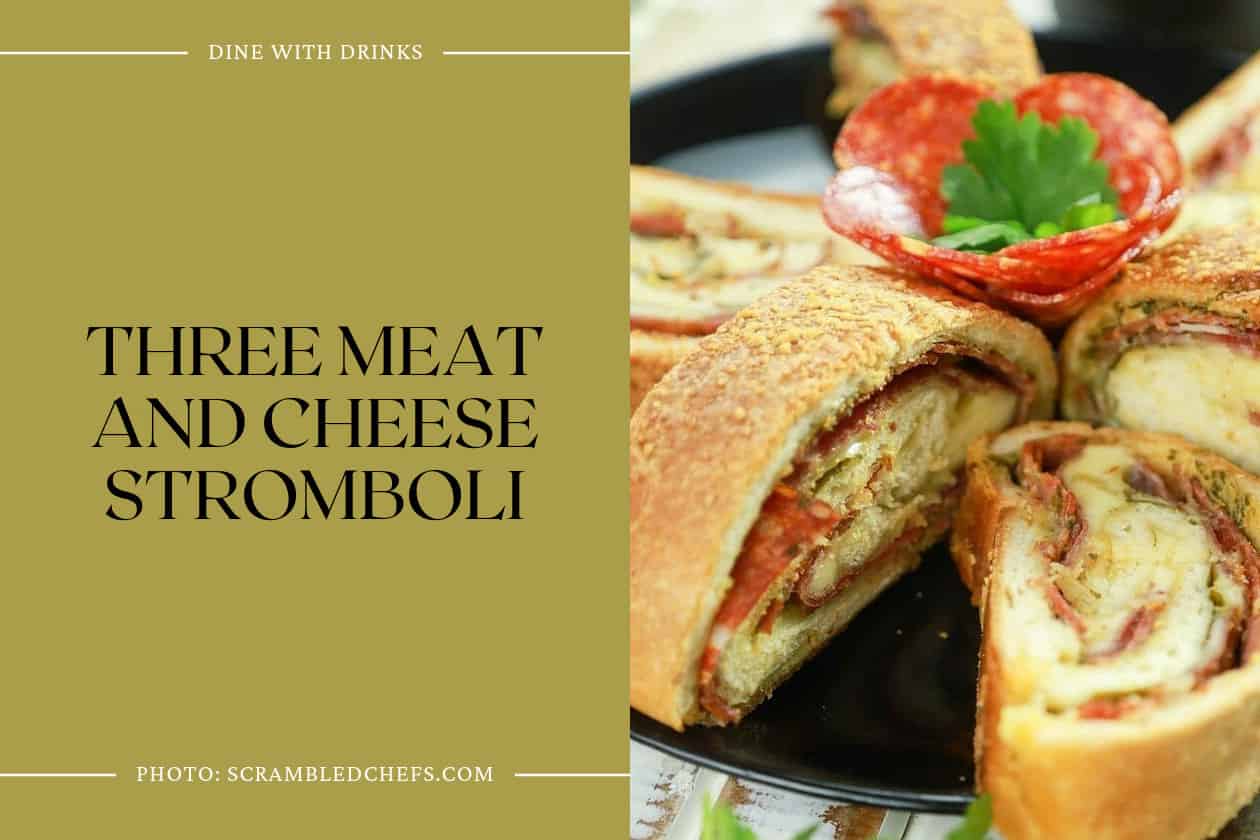 The Three Meat and Cheese Stromboli is a delicious and satisfying dish that brings together the flavors of pizza in a new and exciting way. Packed with pepperoni, prosciutto, and salami, this stromboli is a meat lover's dream. The use of mozzarella cheese adds a classic pizza flavor, but other melty cheeses can be used as well.
Whether you choose to make your own dough or use store-bought options, this recipe delivers a crispy outside and a soft, chewy inside. Perfect for slicing into rounds and sharing, this stromboli is a great alternative to expensive take-out.
6. Authentic Italian Stromboli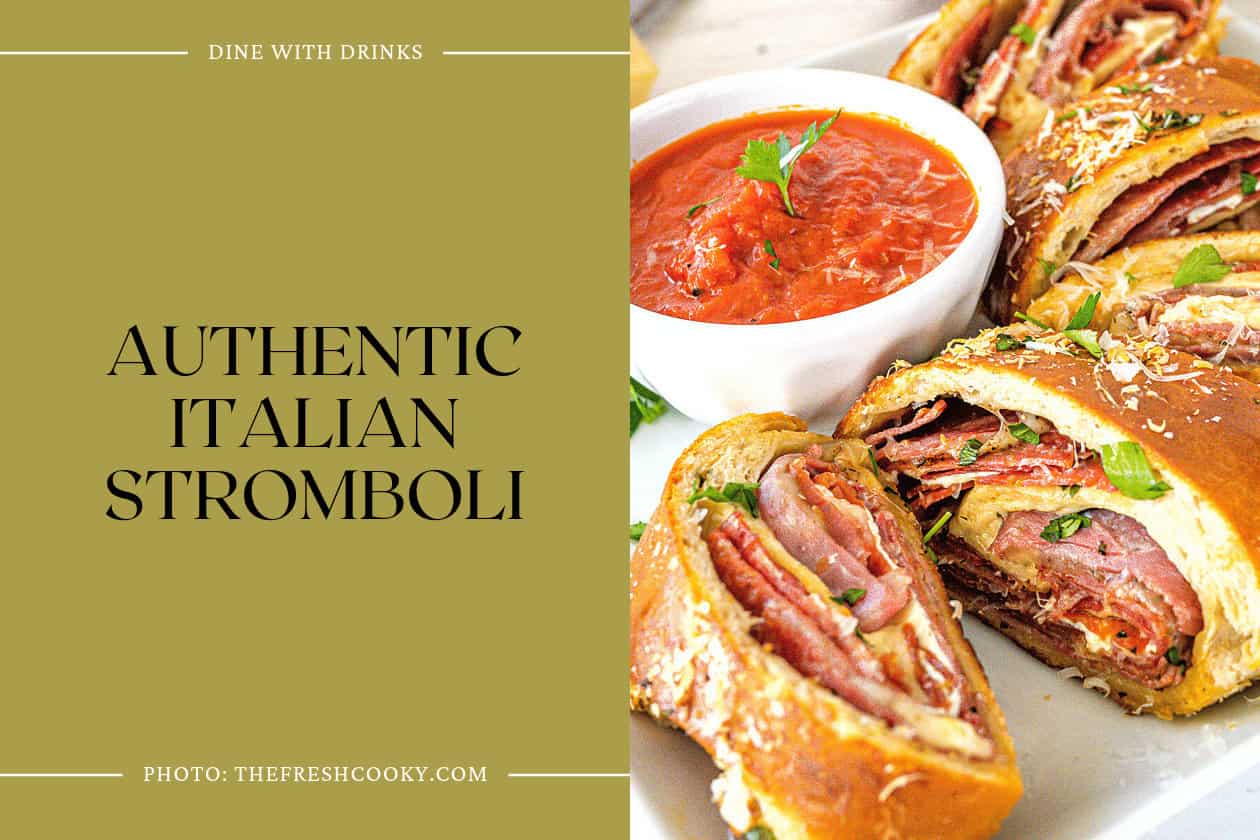 Authentic Italian Stromboli is a delicious and crowd-pleasing recipe that captures the flavors of a classic Italian pizzeria. Made with thinly sliced salami, pepperoni, capicola, and a blend of Italian cheeses, this stromboli is a family favorite.
It's easy to make and perfect for game day or large gatherings. The absence of red sauce makes it less messy to eat, and the authentic flavors of Italian seasoning and fennel seeds add an extra layer of deliciousness. Whether as an appetizer or main dish, this stromboli is sure to impress.
7. Vegetable Stromboli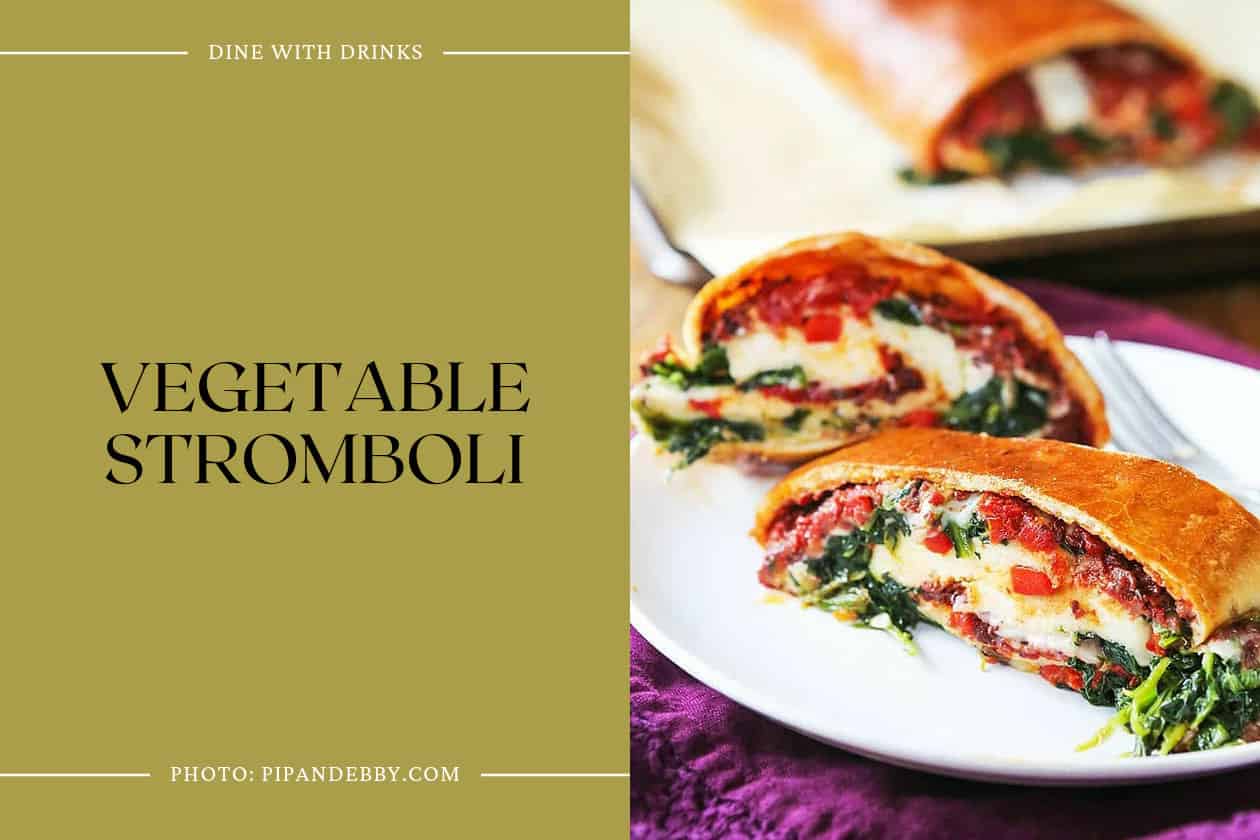 The Vegetable Stromboli is a delicious and satisfying vegetarian option that will impress both guests and family members. This recipe combines a flavorful mixture of olives and sun-dried tomatoes, along with a variety of cheeses and fresh spinach.
The dough is rolled tightly around the filling, resulting in a golden brown and crispy exterior. It's a versatile recipe that can be customized with different vegetables and cheeses. Overall, the Vegetable Stromboli is a must-try for anyone looking for a tasty and easy-to-make stromboli option.
8. Homemade Italian Stromboli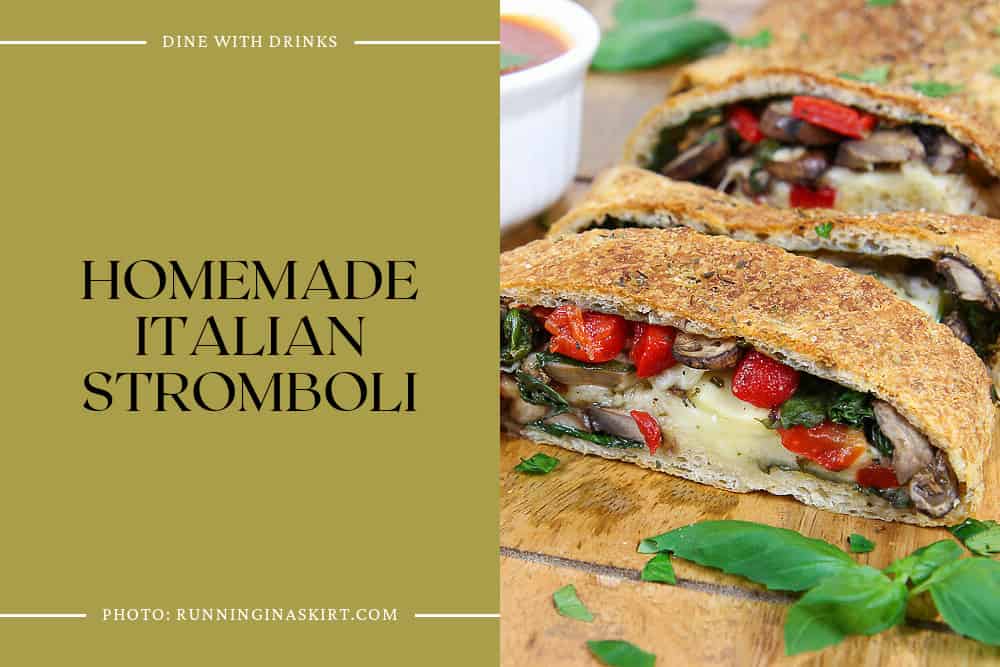 The Homemade Italian Stromboli recipe is a quick and easy family meal that uses pre-made dough as a shortcut. It is a vegetarian option filled with mozzarella cheese, spinach, mushrooms, and roasted red peppers, but can be customized with your favorite toppings.
The stromboli is served with marinara sauce for dipping and can be made in just 30 minutes. It is a delicious and customizable twist on traditional pizza that is perfect for dinner or as an appetizer or snack.
9. Breakfast Stromboli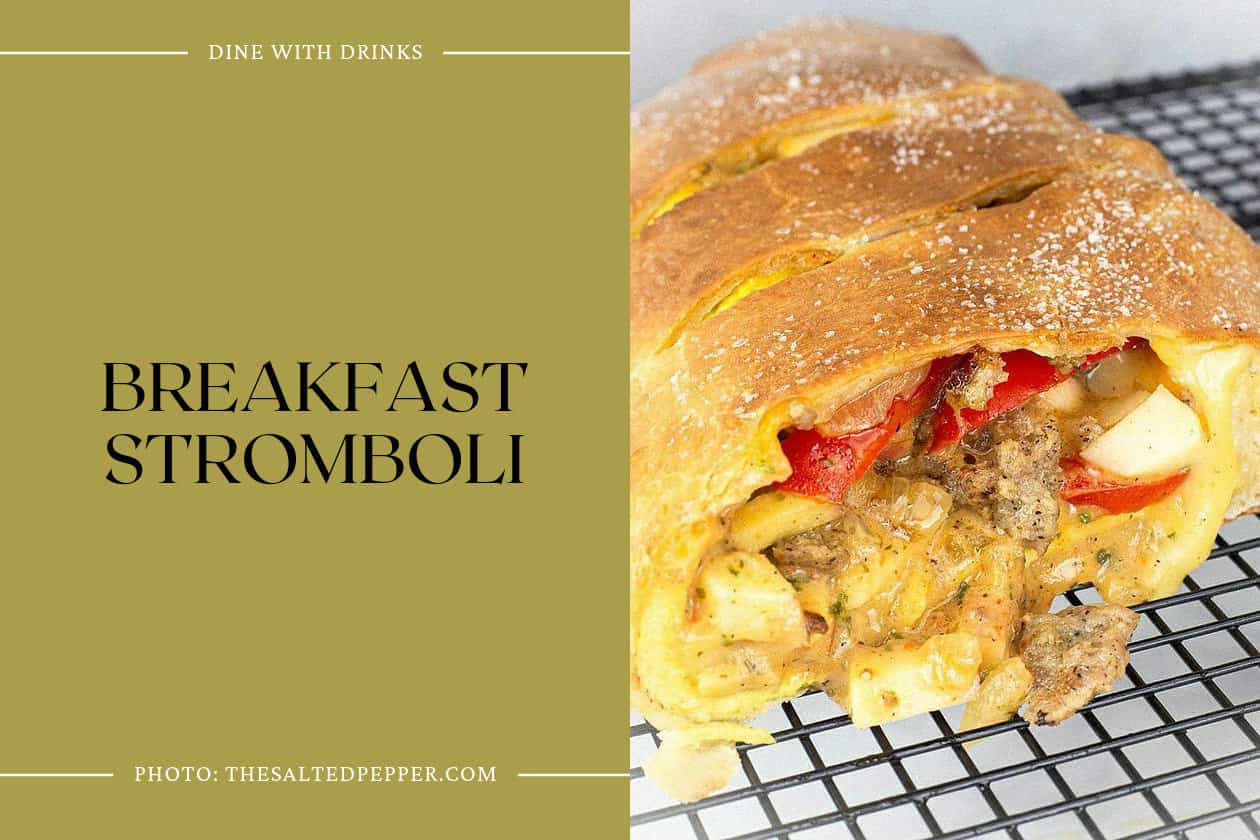 The Breakfast Stromboli recipe is a delicious twist on the classic Italian dish. It combines savory breakfast ingredients such as eggs, cheese, and bacon, all wrapped in a fluffy dough.
The flavors meld together perfectly, creating a satisfying and hearty breakfast option. Whether you're hosting a brunch or looking for a quick and easy morning meal, this Breakfast Stromboli is sure to impress.
10. Stromboli Dough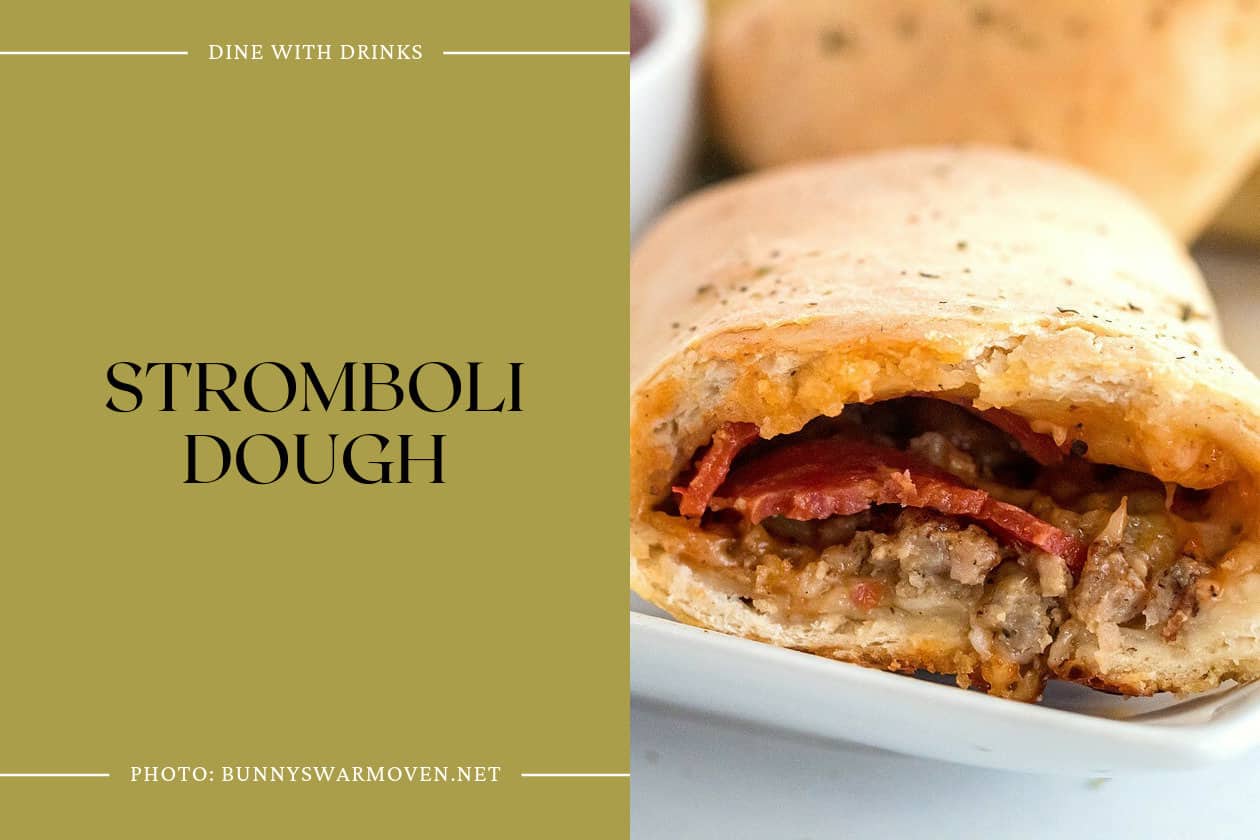 The Stromboli Dough recipe from Fleischmann's Yeast is a keeper. It is easy to work with and results in a soft and delicious dough. The recipe allows for flexibility in the amount of flour used, ensuring a slightly sticky texture.
The dough requires a short rise time and is perfect for filling with a variety of ingredients, such as cooked meats, vegetables, and cheese. Overall, this Stromboli Dough recipe is a great choice for homemade stromboli.
11. Ultimate Deluxe Stromboli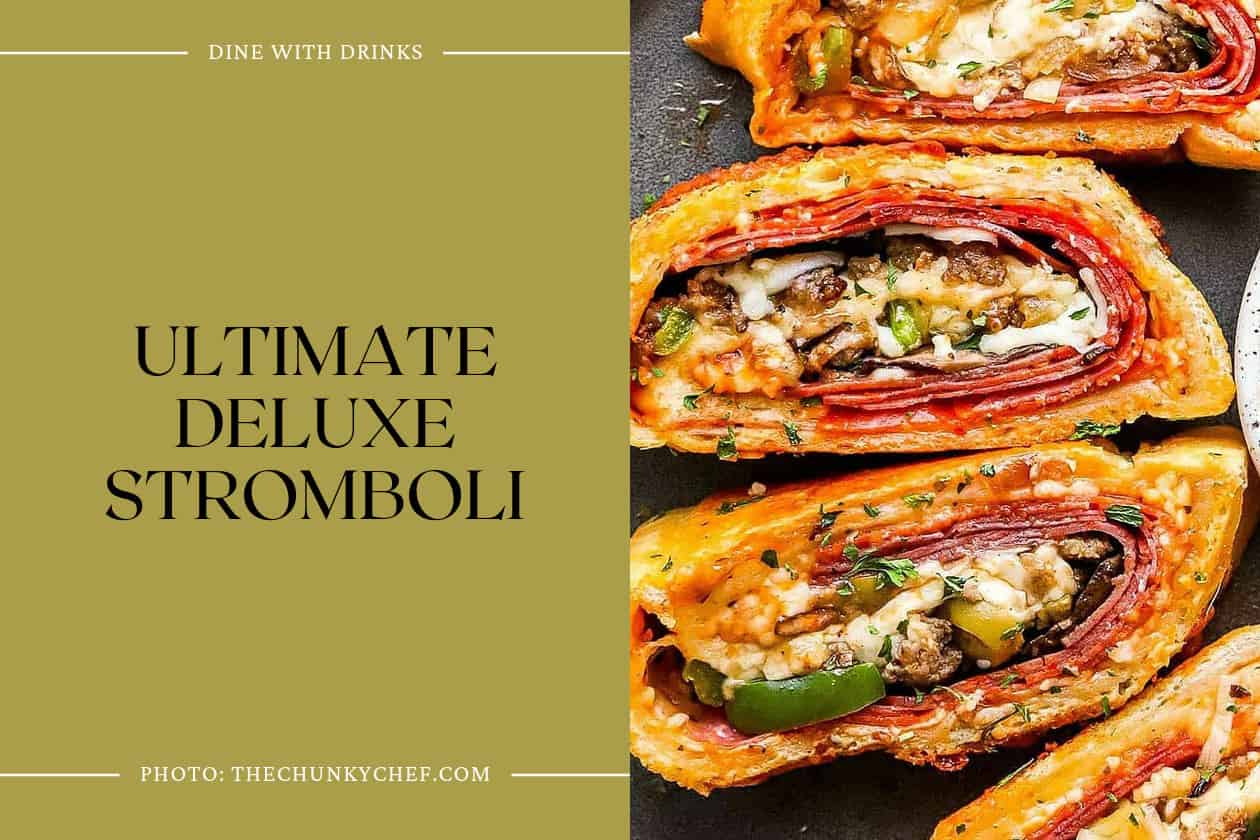 The Ultimate Deluxe Stromboli is a mouthwatering combination of Italian meats, cheeses, and vegetables, all wrapped up in a crispy cheesy crust. This recipe takes the classic stromboli to the next level with its abundance of toppings and flavors.
Perfect for a busy weeknight, this dish is easy to make using store-bought pizza dough. Whether you're a stromboli lover or new to this delicious creation, the Ultimate Deluxe Stromboli is a must-try recipe that will satisfy your cravings for a deluxe pizza experience.
12. Easy Stromboli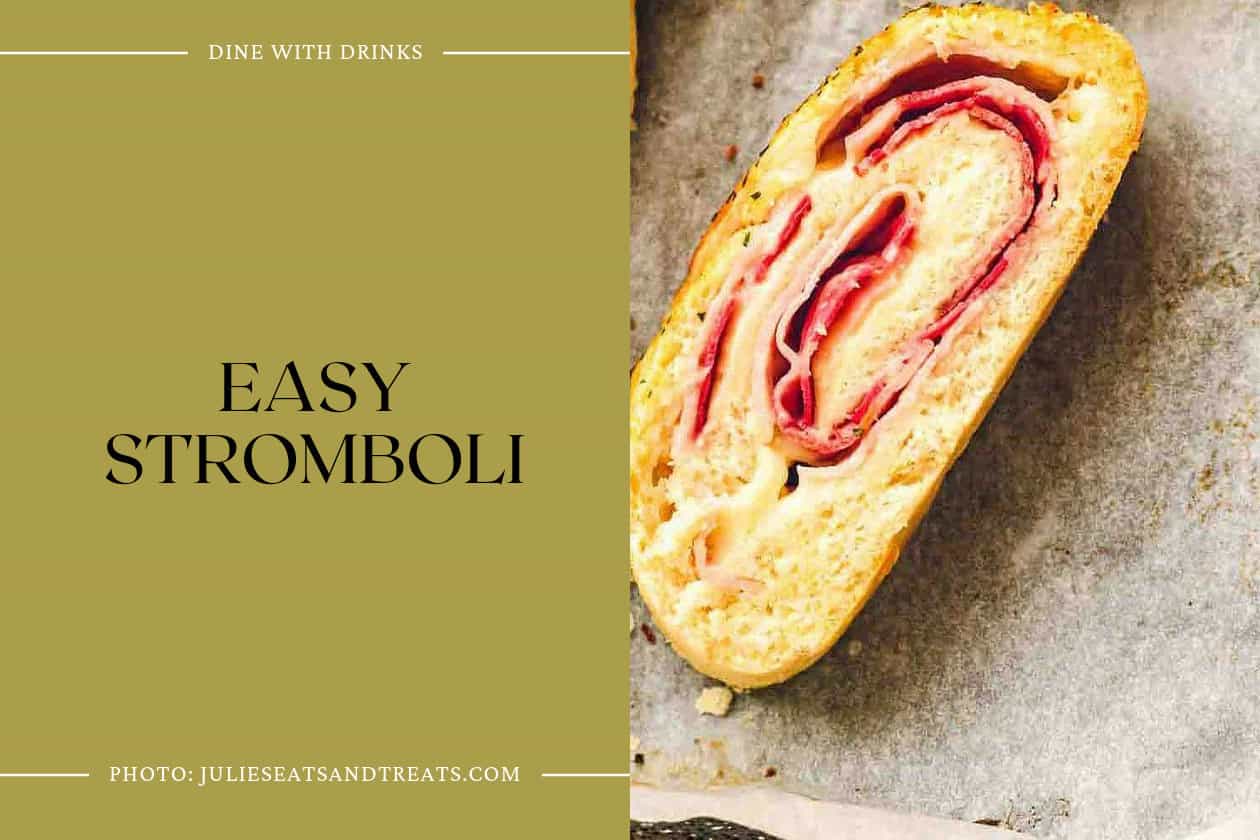 Easy Stromboli is a quick and kid-friendly dinner recipe that will satisfy the whole family. It consists of pizza dough rolled up with ham, pepperoni, and cheese, then baked to perfection.
The result is a delicious and flavorful stromboli that can be sliced and enjoyed with marinara sauce. With its simple ingredients and easy preparation, this recipe is a great option for pizza night or any weeknight dinner.