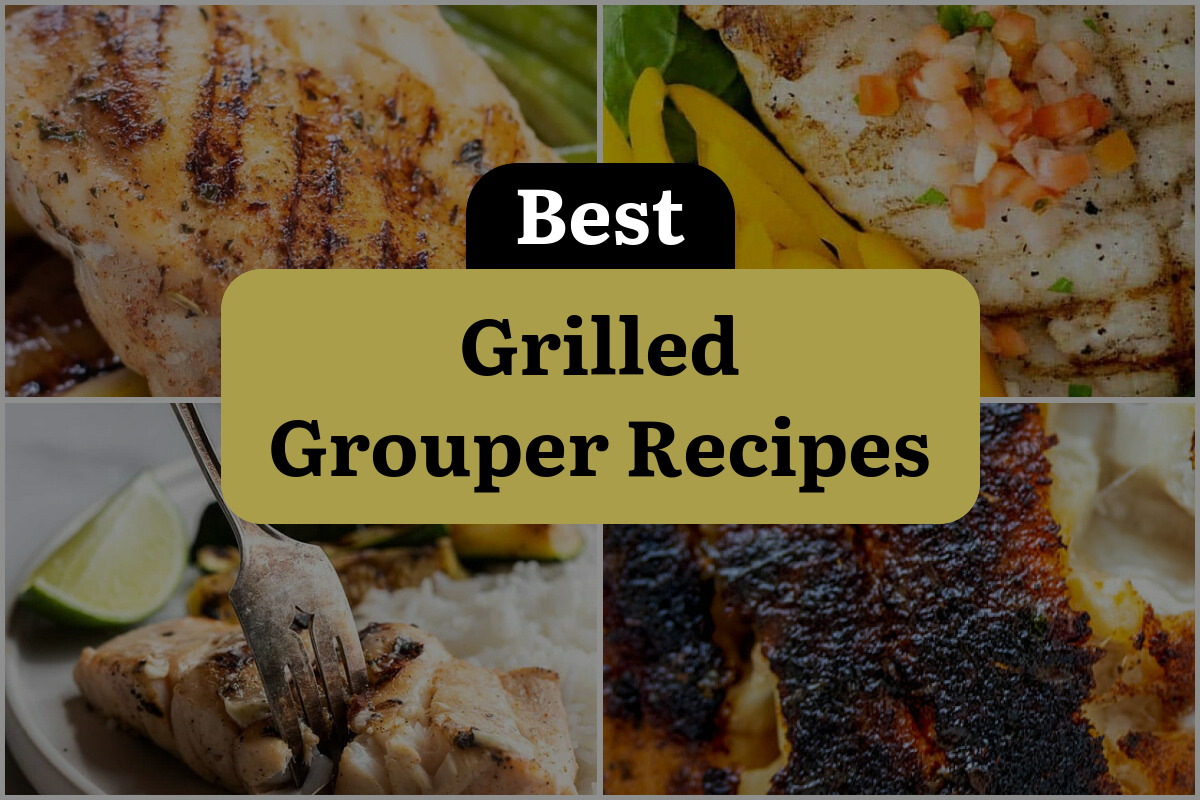 Looking for a delicious and healthy seafood option for your next backyard barbecue? Look no further than grilled grouper! This versatile fish is not only packed with flavor, but it also has a firm texture that holds up well on the grill.
Whether you're a seafood lover or just looking to switch things up, I've got you covered with the best grilled grouper recipes that are sure to impress your family and friends. From simple marinades to zesty herb rubs, get ready to elevate your grilling game with these mouthwatering creations. Get your taste buds ready because it's time to dive into the world of grilled grouper!
1. Grilled Grouper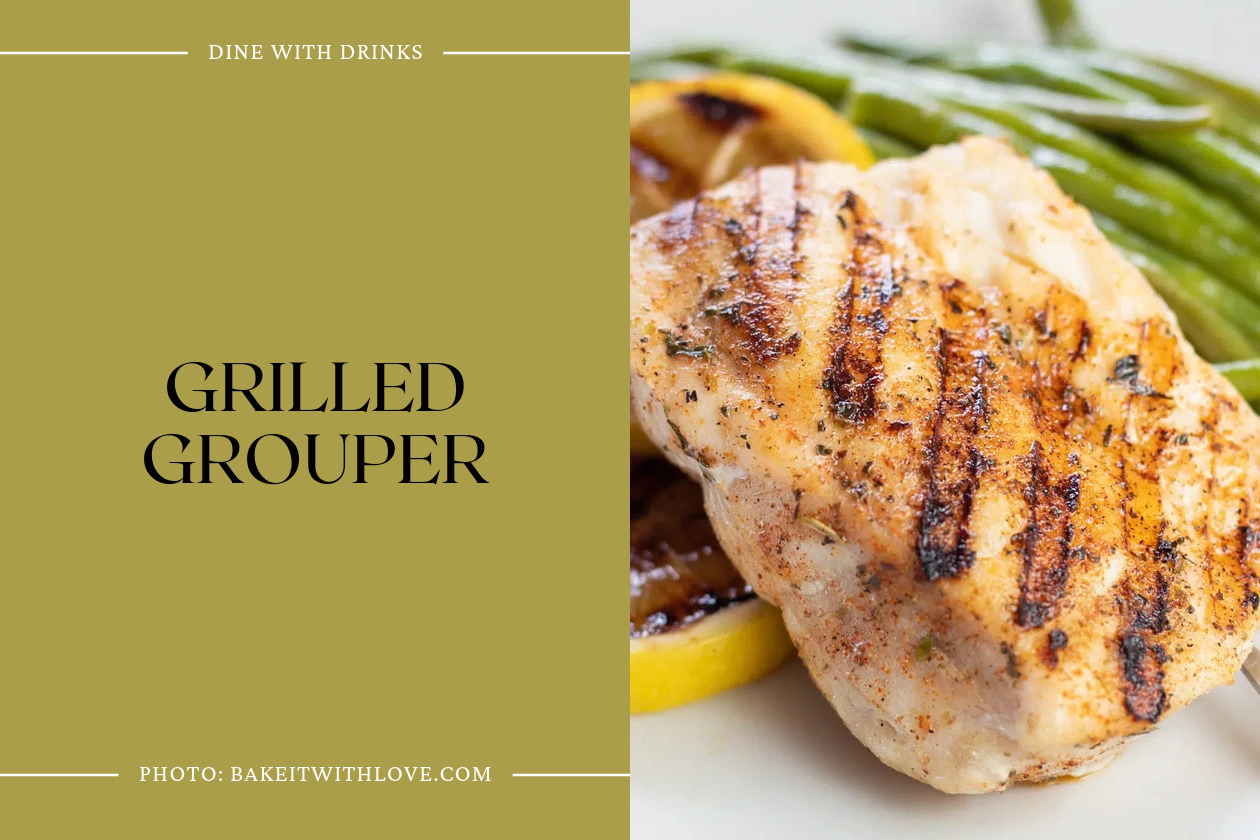 The Grilled Grouper recipe is a delightful and flavorful main course that features moist and flaky white fish. The Cajun seasoning adds a perfect touch of heat, while the herbes de provence creates a beautiful crust when grilled.
The fillets are cooked to perfection, with a hint of transparency at the center. Served with grilled lemon slices, this dish is a true treat for seafood lovers. Pair it with your favorite sides for a complete and satisfying meal.
2. Key Lime Butter Grilled Grouper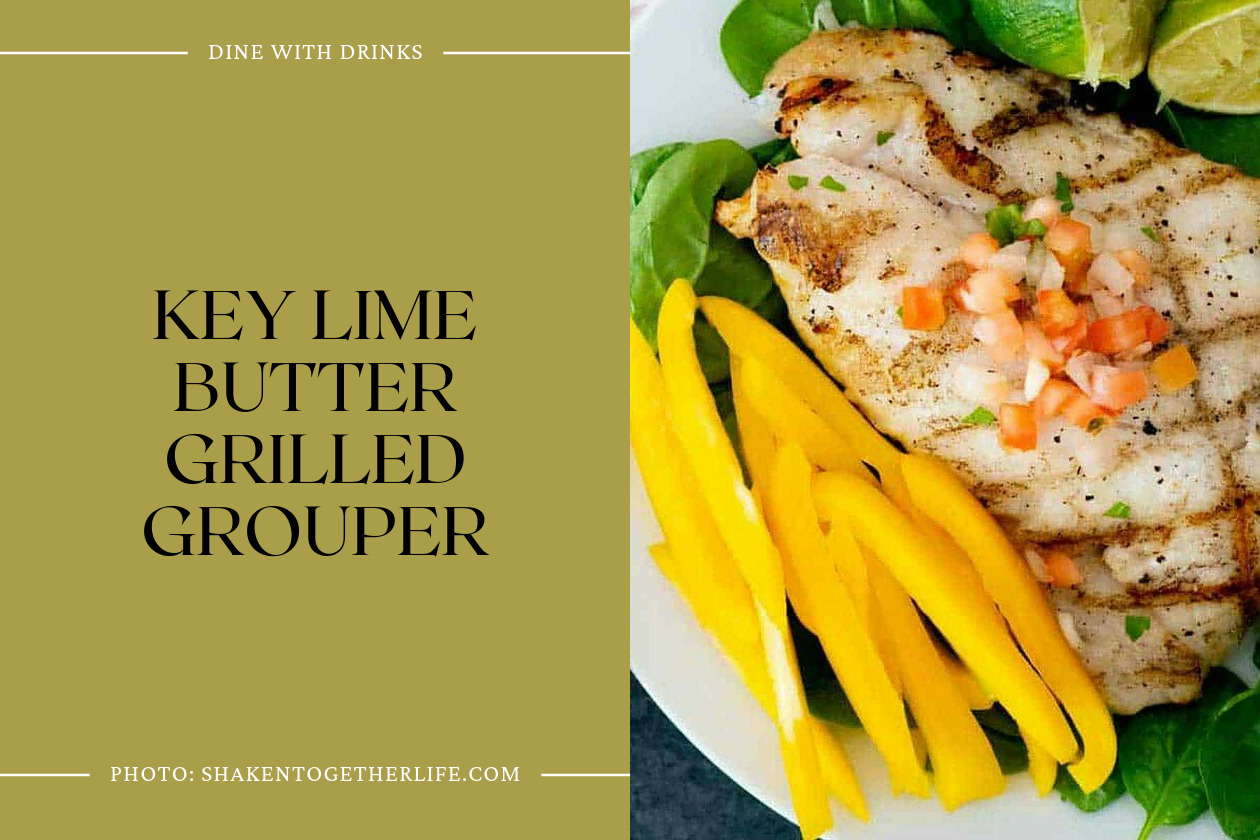 Key Lime Butter Grilled Grouper is a must-try recipe for grilling season. The grouper is firm, white, and flaky with a mild flavor that appeals to even those who don't typically enjoy fish.
The key to this recipe is the delicious lime butter, which adds a crispy sear to the grouper while keeping the inside perfectly cooked and light. Serve with fresh vegetables or a light rice pilaf for a complete and satisfying meal.
3. Marinated Grilled Grouper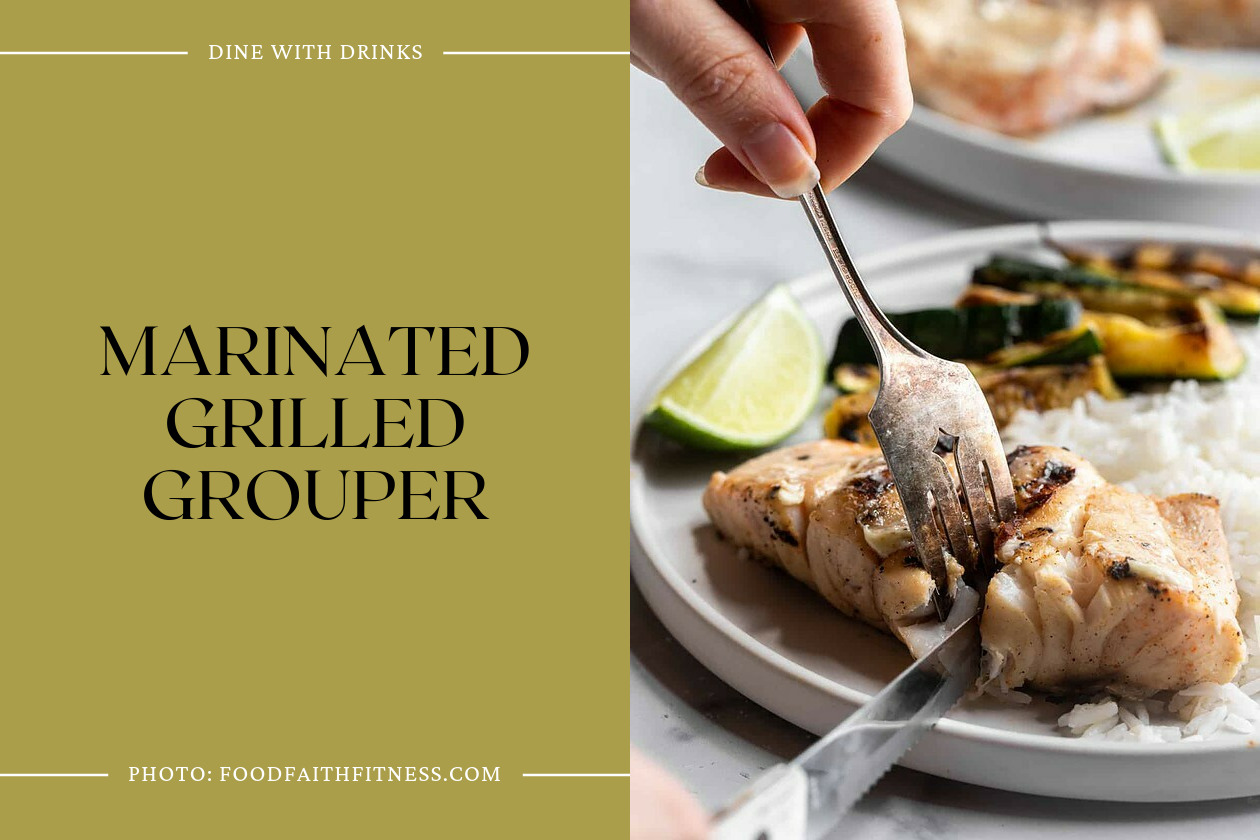 Marinated Grilled Grouper is a delicious and versatile recipe that takes grouper to the next level. The sweet and tangy orange lime marinade adds a burst of flavor, while the lime butter adds a creamy and zesty touch.
This dish is perfect for feeding a group and is a great way to enjoy the flaky white fish without an overpowering fishy taste. Whether grilled or cooked in an air fryer, this recipe is a summery delight that will make you a grouper lover.
4. Gulfside Blackened Grouper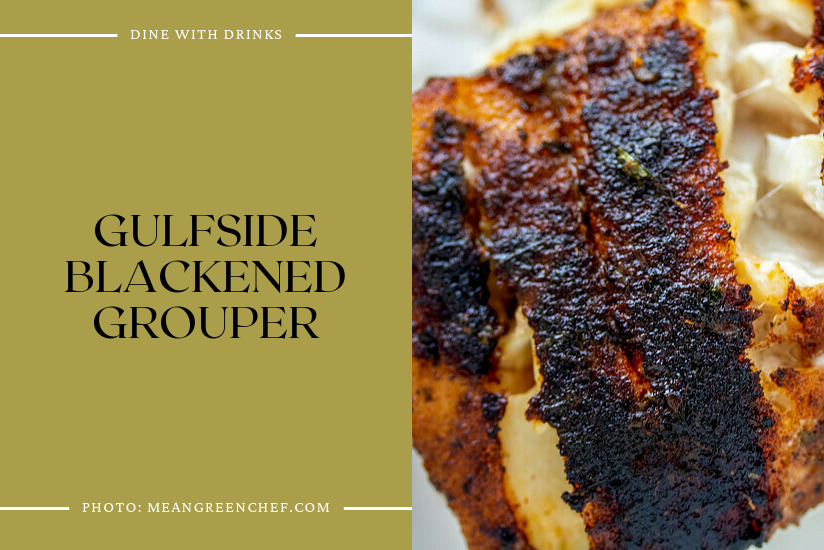 Gulfside Blackened Grouper is a delicious and flavorful grilled grouper recipe. The fish is seasoned with Badass Blackened Seasoning, giving it a deep smokey flavor. The grouper is cooked to crispy blackened perfection, resulting in a flaky and moist texture.
This recipe is a South Florida staple and is best enjoyed as a sandwich with fries and tartar sauce. Overall, Gulfside Blackened Grouper is a must-try for seafood lovers looking for a tasty and satisfying meal.
5. Pan-Seared Grouper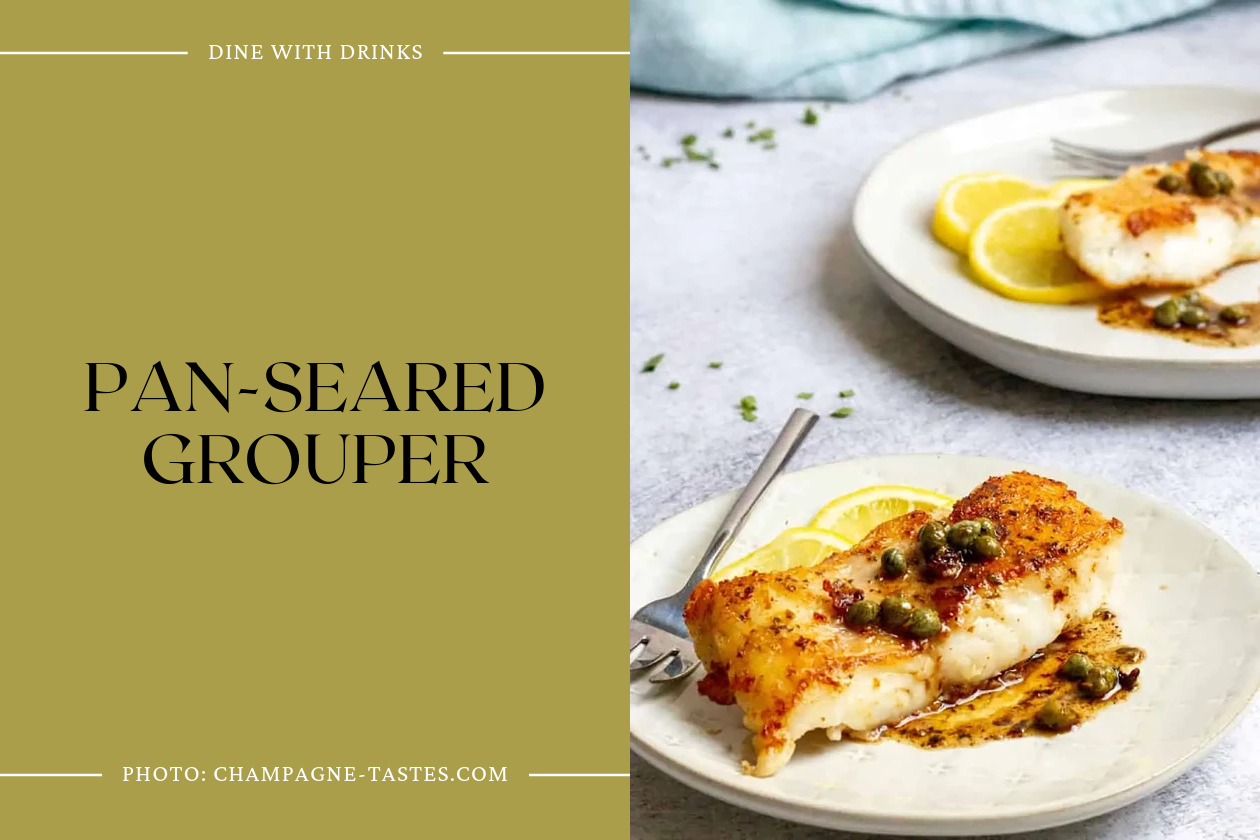 This pan-seared grouper recipe is a delicious and flavorful way to enjoy this mild and slightly sweet white fish. The fish is seared in a mixture of butter and oil, creating a golden crust while keeping it tender and juicy.
It is then served with a tangy lemon and caper pan sauce, adding a burst of freshness to each bite. This recipe is simple yet impressive, making it a great option for a quick and tasty seafood dinner.
6. Blackened Grouper Sandwiches with Cajun Remoulade
The Blackened Grouper Sandwiches with Cajun Remoulade is a delicious and flavorful recipe that showcases the mild and firm-fleshed grouper. The blackened seasoning adds a spicy kick, while the Cajun remoulade sauce provides a creamy and tangy element.
Served on a buttered bun with a slice of juicy tomato, this sandwich is perfect for a casual summer lunch. The homemade blackened seasoning and Cajun remoulade can be made in advance, making it a quick and easy meal option. Overall, this recipe is a great way to enjoy grilled grouper in a flavorful and satisfying sandwich.
7. Pan Seared Grouper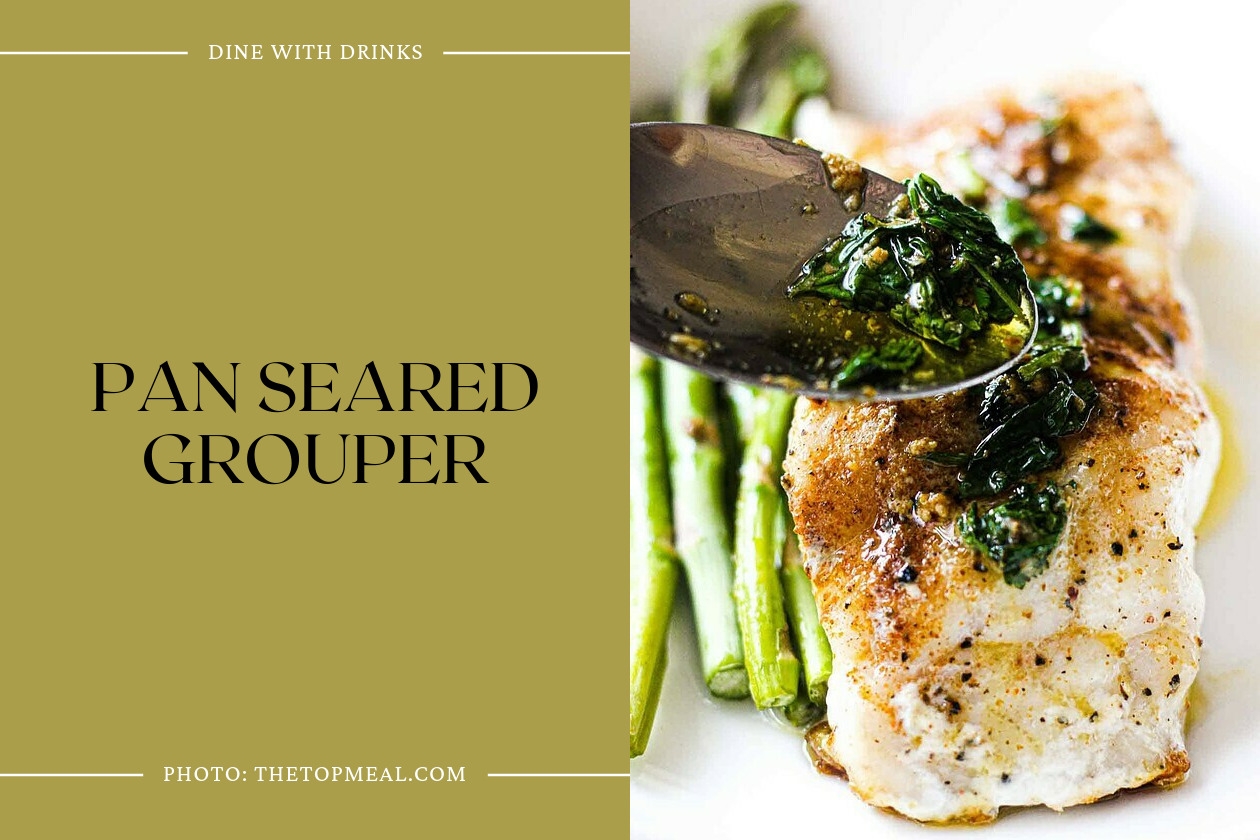 Pan Seared Grouper is a moist and flaky fish dish that is cooked to perfection in a skillet. The fillet is seasoned with salt and pepper, then seared in butter until golden brown. A delicious lemon butter sauce is drizzled over the fish, adding a rich and tangy flavor.
This recipe is quick and easy, making it a great option for a weeknight dinner. Serve it with your favorite vegetables or enjoy it as is. Pan Seared Grouper is a must-try for seafood lovers looking for a simple yet flavorful dish.
8. Pan-Seared Grouper with Lime Butter Sauce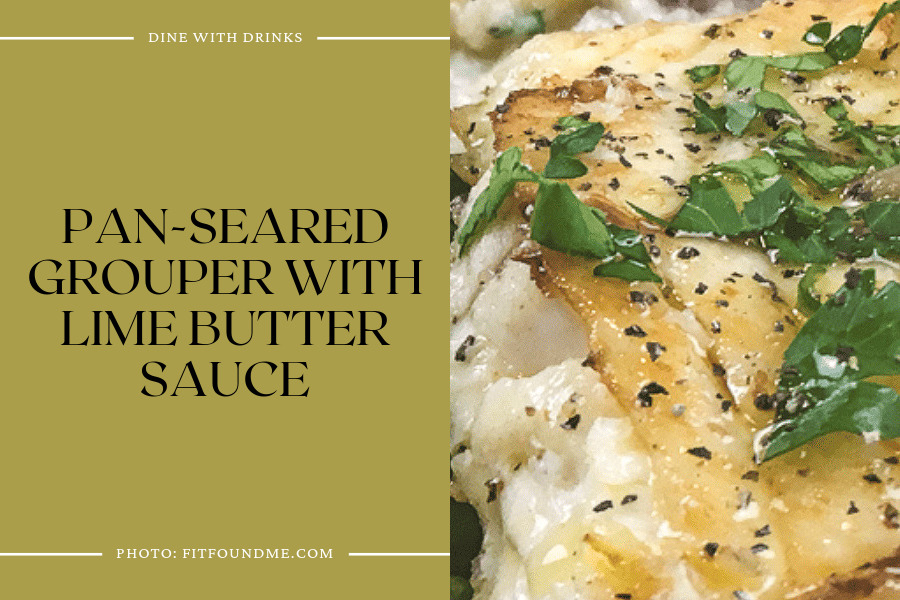 Pan-Seared Grouper with Lime Butter Sauce is a healthy and delicious recipe that is perfect for both weeknight meals and dinner parties.
The grouper fillets are seasoned and seared until tender and flakey, then topped with a flavorful lime butter sauce. This recipe is quick and easy, ready in under 20 minutes, and is sure to impress with its fresh and vibrant flavors.
9. Mediterranean-Style Baked Grouper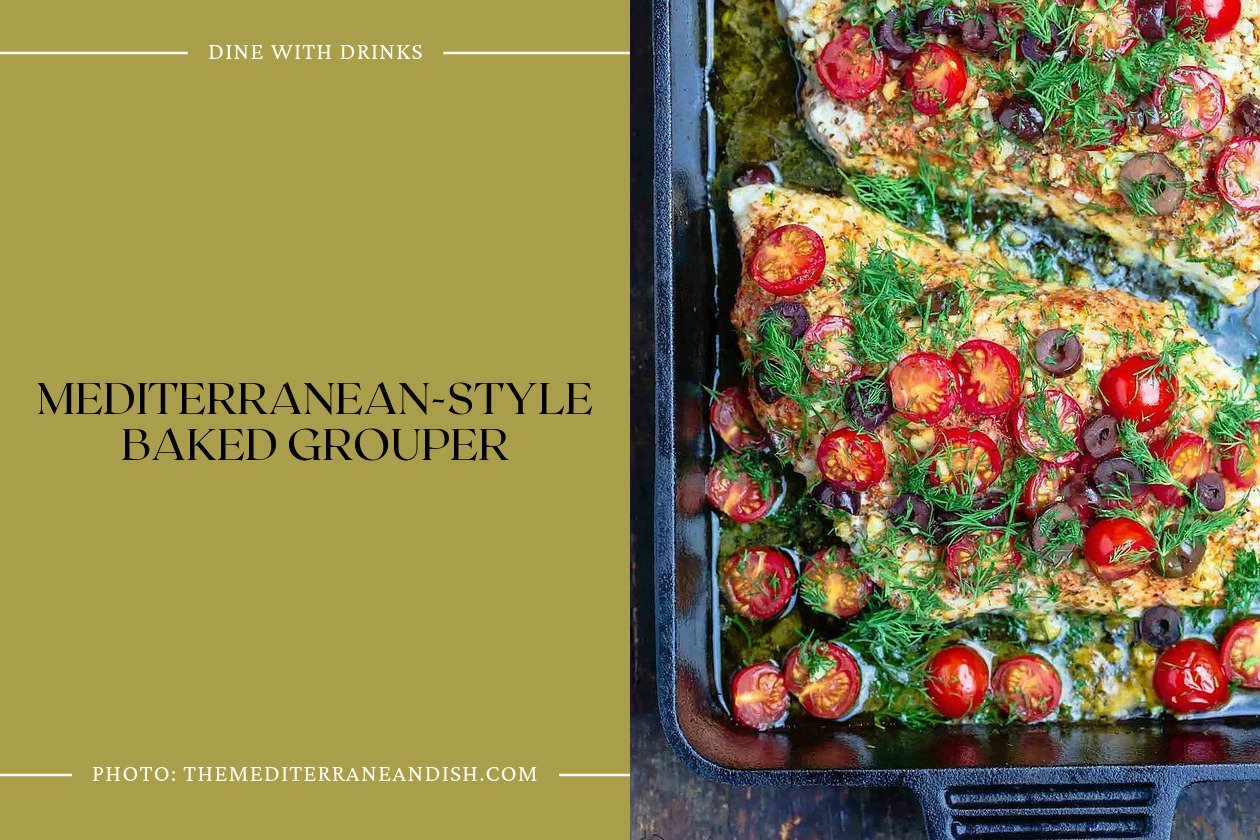 The Mediterranean-Style Baked Grouper recipe is a quick and easy way to prepare a delicious and healthy fish dinner. The grouper fillet is coated in a flavorful spice mixture, including cumin, oregano, and paprika, and then baked with garlic, lemon juice, tomatoes, and olives. The result is a dish with bold Mediterranean flavors that is ready in just over 20 minutes.
This recipe is versatile, as you can substitute the grouper with other fish options like red snapper, cod, or sea bass. It is a perfect choice for those following the Mediterranean diet or looking for a low-carb fish recipe. Serve it with a variety of salads and sides for a complete meal.
10. Grouper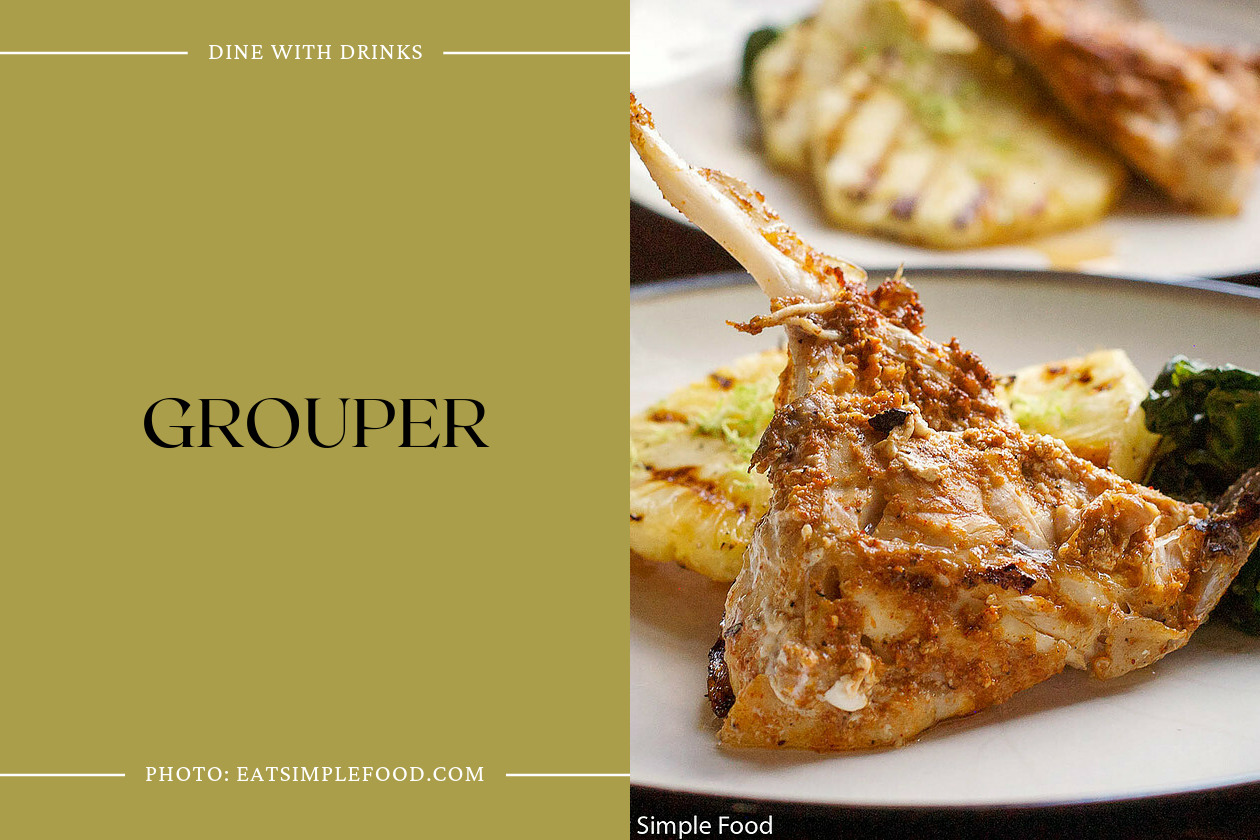 The grilled grouper collar recipe is visually stunning and delicious. The fish collars, which are often discarded, are seasoned with a flavorful dry rub and grilled to perfection.
The dish can be served as finger food for appetizers or as a main dish with sautéed greens and grilled pineapple. The recipe is versatile and can be used with other fish fillets or whole fish. Overall, the grilled grouper collar is a must-try for seafood lovers.
11. Badass Blackened Seasoning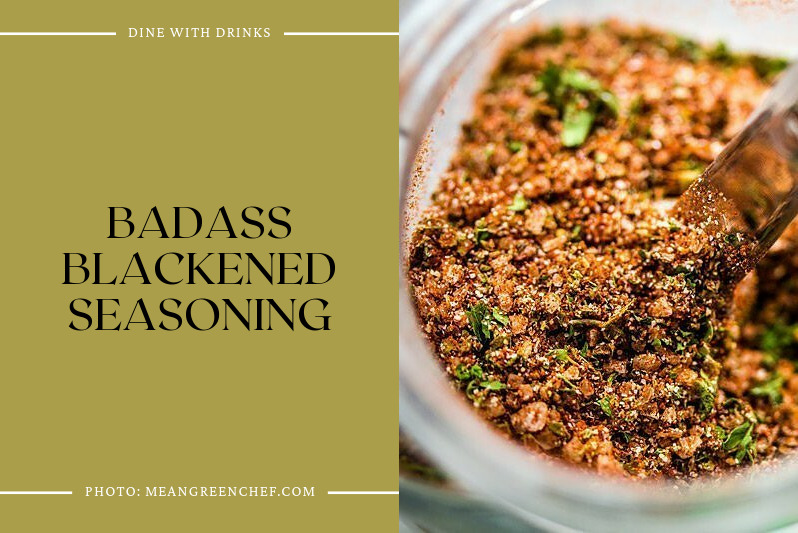 Badass Blackened Seasoning is a smokey and savory blend of spices that adds intense flavor to grilled grouper. It is a versatile seasoning that can also be used on seafood, chicken, flank steak, potatoes, and grilled vegetables.
The blend includes smoked paprika, parsley, oregano, cayenne pepper, garlic powder, onion powder, kosher sea salt, and freshly cracked black pepper. It originates from Louisiana and has a mid-line flavor profile that offers a perfect balance of spice and herbaceousness. This homemade seasoning can be stored in an airtight container for up to a year.
12. Italian Broccoli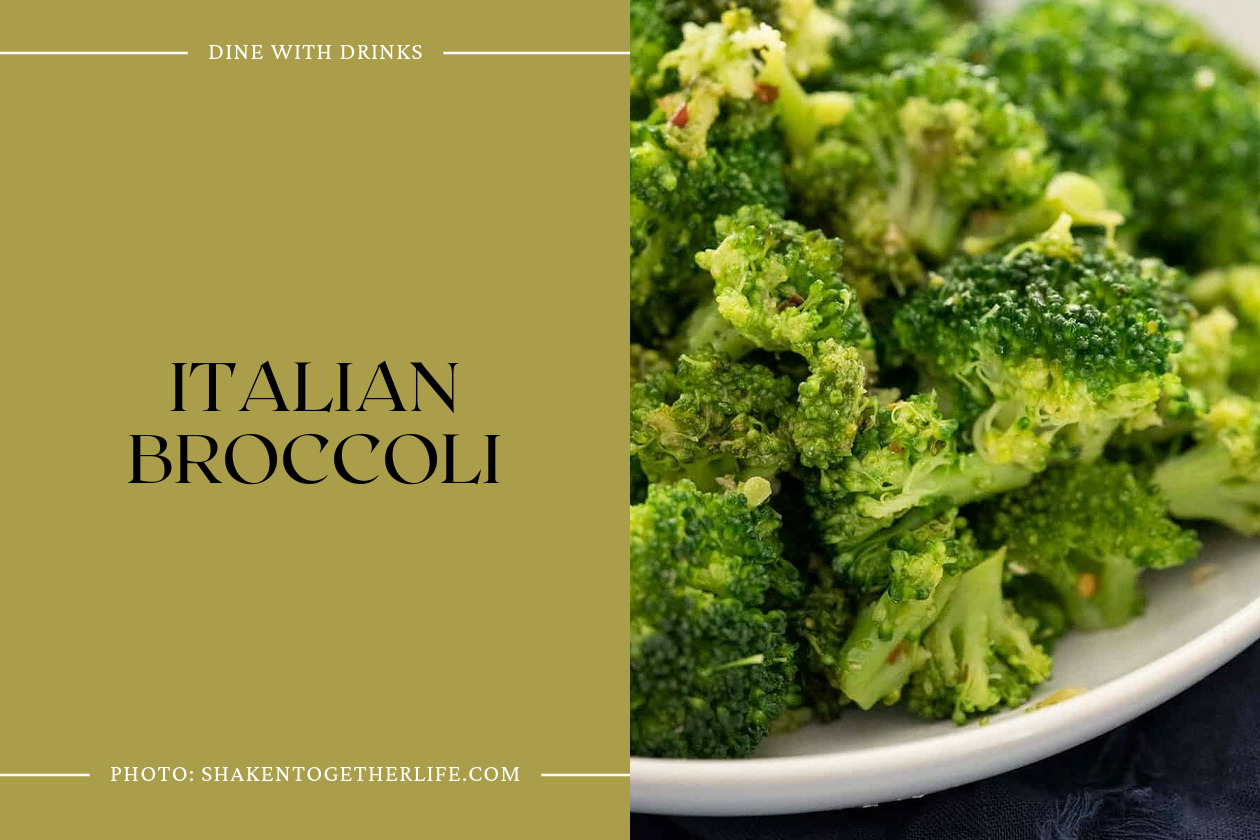 Italian Broccoli is a flavorful and easy side dish that perfectly complements grilled grouper. The broccoli florets are steamed and then sautéed with olive oil, garlic, and red pepper flakes, creating a delicious combination of simple Italian flavors.
This versatile dish can be prepared in just 15 minutes and pairs well with pasta, chicken, pork loin, or beef. It's a must-try recipe for those looking to elevate their grilled grouper experience.
13. Dirty Rice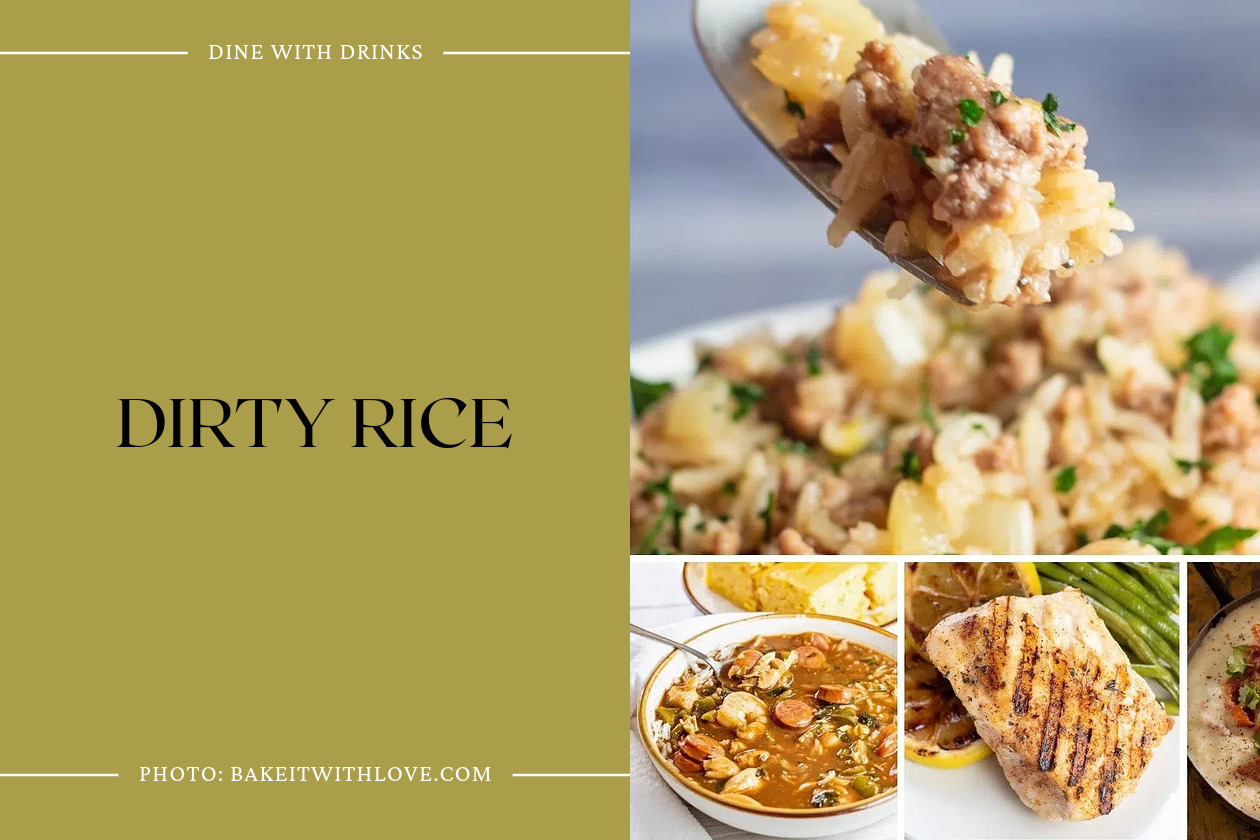 Dirty Rice is a classic Louisiana dish that features white rice, ground beef, ground pork, bell peppers, celery, and onions. Packed with flavor, this hearty meal is perfect for those looking for a delicious and satisfying dinner option.
With its Cajun seasoning and aromatic veggies, Dirty Rice is a quick and easy recipe that brings the taste of Louisiana to your plate.