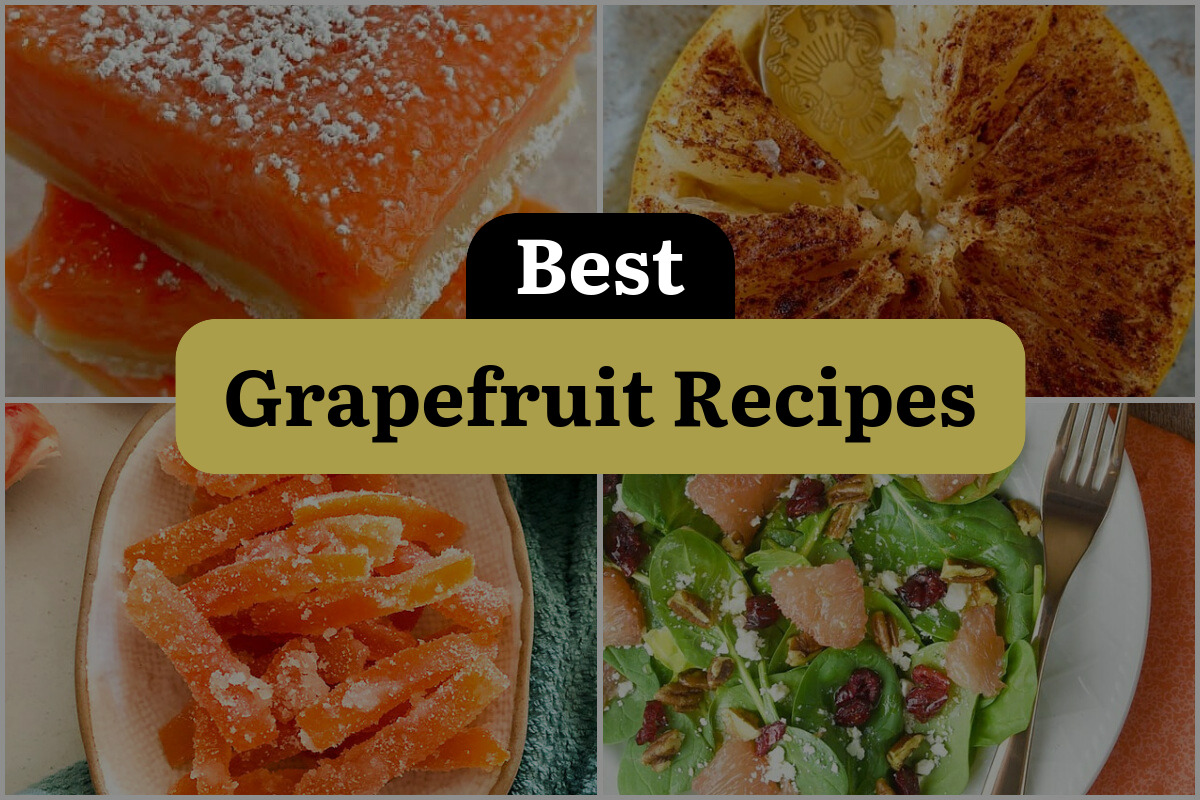 Welcome to the world of grapefruit! This vibrant and zesty citrus fruit is not only delicious but also incredibly versatile when it comes to cooking. Whether you're a fan of its tangy flavor or looking to add a refreshing twist to your dishes, grapefruit is the perfect ingredient to experiment with.
In this blog post, we'll explore some of the best grapefruit recipes that will tantalize your taste buds and leave you craving for more. So, get ready to embark on a culinary adventure with these delightful grapefruit creations!
1. Pink Grapefruit Dessert Bars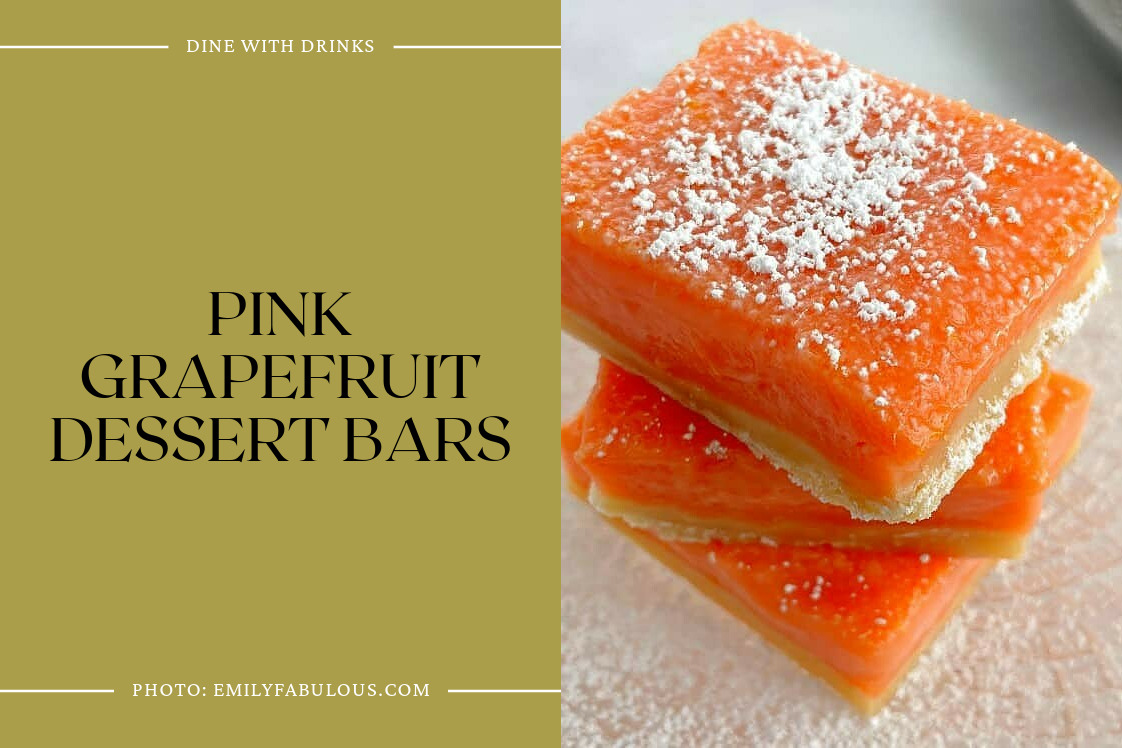 The Pink Grapefruit Dessert Bars are a delightful and citrusy treat that is easy to make. The bars have a thick layer of grapefruit curd that is tangy and sweet, creating a perfect balance of flavors.
The addition of pink food coloring gives the bars a beautiful pink hue. Sprinkling powdered sugar on top adds a nice touch. These bars are best enjoyed within 24 hours of baking and can be stored in the fridge for 2-3 days.
2. Baked Grapefruit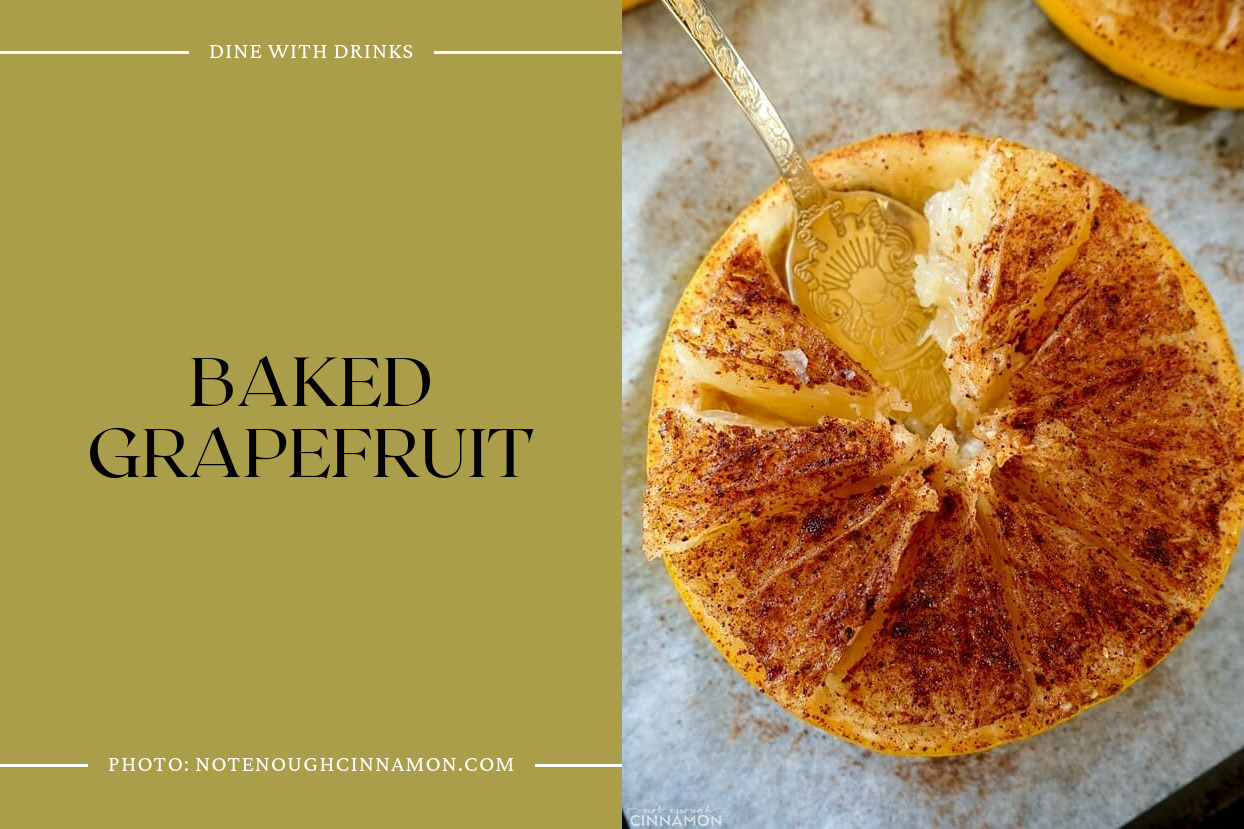 Baked Grapefruit is a simple and delicious recipe that enhances the natural sweetness and juiciness of grapefruit. With the addition of maple syrup and cinnamon, it takes the fruit to the next level of deliciousness. It can be enjoyed for breakfast, as a snack, or even as a dessert.
The recipe is versatile, allowing for substitutions such as using honey or brown sugar instead of maple syrup. Serve it with yogurt or whipped cream for an extra treat. Overall, Baked Grapefruit is a must-try recipe for grapefruit lovers looking for a little change in their usual routine.
3. Homemade Grapefruit Slices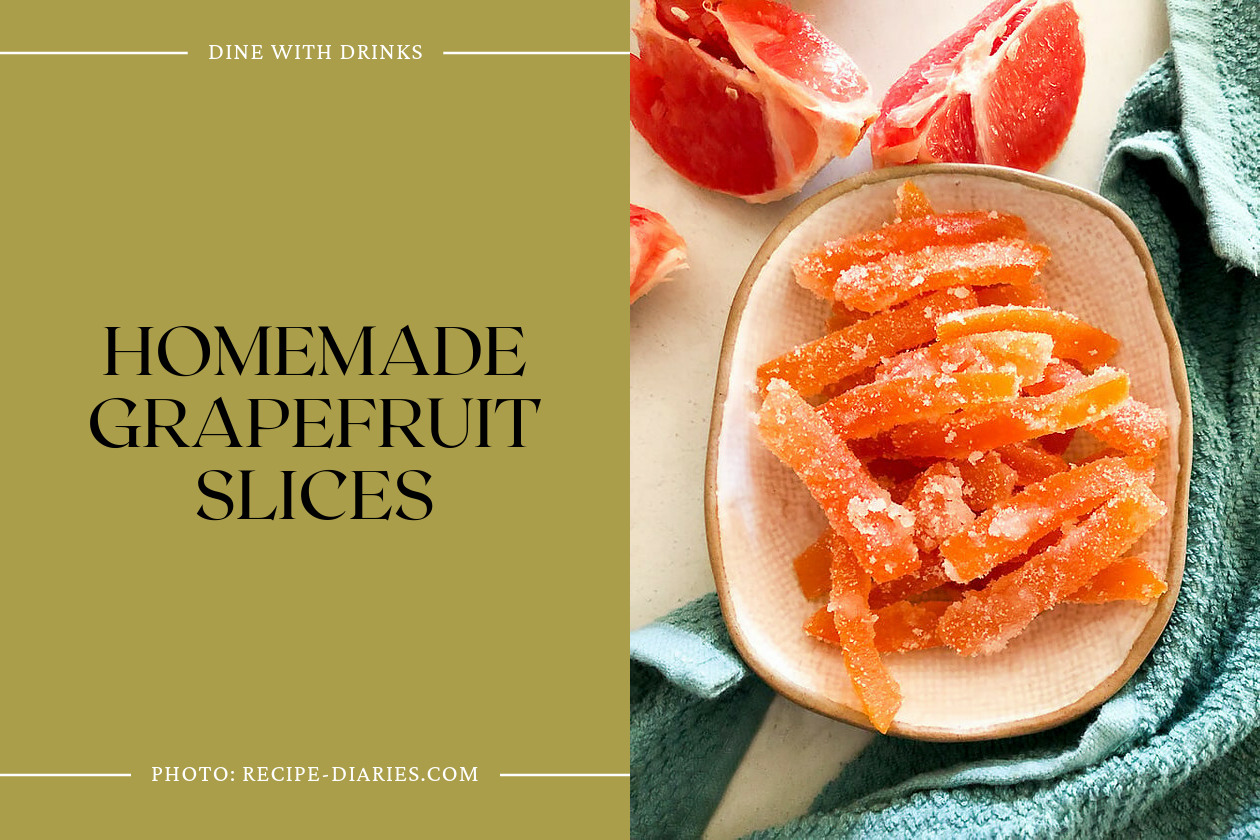 Homemade Grapefruit Slices are a delightful and creative way to use grapefruit peels. By candying the peels in a sugar syrup, they transform into a sweet and tangy treat that can be enjoyed on their own or used as a garnish for cocktails.
The recipe involves boiling the peels multiple times to remove any bitterness, and then simmering them in a sugar and water mixture until they become translucent. Coating them in sugar adds a delightful crunch. These candied grapefruit slices are a unique and impressive addition to any dessert table or cocktail party.
4. Spinach and Grapefruit Salad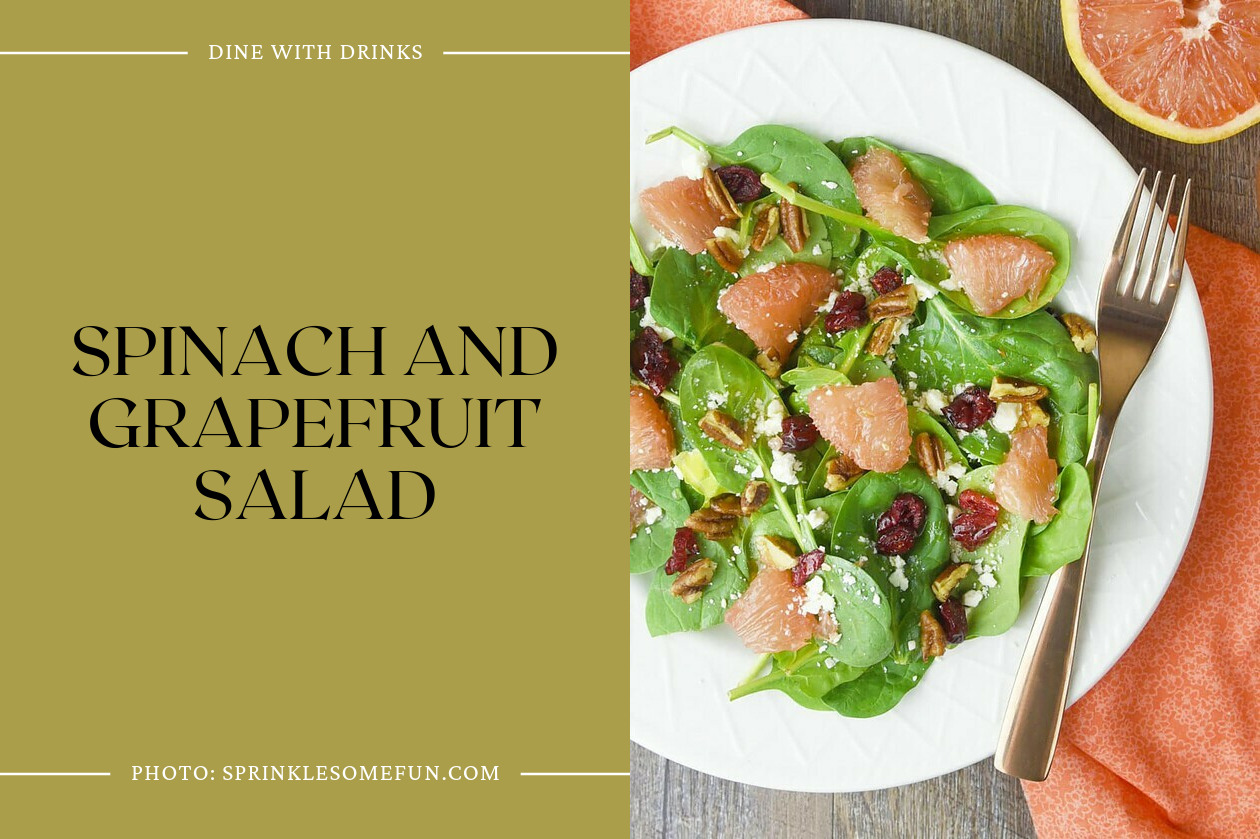 The Spinach and Grapefruit Salad is a refreshing and flavorful combination of fresh spinach, tangy grapefruit segments, crumbled feta cheese, sweetened dried cranberries, and roasted pecans.
The highlight of this salad is the Grapefruit Vinaigrette, made with fresh squeezed Sweet Scarletts Texas Red Grapefruit juice, olive oil, salad vinegar, salt, and honey. The vinaigrette adds a zesty and citrusy kick to the salad, making it a delightful and healthy choice for a light meal or side dish.
5. Homemade Grapefruit Juice
Homemade Grapefruit Juice is a refreshing and nutritious beverage that can be easily made at home. By using a blender instead of a juicer, the pulp is retained, providing additional nutrients.
The recipe suggests adding stevia or honey to reduce the juice's bitterness, making it a healthier alternative to white sugar. Enjoy this homemade grapefruit juice within 15 minutes to maximize its vitamin content.
6. Brown Sugar Grapefruit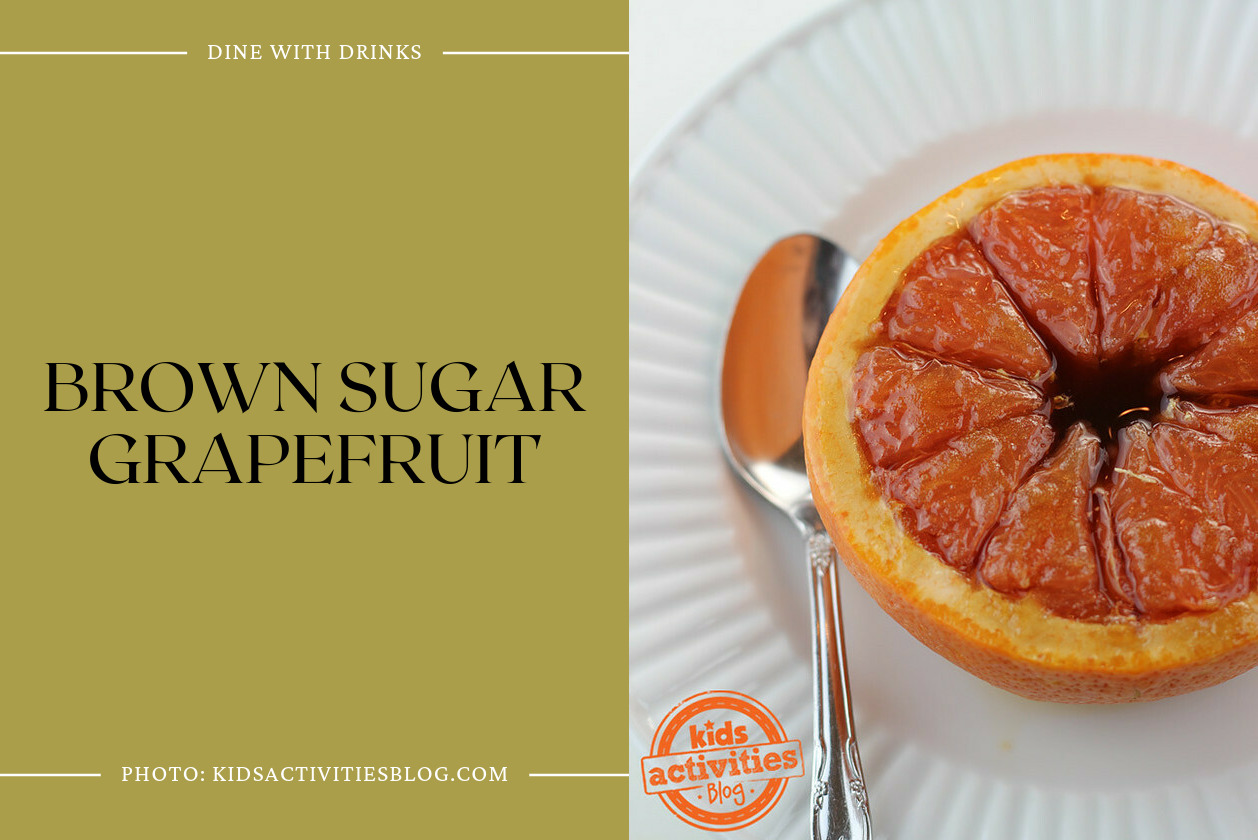 Brown Sugar Grapefruit is a simple and delicious recipe that transforms regular grapefruit into a sweet treat. With just a touch of brown sugar, this recipe enhances the natural flavors of the grapefruit, creating a perfect balance of sweet and sour.
It is a refreshing and easy-to-make breakfast option or a sweet snack any time of the day. Try it and you won't want to eat grapefruit any other way.
7. Chai Spiced Grapefruit Marmalade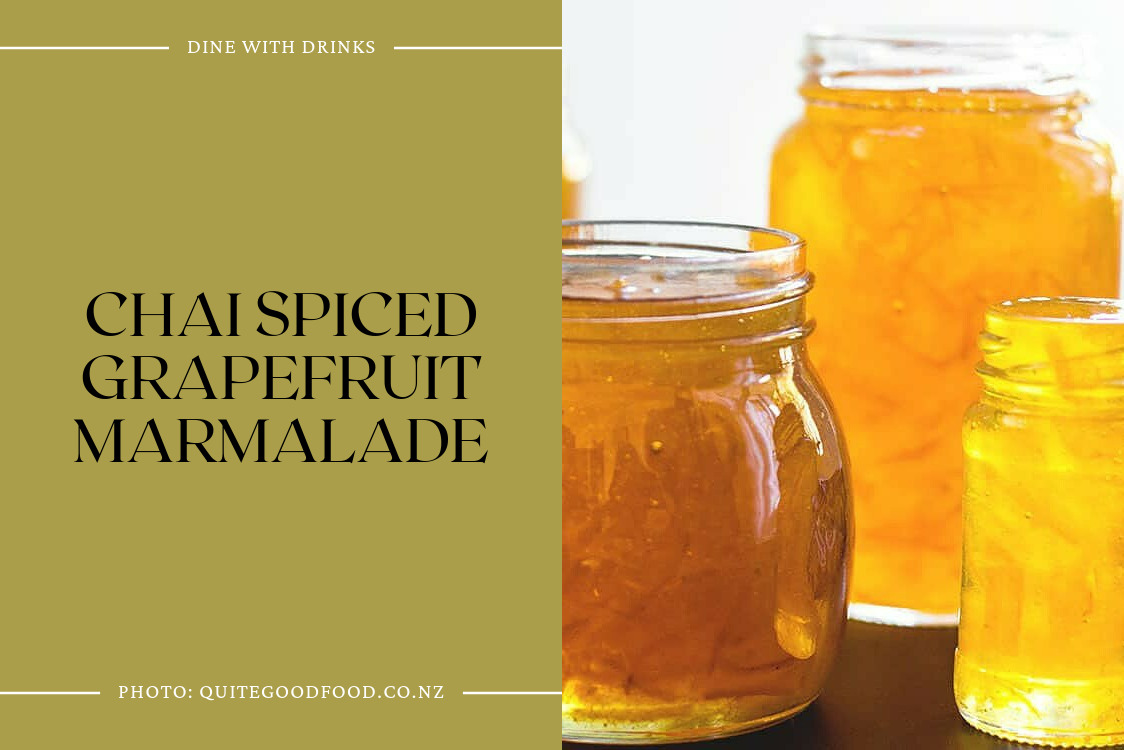 Chai Spiced Grapefruit Marmalade is a sweet and tangy homemade marmalade with a delightful hint of Indian chai spices. The grapefruit adds a refreshing and sharp flavor, while the spices, including cinnamon, cardamom, ginger, pepper, allspice, and cloves, give it a unique twist.
This marmalade is perfect for spreading on toast or enjoying with crumpets. It's a delicious way to use up an abundance of grapefruit and create a homemade treat that will impress your taste buds.
8. Grapefruit Muffins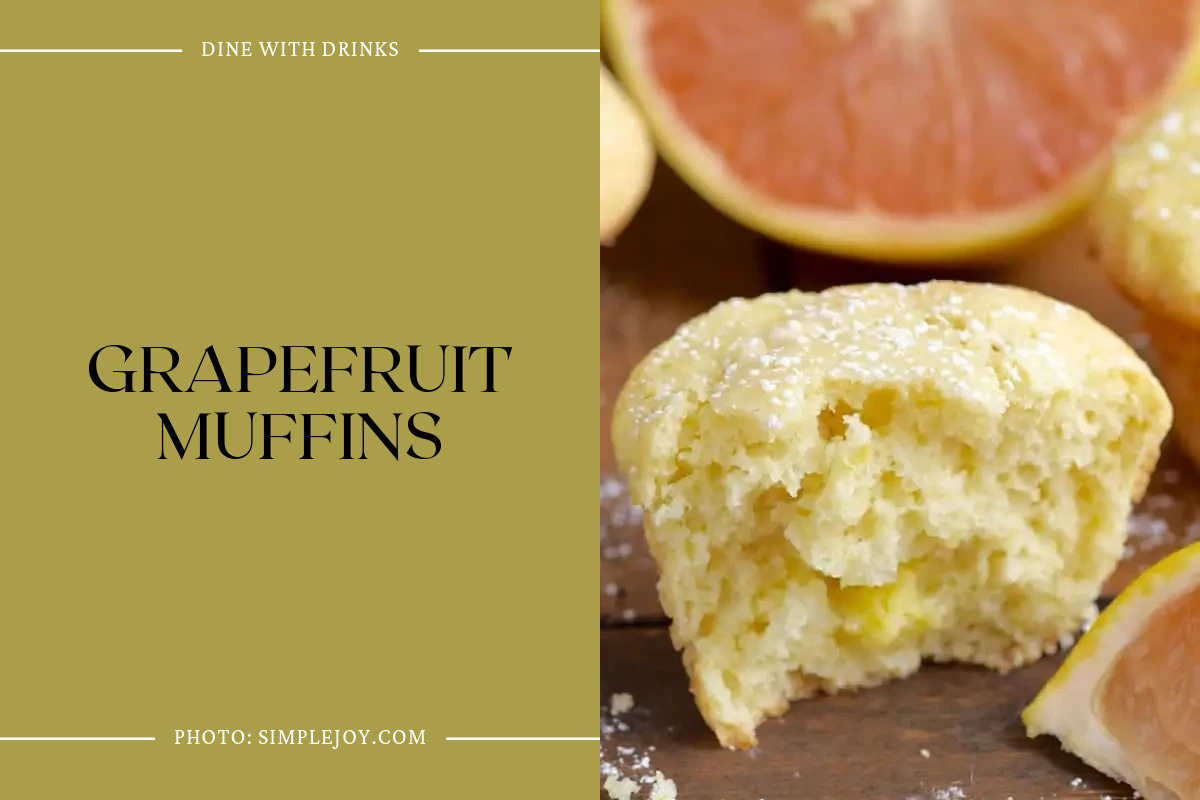 These Grapefruit Muffins are a delightful twist on traditional muffins. The moist texture and tangy grapefruit flavor make them a perfect choice for breakfast or a snack.
The surprise grapefruit spread inside adds an extra burst of flavor. These muffins can be stored for up to a week and also freeze well. Overall, these Grapefruit Muffins are a delicious and unique treat that will leave you wanting more.
9. Grapefruit Salad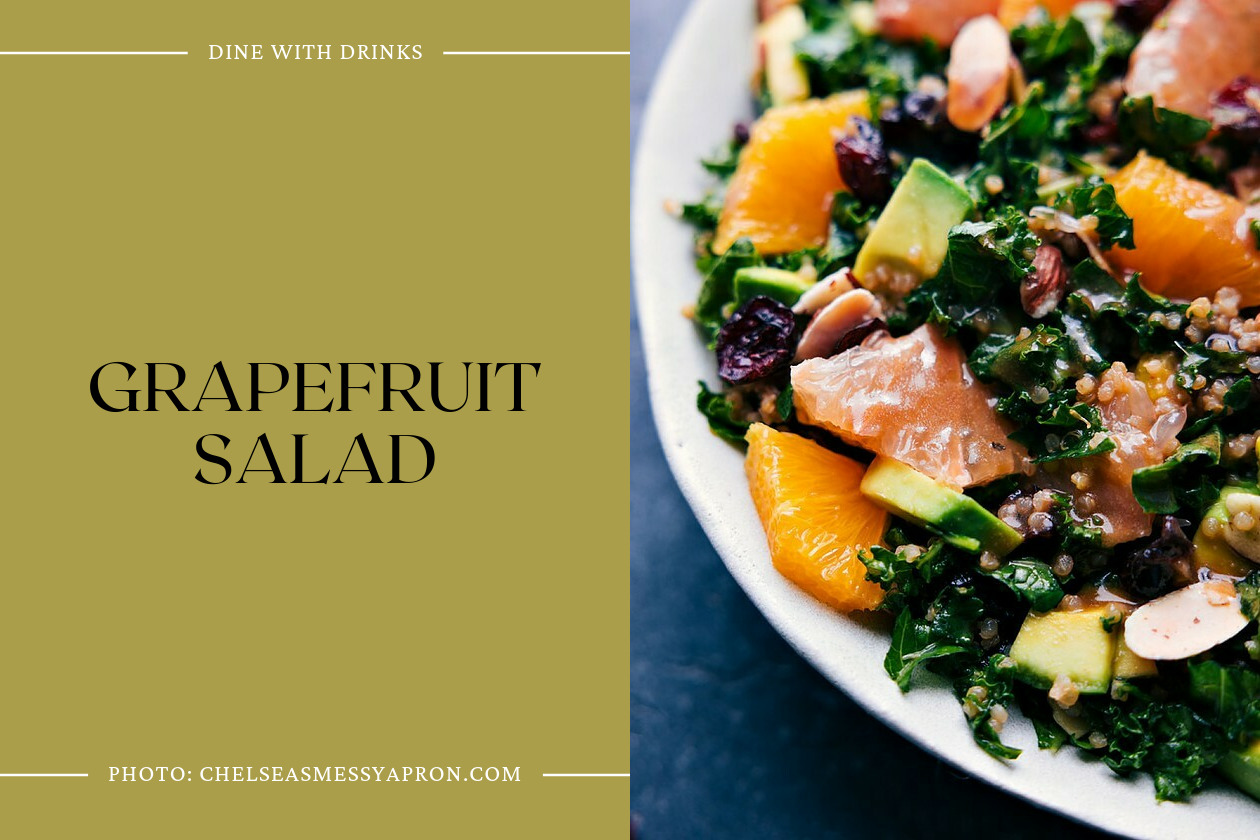 The Grapefruit Salad is a refreshing and vibrant combination of citrusy flavors, creamy avocado, sweetened cranberries, and honey-roasted almonds. Drizzled with a simple balsamic vinaigrette, this salad is a crave-worthy dish that is perfect for any occasion.
The kale and quinoa provide a hearty base, while the grapefruit adds a burst of tanginess. Overall, this salad is a stunning and delicious option that will impress your taste buds.
10. Grapefruit, Berry, and Tropical Fruit Smoothie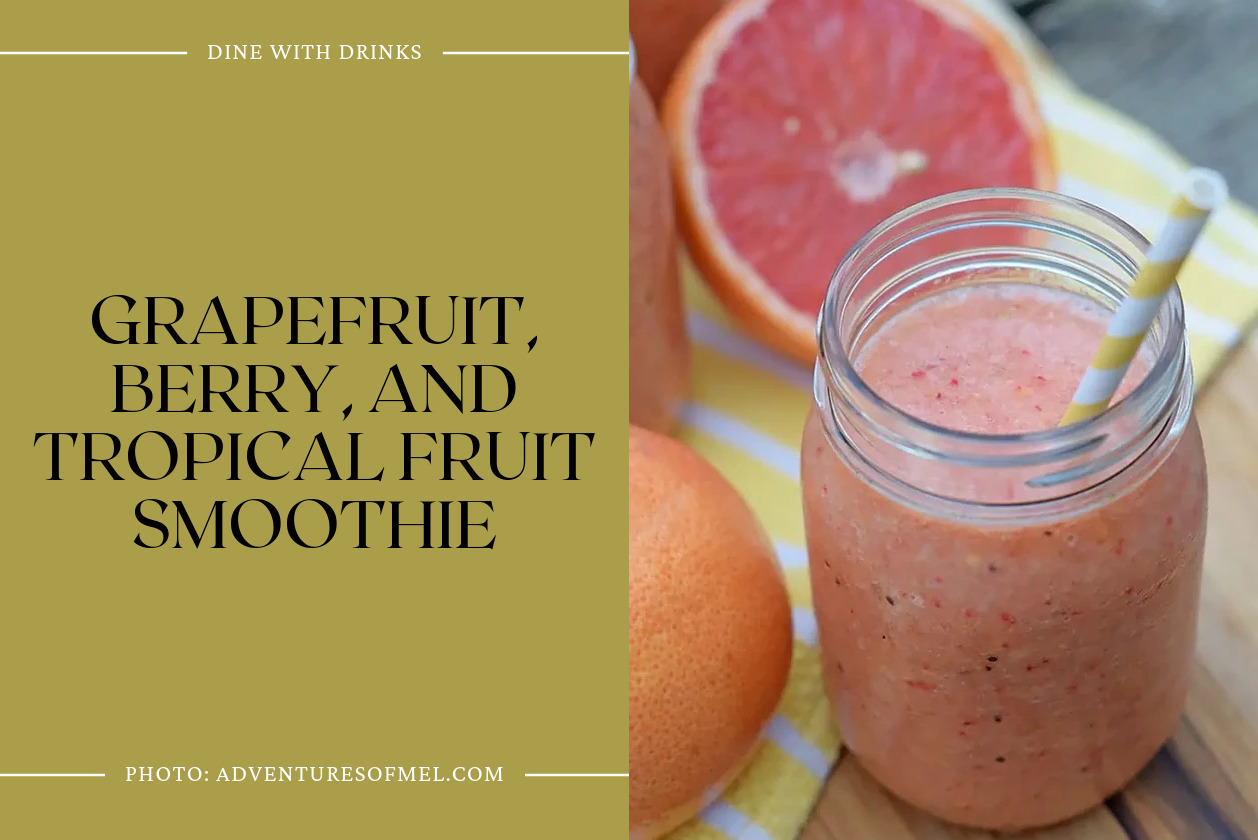 The Grapefruit, Berry, and Tropical Fruit Smoothie is a refreshing and delicious blend of sweet grapefruit, tropical fruits, and berries. It is a simple and easy recipe that requires no added sugar, making it a healthy choice.
The smoothie is packed with natural sweetness and is a great source of vitamin C and fiber. It is a vibrant pink color and has a delightful taste that is sure to please. Overall, this smoothie is a must-try for grapefruit lovers and anyone looking for a tasty and nutritious drink option.
11. Grapefruit Curd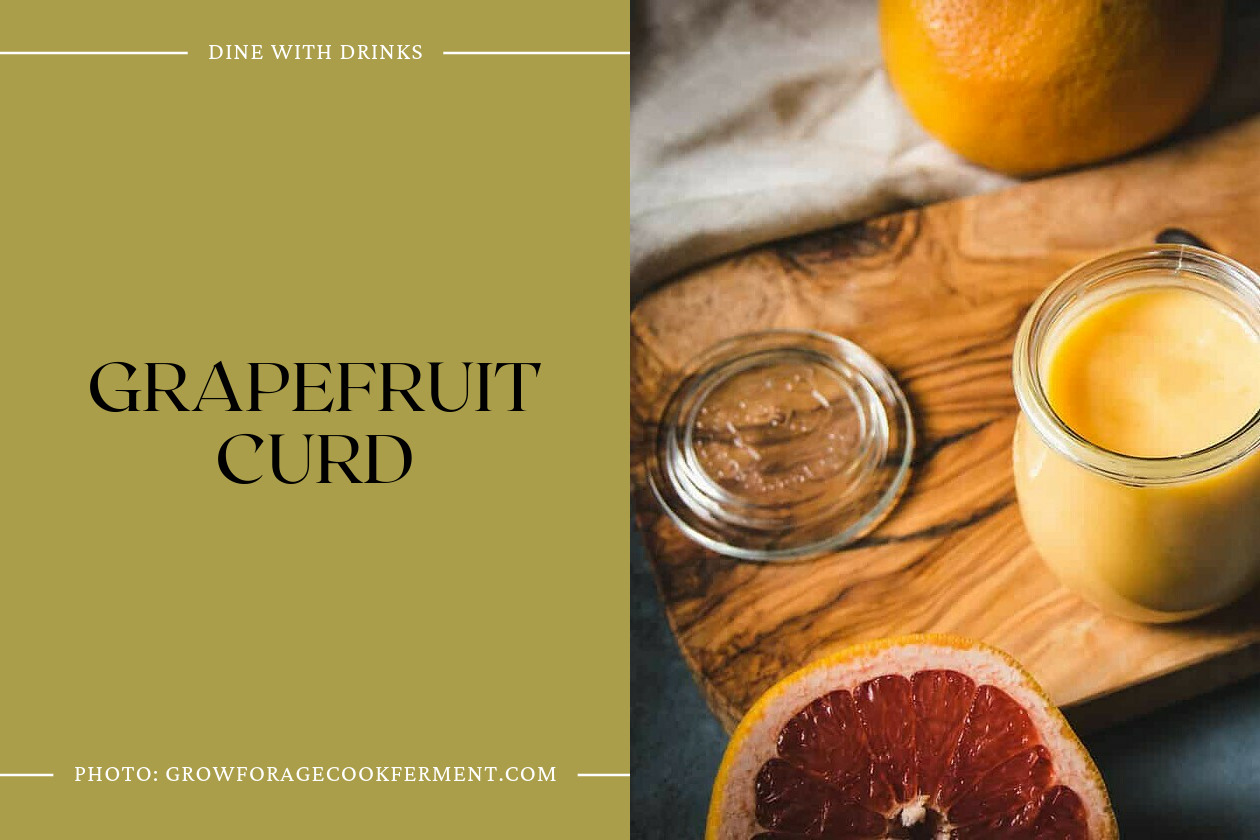 Grapefruit curd is a delightful and versatile citrus spread that adds a burst of flavor to desserts. Made with grapefruit juice, sugar, eggs, and butter, this creamy and tangy curd is easy to make and can be used in various recipes like tarts, pavlova, and cakes.
It offers a refreshing twist to traditional lemon curd and can be made with other citrus fruits as well. If you're a fan of grapefruit, this curd is a must-try for its amazing flavor.